popular
Mama cow cannot wait to proudly show off her newborn in adorable video
The look on her face says it all.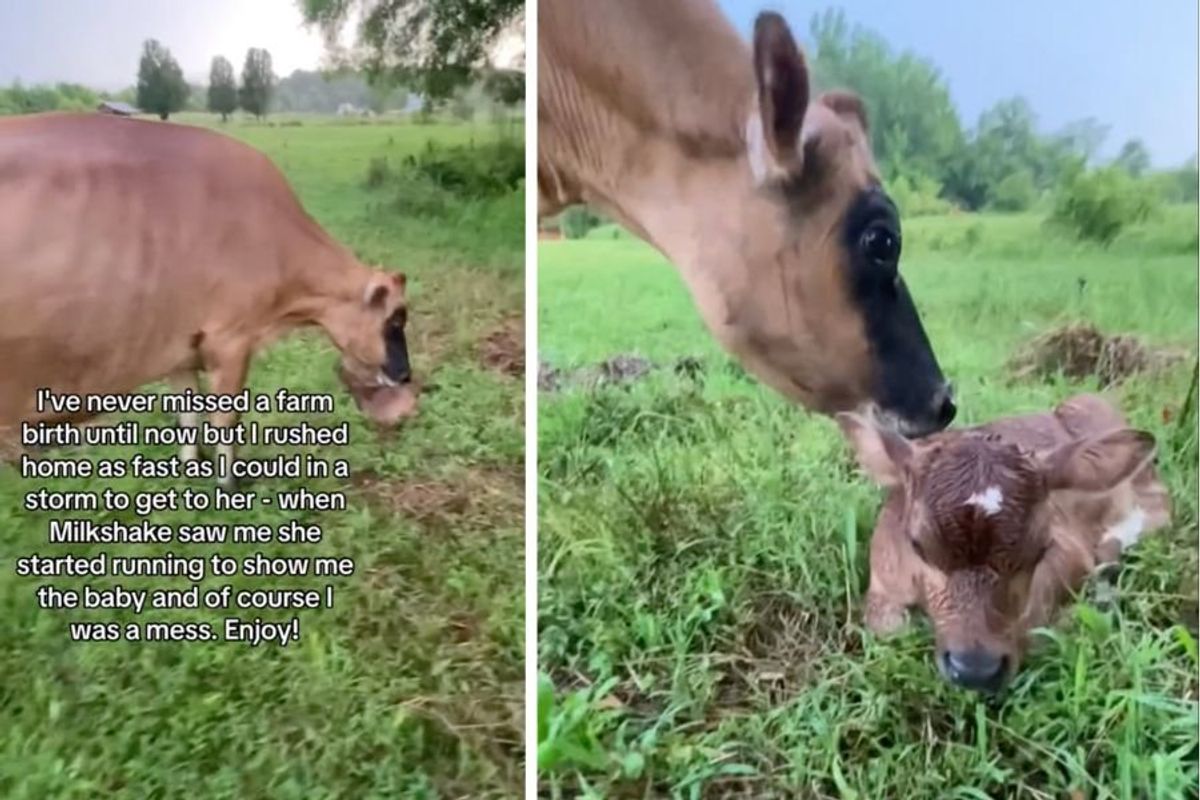 The love a mom has for her babies transcends species. Part of what makes seeing other creatures show tenderness for their young so touching is that it reminds us of how connected we all are through this powerful, almost otherworldly feeling.
That's why it's no surprise that a video showing a proud mama cow showing off her newborn calf stole millions of hearts online.
The video comes from
BreeAnne Clowdus
of The Good Place Farm in Chattahoochee Hills, Georgia, and shows her cow Milkshake (isn't that the cutest cow name ever?) lead her through a meadow to introduce her precious new edition.
---
Clowdus had never missed a birth before, but ended up being away from the farm for 24 hours prior. So when Milkshake saw her approach, she could barely contain her excitement.
Finally we see an absolutely gorgeous little calf nestled safely in the grass. Seriously, people were calling her the "Gigi Hadid of cows."
As if the scene weren't idyllic enough, Clowdus then spotted a rainbow painted across the sky in a perfect arch.
It's hard to tell what's more heartwarming, the look of sweet satisfaction on Milkshake's face, or the loving praise coming from Clowdus.
Watch:
Lots of folks were also floored by how strong a bond Clowdus had with her cows. "Those babies are so loved by you," one person noted, "and I can see they love you so much too."
But of course, the best comment belongs to @evanderthecat, who wrote "Your milkshake births her calves in the yard," thus making a 2000s pop reference we all secretly wanted.

Unlike cats and dogs, we often have this emotional disconnect when it comes to cows. But in reality, they are wonderfully sentient and empathetic social creatures. They can feel both happiness and sadness, they have their own personalities, and enjoy play and close friendships just like us. They deserve to be treated by all of us with the same kind of care that Clowdus clearly bestows upon her bovine fam.
You can catch even more adorable cow footage on Good Place Farm's TikTok and Instagram.