Identity
Unearthed '80s clip of Michael Jordan playing wheelchair basketball shows why he's the GOAT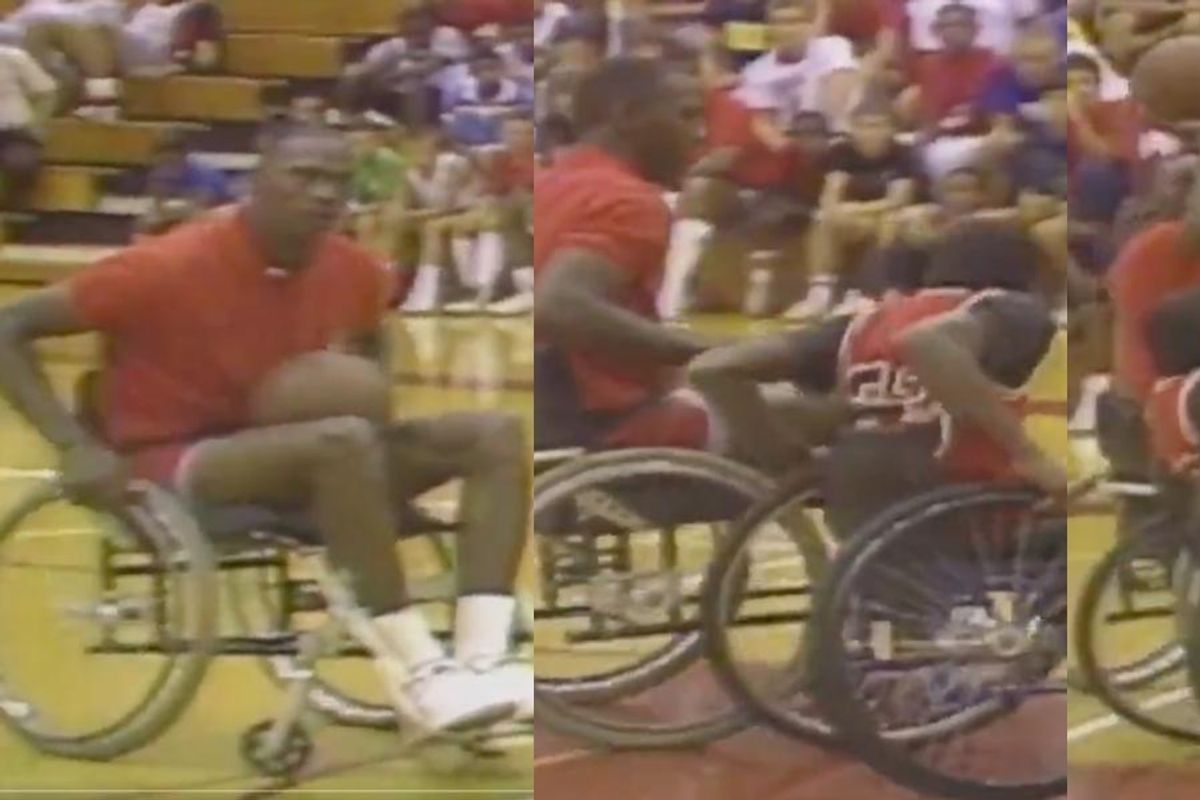 YouTube
Michael Jordan was considered one of the most fierce and dedicated competitors in the history of sports. You may recognize the famous basketball player from nicknames such as "MJ," "Air Jordan," "His Airness," "The G.O.A.T" (Greatest of All Time) or even "Black Jesus."
His win-at-all-costs attitude was unquestioned, and yet, in a recently unearthed video from the '80s, "His Airness" demonstrated a kinder side and a commitment to helping others through philanthropic endeavors. With 2.4 million views and counting, it's clear people love seeing Jordan redefine greatness once again.
---
The video shows a seemingly sweet game of wheelchair basketball starring 16-year-old Eric Barber in a one-on-one competition with the six-time world champion and 14-time All-Star Michael Jordan.
\u201cIn his third season in the NBA, Michael Jordan is the brightest young star in the league. He is challenged by 16-year-old Eric Barber to a game of wheelchair basketball. First to 20 wins (1987)\n\nWatch...\u201d

— Hoops Nostalgia (@Hoops Nostalgia) 1659931410
The spirited young Barber quickly takes it to an unsuspecting Jordan, accumulating a sizable lead. A cheeky Kareem Abdul-Jabbar style sky hook gives the 16-year-old an opportune 14-4 advantage. As the crowd's applause elevates, a noticeably irritated Jordan—he doesn't like to lose—starts dipping into his vast competitive experience to mount a comeback.
Just as the tide seems to turn through an impressive display of (seated) jumpers, bank shots and some signature intense defense, Barber finds his sweet spot burying a 15-footer to end an entertaining game. Big smiles can be found on all in attendance and even the great Michael Jordan himself. The fans on the scene were treated to a surprisingly intense and creative game.
According to the borgenproject.org, a humanitarian enterprise addressing areas of poverty and world hunger, an estimated 100 million people in the world need a wheelchair. More challenging, 75 million, that's literally two-thirds, can not afford one. Philanthropic programs such as Wheelchair Foundation receive donations and put their efforts into action. Wheelchair Foundation has delivered or committed to distribute 1,157,425 wheelchairs to date.
When it comes to activities leading to inspirational action such as that witnessed in the heartwarming video featuring "MJ" and young Eric Barber, the National Wheelchair Basketball Association, founded in 1949, continues to host events and leagues across America throughout the year.
Today, the multibillionaire Michael Jordan hasn't lost his love and passion for helping others in need.
His charitable contributions of time and dollars continue year after year. In 2020, he made a pledge of $100 million dollars focusing on social justice, economic justice, and education and awareness. He intended to distribute those funds to organizations such as NAACP Legal Defense and Educational Fund, Inc. (LDF) and the Formerly Incarcerated & Convicted People and Families Movement (FICPFM).
It would appear that competitive spirit has found its way into this historic athlete's generosity. However, if Jordan wishes to move up the list of accomplished major donors, he still has some considerable work ahead. When it comes to putting your money where your mouth is, Bill and Melinda Gates sit on top, having donated an incredible $15 billion dollars through the Bill & Melinda Gates Foundation.
Some consolation to the former champion's loss highlighted in the video that's making its way through social media: Eric Barber went on to represent four U.S Paralympic wheelchair basketball teams, taking home two bronze medals in the process. "The GOAT" never had a chance.