More
Methodist teens rejected their memberships before the entire congregation to protest its anti-LGBT policies.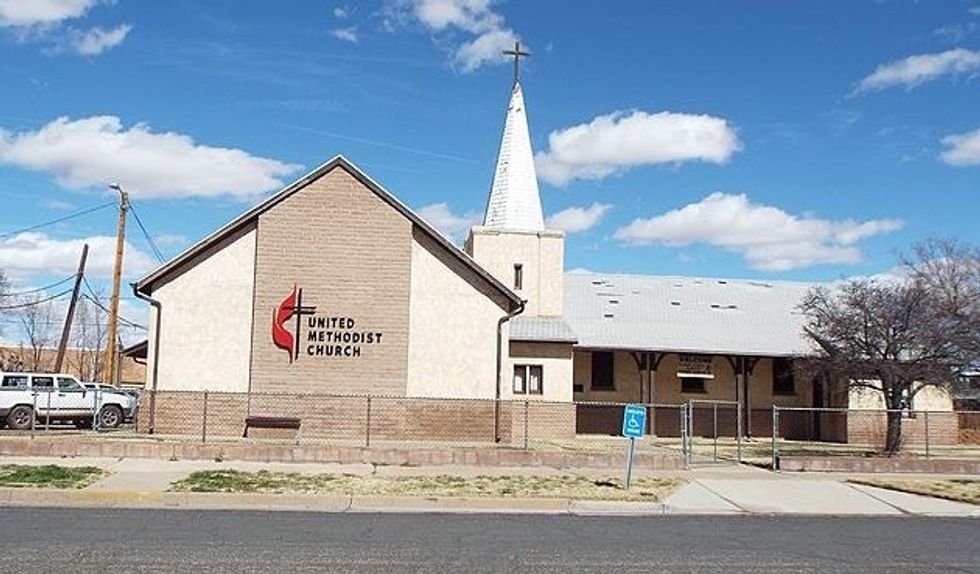 The United Methodist Church (UMC), which claims over 7 million members in the U.S., is heading towards a fracture after a controversial decision last February that banned LGBT-inclusive practices.
At a conference in St. Louis, delegates voted 438-384 for a proposal called the Traditional Plan that bans openly-gay people from being ordained as ministers or serving in the church.
It also forbid any UMC funds going "to any gay caucus or group, or otherwise use such funds to promote the acceptance of homosexuality."
---
A majority of American delegates voted against the plan, but it was passed with support from conservatives and delegates from UMC strongholds in Africa and the Philippines.
The decision has created a schism in the church with some UMCs flying gay flags, performing same-sex weddings, and withholding payments to the main offices in protest.
On Easter Sunday at the First United Methodist Church in Omaha, Nebraska, a group of eight 13 and 14-year-old UMC youth stood up to the church's anti-LGBT policies by refusing to be confirmed as members of the church for the time being.
In case you needed a reason to believe that this generation will save us all, here it is. The entire confirmation c… https://t.co/QIXvsASihh

— Sheri Shuler (@Sheri Shuler) 1556490796.0
The teens had spent the past year learning about the church's history and traditions before making the decision to become members.
The group made its announcement in the form of a letter read before the entire congregation.
We have spent the year learning about our faith and clarifying our beliefs. Most of us started the confirmation year assuming that we would join the church at the end, But with the action of the general conference in February, we are disappointed about the direction the United Methodist denomination is heading. We are concerned that if we join at this time, we will be sending a message that we approve of this decision.
We want to be clear that, while we love our congregation, we believe that the United Methodist policies on LGBTQ+ clergy and same sex marriage are immoral. Depending on how this church responds to the general conference action, we will decide at a later time whether or not to become officially confirmed. But until then, we will continue to stand up against the unjust actions that the denomination is taking. We are not standing just for ourselves, we are standing for every single member of the LGBTQ+ community who is hurting right now, Because we were raised in this church, we believe that if we all stand together as a whole, we can make a difference.
I should have made clear, this was done with the full support of church leaders and parents. We are all very proud… https://t.co/ur6sXeMEvV

— Sheri Shuler (@Sheri Shuler) 1556493975.0
The teens were greeted with a standing ovation from the congregation and received the full support of its minister, Reverend Ken Little. "Myself and our associate pastor are in full support of their decision," he said. "We're proud of them. It's not an easy thing to do to resist."
The children were then treated to a lasagna dinner and were given journals.
The UMC's decision to enact anti-LGBT policies comes at a time when more and more young people are leaving the Christian faith due to its views on LGBT rights.
There are many aspects of the Bible which have been cast aside due to conflicts with present-day values. Churches can either choose to do the same with the Bible's anti-LGBT teachings or people will go elsewhere to hear a message of love an acceptance.