Joy
People fell in love with Marty the cat after his owner wrote a heartbreaking goodbye letter
"I know this is a small tragedy in the grand scheme of the world, but one that I feel acutely knowing that I expected many more years with my friend."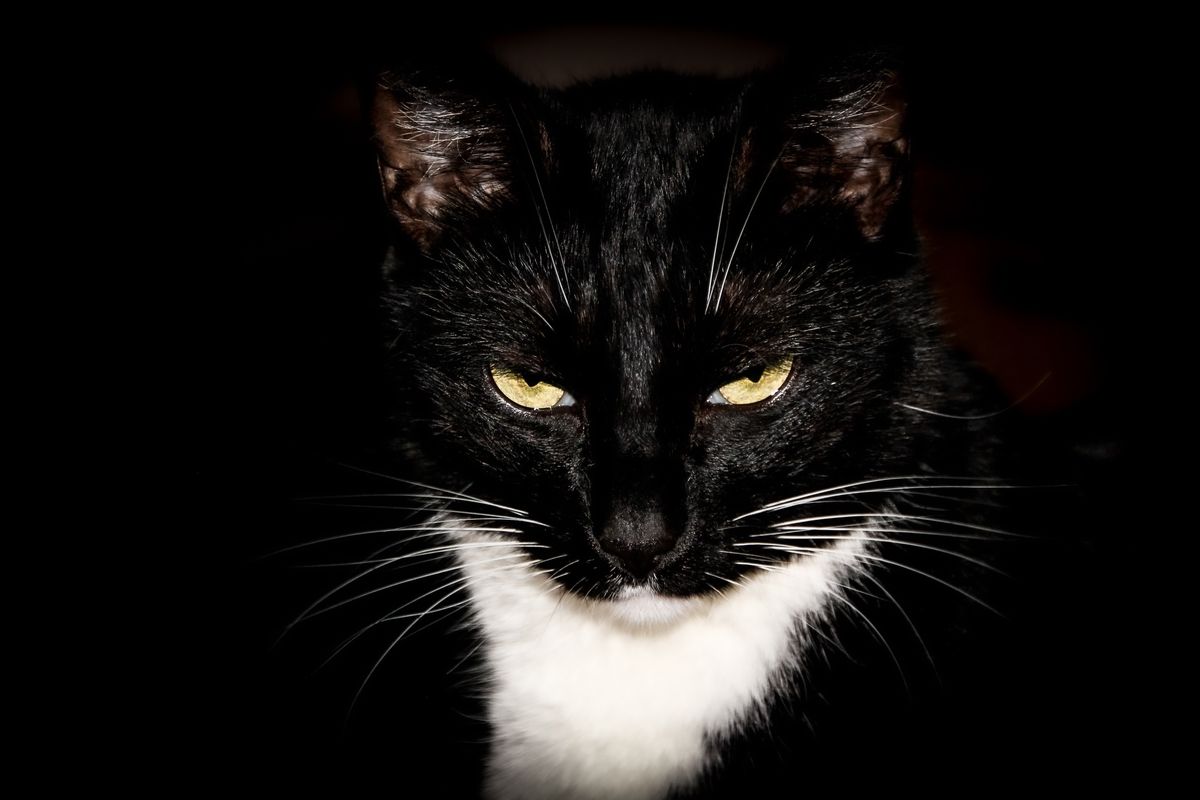 Tons of people found themselves clicking on the trending hashtag #RIPMarty, expecting to hear tragic news about a celebrity of some sort.
Instead, they learned about Marty the cat, whose owner shared the most heartbreakingly beautiful goodbye letter following his passing. That letter quickly went viral online, leaving folks completely invested Marty's story, not to mention utterly devastated.
Will Menaker, who shared the letter on Twitter, began by sharing how he and Marty first met. Or more accurately, how Marty introduced himself by emerging from under a car and unapologetically following Menaker up to the steps of his apartment seeking pets. Eventually, as the weather began to get colder, Menaker experimented with bringing Marty inside.
"From that moment on I was in love. I wouldn't say I 'had' a cat, but from then on I shared a house with a tuxedo cat I would name Marty," Menaker wrote.
---
Other than being TNR'd (trapped, neutered, released), Marty's past was a mystery. What Menaker did know of his feline companion was that he had "striking green eyes," was "always friendly but aloof" and was "outgoing but possessed a Sphinx-like dignity that nothing could assail."
Those are already lovely words, but you might want to grab tissues for this next part.
Yesterday, I had to say goodbye to a friend. pic.twitter.com/E3sbk5LTKb

— Will 🦥 Menaker (@willmenaker) March 29, 2023
"Yesterday, we had to say goodbye. After months of trying to treat a cancer that he had been suffering from, enough was enough. He stopped eating and drinking entirely and by then had wasted away to weighing almost nothing…I decided to make the only decision we could on his behalf. He went to sleep in our house and in my arms."
Tapping into every pet parent's grief, Menaker wrote, "I know this is a small tragedy in the grand scheme of the world, but one that I feel acutely knowing that I expected many more years with my friend. We are heartbroken but grateful for the years that we did have him in our lives."
Despite the obvious anguish, Menaker's letter ends on a hopeful note.
"I firmly believe cats are connected in some way to the other side. They have been around human civilization for roughly 9,000 years and are the only animal species that has domesticated human beings and not vice versa…Whatever happens after our deaths, I think cats are somehow involved, and I hope that when it comes time, Marty will guide me on my own journey to the Western Lands.
"Goodbye Marty, I'll miss you terribly."
Menaker's moving words had people in tears over a cat they didn't even know.
Sees "RIP Marty" trending.

Clicks to see which Marty.

Reads about Marty the kitty.

Sobs

Marty was a good kitty. https://t.co/J5KCiAhvDI

— TheAlabastard🏒🏋🏼‍♀️🐈🤟🏻 (@ThatAlabastard) March 29, 2023
Many commiserated with pictures of their own belated fur babies.
Others still applauded Menaker for showing Marty such compassion and love.
Taking in an animal and loving them, caring for them, is one of the greatest acts of compassion in this world.

RIP Marty, you lived a good life, and you were very clearly loved. https://t.co/AjNYMiS4rl

— Evangelicals Are Fascists 🏳️‍🌈 (@JasonIsCreating) March 29, 2023
Goodbye, Marty. We might not know you, but we are touched by your story. Enjoy that great scratching post in the sky.