Inclusivity
Lynda Carter, the original 'Wonder Woman,' praises fellow Latina Alexandria Ocasio-Cortez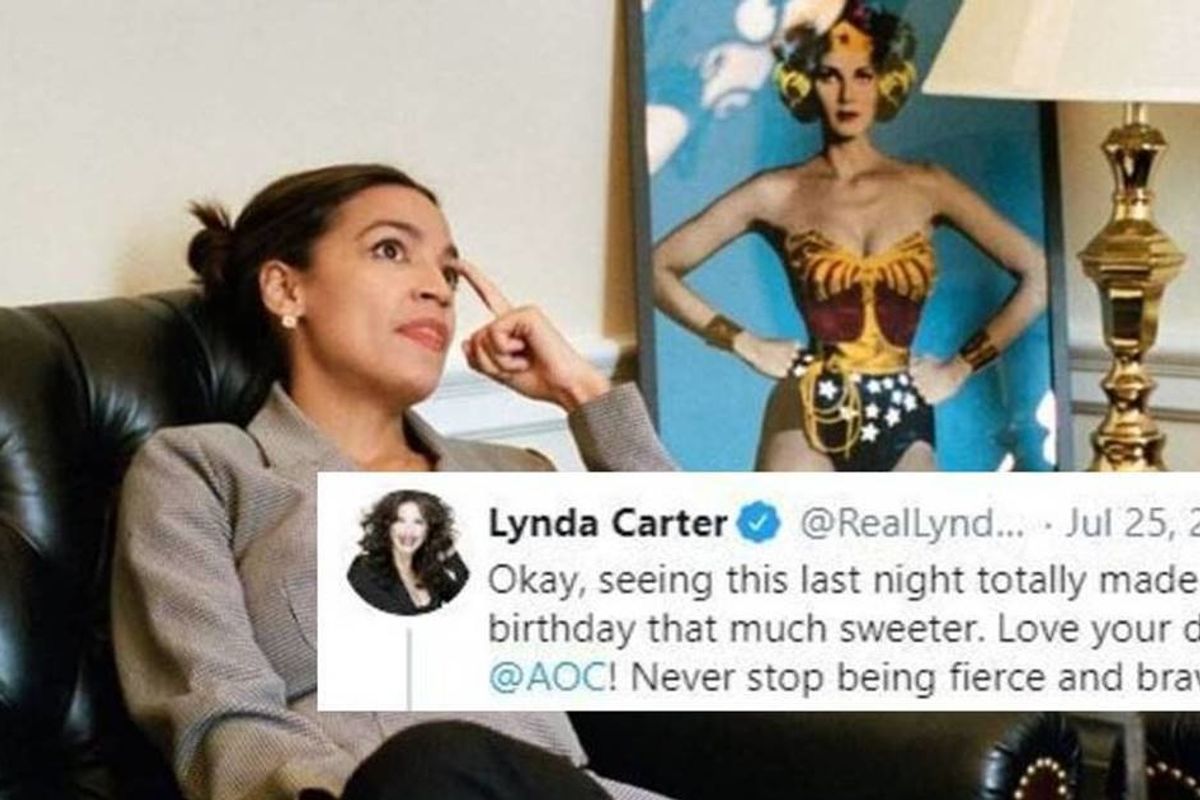 Actress, singer, and women's rights advocate Lynda Carter turned 69 years old on Friday, July 24, and celebrated it by praising New York Democratic representative Alexandria Ocasio-Cortez.

Cater has become a feminist icon for her portrayal of Wonder Woman on television in the mid- to late-'70s.
Carter tweeted a photo of AOC sitting next to a Wonder Woman poster in her Capitol Hill office. The actress and AOC both share a Latino background, Carter's mother was Mexican and Ocasio-Cortez' family is Puerto Rican.
---
"Never stop being fierce and brave," the actress said, adding that seeing Ocasio-Cortez's poster tribute "made my birthday that much sweeter."
The tweet received a like form Ocasio-Cortez who thanked Carter for "being a shining example of a woman's strength."
@RealLyndaCarter Thank you for being a shining example of a woman's strength! Happy birthday ✨

— Alexandria Ocasio-Cortez (@Alexandria Ocasio-Cortez) 1595792976.0
The interaction comes on the heels of Ocasio-Cortez's historic speech on the House floor after she was accosted by Republican Representative
who allegedly called her a "fucking bitch."

"I do not care what your views are," she said. "It does not matter how much I disagree or how much it incenses me or how much I feel that people are dehumanizing others.
"I will not do that myself. I will not allow people to change and create hatred in our hearts."
"And so, what I believe is that having a daughter does not make a man decent. Having a wife does not make a decent man. Treating people with dignity and respect makes a decent man."
"And when a decent man messes up, as we all are bound to do, he tries his best and does apologize. Not to save face, not to win a vote. He apologizes genuinely to repair and acknowledge the harm done so that we can all move on," Ocasio-Cortez said.
Rep. Alexandria Ocasio-Cortez (D-NY) Responds to Rep. Ted Yoho (R-FL)www.youtube.com
Carter's respect for Ocasio-Cortez shouldn't surprise anyone who has followed her career. Since the late '80s she has been an advocate for women's rights, including the Pro-Choice moment.

She is happy to be known as a feminist icon, although, she was just doing what came naturally. "At the time, you're really not aware of it. But when you look back, there is an inspiration there that you are part of. It's really nice," she told the Sun-Sentinel.
She has also advocated for LGBT rights and was named the Grand Marshal for the 2011 New York City Gay Pride Parade.
A victory for LGBTQ rights is a victory for us all. Happy Pride! 🏳️‍🌈 https://t.co/c5IFBmWSe9

— Lynda Carter (@Lynda Carter) 1592332780.0
As someone with a Latino background, she has also been an outspoken supporter of DACA.

"Even if you see the illegal immigrants as criminals, as many do, you cannot put that criminal action on top of children. They did not do anything criminal. They did not have choices. They came over with their families. It's not like they say anyone can come over," she said.
"These are people who haven't committed any crimes," she added. "They are going through the process of going to school and registering and there are promises that our government made to them and now those promises are broken," she said.
It must be wonderful for Carter to see that her work on screen and behind the scenes has inspired a younger generation of women such as Ocasio-Cortez, to channel their own inner Wonder Woman. And there's no doubt that Ocasio-Cortez's strength has already inspired another generation of younger women to do the same.