Planet
Lush to shut down all stores and operations, asking 5000+ employees to march for climate crisis
CEO says it's a "no brainer."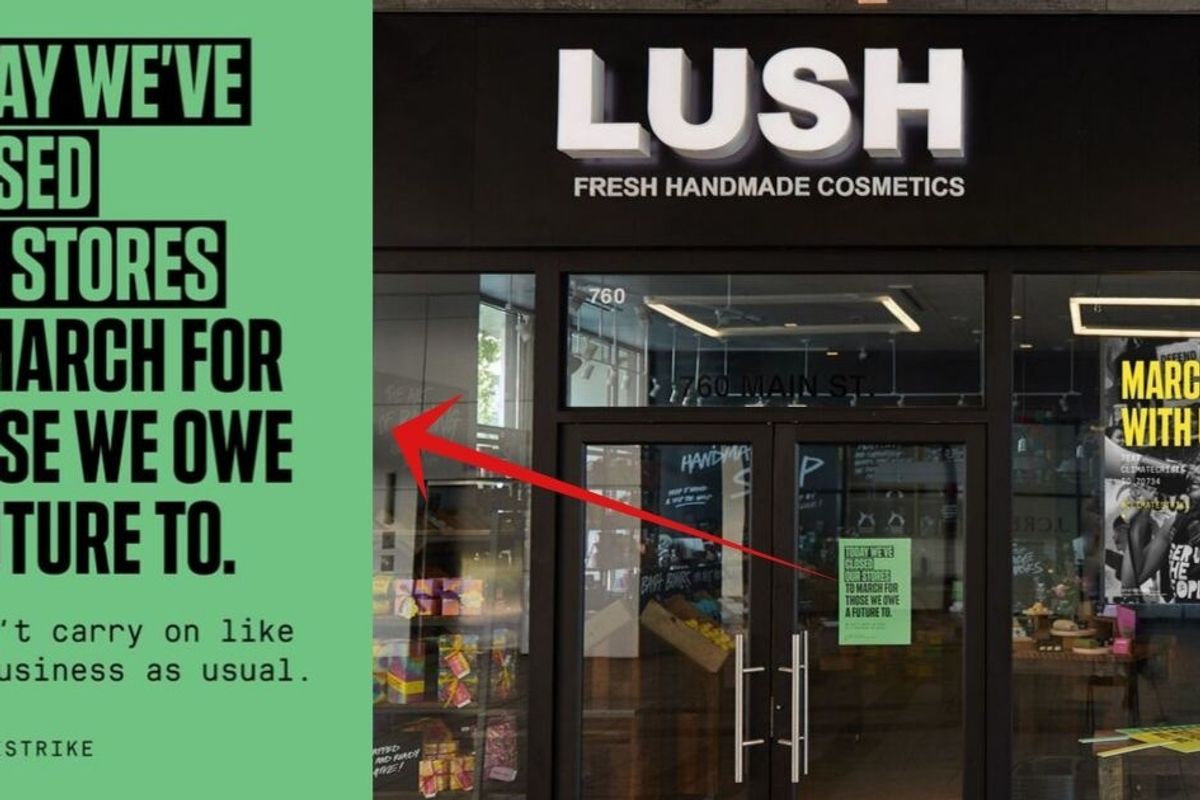 LUSH
Handmade cosmetics company Lush is putting its money where its mouth is and taking a bold step for climate change action.
On September 20 in the U.S. and September 27 in Canada, Lush will shut the doors of its 250 shops, e-commerce sites, manufacturing facilities, and headquarters for a day, in solidarity with the Global Climate Strike taking place around the world. Lush is encouraging its 5000+ employees "to join this critical movement and take a stand until global leaders are forced to face the climate crisis and enact change."
---
"After 23 years of business, Lush is closing its doors...to take a stand with millions across the world in the Global Climate Strike led by youth climate activists including Sweden's Greta Thunberg," the company said in a statement.
Mark Wolverton, President and CEO of Lush Cosmetics North America says, "As a business with deep roots in environmental activism, giving our thousands of staff the time to get out there and demand bold action is a no brainer. We all share this planet, so we need to band together to sound the alarm and show our politicians that 'business as usual' is no longer an option. The climate crisis won't wait, and neither will we."
Throughout the week, Lush will elevate the voices of the youth leading the charge on climate change action, including 16-year-old activist Greta Thunberg, by broadcasting their messages in shop windows and printed materials, as well as on the company's social media platforms.
"As someone who has been fighting tooth and nail for climate justice since I was 14, I want to give huge thanks to Lush Cosmetics for the support of our movement," says Jamie Margolin, founder of Zero Hour, a grassroots, youth-led climate action movement in the U.S. "Every little bit counts and we need more climate conscious companies to shake things up with us to preserve our future and save life on earth before it's too late. Business as usual can no longer be acceptable."

For Lush, taking action to help the earth is not new. The company's environmental policy has been central to its operations from the get go. "It's a company-wide commitment that flows through our products from our hands to yours," the policy states. "We take this commitment to environmental stewardship seriously, and we're conscious of how our products and business practices interact with the environment. In doing so, we are using creative and innovative solutions to make a positive impact on the planet instead."
Those solutions include sustainable sourcing of materials, optimizing energy and water conservation in production, eliminating packaging as much as possible, and utilizing recycled paper and plastic when packaging is necessary.
As corporations continue to contribute to the climate crisis, it's refreshing to see a company take a strong stance and bold action on the issue. Let's encourage more businesses to follow Lush's lead, putting people and the planet before profits.