Pop Culture
Kevin Bacon and Kyra Sedgwick's 'Flowers' duet, complete with screaming goat, is pure joy
The husband and wife of 35 years are the epitome of couple goals.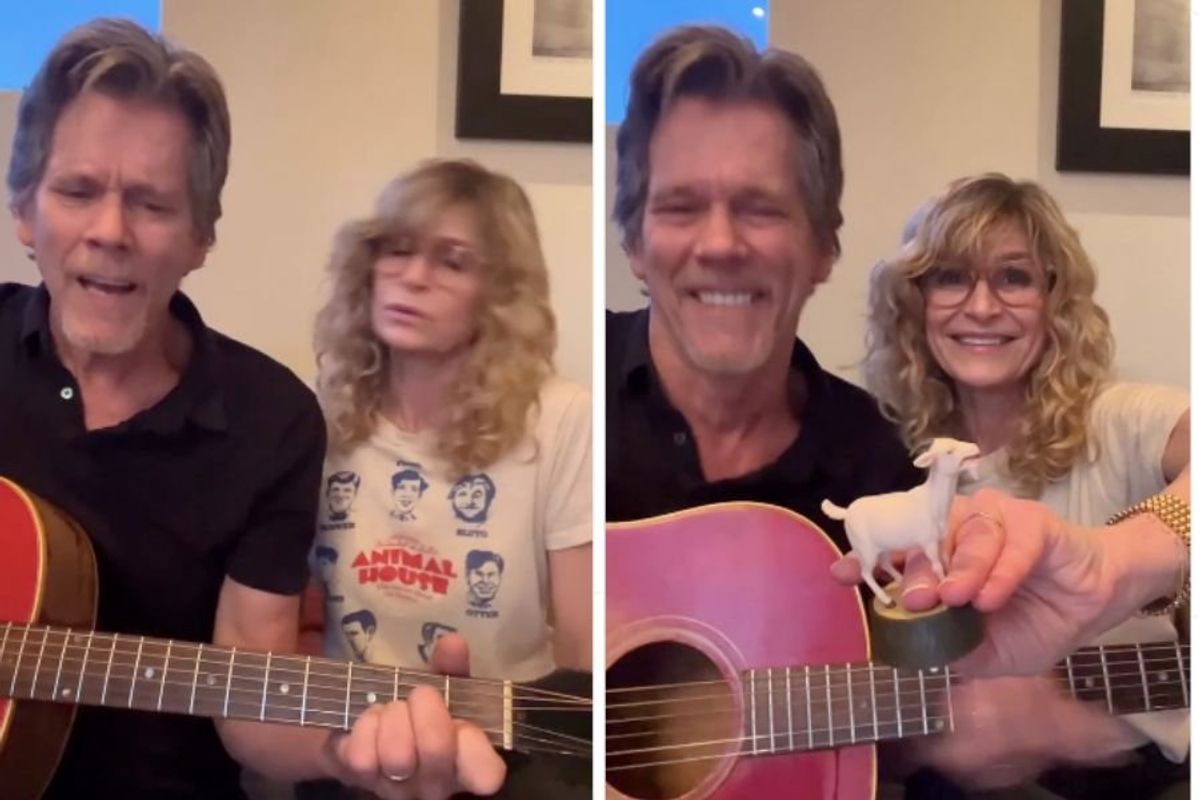 Kevin Bacon/Instagram
Hollywood isn't exactly known for cultivating lasting relationships, but some couples have managed to defy the statistics with their happy, mutually supportive, long-term marriages.
Kevin Bacon and Kyra Sedgwick are a prime example, and a video of them casually singing together is a delightful reminder that love can last.
The two actors met briefly when Sedgwick was 12 and Bacon was 19, but they didn't really get to know one another until a decade later while filming the movie "Lemon Sky" in 1987. Bacon fell for Sedgwick right away, but Sedgwick wasn't impressed by him at all at first. She quickly had a change of heart, however, and the two were married in September of 1988. They started their family right away, and nearly 35 years later, they are still going strong.
---
"I had no great role models in terms of healthy marriages, but I knew in my heart and soul that he was the right person," Sedgwick told Good Housekeeping in 2010. "It was an unquestionable truth of mine. I've never had anything like that before or after."
One "secret" to their long-lasting marriage is that they keep it simple.
"We like each other's company," Bacon told Serendipity in 2015. "We enjoy doing things together, sharing our lives, cooking, laughing—and she's hot."
"People say it's this fairytale thing, but it's life. We just love each other a lot," Sedgwick told Redbook in 2012, "When we're on the red carpet and we get the 'How do you guys do it? No one can stay together,' I get irritated. I don't think our relationship is more or less difficult; I just think you both make the commitment and you make it work."
They also say they just got lucky in their relationship, and that with the exception of a few bumps in the road, it hasn't been hard.
Their ease and comfort with one another are evident in a video Bacon shared on Instagram, in which the couple sings Miley Cyrus' 'Flowers' together. Bacon, who often shares his music on social media, plays the guitar and Sedgwick plays…a screaming goat?
There is actually a good explanation for this. Bacon and Sedgwick live on a farm and Bacon often films himself singing out in the yard with the goats.
"We're not with the goats, but we thought we'd try a goat song anyway," Sedgwick explains at the opening of the video. It's really a must-see—for the love, for the silliness and because Bacon really does have a cool singing voice.
Enjoy:
Here's to good partnerships, lucky couples, happy marriages…and the neverending joy of screaming goats.