More
Keanu Reeves was asked what happens "after we die." His answer is blowing everyone's minds.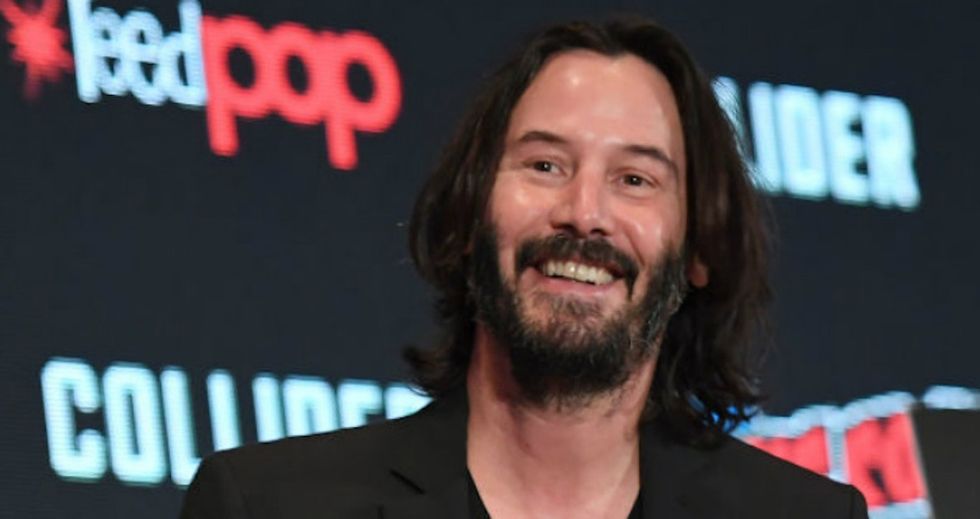 If you struggle with the knowledge that one day you will die, and the idea of a future full of 3d-printed hearts isn't doing much to quell your fears, here are some words of wisdom from someone we all know and trust: Keanu Reeves.
While on Colbert promoting his latest movie — the third in a series about not disrespecting animals — the guy who originated the role of one of the chillest dudes around got asked about what happens to all of us after we die.
---
You'd expect a fun celeb answer. Maybe a touching one about meeting loved ones or a glib "god, I hope they don't make me watch my entire life over. Have you seen 'Sweet November'?" But that's not what happened. Instead, Reeves said something profoundly simple "I know that the ones who love us will miss us."
Check it out:
Keanu Reeves' incredibly sincere, profound answer to Colbert's question about what happens when we die is why he mu… https://t.co/DyF68Kiao5

— Nick Naranjo (@Nick Naranjo) 1557616914.0
Some points of order:
This dude's so humble and cool and diplomatic.
Oh my god, he literally just called out all of us who lay in bed awake at night wondering how the earth could ever continue spinning without us instead of thinking of those that we're leaving behind. Guess it's time to restructure that narcissistic thinking just a lil' bit.
@misslaneym It's interesting to think how people almost always selfishly argue about what happens to us when we die… https://t.co/ba7IvnEyRG

— Kilikikero (@Kilikikero) 1557618650.0
Of course, this little nugget of inspiration wasn't going to pass without blowing all our minds.
@misslaneym @BigMonkeyLuvr25 Keanu Reeves could easily pick up Mjolnir.

— LA (@LA) 1557624145.0
@HuffPost His answer should satisfy those profoundly religious, and #atheists alike. In fact, he might have just re… https://t.co/yfvFv8UpkF

— Isabella Bodnar (@Isabella Bodnar) 1557776092.0
What a lovely reminder that we should all try and live meaningful lives that are not only authentic, but worthy of the loved ones we're leaving behind. That's real heavy. And also really light. Actually, I'm just going to take the rest   of the afternoon off to think about it. Thanks, Keanu!