More
Hunter S. Thompson's advice on finding purpose in life is something everyone should read.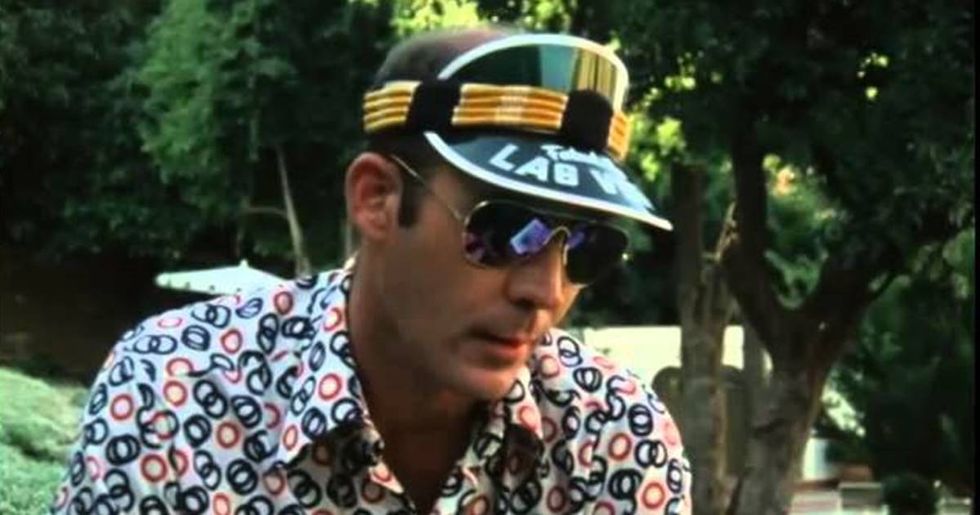 Hunter S. Thompson burst onto the American literary scene in 1966 with "Hell's Angels: The Strange and Terrible Saga of the Outlaw Motorcycle Gangs," a harrowing account of the time he spent embedded with the renegade club.  
Thompson would forever change the face of journalism with his "gonzo" style in which he put himself in the center of the story.
In his most popular and acclaimed work, 1971's "Fear and Loathing in Las Vegas," Thompson, under the guise of Raoul Duke, drove a red Caprice to Sin City with a briefcase full of drugs on a search for the American dream.
---
Thompson's cartoonish, drug-fueled profiles of events such as George Foreman and Muhammad Ali's "Rumble in the Jungle, the 1972 presidential election, and The Kentucky Derby would make him a '70s counterculture icon.
In 2001, his eerily prescient reaction to the September 11th attacks proved him to be the Nostradamus of the War on Terror.
Thompson would take his own life in 2005 and have his ashes shot out of a cannon by his friend, and the man who played him in the film adaptation of "Fear and Loathing in Las Vegas," Johnny Depp.
In 1958, Thompson was just 22 years old when he wrote an inspiring letter to his friend Hume Logan that proved he was much wiser than his years.
The question was about finding one's purpose in life, and Thompson's reply is rather unexpected.
While most people are searching for a specific goal, such as a profession, Thompson believes one's ultimate objective should be to choose a way of life first and find goals to match.
Here are some excerpts from the letter:
So it would seem foolish, would it not, to adjust our lives to the demands of a goal we see from a different angle every day? How could we ever hope to accomplish anything other than galloping neurosis?
After stating the inherent problem with having specific goals, Thompson lays out a simple formula.
As I see it then, the formula runs something like this: a man must choose a path which will let his ABILITIES function at maximum efficiency toward the gratification of his DESIRES. In doing this, he is fulfilling a need (giving himself identity by functioning in a set pattern toward a set goal), he avoids frustrating his potential (choosing a path which puts no limit on his self-development), and he avoids the terror of seeing his goal wilt or lose its charm as he draws closer to it (rather than bending himself to meet the demands of that which he seeks, he has bent his goal to conform to his own abilities and desires).
Thompson also warns against letting other people define your goals.  
In short, he has not dedicated his life to reaching a pre-defined goal, but he has rather chosen a way of life he KNOWS he will enjoy. The goal is absolutely secondary: it is the functioning toward the goal which is important. And it seems almost ridiculous to say that a man MUST function in a pattern of his own choosing; for to let another man define your own goals is to give up one of the most meaningful aspects of life— the definitive act of will which makes a man an individual.
Thompson believes that there is a small window of opportunity for choosing to live the life we want.
But a man who procrastinates in his CHOOSING will inevitably have his choice made for him by circumstance.
At the letter's conclusion, he boils his advice down to two sentences.
But beware of looking for goals: look for a way of life. Decide how you want to live and then see what you can do to make a living WITHIN that way of life.
You can read the entire piece at Letters of Note.