Planet
The ocean is the heart of our planet. It needs our help to be healthy.
Ocean Wise
True
The ocean covers over 71% of the Earth's surface and serves as our planet's heart. Ocean currents circulate vital heat, moisture, and nutrients around the globe to influence and regulate our climate, similar to the human circulatory system. Cool, right?
Our ocean systems provide us with everything from fresh oxygen to fresh food. We need it to survive and thrive—and when the ocean struggles to function healthfully, the whole world is affected.
Pollution, overfishing, and climate change are the three biggest challenges preventing the ocean from doing its job, and it needs our help now more than ever. Humans created the problem; now humans are responsible for solving it.
#BeOceanWise is a global rallying cry to do what you can for the ocean, because we need the ocean and the ocean needs us. If you're wondering how—or if—you can make a difference, the answer is a resounding YES. There are a myriad of ways you can help, even if you don't live near a body of water. For example, you can focus on reducing the amount of plastic you purchase for yourself or your family.
Another easy way to help clean up our oceans is to be aware of what's known as the "dirty dozen." Every year, scientists release an updated list of the most-found litter scattered along shorelines. The biggest culprit? Single-use beverage and food items such as foam cups, straws, bottle caps, and cigarette butts. If you can't cut single-use plastic out of your life completely, we understand. Just make sure to correctly recycle plastic when you are finished using it. A staggering 3 million tons of plastic ends up in our oceans annually. Imagine the difference we could make if everyone recycled!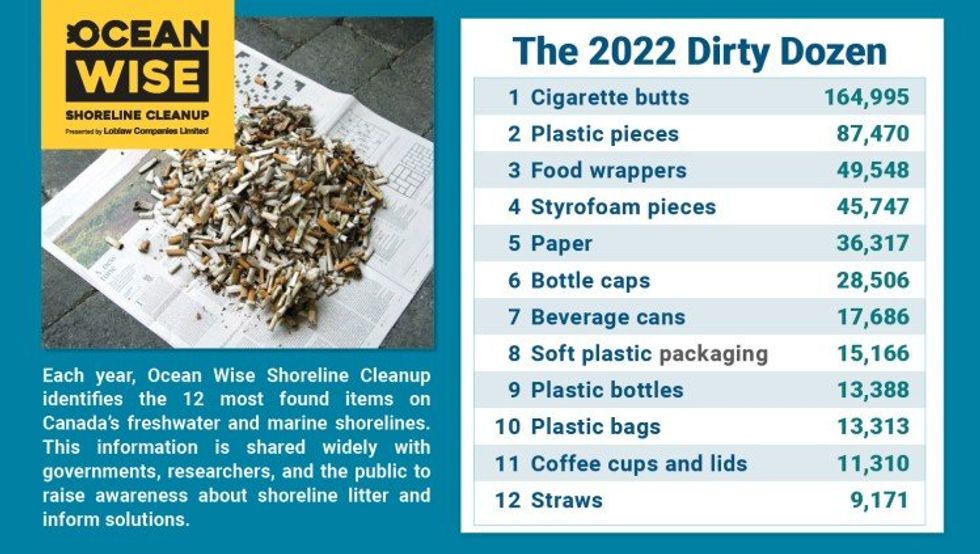 The 2022 "Dirty Dozen" ListOcean Wise
If you live near a shoreline, help clean it up! Organize or join an effort to take action and make a positive impact in your community alongside your friends, family, or colleagues. You can also tag @oceanwise on social if you spot a beach that needs some love. The location will be added to Ocean Wise's system so you can submit data on the litter found during future Shoreline Cleanups. This data helps Ocean Wise work with businesses and governments to stop plastic pollution at its source. In Canada, Ocean Wise data helped inform a federal ban on unnecessary single-use plastics. Small but important actions like these greatly help reduce the litter that ends up in our ocean.
Ocean Wise, a conservation organization on a mission to restore and protect our oceans, is focused on empowering and educating everyone from individuals to governments on how to protect our waters. They are making conservation happen through five big initiatives: monitoring and protecting whales, fighting climate change and restoring biodiversity, innovating for a plastic-free ocean, protecting and restoring fish stocks, and finally, educating and empowering youth. The non-profit believes that in order to rebuild a resilient and vibrant ocean within the next ten years, everyone needs to take action.
Become an Ocean Wise ally and share your knowledge with others. The more people who know how badly the ocean needs our help, the better! Now is a great time to commit to being a part of something bigger and get our oceans healthy again.

Joy
The safe was stolen 22 years ago.
Pets
A quick trip to the vet confirmed the cats' and family's suspicions.
Joy
The other dogs can't believe what they are seeing.
Double H Canine Academy in Louisville, Kentucky is a place where dog owners can take their rambunctious pets and have them turned into respectable members of the family.

However, as you can tell in this hilarious video, not all dogs are meant to follow orders.
Ladies and gentleman, meet Ryker.
Double H Canine Training Academy... Epic Service Dog Training Failure
Ryker giving it his all before flunking our of Service Dog Training School

As you can see below, Ryker is living his life to the fullest. While he may never be the world's greatest service dog, he continues to provide an invaluable testament to being true to one's self.

RYKER "The Purpose Driven Dog"🐕........




This article originally appeared on 02.26.20
Get stories worth sharing delivered to your inbox
Joy
"This is THE sisters experience…you captured the whole thing."
Joy
People have a sneaking suspicion that the little girl has seen 'Corina, Corina' one too many times.
Joy
The viral watermelon challenge isn't for the faint of heart.
Get stories worth sharing delivered to your inbox