Education
Historian of infant feeding debunks myths about how babies ate in the pre-formula days
Not everyone breastfed before formula was invented.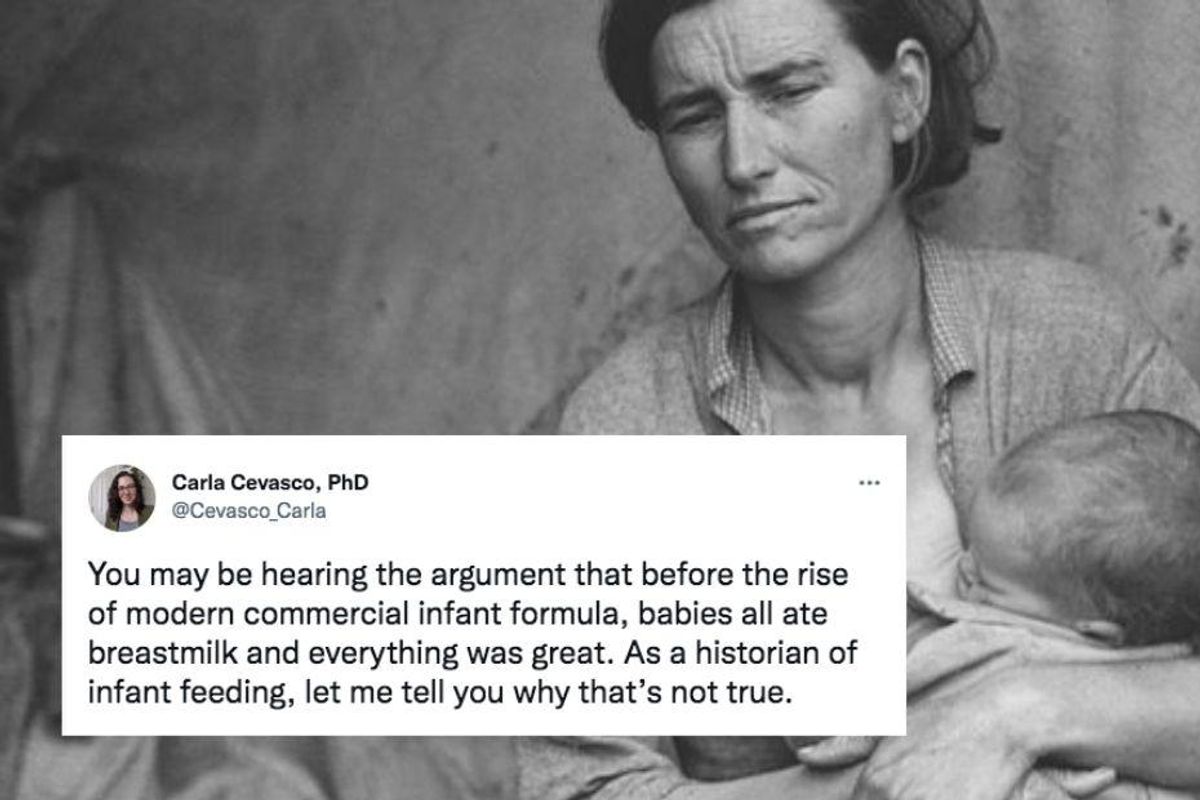 As if the past handful of years weren't challenging enough, the U.S. is currently dealing with a baby formula crisis.
Due to a perfect storm of supply chain issues, product recalls, labor shortages and inflation, manufacturers are struggling to keep up with formula demand and retailers are rationing supplies. As a result, families that rely on formula are scrambling to ensure that their babies get the food they need.
Naturally, people are weighing in on the crisis, with some throwing out simplistic advice like, "Why don't you just do what people did before baby formula was invented and just breastfeed?"
That might seem logical, unless you understand how breastfeeding works and know a bit about infant mortality throughout human history.
---
Rutgers University historian Carla Cevasco, Ph.D. shared some of the history of infant feeding in a viral Twitter thread to set the record straight. (Note: Cevasco provided sources for her facts, which can be viewed at the end of her thread on Twitter.)
"You may be hearing the argument that before the rise of modern commercial infant formula, babies all ate breastmilk and everything was great," she wrote. "As a historian of infant feeding, let me tell you why that's not true."
First of all, throughout history, people have at times needed to feed infants using foods other than breastmilk. For many reasons:

— Carla Cevasco, PhD (@Carla Cevasco, PhD) 1652312444
Cevasco explained that, throughout history, people have had to feed infants food other than breastmilk for a variety of reasons.
"Sometimes the birthing parent was unable to breastfeed," she wrote, "Because: death in childbirth, or physical/mental health concerns, or need to return to work outside the home right after childbirth, OR their partner or enslaver forced them not to breastfeed so that they could return to fertility ASAP after giving birth.
"Sometimes baby was unable to breastfeed. Because: poor latch, prematurity, cleft palate, other health or disability reasons, etc.
"Sometimes baby was being cared for by carers other than birthing parent, including adoptive parents."

So, feeding baby other people\u2019s breastmilk wasn\u2019t necessarily an ideal situation either, given the power dynamics of race, class, and gender in the past.

— Carla Cevasco, PhD (@Carla Cevasco, PhD) 1652312706
Cevasco went on to explain what babies ate instead of a parent's breast milk in those situations.
"Sometimes someone else would breastfeed the child," she wrote. "This might have been a relative or neighbor doing it for free. Or it might have been a paid or unpaid servant or enslaved person doing it at the expense of their own nursing infant, who might starve to death as a result."
She also explained that some babies thrived on alternative diets, which are not recommended today due to concerns about safety and nutrition.
"Wabanaki women in the 18th century sometimes fed infants a mixture of boiled walnuts, cornmeal, and water; an English colonist, Elizabeth Hanson, reported that her baby thrived on this diet," she wrote. "In early modern Europe, babies often ate pap or panada, mixtures of animal milk or water, bread crumbs or flour. Sometimes these were boiled, sometimes they weren't."
However, she explained, those milk substitutes weren't always safe or nutritionally complete.
"So before the advent of modern commercial formula (in the 1950s), a lot of babies died of illness or starvation because they couldn't breastfeed and the alternative foods were not safe or adequate," she wrote. "Let me repeat that: in the absence of modern formula, A LOT OF BABIES DIED OF ILLNESS OR STARVATION DUE TO LACK OF SAFE OR ADEQUATE FOOD."
As Cevasco illustrates, the idea that the pre-formula days were a bastion of infant health due to widespread breastfeeding is simply incorrect. Cevasco explained that better supports such as paid parental leave, free lactation consultation and education, better access to places to pump and so on, would go a long way toward increasing breastfeeding rates. She also pointed out that the greed of the corporate formula industry created the formula shortage crisis.
"But! Let's not demonize formula because of an imagined past in which everyone breastfed," she wrote. "In the ACTUAL past, babies fucking starved and died of disease. Babies who would have survived today, because they would have had access to safe, nutritionally complete formula. Access that is now, horrifyingly and unjustly, under threat for many babies and their caregivers."
There will ALWAYS be people who need formula for a whole hosts of reasons.

— Carla Cevasco, PhD (@Carla Cevasco, PhD) 1652313204
Cevasco pointed out that there are multiple safe and nutritionally complete ways to feed a baby, and making sure babies don't go hungry should be our main goal.
So many misinformed comments could be avoided with a basic understanding of what infant feeding looked like in the past, as well as a basic understanding of how breastfeeding works both physically and logistically. Let's spend more time informing ourselves and sharing facts from experts rather than continuing to perpetuate unhelpful and harmful myths about both breastfeeding and formula feeding.