Pop Culture
'Ted Lasso' star Hannah Waddingham learns how to be a rock star and people are gobsmacked
If you think her air guitar skills are something wait till she hits that high note.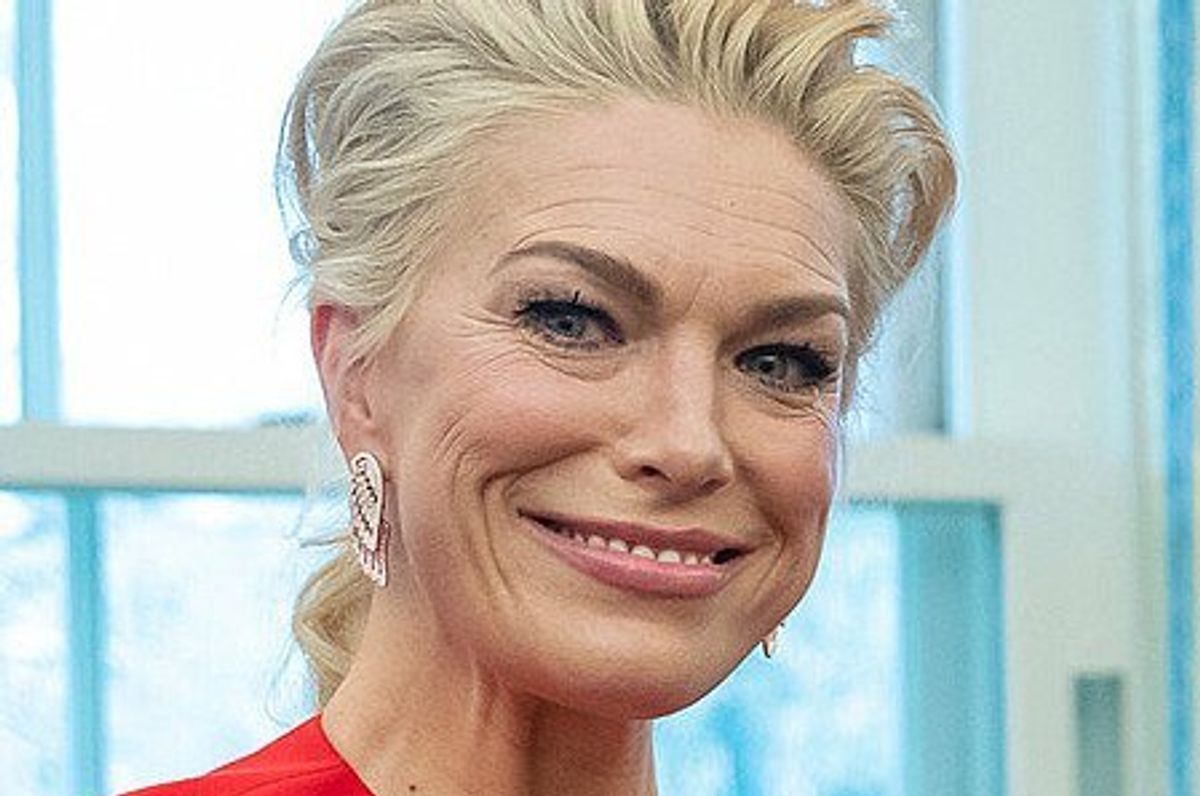 If, like many people, you came to really know and love Hannah Waddingham from her role on "Ted Lasso," you might be surprised to learn that she is not only a gifted actress but a talented singer. (Well, those few times on the show when her character, Rebecca, busted out a few notes might have been a clear indicator.)
She has an extensive musical theatre background, with one of her most notable performances being The Lady of the Lake in "Spamalot," a role she originated and which won her an Olivier Award for Best Actress in a Musical.
Still, even the biggest Waddingham fans who have been following her career since day one were not prepared for her night of co-hosting 2023's Eurovision, an annual international song competition that features music mainly from European countries.
---
From her stunning rainbow dress that perfectly mimicked the stage lights to flawlessly presenting in French, Waddingham completely stole the show.
Just a little teeny tiny message for all residents of Europe: a vote for the UK on Saturday is a vote for Hannah Waddingham to host again next year. Just saying 👀🦄 #Eurovision2023 pic.twitter.com/RzDYa3ePPk

— Jennie 🩷🌻 (@jenjen__xo) May 9, 2023
But without a doubt, the most epic moment of the night came when Waddingham was being taught how to "rock out" by co-host and Ukrainian singer Julia Sanina. In just 90 seconds, she not only showed off some impressive air guitar skills but also unleashed an unbelievably high-pitched note that would even make Axl Rose swoon.
Check it out below:
hannah waddingham not only flexing her insane air guitar skills but her unreal singing voice 😭 pic.twitter.com/EzJDuHM4nF

— daisy (@weltonsmac) May 9, 2023
Needless to say, Twitter was all aflutter about it.

"Hannah Waddingham not only flexing her insane air guitar skills but her unreal singing voice."
"This is Hannah Waddingham's world. We're just living in it.."
"Just when I think I couldn't love her more…"
"Hannah is so badass. Thank you Ted Lasso for introducing her to us yanks. On a sidenote, my daughter dressed as Ted Lasso for Halloween two years ago when she was 17. Both Jason and Hannah liked the picture of her that I tweeted out. She was over the moon for a month."
"Hannah Waddingham, restoring peace between the realms."
"I loved her hosting, effortless, easy to watch and very engaging. She's got charm and brings the fun. Well done Hannah!"
Yeah…Waddingham technically might have not been competing, but I think we can all agree she pretty much won the whole damn thing.