Joy
Portland neighborhood addresses gun violence by transforming a turning lane into a park. It's working!
'You can see the smiles of the community and what they will always remember is that they were heard and we tried to help.'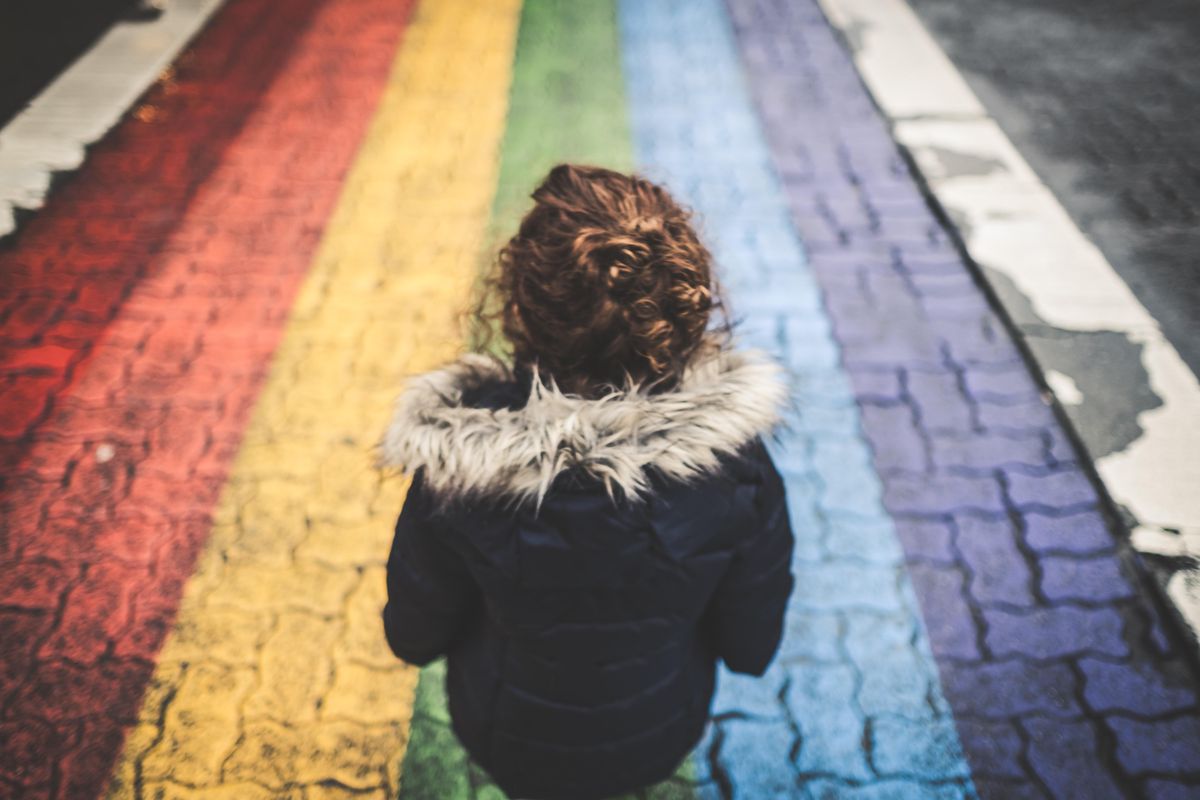 Amid a spiraling gun violence problem in America, one neighborhood in southeast Portland, Oregon, has done something to address a serious problem. Its actions have dramatically decreased gun violence at a particularly active intersection. The local neighborhood association worked with city leaders to take the radical step of removing the turning lane and turning it into a park. Yeah, you read that correctly.
---
Shootings at the intersection in the Mt. Scott-Arleta neighborhood were increasing dramatically. It also saw a lot of car crashes and pedestrians threats, according to Portland Mercury. Now, what was once an area prone to violence has been transformed into a community space with an eye-catching rainbow painted on the ground. City and neighborhood leaders made the community space by taking the Arleta Triangle, which had been a tree-lined traffic island separating the turn lane from the intersection, and expanded it, completely cutting the turn lane out.
\u201c\u201cOur hope is to enhance the Arleta Triangle to create an active public space that attracts more positive, community building activities to the area,\u201d said Transportation Commissioner Jo Ann Hardesty.\u201d

— Commissioner Jo Ann Hardesty (@Commissioner Jo Ann Hardesty) 1655858161
According to Local Today Washington News, this specific area in Portland saw a drastic increase in gun violence after the start of the pandemic. Chair of the Mt. Scott-Arleta Neighborhood Association Matchu Williams told Portland Mercury, "We went from two or three shootings a year, to daily [shootings] for two or three months. Some of these exchanges weren't just firing off a couple bullets in drive-bys, but 25 to 93 shell casings recovered by police. Terrifying."
Living in an area that is subject to so much gun violence has to not only be terrifying but traumatizing for families and other community members. Parents, especially, have their children's safety front of mind and a solution such as this is so important.
\u201cWe had so much fun last night\nhttps://t.co/s16BNinkcb\u201d

— Mt. Scott-Arleta (@Mt. Scott-Arleta) 1662783494
Getting this community space built was truly an effort of neighbors working together for a common goal. Residents see this as a way to reduce gun violence without adding more police presence in the area. Local resident Nadine Salama took it upon herself to get input from other neighbors on safety concerns and together they brought those concerns and ideas to the city commissioner, Jo Ann Hardesty. The neighbors and Hardesty worked to address concerns such as low lighting and reckless driving in a nearby church parking lot.
Within a month of meeting with Hardesty, who also oversees the Portland Bureau of Transportation, the safety concerns were beginning to be addressed, according to the Portland Mercury. In that short time frame, the church parking lot was roped off, leaving only one entrance, lighting was installed around the intersection and trees were trimmed back to address the visibility issues. The group was even able to add "local access only" cones at other intersections to decrease traffic, as well as add park rangers. If other governments moved this fast, who knows what could be accomplished?
It's a great demonstration of what quick work and listening to your community looks like. Hardesty was presented with a problem and she listened to the community members to address all of their concerns.
\u201cA few more pictures from a wonderful event. \ud83e\udd70\u201d

— Commissioner Jo Ann Hardesty (@Commissioner Jo Ann Hardesty) 1662692822
Amazingly, with just those relatively small changes, gun violence dropped by 64% in the area within three months. The community was happy to celebrate the achievement with a block party at the newly built community space that replaced the turn lane.
Hardesty told Portland Mercury, "You can see the smiles of the community and what they will always remember is that they were heard and we tried to help. And had it not worked, we would have tried something different. That's what we have to be unafraid of—trying things that we don't know will work."