Culture
Remarkable new document unveiled to the UN arguing for girls' fundamental rights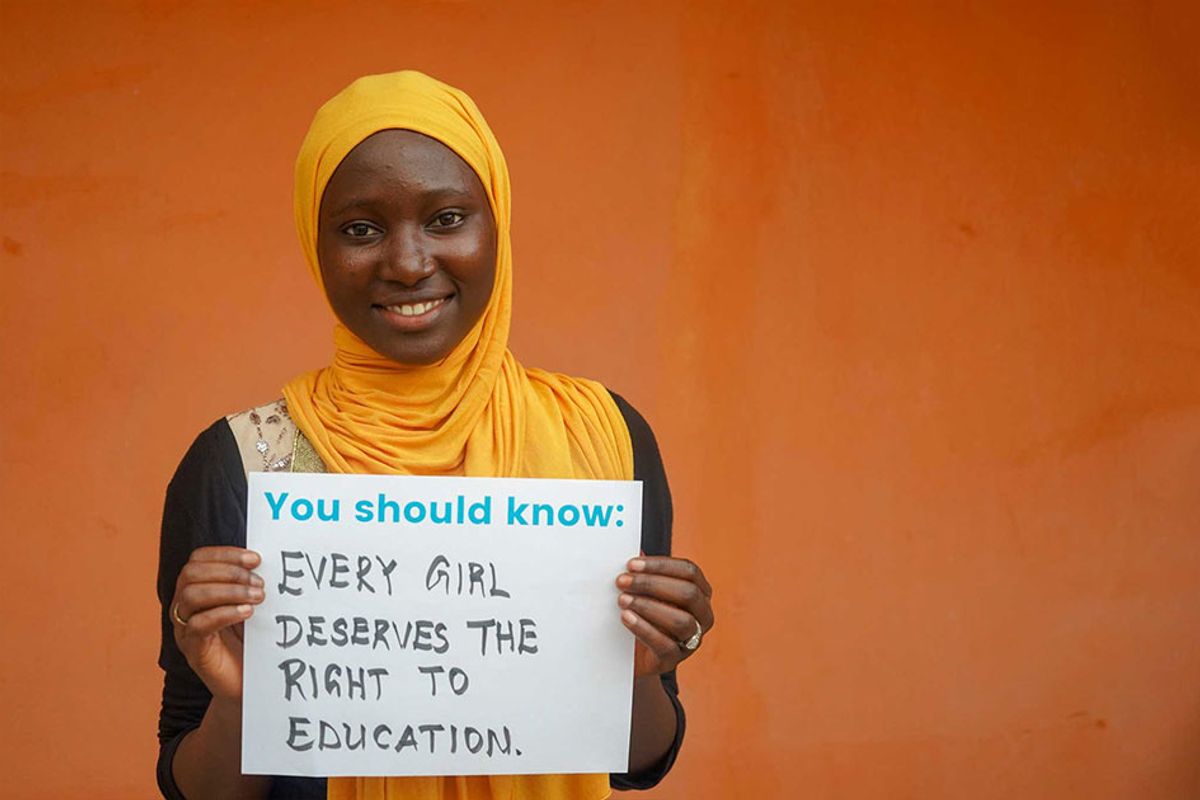 Rene Moses Ceesay
A remarkable new document will be unveiled to the U.N. today to coincide with International Day of the Girl.
The document wasn't written by professionals. It wasn't cooked up by politicians or commandeered by parents or think tanks; It was written by girls. A thousand girls, to be precise, aged 13 to 22, from myriad ethic and cultural backgrounds, nearly 40 countries and five languages. Girls like India's Vishahka Agrawal, who confesses, "I have seen girls marriages happen before my own eyes. Harmful cultural practices that have been [around] so long they're almost considered accepted." Or Djellza Pulatani, of the U.S. and Kosovo, who shared, "Coming from a patriarchal culture, I have seen and been a direct victim of women's oppression." These young women have peered deep into the dizzying morass of gender-based injustice and teased out a possible antidote.

A Global Girls' Bill of Rights.
---
"For too long, the world has talked about what girls need and want, without ever asking them," says Christen Brandt, co-founder of the award-winning non-profit organization, She's the First. And therein lies the irony: even those with honorable intentions are in a sense undermining girls if they speak for them. Because to speak for girls, in effect, silences them, perpetuating the very problem those well-meaning advocates hope to fix.
And what do we mean when we say "the world?" Considering most of the world's nations have never had a female leader, and when women do come into power, they rarely hold it for long, "the world" is really another way of saying, well, men.
Olivia Lombardo, a 16-year-old activist speaking on the panel, admits, "in my own dealing with female empowerment groups, we find ourselves habitually thanking the men in the room for wanting equality. Not only should men be included in the conversation, but they must also learn. They must listen to the women around them because, for too long, systems of oppression have disenfranchised women's voices."
Lara Santos, a young Brazilian advocate for gender equality in Latin America, concurs: "Men are represented in decision-making, young boys can see themselves in positions of power all the time, but girls don't."
So, along with the Kenya-based leadership incubator, Akili Dada, and the Mayan Girl advocacy organization, MAIA, She's The First created a platform for girls to weigh in on their own needs: a website where they could submit the rights most important to them, expressed in their own words. The following is what it all boils down to — a list of ten unalienable rights for girls:
A free, quality education which prepares girls for the modern world.
Equality.
Involvement in decision-making and pursuit of leadership positions without fear of discrimination, harassment, or persecution.
Documentation.
Comprehensive sexual education and access to free, quality healthcare.
Protection from harmful traditions and enjoyment of positive cultural practices.
Safety from all forms of violence.
Decision-making about their body and sexuality.
Protection under the law without fear of unequal treatment.
Freedom from exploitation.
What are they hoping to achieve by presenting these ten unalienable rights to the U.N.? "I wish for them not only to listen," says Pulatani, "but to execute the rights we present… [to] create a 'splash' that leads to a movement." Deborah Soler, of Puerto Rico, believes it sends a crucial message of solidarity and hope — a flare in the dark for oppressed girls around the world: "Ustedes no están solas," she says. "You are not alone."
If you would like to add your voice to theirs, express support, or merely signal your readiness to listen, you can co-sign the Global Girls' Bill of rights by amplifying it on social media. Adults can make a public pledge: "I support girls on the decisions that affect their lives. #GirlsBillofRights." Girls can co-sign the Bill by sharing: "Girls just want to have fundamental rights. These are mine. Read them, respect them. #GirlsBillofRights."
But, of course, these are just suggestions. Because according to Right No. 3: all girls are free to decide for themselves.