Fed up news anchor has the best response to a man who told her to dress 'like a normal woman'
Women shouldn't have to dress for the male gaze.
09.11.19
One of the major differences between women and men is that women are often judged based on their looks rather than their character or abilities.
"Men as well as women tend to establish the worth of individual women primarily by the way their body looks, research shows. We do not do this when we evaluate men," Naomi Ellemers Ph.D. wrote in Psychology Today.
Dr. Ellers believes that this tendency to judge a woman solely on her looks causes them to be seen as an object rather than a person.
---
"As a result of focusing on their outwardly visible features, we are tempted to overlook their inner states, ignore markers of their intentions, beliefs, and desires, and less likely to empathize with their plight," Ellers continued.
Women in the spotlight are constantly being judged based on their looks rather than their performance in a given field. Serena Williams once won the French Open but all the press was about what she wore on the court.
Hillary Clinton has been constantly being criticized throughout her political life for what she wore or her hair style rather than her accomplishments.
Maggie Vespa, a news anchor at KGW-TV in Portland, was criticized for how she dresses by a male viewer, so she brilliantly took the incident and used it as a way to talk about the double standards women face.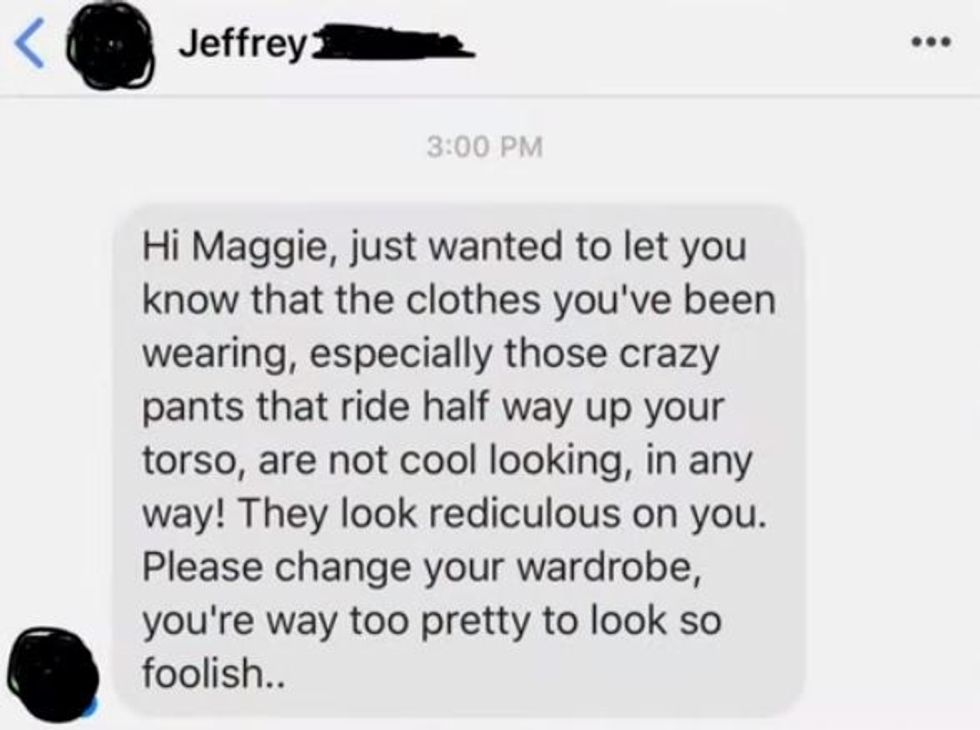 via KGW-TV / YouTube
"Just wanted to let you know that the clothes you've been wearing, especially those crazy pants that ride half way up your torso, are not cool looking, in any way!," Jeffrey, a male viewer, wrote to Vespa on Facebook. You're way too pretty to look so foolish."

The next day, he sent her another message. "OMG, you really looked uncomfortably tonight. Try dressing like a normal woman. Doesn't KGW pay you enough for a wardrobe makeover?" Jeffrey wrote.

via KGW-TV / YouTube
Vespa posted about the emails on social media and received hundreds of responses, so she carved out a few minutes to discuss the situation on the news.
"Let's just get this out of the way at the top. This is dumb," Vespa responded.

There was no way she was going to start dressing for the male gaze.
"These are my pants. I like them. I bought them."
Maggie went on to show photos of five different pairs of high-waisted pants that she wore in the week following Jeffrey's messages. Maggie's colleagues also got in on it, donning high-waisted pants to show their support.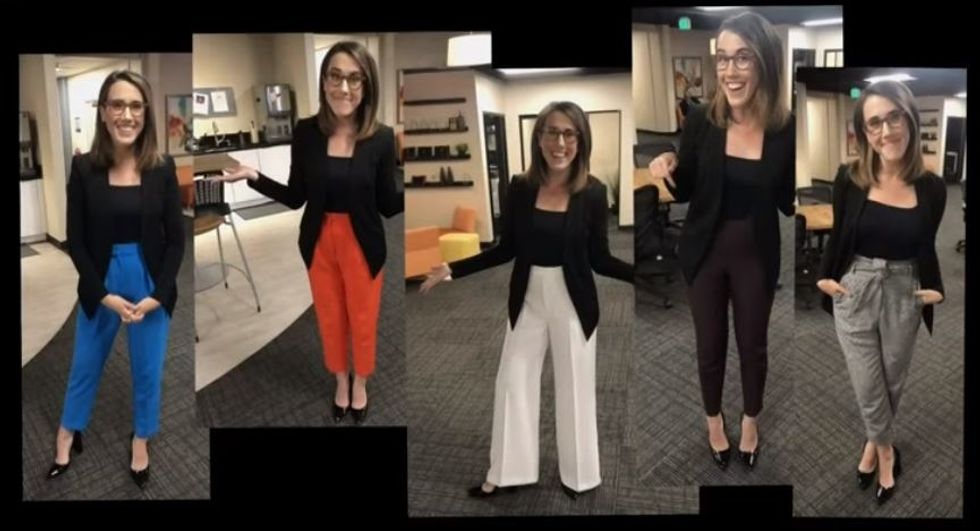 via KGW-TV / YouTube
Vespa said the harassment "hit a nerve" with people on social media who used it as an opportunity to discuss "the pressure women obviously face, especially those in the public eye to embody the epitome of physical attractiveness at all times."

"If we don't, it's somehow seen as a sign that we're less credible or less capable and, by and large, guys don't have to deal with this," Vespa continued. " As my awesome male coworkers can and have attested to."
Vespa then brilliantly spun the harassment into an empowering message for women.
"Our goal here is to send a message, to women, to girls, to everyone: Dress how you want, look how you want, and if anybody tries to make you feel less than because of that, that's their problem, not yours," Vespa said.
popular