Joy
Her teammate gave up her spot so Erin Jackson could compete. Then Jackson won Olympic gold.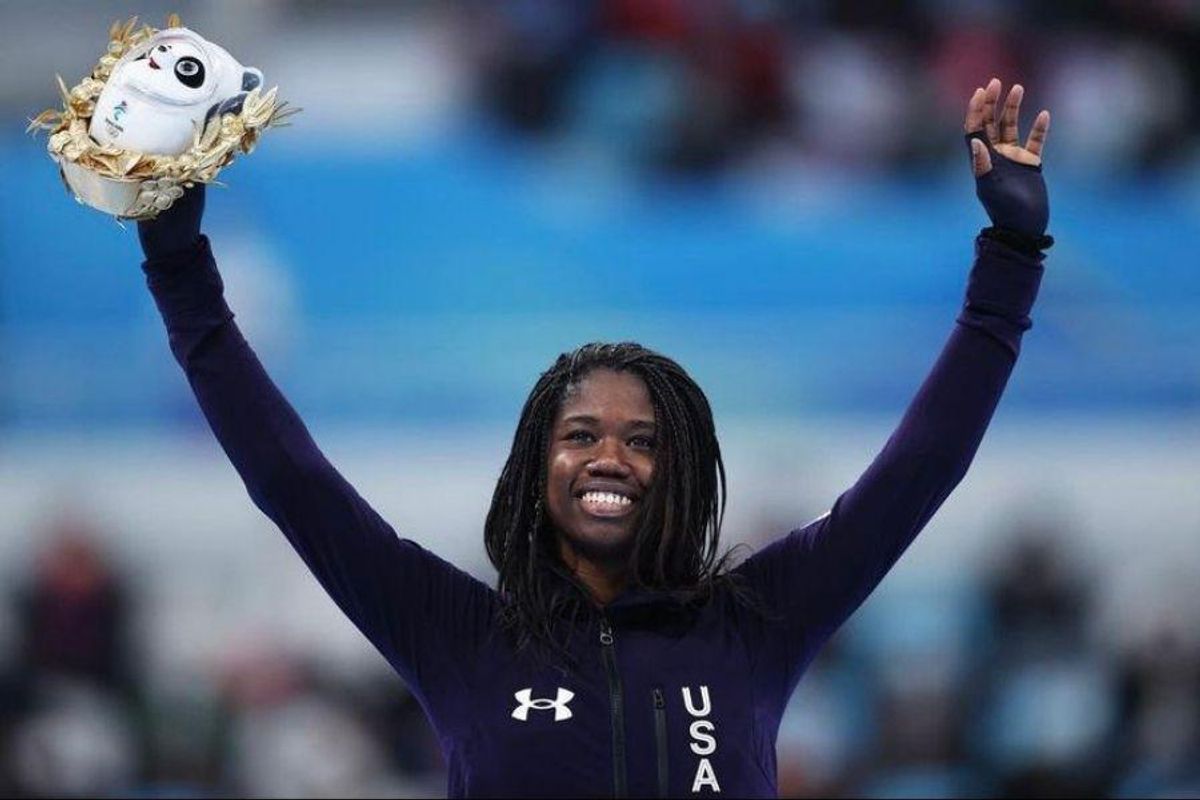 It's only been six years since Erin Jackson first strapped on a set of ice skates. Now she's the best female 500-meter speedskater on the planet.
Impressive? Um, yes.
Jackson, 29, just took home gold skating the 500-meter in the Olympics for Team USA, making her the first Black woman and just the second Black athlete to win an individual Olympic medal in any speedskating event. A historic moment, for sure, but the journey that brought Jackson to that moment is fascinating in more ways than one.
BEIJING 2022: ERIN JACKSON 500M OLYMPIC CHAMPION pic.twitter.com/ZbngHg0zN1

— US Speedskating (@US Speedskating) 1644767734
First of all, despite being the No. 1 ranked skater in the women's 500-meter going into the Olympic trials, Jackson slipped during her qualifying race and came in third. Only the top two finishers qualified for the Olympics, so she was out. However, her teammate and long-time friend Britanny Bowe, who came in first, gave up her spot so that Jackson could compete with Team USA. ("She deserves it," said Bowe, who would already be competing in the 1000-meter and 1500-meter Olympic races.)
---
"I'm incredibly grateful and humbled by the kindness of @BrittanyBowe in helping me to secure a chance at reaching my goals in #Beijing2022," Jackson wrote in an Instagram post. "She's an amazing friend, teammate, and mentor and this is an act I'll never forget. You can bet I'll be the loudest voice in the oval cheering for her in the 1000 and 1500 next month."
Considering the fact that Jackson brought home the gold, it was clearly the right call. As luck would have it, Bowe still got to compete in the 500-meter race, as the U.S. was granted a third spot in the International Skating Union's final reallocation of places. She came in 16th.
In 2018, Erin Jackson became the first Black woman to qualify for a U.S. Olympic long-track speedskating team, just four months after she started the sport.\n\nShe speaks with @ahylton26 about her journey to the 2022 Winter Olympics and more tonight on @NBCNightlyNews.pic.twitter.com/qs3b4Cy8FF

— NBC Nightly News with Lester Holt (@NBC Nightly News with Lester Holt) 1644701400
So how did Jackson go from taking her first steps on the ice just six years ago to winning a gold medal in speedskating?
Jackson came into the sport as a world-class inline skater and artistic roller skater, so she was no stranger to gliding across a surface in boots. But according to Jackson's speedskating coach, Ryan Shimabukuro, ice-skating and rollerblading are two different beasts.
"There is a big difference in how you deliver power through a blade on ice versus through wheels on cement or concrete," Shimabukuro told NBC. "The timing of your push is different, how you apply force is different, your body position is different."
Speedskating didn't come easily, Jackson told NBC. "When I started out on ice, I was like, 'I'm a speedskater, and this is speedskating, and why isn't this coming easier?'" she said. "I really struggled at the beginning."
Jackson was an eager learner, however, always asking questions about how to improve and asking Shimabukuro to explain things a different way if it wasn't clicking. In just two years, she made it to her first Olympic Games in Pyeongchang, where she placed 24th in the 500-meter event. Since then, she's only gotten better and better, winning her third straight World Cup championship in November 2021 and now the Olympic gold in Beijing.
Congratulations, Erin Jackson, not only for making history, but for showing the world what hard work can accomplish.
And thanks to Brittany Bowe for showing us what selflessness and friendship can accomplish as well.