Culture
Carl Sagan's answer when Ted Turner asked if he's a socialist is a roadmap for rebuilding America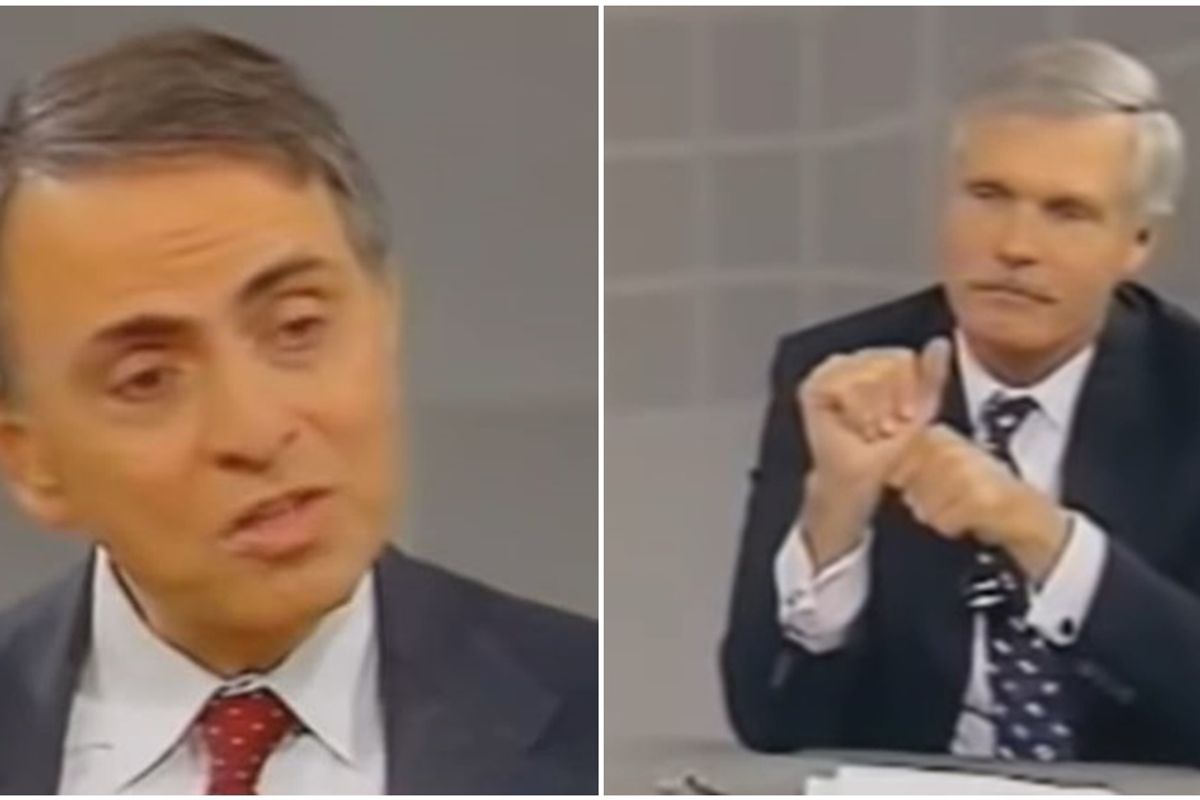 via David Grinspoon / YouTube
In 1989, CNN founder Ted Turner asked iconic astrophysicist and science communicator Carl Sagan about his political leanings.

Surely, someone with such a deep understanding of the universe and a passion for humanism would have important insights into how we organize ourselves politically.
"Are you a socialist?" Turner asked Sagan. "I'm not sure what a socialist is," he replied.
---
While it seems unlikely Sagan was unfamiliar the concepts of socialist political theory, he was smart to sidestep the loaded term.
Socialism is such a broad concept that, in the modern era, it could be applied to numerous countries of varied economic development from Cuba to Canada. Conservatives tend to see it as a malignant political idea and point to Venezuela as a failed socialist state.
While many liberals point to Democratic Socialist countries in Europe such as Denmark and Germany where people have a standard of living that is comparable and, in some ways superior, to the United States.

Back in the '80s "socialist" was used by the U.S.S.R. to describe its totalitarian communist regime, so Sagan was smart to distance himself with any association with the bloc.
Ted Turner asks Carl Sagan if he is a socialist.www.youtube.com
So Sagan provided his own definition.

"But I believe the government has a responsibility to care for the people," he said.
"I'm talking about making people self-reliant, people able to take care of themselves," he continued. "There are countries which are perfectly able to do that. The United States is an extremely rich country, it's perfectly able to do that. It chooses not to. It chooses to have homeless people."
He also noted that in 1989 we were 19th in infant mortality. "We are 19th in the world in infant mortality. Eighteen other countries save the lives of babies better than we. How come?" Sagan asked, rhetorically.

Sadly, things have only gotten worse over the past 31 years. The U.S. is currently ranked 47 infant mortality.
"They just spend more money on them," said Sagan. "They care about their babies more than we care about ours. I think it's a disgrace."
Sagan also believed that the U.S.'s priorities are completely mixed up. We have a hard time helping our most vulnerable citizens, but we still have enough money to pay for high-priced weapons systems.
"Just look at what something like 'Star Wars,'" Sagan said, pointing to a costly '80s defense program. "We've already spent $20 million on it. And if these guys are permitted to go ahead, they will spend a trillion."
31 years later, things haven't improved, we're near an all-time high in military spending at a time when the world has never been more peaceful.
"Think of what that money could be used for: to educate, to help, to bring people up to a sense of self-confidence," Sagan added.
"To improve not just the happiness of people in America, but their economic standing, to improve the competitiveness of the US compared to other countries. We are using our money for the wrong stuff."