popular
Instead of going to Disney World, a 6-year-old used his money to help Hurricane Dorian evacuees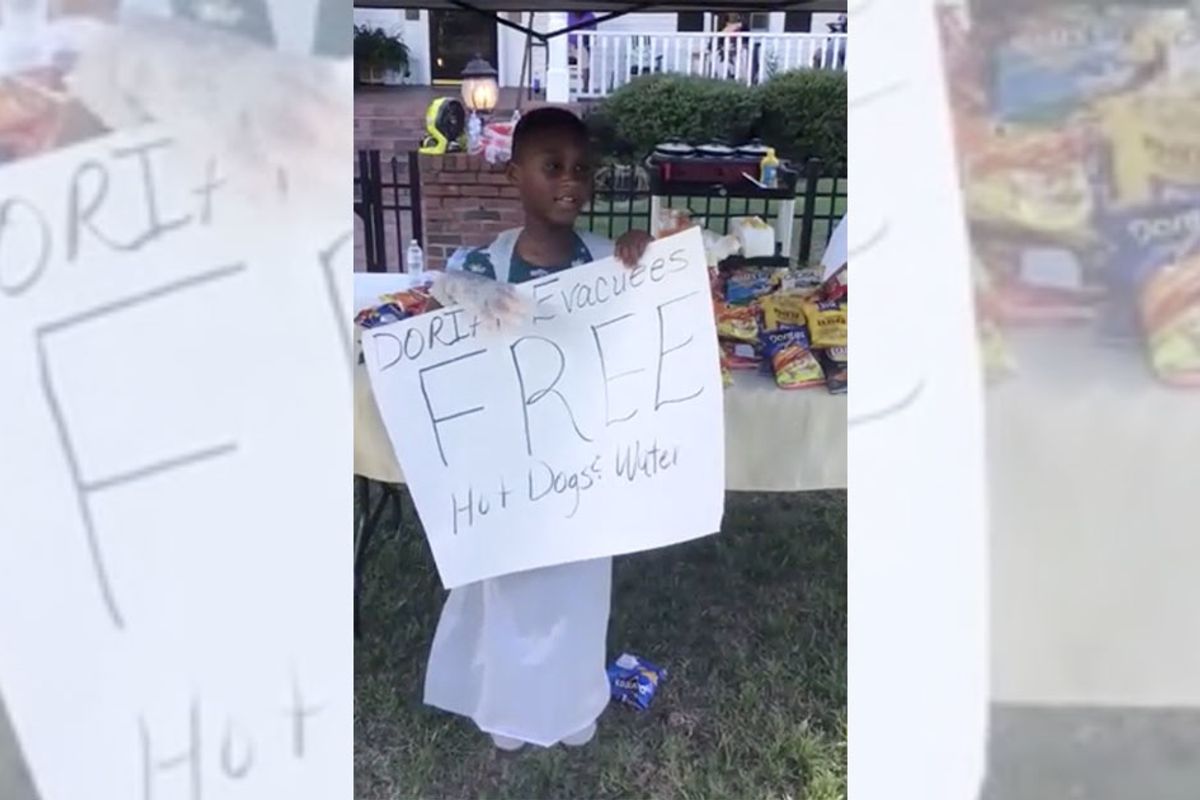 Disney World might be the Happiest Place on Earth, but for one little boy, it took a backseat to helping others.
Six-year-old Jermaine Bell had been saving up money to go to Disney World's Animal Kingdom park for his 7th birthday, but he decided it would be better spent helping those trying to flee from Hurricane Dorian.

The hurricane is expected to hit South Carolina as a Category 2 storm, with winds of up to 102 miles per hour. South Carolina Governor Henry McMaster ordered a mandatory evacuation for those living on the coast of the Palmetto state, and the South Carolina DPS officials estimate around 360,000 residents and tourists have evacuated the state so far. The storm surge is the biggest danger, and Charleston has already experienced flooding.
Bell stayed in Allendale, South Carolina (about 90 miles west of Charleston) and stood alongside Highway 125 offering evacuees chips, hot dogs, and water. He held a handmade sign to let those trying to escape from the hurricane know he was there to help. On his first day out, which was Labor Day, Bell served more than 100 people. But he told CNN he served "a lot" more later on.
---
"The people that are traveling to go to places, I wanted them to have some food to eat, so they can enjoy the ride to the place that they're going to stay at," Bell told WJBF. "I wanted to be generous and live to give." It's pretty solid reasoning. This kid is only six, and already he's figured out that the best present you can receive is that which you give to someone else.
Food and water aren't the only things Bell had to offer. "He actually even prayed for a family while they were here in reference to their house being OK when they got back, so that was really tear dropping," his grandmother, Aretha Grant, told WJBF. Grant also helped Bell pass out food to the evacuees.
Bell impressed even his own family. "I am very proud," Grant told CNN. "We knew Jermaine was very special, but we didn't know he was special in this way to be such a giver like this." His mother, Lauren, took to Facebook to share the story of her son's generosity. "He has a very big heart and all-around caring spirit," Lauren wrote, according to Fox 35 Orlando. "It definitely makes it a birthday to remember for him."
Hurricane Dorian shut down Disney World for a day, but has since reopened and Bell hasn't given up on his plans to go to the park. Once Hurricane Dorian has dissipated, Bell wants to "go Animal Kingdom and see lots of lions and have a Lion King party," he told WJBF. His mother still plans on taking him on the trip.
Bell turns seven on September 8th, but his generosity and selflessness go beyond his years.