Inclusivity
Her husband kicked out their teenage son for being gay, but this 'Country Mama' fought back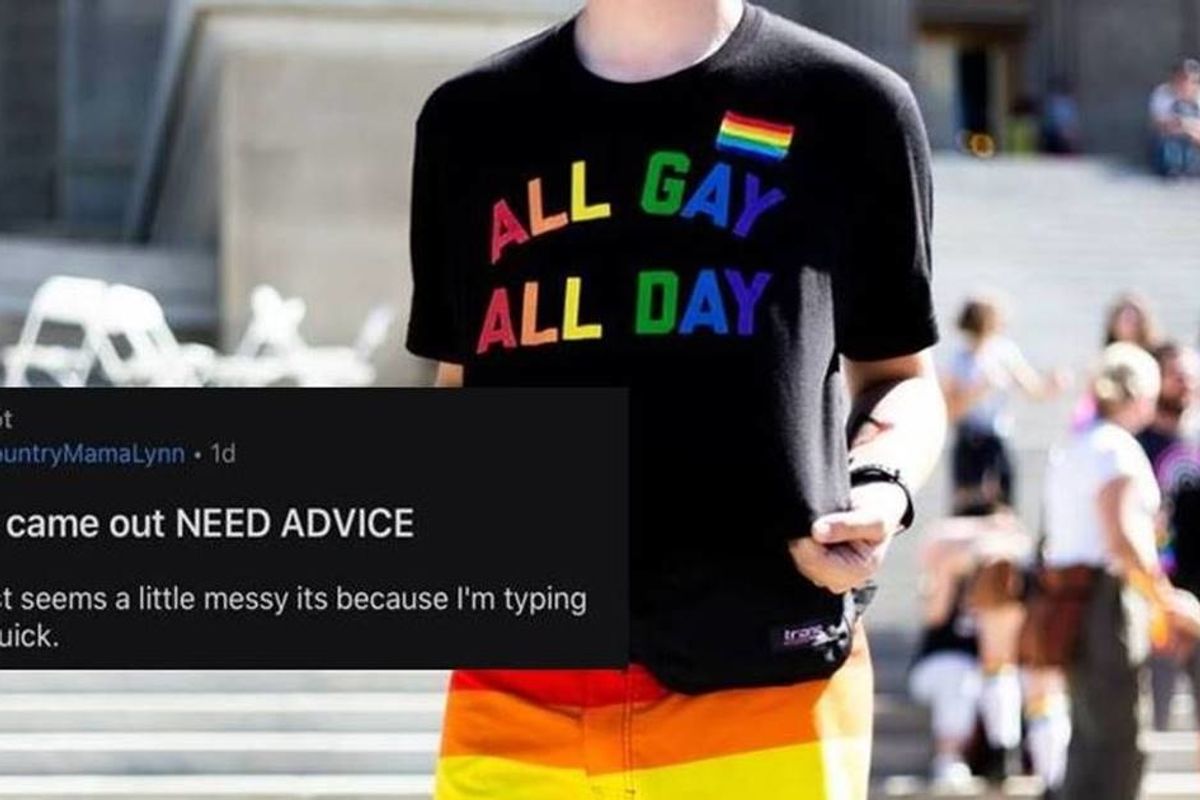 via Unsplash
There has been a drastic change in public opinion over homosexuality in the past thirty years, especially when it comes to parents accepting their gay children.

According to Pew Research, in 1985, 89% of parents said they'd be upset if their child came out as homosexual and just 9% said they would not be.
In 2015, 37% of parents said they'd be upset and 57% said they wouldn't be.
---
While public opinion is clearly going in the right direction, there is still a lot of work to be done. A recent story that popped up on Reddit shows having a LGBT child can still divide a home. However, in this case, it seems like it was a good thing.
A mother needed to vent about the horrific way her husband treated her 15-year-old son after he came out of the closet, so she created a Reddit account under the name CountryMamaLynn and posted her story on the LGBT forum.
Unfortunately, the post has since been deleted.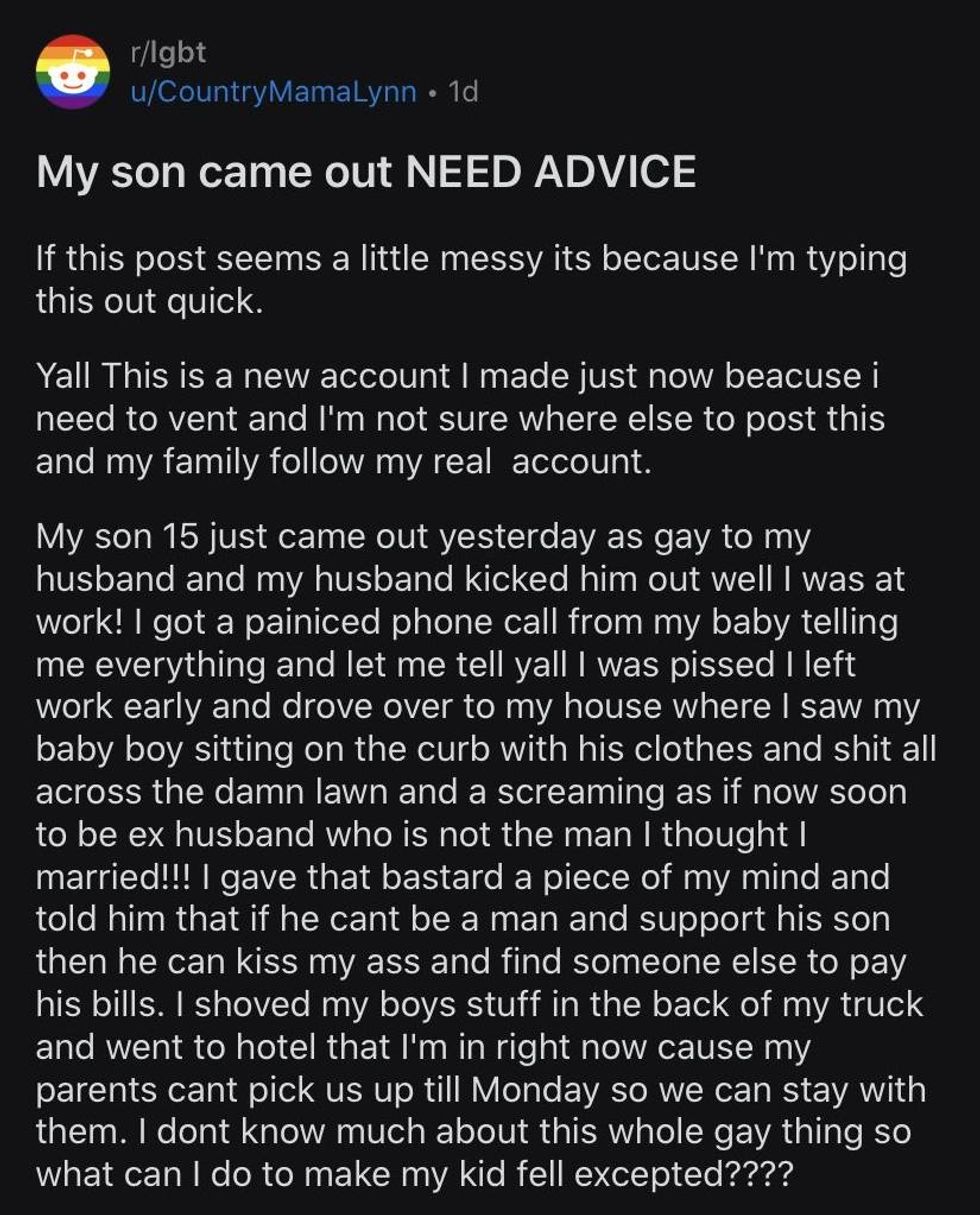 "My husband kicked him out while I was at work… I left work early and drove over to my house where I saw my baby boy sitting on the curb with his clothes and shit all across the damn lawn," she wrote.

She then said that Mark her, "soon-to-be ex-husband," was "not the man she thought she married" and she didn't mince words with how she felt about the way he treated her son.
"I gave that bastard a piece of my mind and told him that if he can't be a man and support his son then he can kiss my ass and find someone else to pay his bills," she continued.
So she took her son and and some belongings and booked a hotel room.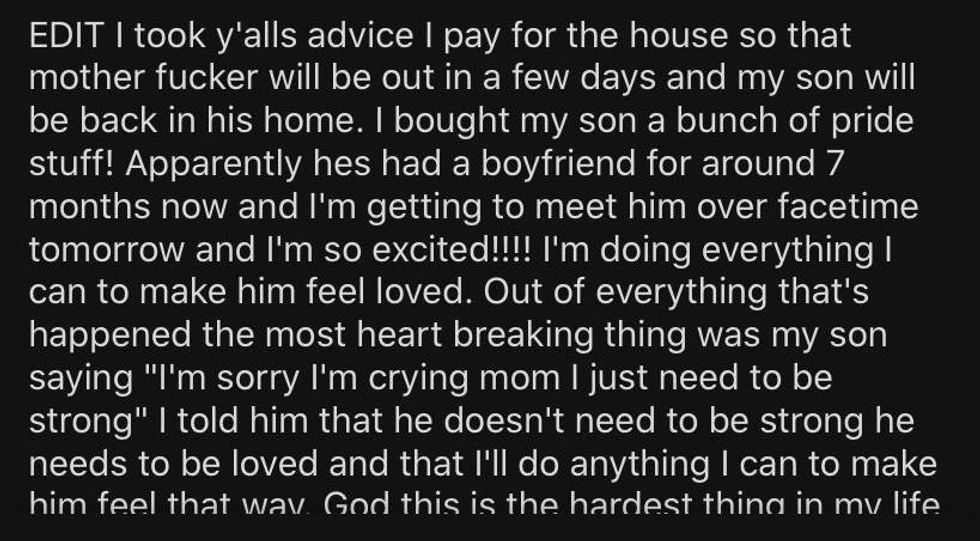 Although CountryMamaLynn isn't very familiar with the LGBT community, she did her best to become an ally and support her son by purchasing him a "a bunch of Pride stuff" and "knitting him a rainbow blanket."

Her son had kept his boyfriend of seven months a secret and and CountryMamaLynn was over the moon to meet him. "I'm getting to meet him over FaceTime tomorrow and I'm so excited! I'm doing everything I can to make him feel loved," she wrote.
She pulled no punches when talking about her husband. "I don't have to put up with this crap," CountryMamaLynn wrote. "So I told him to haul ass before I make him." She drove the point home by holding a camouflaged baseball bat duing the confrontation.
CountryMamaLynn's life changed over night after her son came out and it's had a big impact on how she sees herself, too.
"I was talking to my son… and found out my not be just a straight ally!" she wrote.
"I assumed all straight ladies were also just as attracted to other ladies as they were [to] men and I never really thought about it until now but turns out I might be bi?
"Is that the right word?" Yes, it is the right word, CountryMamaLynn.