Culture
Adam Trent played a trivia game with the delivery guy that changed his life in an instant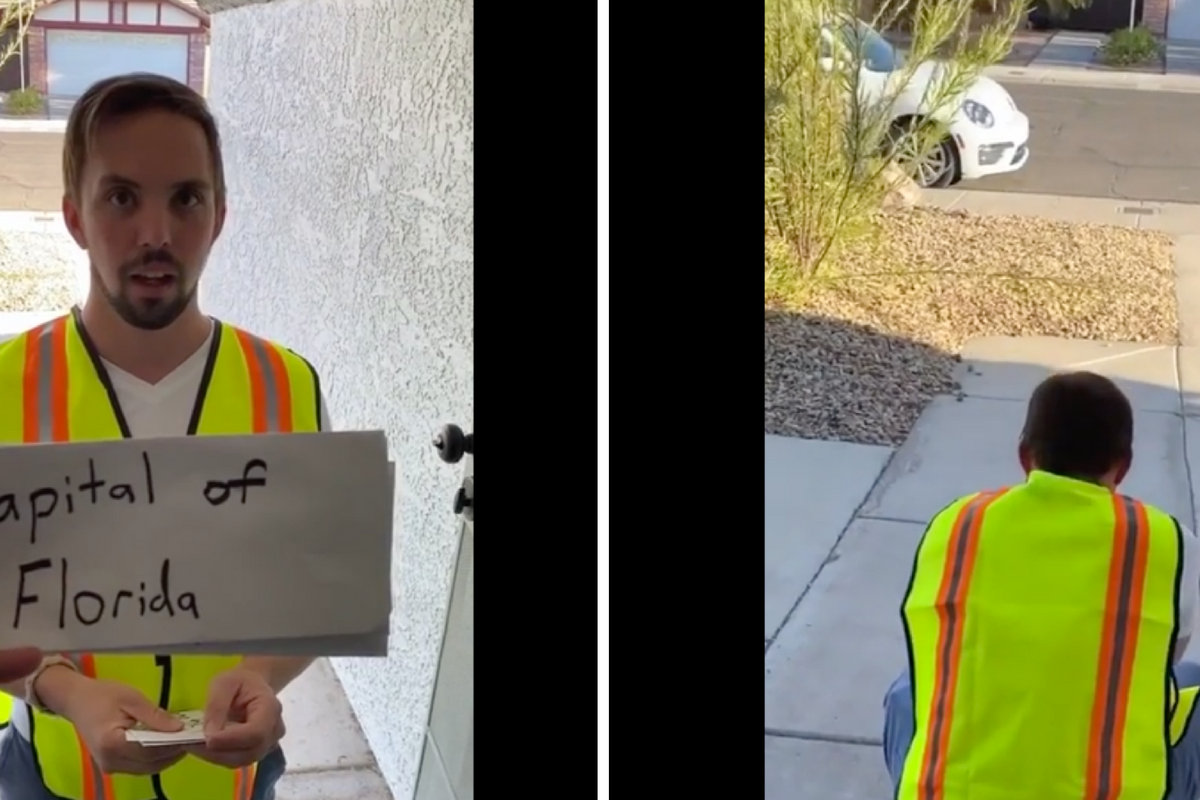 If you're like me and you'd never heard of Adam Trent before seeing this story, you may want to pencil in some time to check out his other videos after this. Like so many of us, the illusionist is finding ways to fill the time during coronavirus lockdown. But what makes this video different is that Trent's kind but simple gesture had the unintended consequence of literally changing one man's life for the better.

And it all started with a simple game of trivia and a few envelopes.
As the delivery man is preparing to leave, Trent opens his front door and asks if the man will stick around to play a game, telling him he can keep the contents of various envelopes taped to the wall … if he answers the question on each envelope correctly.
---
Understandably a little suspicious, the delivery man agrees to the premise. And it turns out he's pretty good at trivia! Some of the questions are deceptively simple, such as "how many points is a touchdown in football?"
And then there are other more challenging ones, like name the capital of Florida. It's a question that if you know it, it's incredibly obvious. And if you don't, well you might feel a bit silly for not memorizing your state capitals. But the delivery guy nails every question, impressing Trent. Until he doesn't.
It's the final question -- another of those "incredibly easy if you know it and impossible if you don't" ones that is entirely out of this guy's demographic: Name two members of the former boy band N'Sync.
Trent lets the doorman off the hook and gives him all the envelopes. It turns out that each one contains different denominations of cash: $20, $5 and $1. At the end, turning emotional, the delivery guy reveals that the small amount of cash made the difference in him being able to pay rent.
Obviously moved, Trent gives him the final N'Sync envelope, which contains the largest cash amount: $100. Speechless, the doorman turns away, kneels and the video cuts out.
It was an incredibly classy move by Trent. Yes, we're all entertained by the fun trivia and it's hard to not be hit by the feels at the end. Of course, we've seen enough seemingly heartwarming stories to realize there are often system problems on full display. In this case, why does a man hustling at his job have to win a random trivia game to pay his rent? It's a little dystopian if you stop to think about it. And that's why we'll give Trent more credit for not making the video about himself. There's no cheesy moment where Trent flips the camera around, no soapbox moment of lecturing us all about economics and no attempt to push out his social media channels, or whatever it is that so-called influencers are up to these days.
It's simply a human to human moment. Honestly, seeing these two men interact is itself special during the middle of a pandemic and a hugely divisive election season. The fact that it ends in a sweet moment that brings real, if temporary, change to one person's life just makes it all the better.