More
A group of cops pooled their money to help this landscaper after his truck, tools, and rent money were stolen.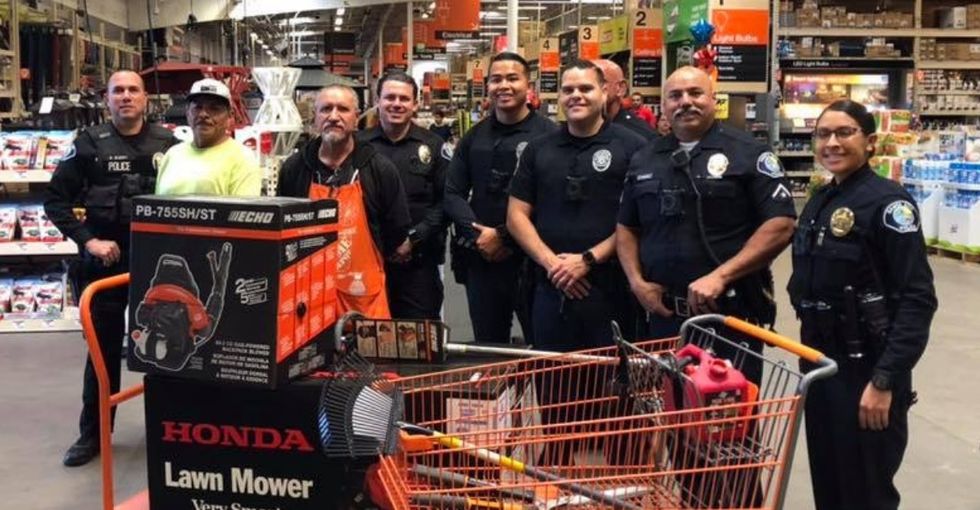 Adrian Salgado supports his family working as a landscaper. Losing his truck and tools meant losing his livelihood.
It started as a morning like any other for Adrian Salgado, as he started his gardening work in Santa Ana, California. But before he knew it, he was running down the street chasing his own work truck, brazenly stolen by two thieves. The truck had Salgado's work tools, cell phone, and $1,000 cash for rent in it, and he wasn't able to catch it as it sped away.
He contacted his daughter Elizabeth, who called 911. She used Find My iPhone app to track Salgado's phone, which helped the police catch the thieves in the next town over. The truck was recovered and returned to Salgado, but all of his landscaping equipment—a lawnmower, edger, leaf blower, and various hand tools—were gone. So was the $1,000.
---
The suspects each had $500 cash in their pockets, but they insisted it was their own money. Despite the obvious, police couldn't return the money to Salgado; by law, they could only submit the cash as evidence. Anthony Bertagna, a spokesman for the Santa Ana Police Department, told CNN, "He may never get that money back unless they change their story."
Police estimated the total value of the missing items at $3,000, which equaled months of pay for Salgado.
The officers saw their own working-class fathers in Salgado and wanted to help him regain what was stolen.
Sgt. Michael Gonzalez told CNN that when the officers looked at Salgado, it was like looking at their own fathers. "We all came from working-class families," he said. "It was like, 'Hey, that's my dad.'" They knew that without his rent money and tools, there was no way for Salgado to recover from the theft.
The officers' empathy moved them to help Salgado financially. The officers pooled $500 of their own money. Then the Santa Ana Police Officers Association donated another $500.
Seven officers accompanied Salgado to Home Depot to replace his tools and when Home Depot heard the story, they donated $100 toward the cause. They also offered a military discount on the items since some of the officers were reservists.
Even a random stranger in the store offered $40 of their own money when they learned what Salgado and the officers were doing there.
The generosity and kindness from strangers meant the world to Salgado and his family—and moved others as well.
When the Santa Ana Police Department shared the story on their Facebook page, a woman recognized Salgado. "This gentleman is my mother's gardener and has been for over 15 years," she wrote. "He's the most wonderful man. The SAPD couldn't have helped a more considerate person. I'm glad that the good guy won today."
Sgt. Gonzales told CNN that what most amazed him was how Salgado took the tools home and opened them, then immediately went back to work because he had customers to serve. "I've been doing this job for 27 years," Gonzalez said. "Every so often it's a good day. That was a good day."
Salgado's daughter and daughter-in-law shared a video thanking the Santa Ana police department and police association for their help.
SAPD Recover Stolen Landscape Truck Via Phone App

On 27 March 2019, between 11 am - 12 pm, a local man's landscape vehicle was stolen with all of his tools, cash for rent, and a cell phone. Total value estimated at $3k. The man is the sole provider for his family; his daughter called SAPD and reported the crime. Patrol Officers started pursuing the vehicle through an app on the iPhone and were able to locate the truck. The suspects were unwilling to cooperate thus reluctant to provide the location of his property. The Santa Ana Police Officers Association donated funds, and officers escorted the gentleman to purchase new equipment. #sapoa31strong#31strong #santaanapolicedepartment @sapoa31strong

Posted by Santa Ana Police Officers Association on Wednesday, March 27, 2019
"Now I can see my dad with a smile because he knows he's going back to work," said his daughter, Elizabeth.
This chain of kindness brings a smile to everyone's faces. There's simply nothing better than human beings going above and beyond to help a fellow human being in need.