Heroes
'MythBusters' may be over, but Savage is just getting started.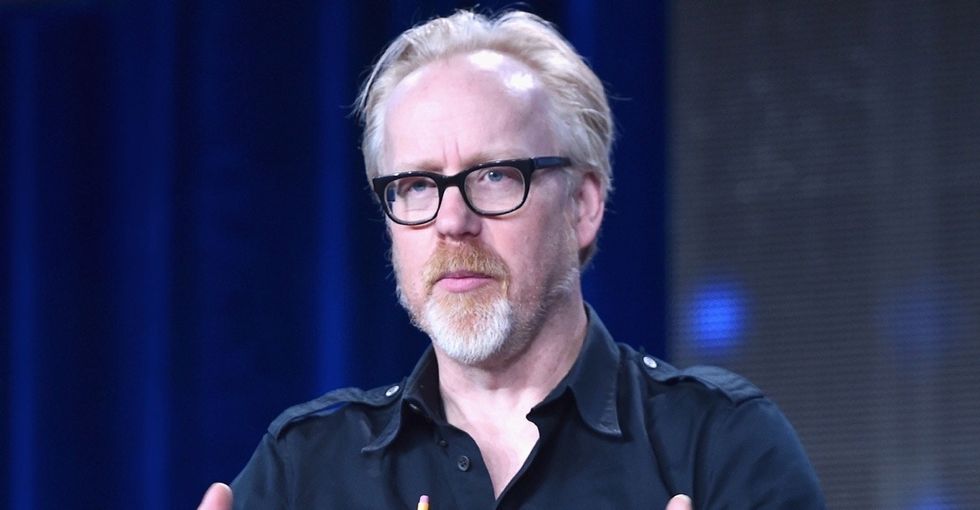 For more than 13 years, Adam Savage co-hosted a little show you might have heard of called "MythBusters."
And as its title suggests, the show's premise was that Savage, a special effects guru, and fellow science enthusiast Jamie Hyneman would tackle various myths, urban legends, and stuff you'd usually only see in movies. (There were a lot of explosions, and it was wonderful.)
The show may be over, but a recent string of tweets shows that Savage isn't done busting myths.
---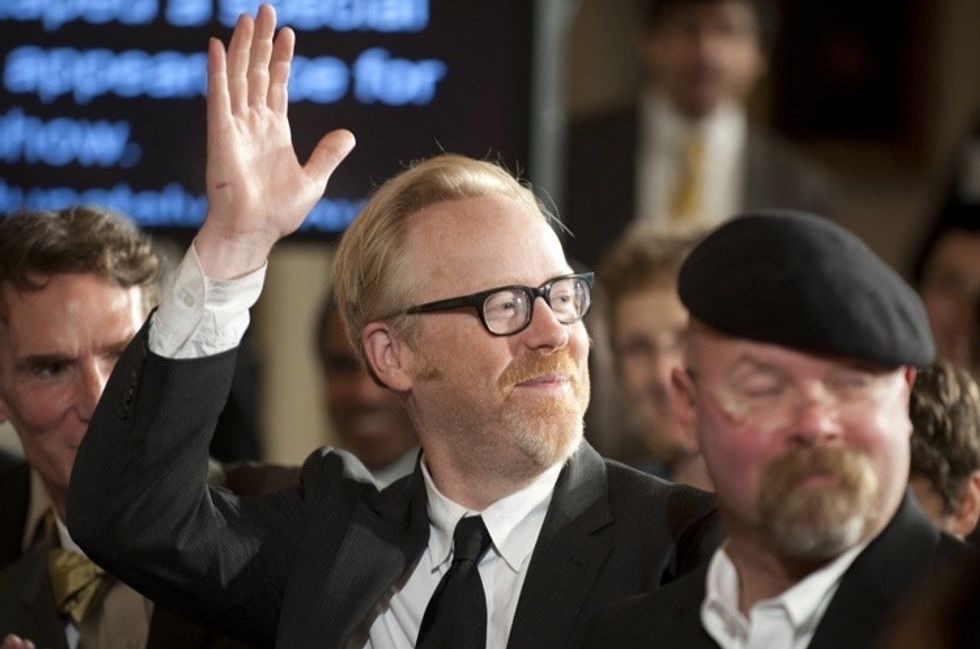 Savage, flanked by his "MythBusters" co-star Jamie Hyneman and "science guy" Bill Nye at the 2010 White House Science Fair. Photo by Jim Watson/AFP/Getty Images.
On April 26, Savage waded into discussion about sex, gender, and the science behind it all.
It began when Savage got some rude responses to his tweet about author Kelly Oxford's new book, leading him to push back on the idea that gender is something that can be neatly divided into two separate teams.
From there, he dished out some real-talk about the gender binary:
Also, listen up: gender is a spectrum. The closer you look at ANYTHING the blurrier the lines get. INCLUDING GENDER. LIFE is complicated.

— Adam Savage at New York Comic Con (@Adam Savage at New York Comic Con)1493188795.0
And while it was cool to see Savage taking a stand, the best thing to come out of his tweets were the replies from people thankful for validation from someone they admire.
Responses from people outside the gender binary began flowing in, thanking Savage for seeing them for who they are.
There's a sweetness in the replies — but also a frustrating sadness — as many of the people replying are so frequently denied the basic recognition and validation that most of us take for granted.
@donttrythis Some days being nonbinary is tough and some days I can feel really proud of who I am. Thanks for helpi… https://t.co/TEk9ZFnSqA

— jamey alea (@jamey alea)1493192048.0
@donttrythis i've looked up to you for a long time and i just wanna say thanks. as a nonbinary person it's not ofte… https://t.co/dZhpEmG1SN

— aj (@aj)1493192394.0
Gwendolyn Ann Smith, a transgender woman living in the Bay Area and one-time "MythBusters" extra, also chimed in with a thoroughly appreciative response.
@donttrythis As a trans woman who was once a Mythbusters extra (tho with the other team), it warms my heart to read… https://t.co/Bl1NFsSFYk

— Gwendolyn Ann Smith (@Gwendolyn Ann Smith)1493190827.0
"Being trans means often having to navigate 'myths' about gender, and it is usually a burden that trans people alone are tasked with explaining," Smith explains over email. "So it meant a lot to me to see Savage use his privilege and position to speak out on behalf of folks like me, and for scientific reality."
And that's just it: Acknowledging the existence of trans people (inside and outside the gender binary) is a statement backed by scientific reality.
Many of Savage's critics — and people who oppose the fight for transgender equality generally — accused him of pushing "pseudoscience." He was having none of it.
"It's biology not bigotry" is the tagline for the National Organization for Marriage's latest push against recognizing trans people for who they are. And it sounds simple, right? XX chromosomes equal female, XY chromosomes equal male. Easy-peasy.
Except it's not, and that's what Savage dove into with a lengthier explanation.
Hey!! I love all of you and here's a note that elucidates my thoughts on some of the complex debates happening on m… https://t.co/ooRxfamYaR

— Adam Savage at New York Comic Con (@Adam Savage at New York Comic Con)1493256257.0
"Humility is one of the loveliest of human traits. It's often hard-won, and in every case it exists, it foments acceptance, kindness, and open-mindedness. These are qualities that improve the lives of all who experience them. I have a wide circle of awesome and amazing friends. I get so much from them. Among my precious loved ones, I count many who fall outside the binary sex/gender identification being asserted. I can't conceive rejecting their experience as anything but cruel and inhumane and I don't care what they have in their pants or what they do with them. I have a hard time imagining why anyone would."
(A 2015 article in Nature supports much of what he's saying, by the way.)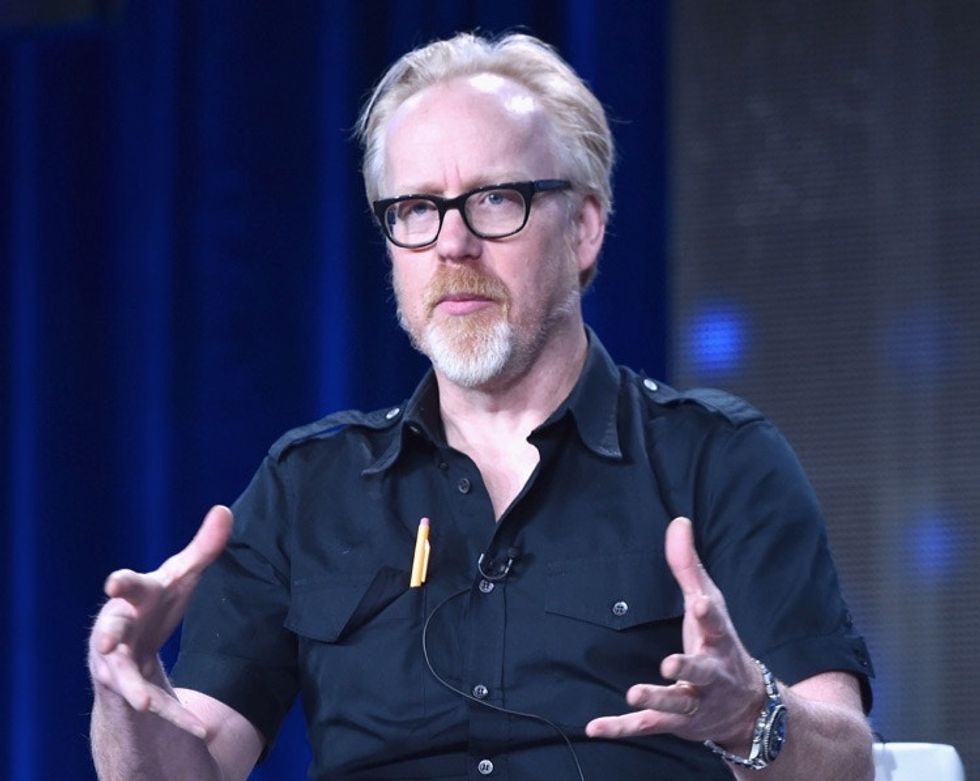 Savage speaks during a 2015 "MythBusters" panel. Photo by Alberto E. Rodriguez/Getty Images for Discovery Communications.
There's a lesson we can all learn from Savage here, and it's this: When given a choice, always stand on the side of love, empathy, and understanding.
The most important message of Savage's tweets has nothing to do with chromosomes.
Ok, I have to stop engaging, but its so much fun to fight on the side of love and acceptance. One more thing though:

— Adam Savage at New York Comic Con (@Adam Savage at New York Comic Con)1493191119.0
U might not have a racist/sexist/classist/bigoted thought in ur head. But INSTITUTIONS built by racists, classists, & bigots still exist.

— Adam Savage at New York Comic Con (@Adam Savage at New York Comic Con)1493191227.0
Look around and realize that people still SUFFER GREATLY because of this, despite what YOU think about YOUR attitude.

— Adam Savage at New York Comic Con (@Adam Savage at New York Comic Con)1493191261.0
You don't need to be a professional "MythBuster" to know that the first step to bridging gaps begins with empathy and not discounting the existence of an entire group of people. In the fights to decide who is "right" and who is "wrong," we too often forget that there are other people with unique perspectives involved.
Let's hear them and, when in doubt, choose acceptance.
Thank you, Adam Savage. May you keep busting myths and inspiring others to be better people for a very long time to come.
To those thinking me an sjw & discounting me: I'll be over here loving humans right and left. You can keep counting up how many you hate...

— Adam Savage at New York Comic Con (@Adam Savage at New York Comic Con)1493190454.0