Democracy
Biden task force reunites 400 children with their families separated by cruel border policy
The 'zero tolerance' policy was cruel and unthinkable.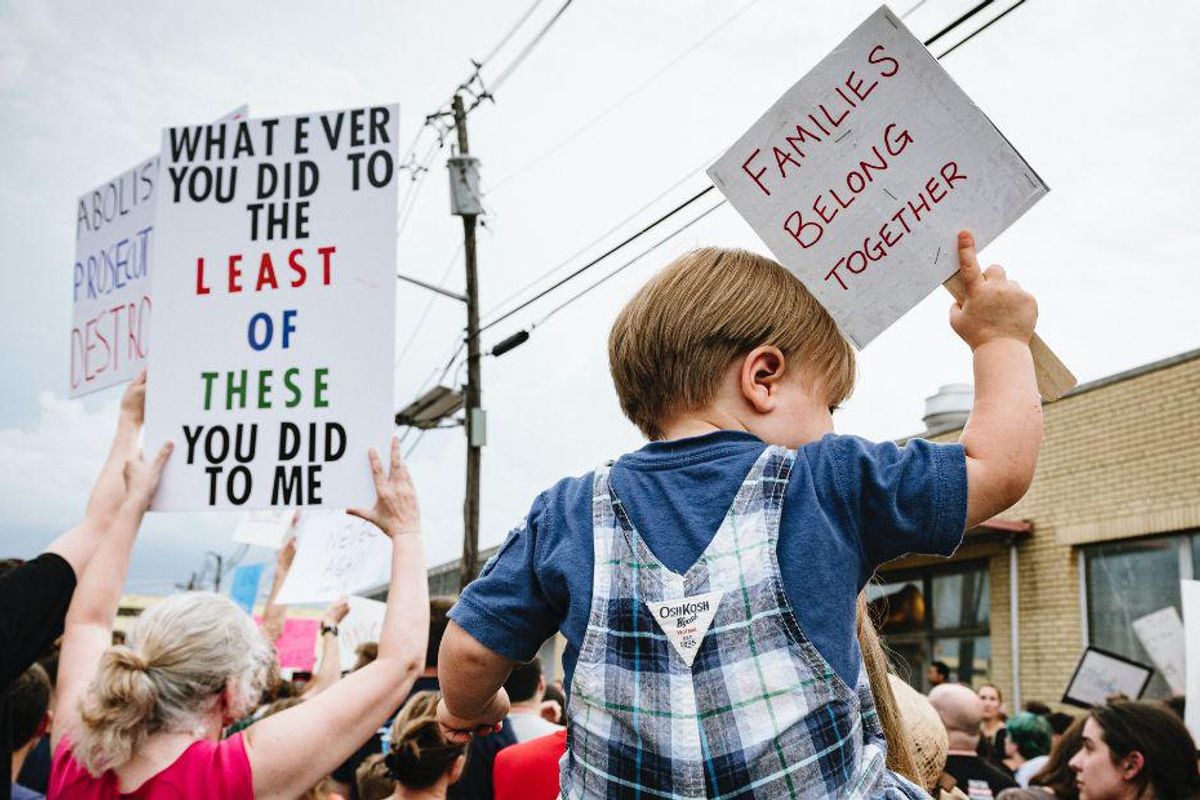 The United States espouses noble ideals and has worked for more than two centuries to make its way toward them. It's always been an uneven process, however, and sometimes we stumble—or get violently shoved—backward.
The "zero tolerance" policy for handling migrant families was one of those times. The policy, unofficially piloted by the Trump administration in 2017 and officially enacted in May of 2018, forced children and parents to be separated instead of being detained together while awaiting asylum decisions.
During those two years, thousands of migrant children at the U.S.-Mexico border were taken from their families with no notice, sometimes torn straight from the parents' arms, and sent away to unknown locations around the country. Thousands of parents and caregivers were deported with no idea where their children were or if they'd ever see them again. Some were toddlers and preschoolers. We read horror stories of children screaming while being taken away, their parents frantic but helpless to do anything about it.
---
These were not all people trying to enter the U.S. illegally. Many were going through the legal asylum-seeking process. According to NBC, lawyers estimated that more than two-thirds of the parents and caregivers were deported, leaving thousands of children behind.
After intense pressure from human rights advocates around the world, President Trump signed an executive order ending the policy in June 2018. But the monstrous mess was already made. Thousands of families had been separated with no recourse and thousands of children thrown into foster homes in an unfamiliar country with no warning. There's no other way to describe it but cruel and unthinkable.
And if that weren't inhumane enough, after a federal judge ordered that the children be reunited with their families within 30 days, it came to light that the administration had enacted the policy with no clear method of keeping track of which kids were separated and no plans to find and reunite them with their families. There was simply no way to make it happen that quickly.
One of the first things President Biden did after his inauguration was to address this crisis directly through an executive order. On February 2, 2021, he formed the Interagency Task Force on the Reunification of Families and tasked it with "identifying all children who were separated from their families at the United States-Mexico border between January 20, 2017, and January 20, 2021, in connection with the operation of the Zero-Tolerance Policy" and "to the greatest extent possible, facilitating and enabling the reunification of each of the identified children with their families."
Michelle Brané, executive director of the task force, told NBC News that the Biden administration has now successfully reunited 400 migrant children impacted by the zero tolerance policy with their families. It has been a daunting challenge, considering the lack of record-keeping, and there are still more families who remain separated. But it's at least a step forward from that enormous leap back.
\u201cThe Biden admin has reunited 400 children with their parents after they were separated as migrants crossing the border under Trump.\nhttps://t.co/yrkZKa2MKS\u201d

— Kyle Griffin (@Kyle Griffin) 1659542401
The children's parents and caregivers are being brought back to the U.S. and given temporary legal status to be able to live and work in the U.S. for three years. They are also allowed to bring dependent family members with them. Lawyers are pushing for the families to be given permanent status, but the Biden administration has not agreed on that yet.
While this is good news, we also must remember that these children's lives are changed forever and the trauma they have endured at the hands of the U.S. government will not easily be overcome. These kids were taken from the only security many of them had ever known—their family—and sent to live with strangers in a strange land. It's an unfathomable thing to imagine as a parent.
Immigration and asylum are complicated issues, but there are some lines we simply do not cross when dealing with challenging issues. Tearing kids from their parents' arms and sending them away to an undisclosed place for an indefinite amount of time in an unfamiliar country is a line we should never have crossed. It was cruel to both the parents and the children, and purposefully so.
While we can't undo the damage already done, let's celebrate the fact that some of those wrongs are beginning to be righted, and let's ensure that nothing like that is ever done in our name again.