Family
11-yr-old wiped blue slime on her attempted kidnapper's arm, helping police identify him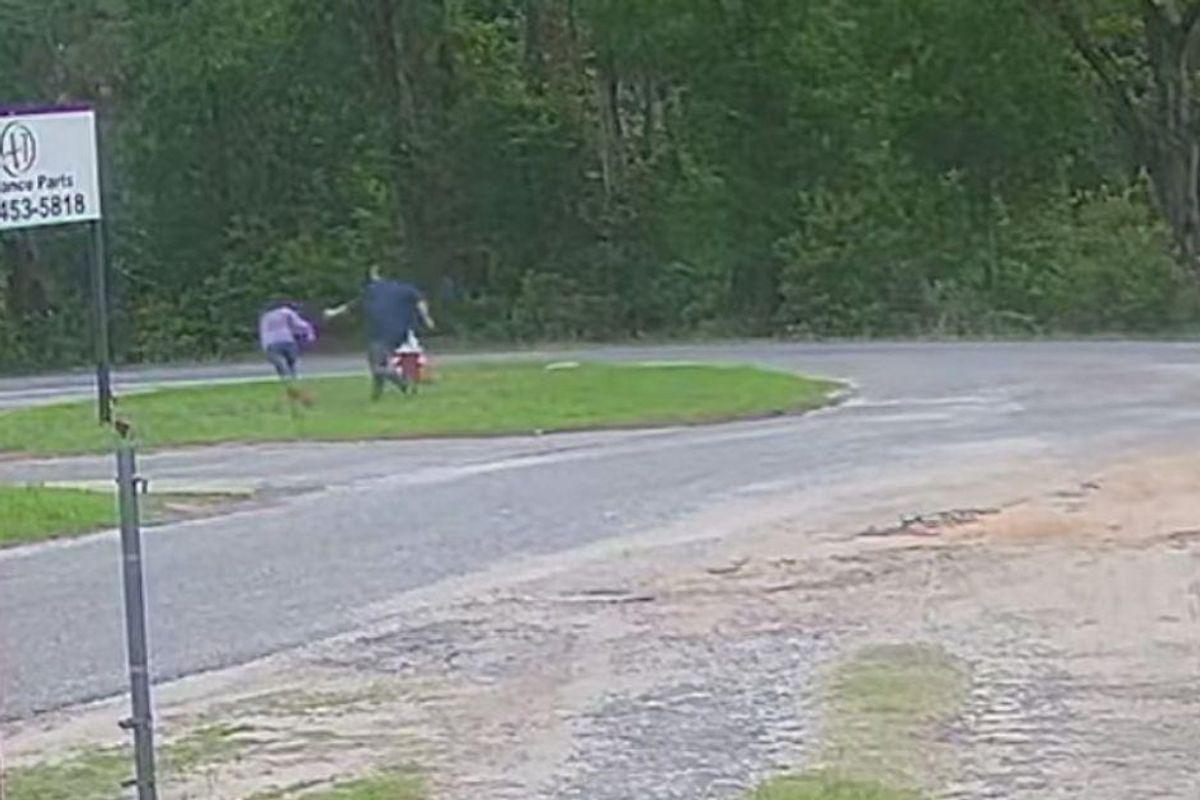 While kidnappings by complete strangers in broad daylight are extremely rare, they can and do happen. If a child ever finds themselves in that situation, it's important for them to know what to do.
A security camera captured a scary kidnapping attempt in Florida that has people praising the 11-year-old girl who fought off her attacker and even left a clue that helped police identify him.
Video footage shared by the Escambia County Sherriff's office shows the girl sitting alone at her bus stop at around 7:00 am when a white car turned at the median, then returned a minute later. A man exits the vehicle, runs up to the girl, and grabs her, attempting to carry her back to the car. Sherriff Chip Simmons told reporters that the man was carrying a knife. The girl put up a fight and the man stumbled, then ran back to his car and drove away as the girl ran in the opposite direction.
---
The girl was playing with blue slime when the man approached her, and she wiped some of it on his arm in the struggle. When police arrested the suspect, who has been identified as 30-year-old Jared Paul Stanga, they saw the slime still smeared on his arm.
Simmons told reporters at a news conference that Stanga has an "extensive" criminal history that includes sexual offenses against children. Stanga has now been charged with the attempted kidnapping of a child under 13 and aggravated assault and battery.

"I cannot help to think that this could have ended very differently," Simmons said. "Had this 11-year-old victim not thought to fight and to fight and to just never give up, then this could have ended terribly. Why else do you think that this man stopped, stopped his van and tried to pick her up and take her into that van? It doesn't take a genius to figure out what his intentions were, but they were not good."
Simmons also told reporters that Stanga had approached the girl about two weeks ago at the bus stop and "made her feel uncomfortable." She told school officials and her parents about the incident, and her mother started accompanying her to the bus stop. Tuesday was the first day her mother had not been with her at the bus stop since that incident.

Simmons called the girl his hero for fighting to get away. She ended up with some scratches—and obviously experienced some trauma—but otherwise walked away uninjured.
"My message is that she did not give up," he said. "She did the right thing, and she fought and she fought."
Parents don't want to imagine anything like this happening to their child and may not want to scare them by telling them it could happen, but it's also important to prepare kids for all possibilities. Some children might freeze in fear or confusion in a potential abduction situation, but experts recommend kids fight back if someone actually physically grabs a child and tries to take them someplace.
"Kicking and screaming, opening the door, shouting, 'Who are you? I don't know who you are. You're hurting me. Stop it.' To try to call attention to the situation they're in," Marylene Cloitre of the New York University Child Study Center told ABC News. There are even formal programs in some places that teach kids what to do in various situations and have them practice using their voice and putting up a struggle, such as this one in the Chicago suburbs.
Training teaches kids to yell, run and fight back to escape kidnapperswww.youtube.com
There is no audio on the security footage in Tuesday's attempt, but it's clear the 11-year-old was not going to go quietly. Her instinct to fight back paid off, and thankfully she is home safe now. Hopefully, the justice system will now do what is necessary to protect her and other kids from the would-be kidnapper.