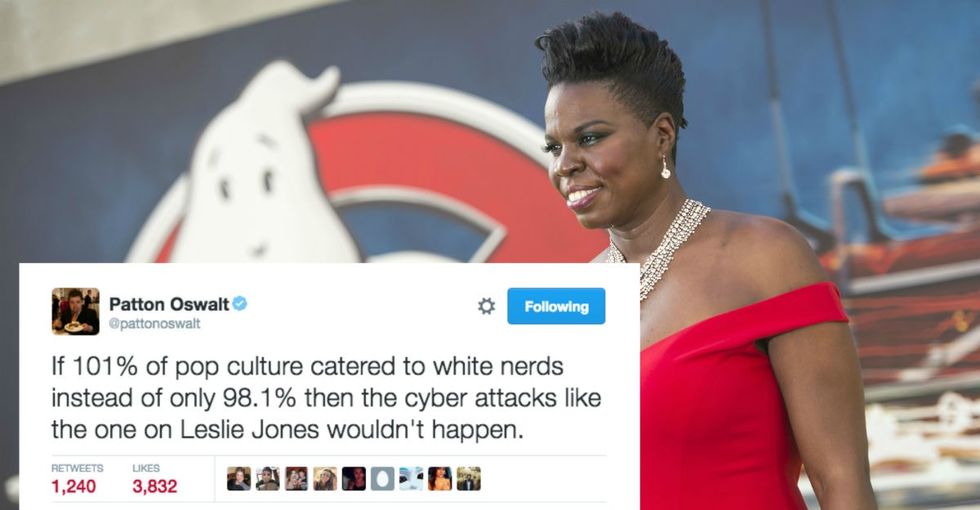 Actress and comedian Leslie Jones is a hilarious, talented, successful black woman whose career is on the up and up.
So, naturally, certain corners of the internet — mainly the one filled mostly with racist, insecure, white dudes in it — aren't her biggest fans.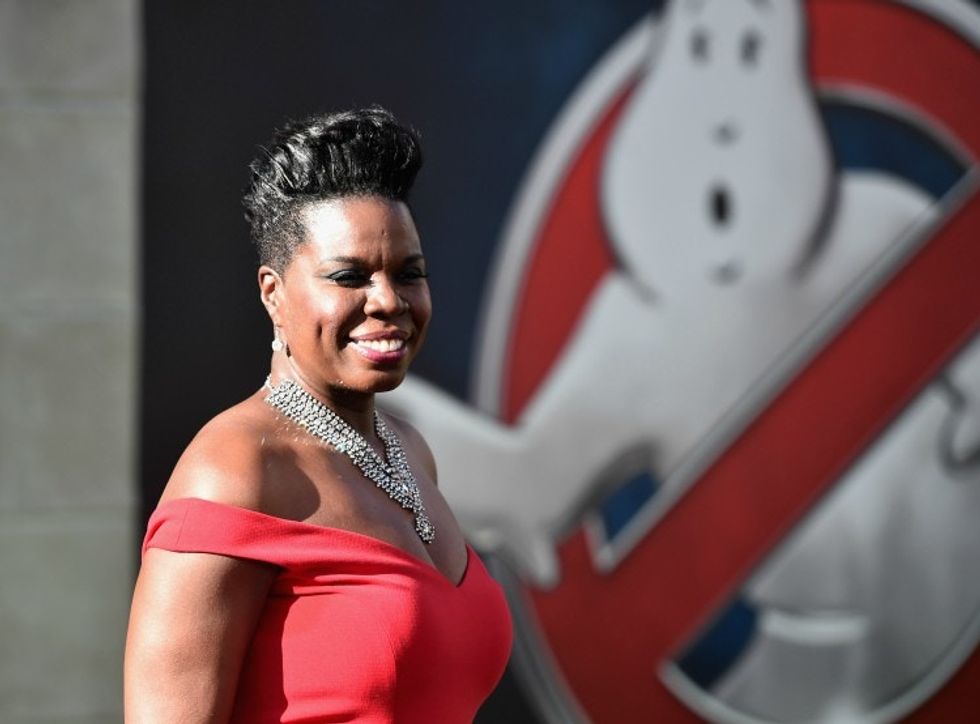 In recent months, Jones' skyrocketing success has been met with severe backlash from people with too much time on their hands.
In July, the "Ghostbusters" star was hit with a barrage of online harassment surrounding the film's premiere, and much of the trolling was laced with misogyny and racism (which, sadly, isn't all that surprising to cyberbullying experts).  
Fortunately, other corners of the internet — mainly the ones without lots of racist, insecure, white dudes in them — were quick to come to her defense:
I absolutely LOVE @Lesdoggg And so does everyone I know. I hope she can feel that right now x x x

— James Corden (@James Corden)1468905344.0
Jones briefly left Twitter due to the harassment but returned in a blaze of glory to cover the Olympics with gusto (only after Twitter finally began suspending accounts that had been spewing hatred her way). Her tweets garnered so much attention that NBC sent her to Rio to geek out over the events in person. When Olympian Gabby Douglas, also a woman of color, was hit with a barrage of harassment similar to what Jones had just experienced, Jones came to her defense immediately.
Yo I just heard Gabby getting attacked on her page show her the love you showed me #LOVE4GABBYUSA send to @gabrielledoug

— Leslie Jones 🦋 (@Leslie Jones 🦋)1471237685.0
Just a few weeks after the vitriol seemed to be subsiding and Jones was riding high on the success of her Olympics coverage, however, horrifying news broke signaling another major attack on the "Saturday Night Live" cast member.
On Aug. 24, 2016, hackers broke into Jones' website, replacing info highlighting her career in comedy with her private information.
The criminals posted explicit photos of Jones, pictures of her driver's license and passport, and a racist image of Harambe — the gorilla that'd been killed at the Cincinnati Zoo after a 3-year-old fell into the animal's enclosure.
Her website was quickly taken off-line, and the FBI is reportedly investigating the case.
In the wake of the hack, many fans and celebs have rallied behind Jones. Along with showing her much love and support, they've pointed out a handful of difficult truths about the situation that none of us should ignore:
1. Some fans alluded to the fact that this hack speaks volumes about the broader injustices faced by women of color.
2. Katy Perry pointed out that the hack was blatant misogynoir (compounded misogyny and racism) at its worst.  
Do not give your eyeballs to this racist, hate-filled, misogynoir crime. I #StandWithLeslie ❤️

— KATY PERRY (@KATY PERRY)1472069234.0
3. Some nailed it when they said that no one — no matter their skin color, celebrity status, or gender — deserves this kind of treatment. Period.
this absolutely awful. she never deserved this. no one ever does. #StandWithLeslie https://t.co/UYOWEZ4DlS

— ~ (@~)1472068611.0
4. Comedian Patton Oswalt argued that all the "white nerds" out there really need to get a grip and quit being awful.
If 101% of pop culture catered to white nerds instead of only 98.1% then the cyber attacks like the one on Leslie Jones wouldn't happen.

— Patton Oswalt (@Patton Oswalt)1472062387.0
5. Others pointed out that for every badass black woman, there's (at least) one person who's fighting just as hard to bring them down.
6. Musician Questlove made it known that this was anything but boys being boys; this was a racially motivated hate crime.
these acts against leslie jones....are sickening. its racist & sexist. it's disgusting. this is hate crimes. this aint "kids joshing round"

— Questlove De La Rose (@Questlove De La Rose)1472060999.0
7. Actress Rhea Butcher reminded us of Jones' superb (and hilarious) coverage of the Olympics in Rio de Janeiro and suggested that the hackers just couldn't stomach it.
They saw her joy in Rio and just couldn't stand it. What's happening to Leslie Jones is a hate crime. It's misogynoir. #StandWithLeslie

— rhea butcher (@rhea butcher)1472066598.0
8. "Ghostbusters" director Paul Feig confirmed what we're all thinking: These hackers aren't proving anything to anyone except their own pathetic, hate-filled ignorance.
What's happening to @Lesdoggg is an absolute outrage. Alt right, haters, trolls, "comedians," whoever the fuck you all are, you're just sad.

— Paul Feig (@Paul Feig)1472063797.0
9. Mayor of New York Bill de Blasio reiterated that same idea — that these cruel cowards can only do their dirty work behind the comfort of their computer screen.
Cowards who hide behind keyboards to attack the brilliant + talented @Lesdoggg diminish themselves. #standwithleslie https://t.co/N5cvvbOCvP

— Mayor Bill de Blasio (@Mayor Bill de Blasio)1472093315.0
10. Fans highlighted the sad reality that sometimes being a happy and confident woman of color means you're living with a target on your back.
Why is everyone constantly offended whenever a black woman is happy and confident 🙄🙄 #StandWithLeslie

— dounia love bot (@dounia love bot)1472132983.0
11. And leave it to Ellen DeGeneres to basically vocalize all the love we have for Jones in less than 140 characters.
.@Lesdoggg you are beautiful & talented & bring laughter into a world that desperately needs it. You are also my friend & I support you.

— Ellen DeGeneres (@Ellen DeGeneres)1472090433.0
We adore you, Leslie Jones.
And no hacker or racist troll can change that.