Community
10 things that made us smile this week
This week's roundup of joy and delight.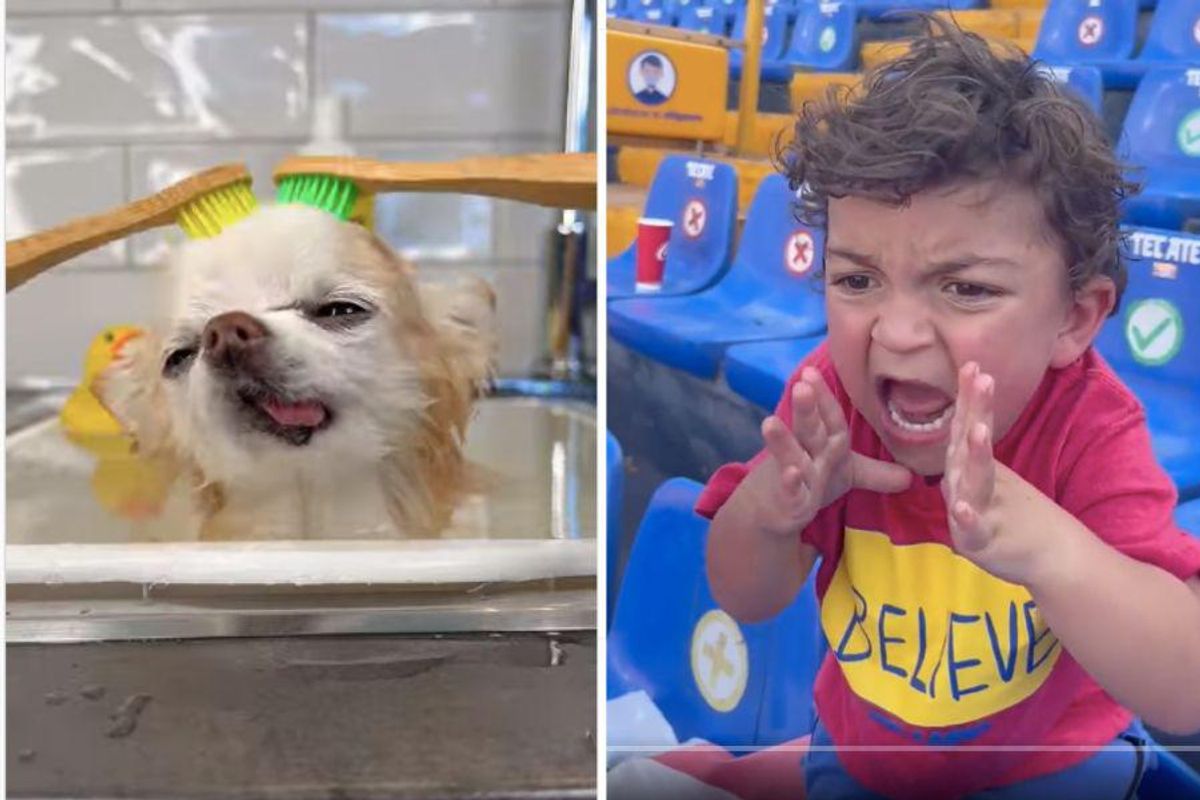 This week, the team here at Upworthy had the incredible honor of meeting one of humanity's best. Civil rights leader and nonviolence educator Reverend Dr. James M. Lawson, who worked alongside Martin Luther King Jr. and John Lewis to change the course of American history, came to our office and shared some of his wisdom with us.
At 93, Rev. Lawson has experienced the range of our nation's ups and downs. He has also witnessed the power of people coming together for good. When asked where people should start, he shared the importance of community as a catalyst for change. We can all build community no matter where live, starting with our own families and neighborhoods, our social circles, groups and organizations we belong to, and beyond.
---
Sometimes, building community looks like big, bold initiatives, but more often it looks like creating simple connections—engaging in small acts of service, reaching out with a kind word or sharing a warm smile. When we consistently look for ways to connect and build bonds between people, we'll find them.
One thing that brings people together, pretty much universally, is joy. "Laughter is the closest distance between two people," as musician and comedian Victor Borge wrote, but we don't even have to laugh out loud to connect. When we experience something joy-inducing as a collective, we create a shared experience that taps into our basic humanity and reminds us of what we have in common.
As you enjoy this week's list of 10 things that made us smile, picture all of the people who are experiencing the same smiles and laughter you are. Let's create a virtual community of joy, right here in this moment.
1. We have a new, incredible view of our universe—or at least a tiny-yet-ginormous piece of it.
\u201c\ud83d\udc40 Sneak a peek at the deepest & sharpest infrared image of the early universe ever taken \u2014 all in a day\u2019s work for the Webb telescope. (Literally, capturing it took less than a day!) This is Webb\u2019s first image released as we begin to #UnfoldTheUniverse: https://t.co/tlougFWg8B\u201d

— NASA Webb Telescope (@NASA Webb Telescope) 1657578175
This image from the Webb telescope, the largest telescope in human history, gives us a never-before-seen view of space—or at least a tiny sliver of it. According to Vox, what's captured in this image is the equivalent of a grain of sand being held out at arm's length if you were looking at the night sky, which is mind-blowing considering the fact that almost all of the blobs in the image are entire galaxies. Wowsers.
2. The vastness of the universe is amazing, but so is a tiny butterfly on a tiny human.
@amarana91

Miggin found BLUTTAFLY… you will not regret watching this ☺️🥹 #fyp #butterfly #cute
"Are you okay bluttafly?" STAHP IT.
3. The American Rescue Dog Show celebrates unique doggos with adorable prizes like Best in Belly Rubs, Best in Snoring and Best in Underbite.
\u201cdid anyone else catch the \u201cBest in Rescue Dog Show\u201d??? \n\nthey had a category for best underbite \ud83d\ude2d\ud83d\ude2d\ud83d\ude2d\ud83d\ude2d\ud83d\ude2d\u201d

— kelly (@kelly) 1657131040
Instead of the pedigree, grooming and training that the Westminster Dog Show highlights, the American Rescue Dog Show celebrates the average adopted doggo's sweet quirks. Check out the full story here.
4. Anthropologist Grover Krantz donated his body to science on one condition—that his dog be included.
"I've been a teacher all my life," Krantz told the Smithsonian, "and I think I might as well be a teacher after I'm dead, so why don't I just give you my body." It's true.
5. This kid is having the best sleep of his life—or anyone's life, for that matter.
Pretty sure this is what heaven looks like. Gracious.
6. Little Luca cheering for US women's soccer star Alex Morgan— ("Aleh Morgaaaaan!") is the cutest thing everrrrr.
\u201cWe celebrated 4th of July in Monterrey by going to a @USWNT game. \n@alexmorgan13 Luca is one of your biggest fans and loved seeing your two goals \u26bd\ufe0f\u201d

— Ana Camelo Jackson (@Ana Camelo Jackson) 1657053046
Toddler fans are the best fans. And the Ted Lasso shirt is just a cherry on top of this little sundae of delight. Read the full story here.
7. A guy asked for 104 birthday wishes for his dad who was turning 104. He got thousands.
\u201c@bravenewmalden Happy Birthday Gerald. This is my daughter Flora who was born 12 weeks premature and has just come home to us at three months old. Hope she makes it to 104 too \ud83d\udc4d\u201d

— Kevin Mills (@Kevin Mills) 1656951292
Gerald got bombarded with birthday messages from all over the world, but there's something about this preemie newborn baby wishing a 104-year-old man a happy birthday that feels so beautiful. Gerald and Flora out here making us smile about the full circle of life. Love it.
8. A man surprised his parents after being away for three years and his mom's reaction is so precious.
There's nothing like a mother's love. (Somebody pass the tissue box, please.)
9. This guy's engagement ring shenanigans leading up to his proposal were hilariously adorable.
Click the right arrow to scroll through. The one with the ring in the palm of her hand while she's sleeping is just too much.
10. May your day be as blissful as this chihuahua being bathed with toothbrushes.
That tongue sticking out! Apparently being washed with a toothbrush reminds them of being bathed by their mom. I can't handle it. May we all be so pampered.
If this roundup made you smile or laugh or both, create more bonds of joy by passing it along. And definitely come back next Friday for another top 10 for the week!