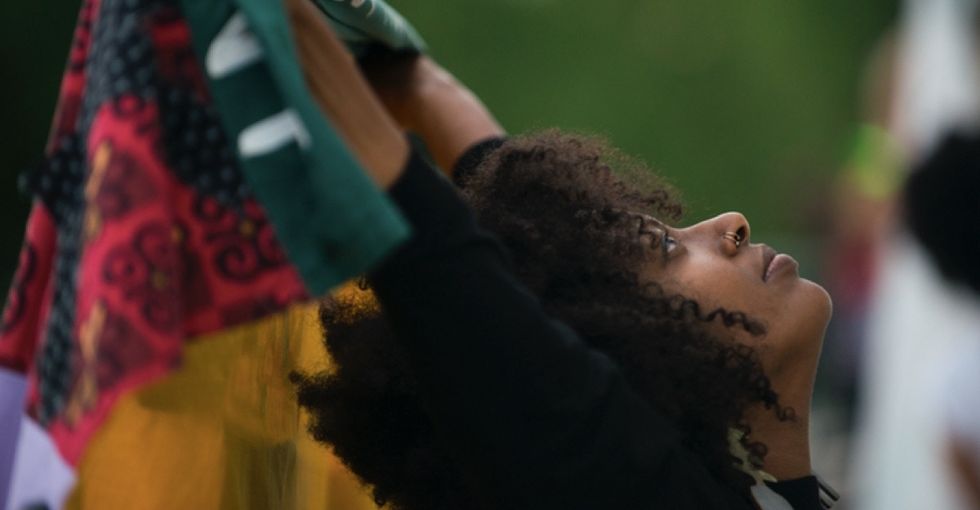 On Friday, July 14, demonstrators will march more than 20 miles from the NRA headquarters in Fairfax, Virginia, to the Department of Justice in Washington, D.C.
The organizers behind January's much-lauded Women's March are hosting the peaceful, mass-mobilization effort in response to a dangerous, fear-mongering advertisement created by the NRA. The 60-second video seems to be a thinly veiled call to arms against progressive voices (particularly those protesting President Trump and his ilk) and people of color.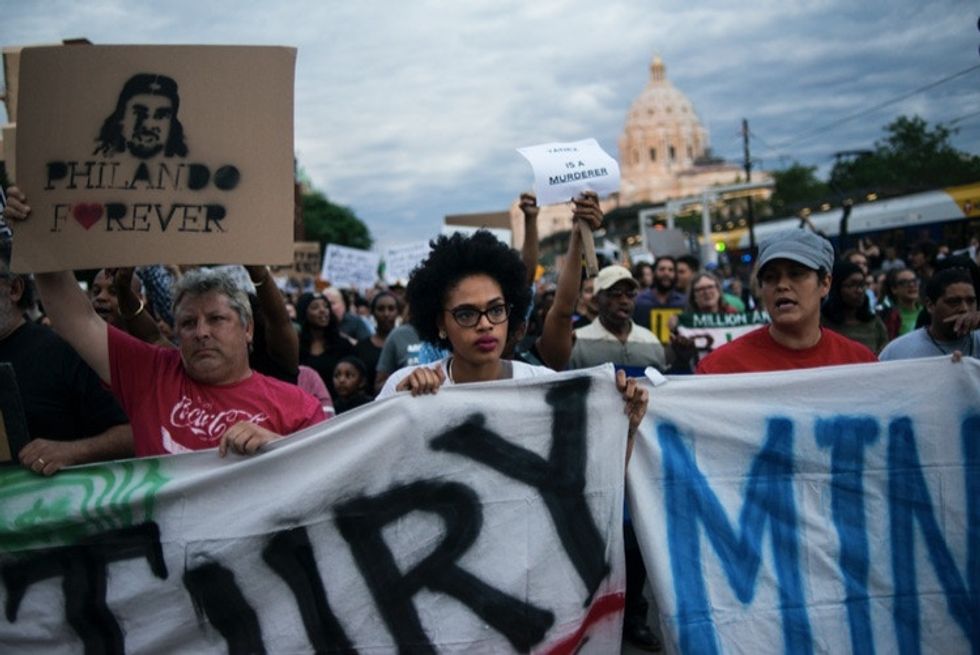 Protests erupted in Minnesota after Officer Jeronimo Yanez was acquitted on all counts in the shooting death of Philando Castile. Photo by Stephen Maturen/Getty Images.
---
Women of all backgrounds and political beliefs deserve to feel safe in their communities, but instead, many are being bullied into silence.
So until equality and justice prevail, they will march.
A statement from the NRA2DOJ Facebook event laid out the impetus for the mass demonstration.
"Recent actions of the NRA demonstrate not only a disregard for the lives of black and brown people in America, but appear to be a direct endorsement of violence against women, our families and our communities for exercising our constitutional right to protest. On July 14th, Women's March and partners will mobilize a mass demonstration, again grounded in the principles of Kingian nonviolence, to denounce the false and intimidating rhetoric of hatred and send a clear message that our movement will proudly and bravely continue to strive for the respect of the civil and human rights of all people."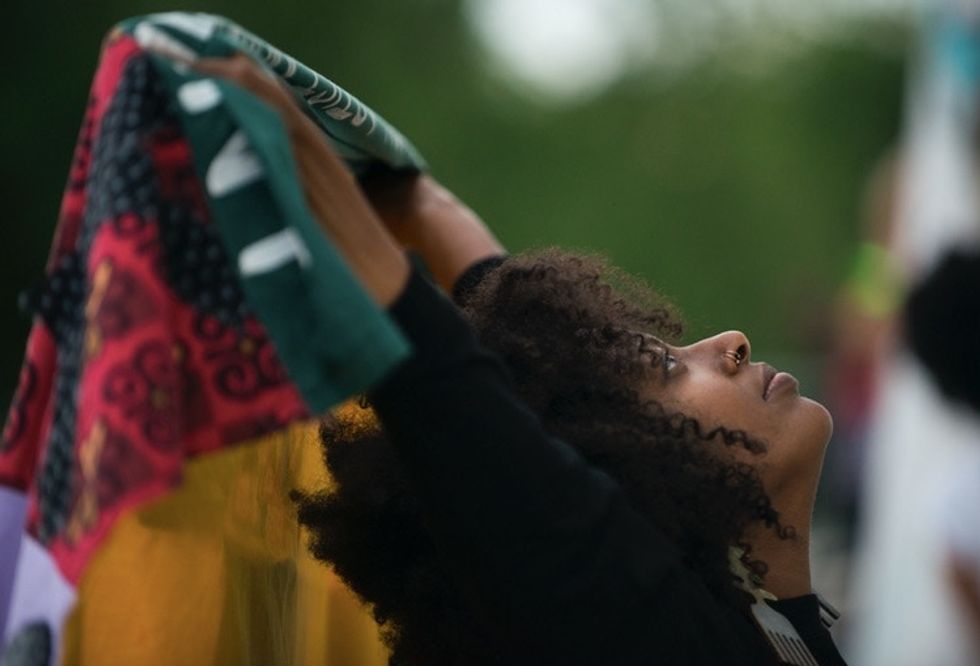 A woman holds up a tapestry that says 'BLACK LIVES MATTER' on the steps of the Minnesota State Capitol building. Photo by Stephen Maturen/Getty Images.
This is much bigger than an inflammatory video. Gun violence is a national issue that puts women at considerable risk.
Piecemeal federal and state-level laws do a poor job of keeping guns out of the hands of convicted domestic abusers and stalkers. Federal laws that prohibit domestic abusers from owning guns don't apply to dating partners or those convicted of misdemeanor-level stalking. And even with federal laws in place, officials often don't have the manpower to enforce these laws at the local level. And the laws mean little when people can buy guns from unlicensed private sellers without a background check.
In more than 50% of mass shootings, the shooter killed a family member or current or former spouse or intimate partner, according to research by Everytown for Gun Safety. In 18% of mass shootings, the shooter had been previously charged with domestic violence. These patterns are too clear to ignore.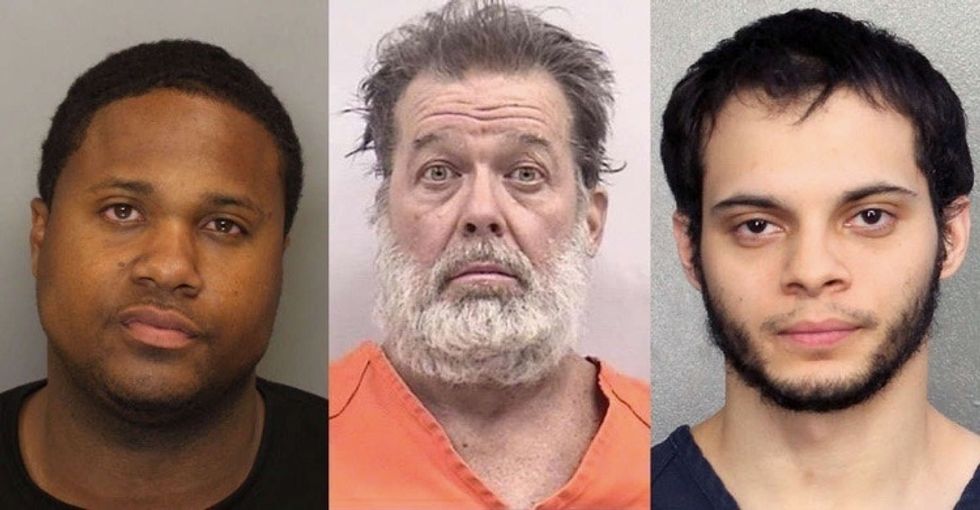 Ismaiiyl Brinsley, Robert Lewis Dear, and Esteban Santiago are attackers with a history of domestic violence. Photos via Cobb County Sheriff's Office/Getty Images, Handout/Getty Images, and Handout/Getty Images.
Women's March hopes this mass mobilization effort will lead the NRA to take the following actions:
Remove the irresponsible video advertisements from the group's social networks.
Apologize for suggesting, encouraging, or inciting violence against communities of color and people who disagree with the Trump administration.
Release a statement defending Philando Castile's Second Amendment rights. Castile — a black concealed carry permit holder with a registered weapon — was shot and killed by Officer Jeronimo Yanez during a traffic stop. Yanez was recently acquitted of all charges, but the NRA has yet to defend Castile's rights or concealed carry privileges, leaving many to wonder if the advocacy group cares about the rights of people of color.
Given the NRA's apparent attitude toward apologies, these demands are a long shot.
Their initial response to an open letter from Women's March was a video titled, "We Don't Apologize for Telling the Truth."
But, ultimately, nothing can stand in the way of women with passion, political might, and persistence. Absolutely nothing.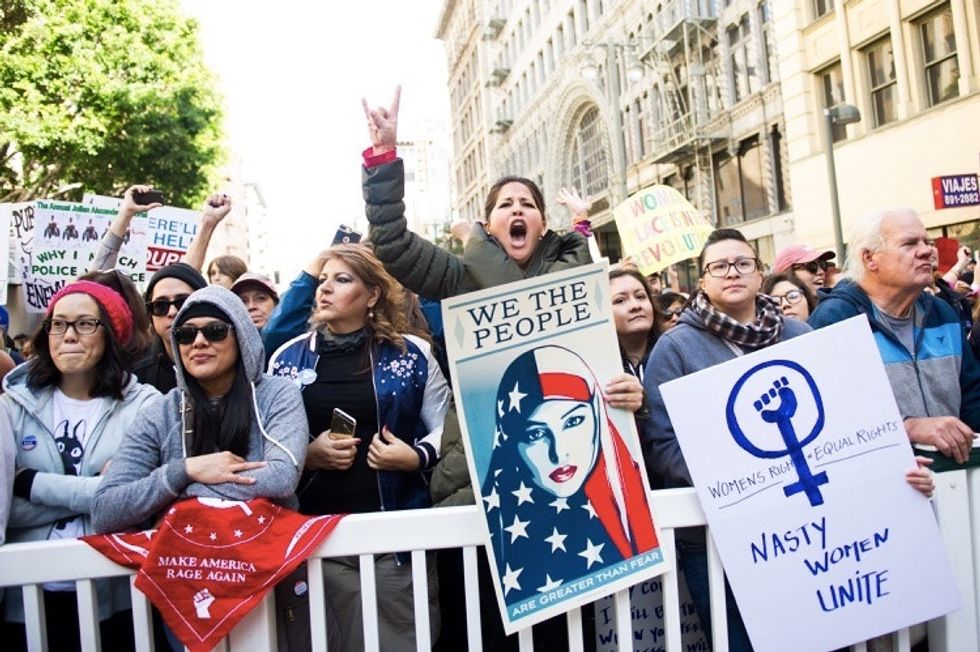 Photo by Emma McIntyre/Getty Images.