Images courtesy of Letters of Love
True
When Grace Berbig was 7 years old, her mom was diagnosed with leukemia, a cancer of the body's blood-forming tissues. Being so young, Grace didn't know what cancer was or why her mother was suddenly living in the hospital. But she did know this: that while her mom was in the hospital, she would always be assured that her family was thinking of her, supporting her and loving her every step of her journey.
Nearly every day, Grace and her two younger sisters would hand-make cards and fill them with drawings and messages of love, which their mother would hang all over the walls of her hospital room. These cherished letters brought immeasurable peace and joy to their mom during her sickness. Sadly, when Grace was just 10 years old, her mother lost her battle with cancer."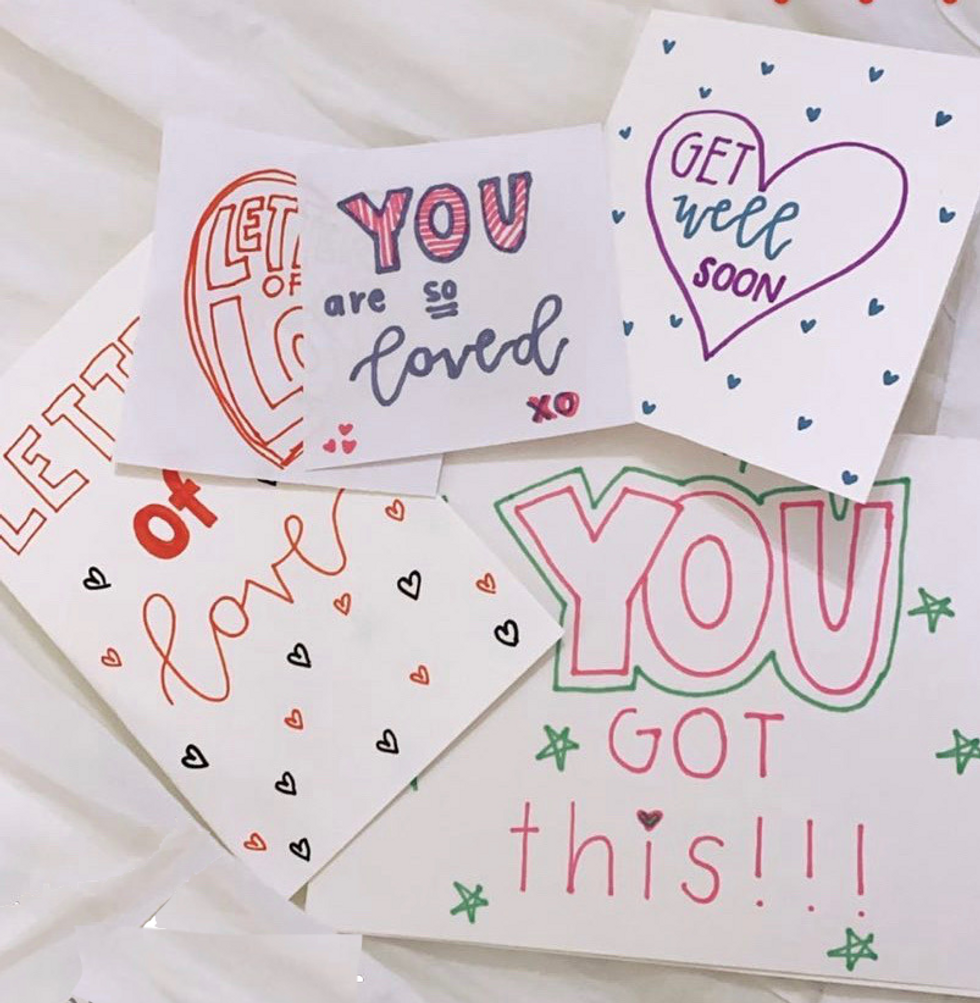 Image courtesy of Letters of Love
Losing my mom put the world in a completely different perspective for me," Grace says. "I realized that you never know when someone could leave you, so you have to love the people you love with your whole heart, every day."
Grace's father was instrumental in helping in the healing process of his daughters. "I distinctly remember my dad constantly reminding my two little sisters, Bella and Sophie, and I that happiness is a choice, and it was now our job to turn this heartbreaking event in our life into something positive."
When she got to high school, Grace became involved in the Leukemia & Lymphoma Society and a handful of other organizations. But she never felt like she was doing enough.
"I wanted to create an opportunity for people to help beyond donating money, and one that anyone could be a part of, no matter their financial status."
In October 2018, Grace started
Letters of Love
, a club at her high school in Long Lake, Minnesota, to emotionally support children battling cancer and other serious illnesses through letter-writing and craft-making.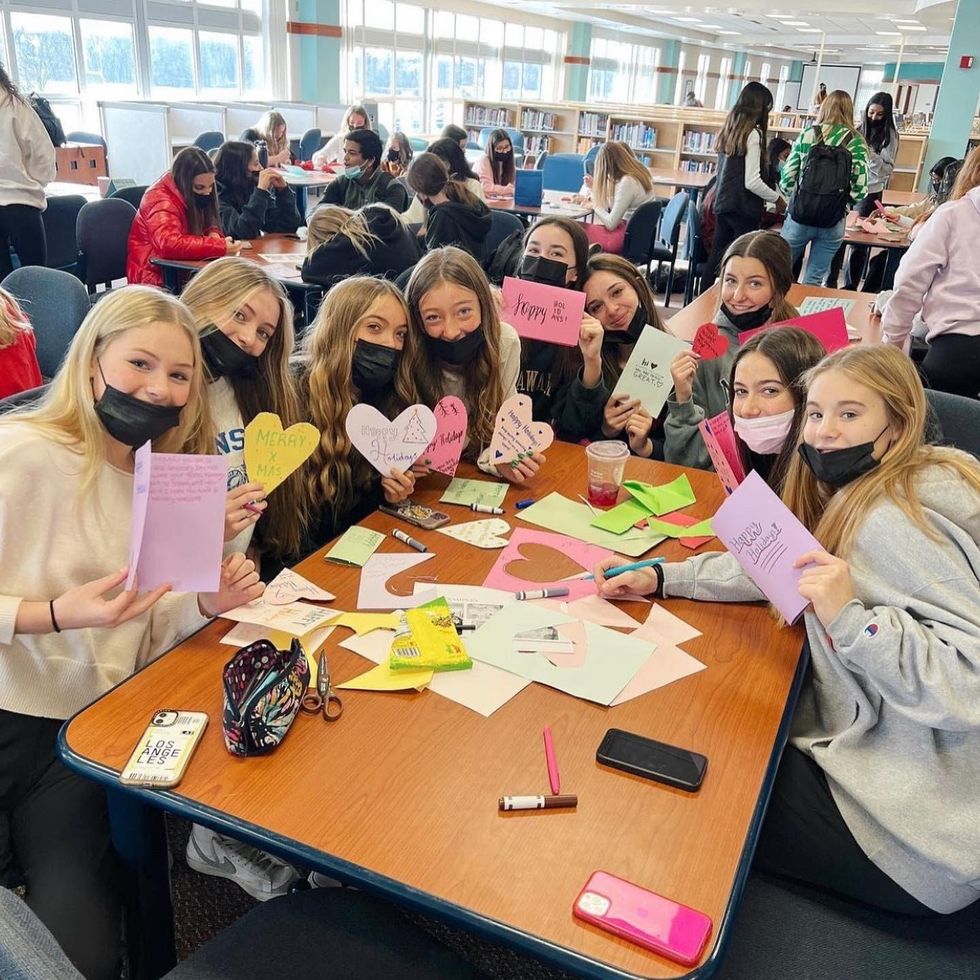 Image courtesy of Letters of Love
Much to her surprise, more than 100 students showed up for the first club meeting. From then on, Letters of Love grew so fast that during her senior year in high school, Grace had to start a GoFundMe to help cover the cost of card-making materials.
Speaking about her nonprofit today, Grace says, "I can't find enough words to explain how blessed I feel to have this organization. Beyond the amount of kids and families we are able to support, it allows me to feel so much closer and more connected to my mom."
Since its inception, Letters of Love has grown to more than 25 clubs with more than 1,000 members providing emotional support to more than 60,000 patients in children's hospitals around the world. And in the process it has become a full-time job for Grace.
"I do everything from training volunteers and club ambassadors, paying bills, designing merchandise, preparing financial predictions and overviews, applying for grants, to going through each and every card ensuring they are appropriate to send out to hospitals."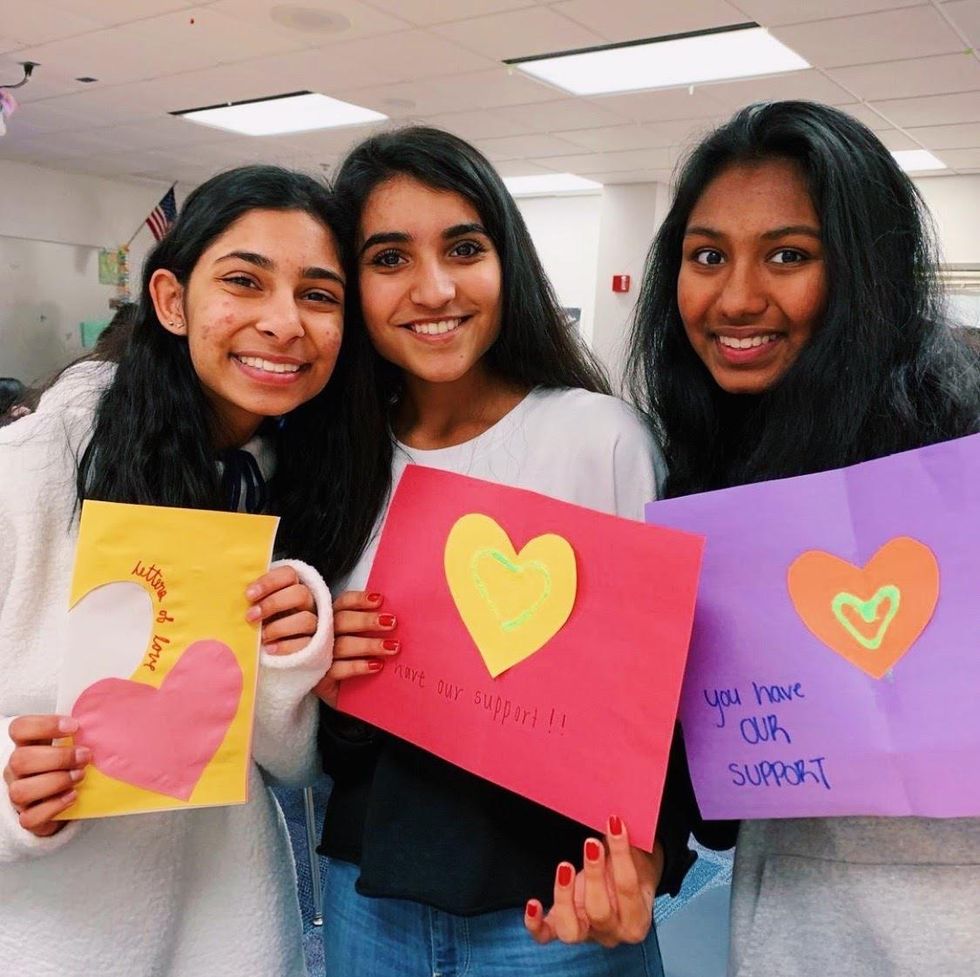 Image courtesy of Letters of Love
In addition to running Letters of Love, Grace and her small team must also contend with the emotions inherent in their line of work.
"There have been many, many tears cried," she says. "Working to support children who are battling cancer and other serious and sometimes chronic illnesses can absolutely be extremely difficult mentally. I feel so blessed to be an organization that focuses solely on bringing joy to these children, though. We do everything we can to simply put a smile on their face, and ensure they know that they are so loved, so strong, and so supported by people all around the world."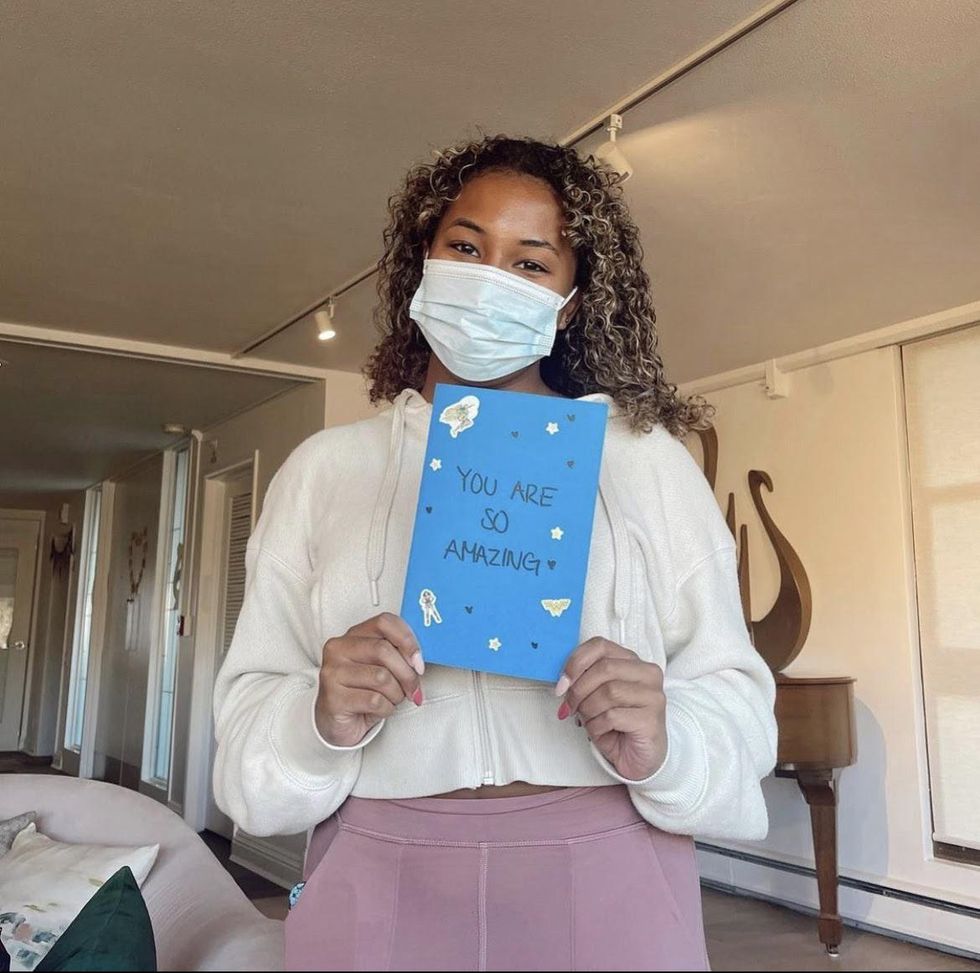 Image courtesy of Letters of Love
Letters of Love has been particularly instrumental in offering emotional support to children who have been unable to see friends and family due to COVID-19. A video campaign in the summer of 2021 even saw members of the NFL's Minnesota Vikings and the NHL's Minnesota Wild offer short videos of hope and encouragement to affected children.
Grace is currently taking a gap year before she starts college so she can focus on growing Letters of Love as well as to work on various related projects, including the publication of a children's book.

"The goal of the book is to teach children the immense impact that small acts of kindness can have, how to treat their peers who may be diagnosed with disabilities or illness, and how they are never too young to change the world," she says.
Since she was 10, Grace has kept memories of her mother close to her, as a source of love and inspiration in her life and in the work she does with Letters of Love.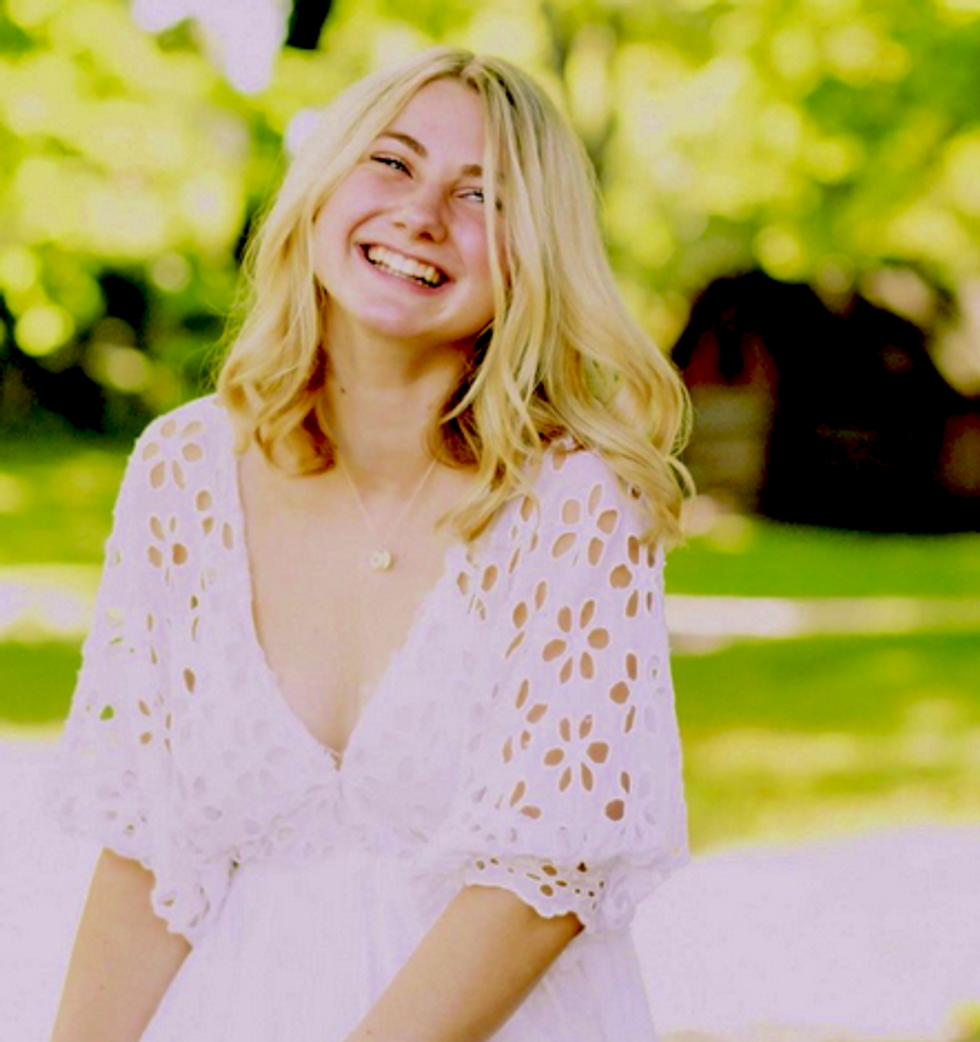 Image courtesy of Grace Berbig
"When I lost my mom, I felt like a section of my heart went with her, so ever since, I have been filling that piece with love and compassion towards others. Her smile and joy were infectious, and I try to mirror that in myself and touch people's hearts as she did."
For more information visit Letters of Love.
Please donate to Grace's GoFundMe and help Letters of Love to expand, publish a children's book and continue to reach more children in hospitals around the world.
Upworthy is sharing this letter from Myra Sack on the anniversary of the passing of her daughter Havi Lev Goldstein. Loss affects everyone differently and nothing can prepare us for the loss of a young child. But as this letter beautifully demonstrates, grief is not something to be ignored or denied. We hope the honest words and feelings shared below can help you or someone you know who is processing grief of their own. The original letter begins below:

Dear Beauty,
Time is crawling to January 20th, the one-year anniversary of the day you took your final breath on my chest in our bed. We had a dance party the night before. Your posse came over. Aunts, uncles, grandparents, closest friends, and your loving nanny Tia. We sat in the warm kitchen with music on and passed you from one set of arms to another. Everyone wanted one last dance with you. We didn't mess around with only slow songs. You danced to Havana and Danza Kuduro, too. Somehow, you mustered the energy to sway and rock with each of us, despite not having had anything to eat or drink for six days. That night, January 19th, we laughed and cried and sang and danced. And we held each other. We let our snot and our tears rest on each other's shoulders; we didn't wipe any of them away. We ate ice cream after dinner, as we do every night. And on this night, we rubbed a little bit of fresh mint chocolate chip against your lips. Maybe you'd taste the sweetness.
Reggaeton and country music. Blueberry pancakes and ice cream. Deep, long sobs and outbursts of real, raw laughter. Conversations about what our relationships mean to each other and why we are on this earth.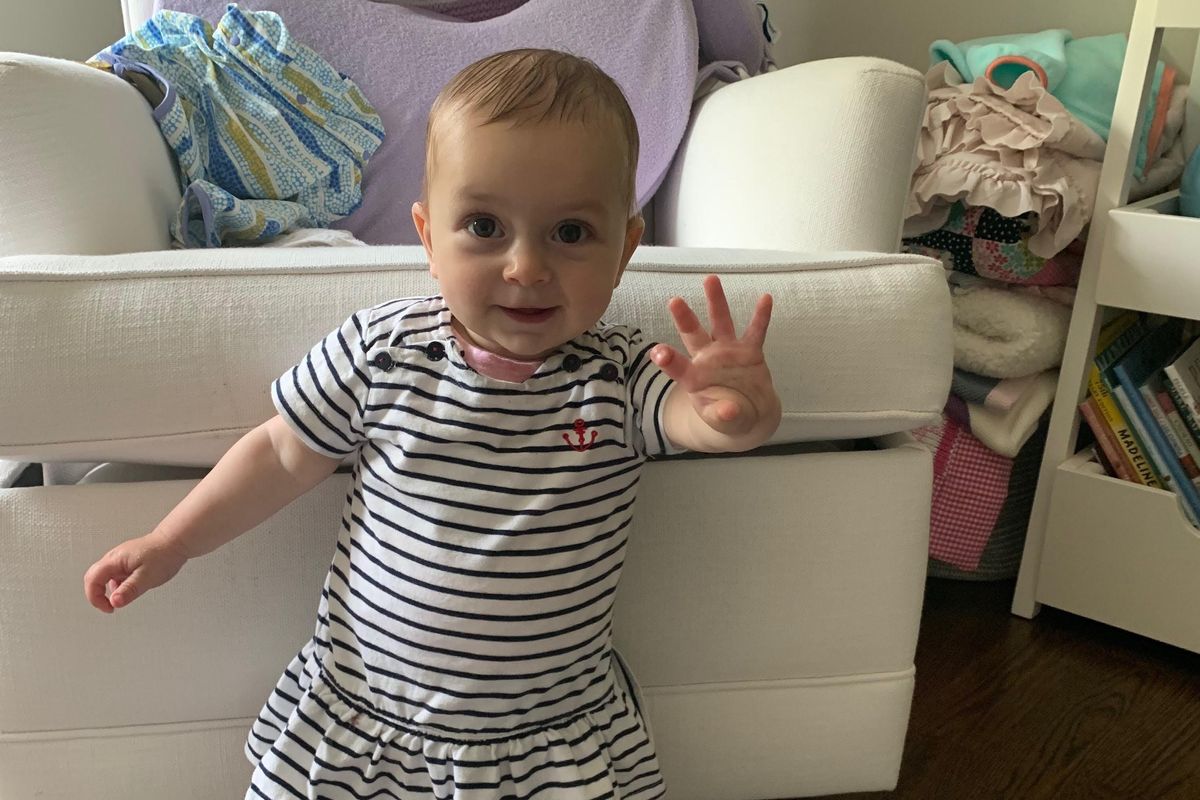 This is grief in our home.
We lost our first-born daughter, Havi Lev Goldstein, on January 20th, 2021, at 9:04am. She died peacefully in our bed, in our arms. She died from a cruel disease called Tay-Sachs, that strips your mind and body of every function over 12-18 months. Havi was two years, four months and sixteen days old when she died.
My husband, Matt Goldstein, and I underwent preconception genetic testing for Tay-Sachs disease. We are both Ashkenazi Jewish, a population that has a higher risk for having a mutation in the gene that causes Tay-Sachs. We took our genetic testing very seriously. My testing results came back showing that I was a carrier; Matt's results said he was not. Given the autosomal recessive nature of the disease, both parents need to be carriers for the fetus to be at risk of inheriting the disease. Months later, we were pregnant with our first child.
Tragically, Matt received the wrong test, and his carrier status was mis-reported. Matt was in fact, a carrier for Tay-Sachs. 15 months into her life, we learned that our daughter, Havi, was now a victim of this fatal, progressive neurodegenerative disease. In an instant, we were transformed from being not only first-time parents, but now first-time parents of a dying child.
From the date of Havi's diagnosis, December 17th, 2019, to her death on January 20th, 2021, we followed her lead. She never spoke a word, never walked a single step. But she communicated powerfully through smiles and tears, through the brightness of her eyes and the back-and-forth movements of her head. She loved, deeply. And when you closed your eyes and listened closely, her voice was clear.
Havi taught us that life can be even more beautiful and painful than we ever imagined. And when we live at the edge of that deepest beauty and deepest pain, then everything—our hearts, our world view, our community—will deepen and expand.
We honored Havi's life every Friday night with family and friends in a celebration that we called Shabbirthday. The word is a combination of Shabbat and Birthday. Havi's favorite food, the only food that she ever crawled toward, was challah, the braided Jewish bread that we eat every Shabbat. And we knew that her birthdays would be limited to two. That was not enough. We wanted more. So we threw Havi 57 Shabbirthdays before she died. Balloons, cakes, beach walks, fancy dinners, always a challah, and beautiful songs and prayers. We didn't pretend to be happy on these Shabbirthdays. We weren't. We were heart broken. We didn't throw parties to distract or numb the pain. We found moments of beauty and celebration embedded in and between our deepest pain. We knew we needed the love and support of our closest people right there with us, too. And we treated every moment as sacred, not scary. As holy, not superficial.
This is grief in our home.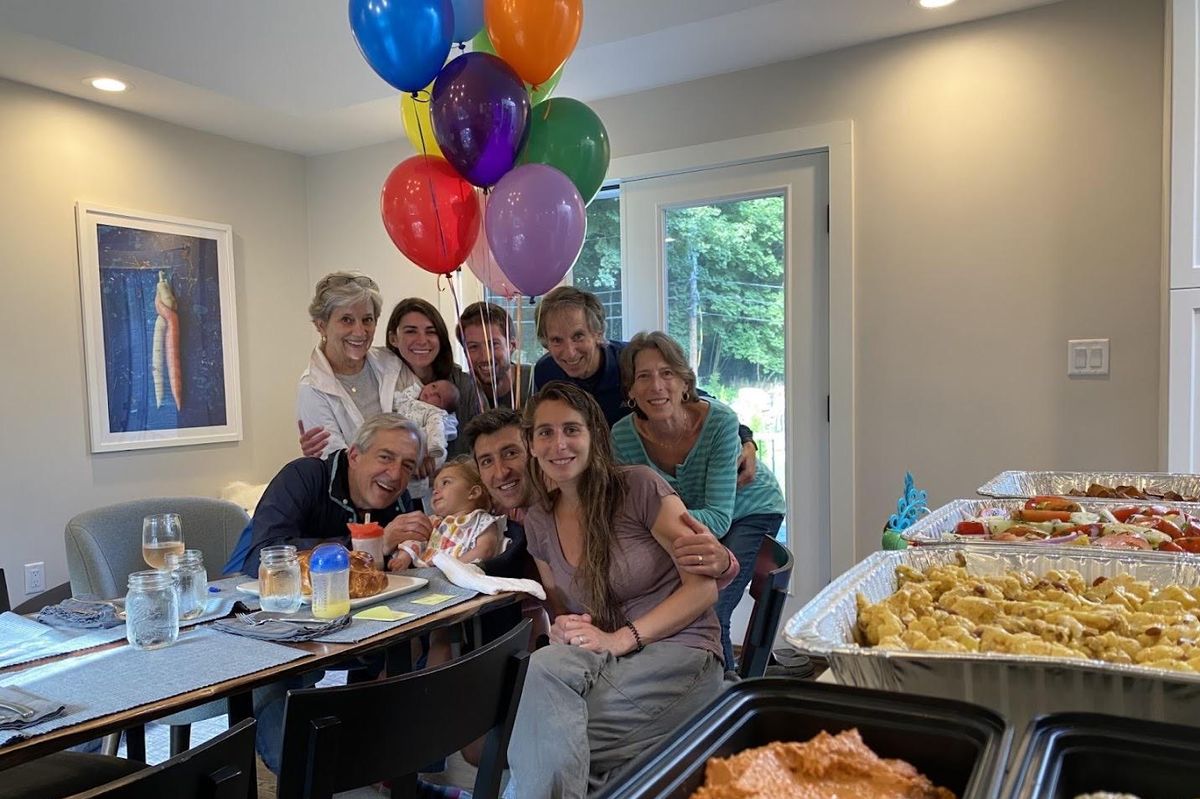 Since Havi's death, we continue to honor Shabbirthdays every Friday. Now, we read poems, listen to Cole Swindell's, 'You Should Be Here', and close our eyes tightly to try and recall the feeling of her wrapped tightly in our arms. Sometimes it's hard to breathe. Sometimes I don't want to open my eyes at the end of the song. And sometimes, I feel okay. Sometimes I can even smile through the song and cuddle with our beautiful younger daughter, Kaia. Whatever the feelings are, however the anguish of grief is manifesting, I pay attention.
Havi's story is for anyone who has lost the person they love most in this world; for anyone who has watched someone they love lose their beloved; or for anyone who has yet to be touched by their own tragic loss and is open to learning about what it might feel like for them one day.
For me, Havi's death is not a one-time event. It happens over and over again every moment she is not where she is supposed to be: Picking out a mismatched set of clothes that look adorable anyway; walking into preschool with her little hand gripping my index finger; pausing between the slides and the swings for a few bites of fig bar at the playground; playing with her little sister who looks up in admiration at her god given best friend. The losses are layered and constant. And they will accrue, every day, and on every missed milestone until the day I die. I'm not sure people understand that about losing a young child.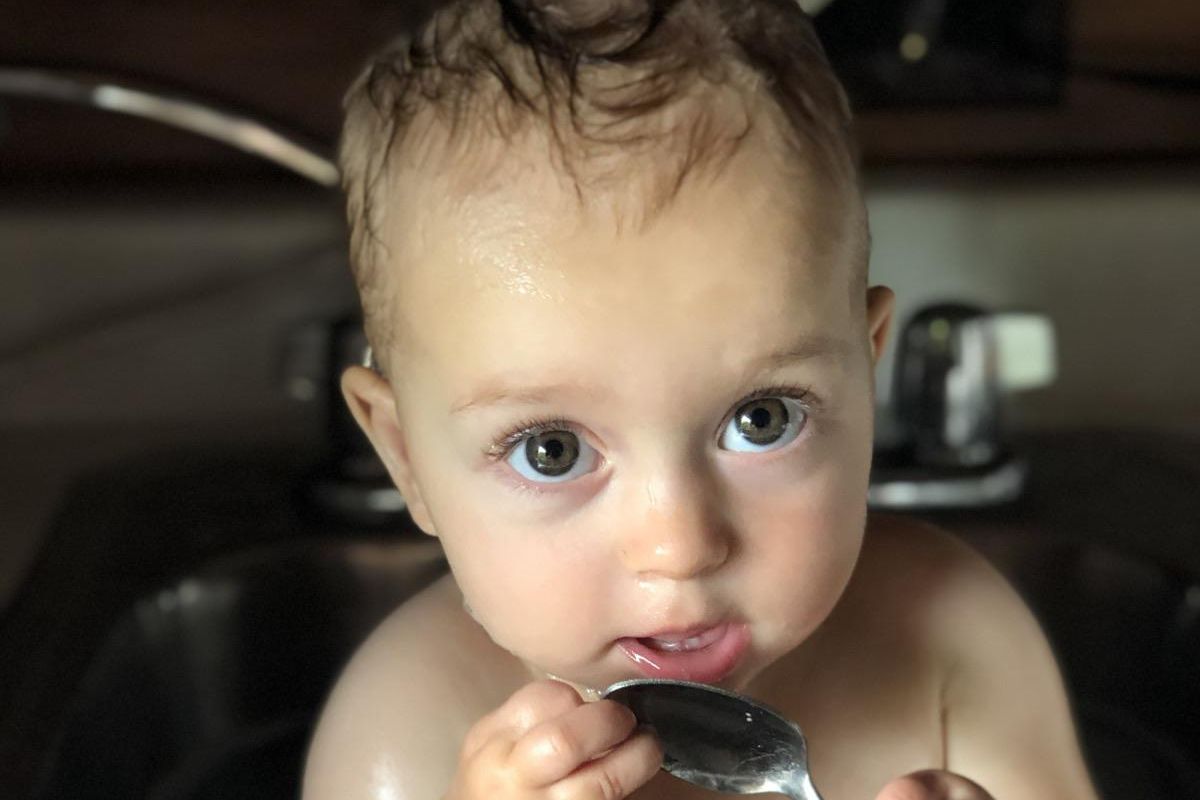 I think that the only way to be okay is to keep inviting our dead into those spaces, to keep them present in those moments where they should be. And not in a delusional way, either. Only in a way that helps us to create new memories and experiences with them since their life on this earth was so tragically short. Relationships don't have to end when the physical ends. We don't need to relegate them to the margins. As our therapist, Dr. Joanne Cacciatore puts it: We keep them right in the front row. From that place, they can participate actively in the life they were meant to have. And we can be proud to include them in it. And they can continue to encourage us to live a life of fullness and in service to others.
Even after only one year on this earth without Havi, my relationship with her has undergone profound and deepening changes. In the same way that relationships in the world of the living require immense attention and constant adjustments, so too, do our relationships with our dead. There are moments when I can still feel the touch of Hav's softest cheeks against mine and there are also moments when I feel far away from her. There are times when I can hear her voice in my head and in my heart and times when the silence is everywhere even though I'm begging for her to show up.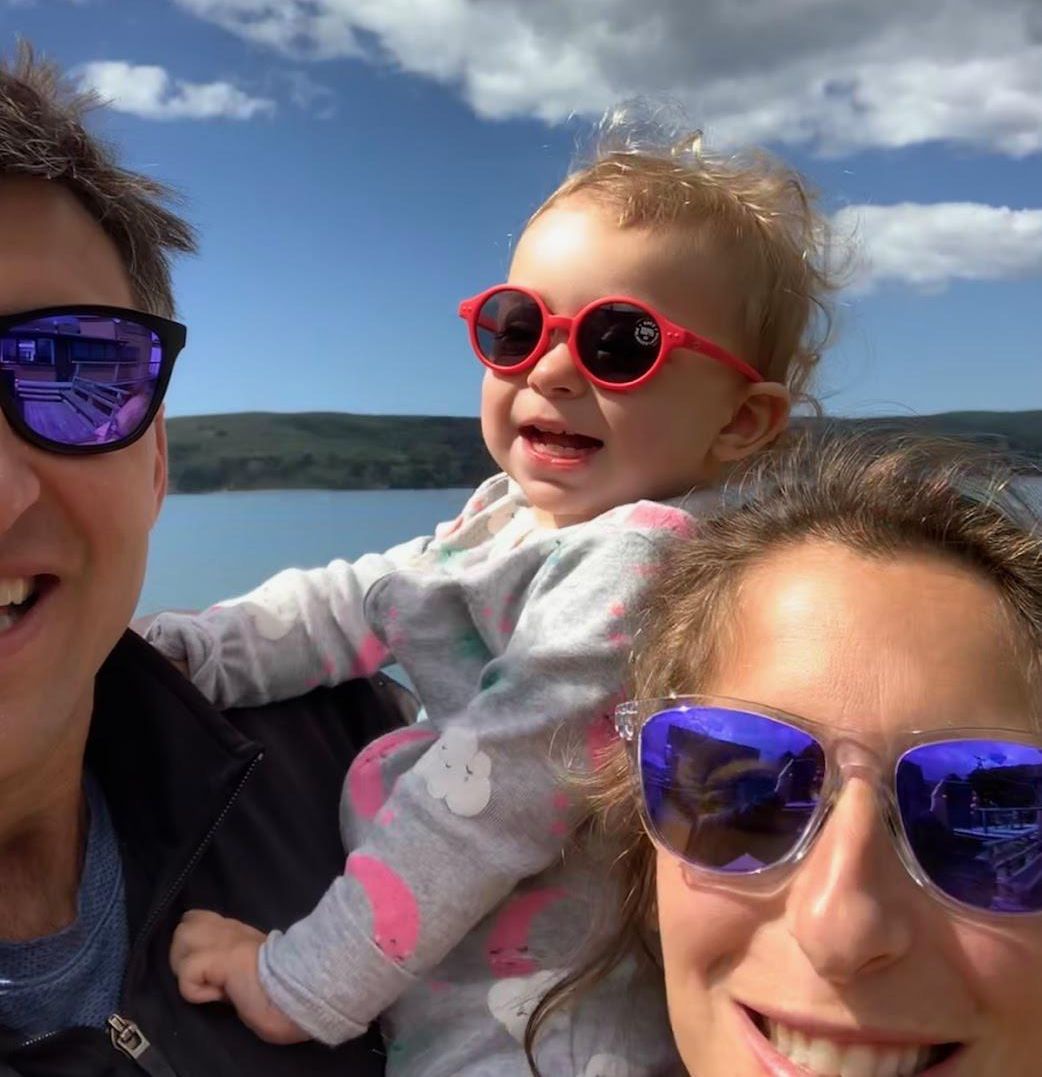 A lot of this journey is a solitary one but it's made so much easier when other people in our lives keep Havi present. This looks like so many beautiful things: Havi's name written in the sand; outfits in the color purple; beautiful sunsets over mountains filled with wild flowers; a glass raised 'To Hav' before dinner begins; photographs on a bookshelf; text messages on important dates; acts of kindness in the spirit of a beautiful little girl. We do not need to 'move on' and we never will. We want to be joined in existing in the space where love and pain coexist for that is the space where we are closest to Hav. We, we all, can be changed forever by the power of loss. Falling into its embrace can make us more powerful, more productive, more alive, and more human. But that growth is ours to discover and cannot be rushed, or forced.
I wish we were kinder to grieving people. I wish we understood that grief is not scary. Losing Havi is the worst possible thing I could have ever imagined as a new mother. It is tragic and unnatural. But what is natural is to want to keep her close to us, to want to make her proud, to want to make the world better in her name, to want other people to know and love her. Those are all natural, quite beautiful, instincts that keep grieving people feeling like they can be okay and maybe even that they can become bigger and better versions of themselves.
I know my relationship with grief, and with Havi, is going to change many more times in my lifetime. I only hope that there will be more safe places to inhabit my suffering when it does.
Children are not supposed to die before their parents. But they do. And they do in this country, they do in all of our neighborhoods. And there are thousands of children, and their parents, who deserve a dance party filled with deep soulful sobs, uncontrollable laughter, and the rhythm of the music keeping us all on our feet for one more day. Most importantly, they deserve to be remembered.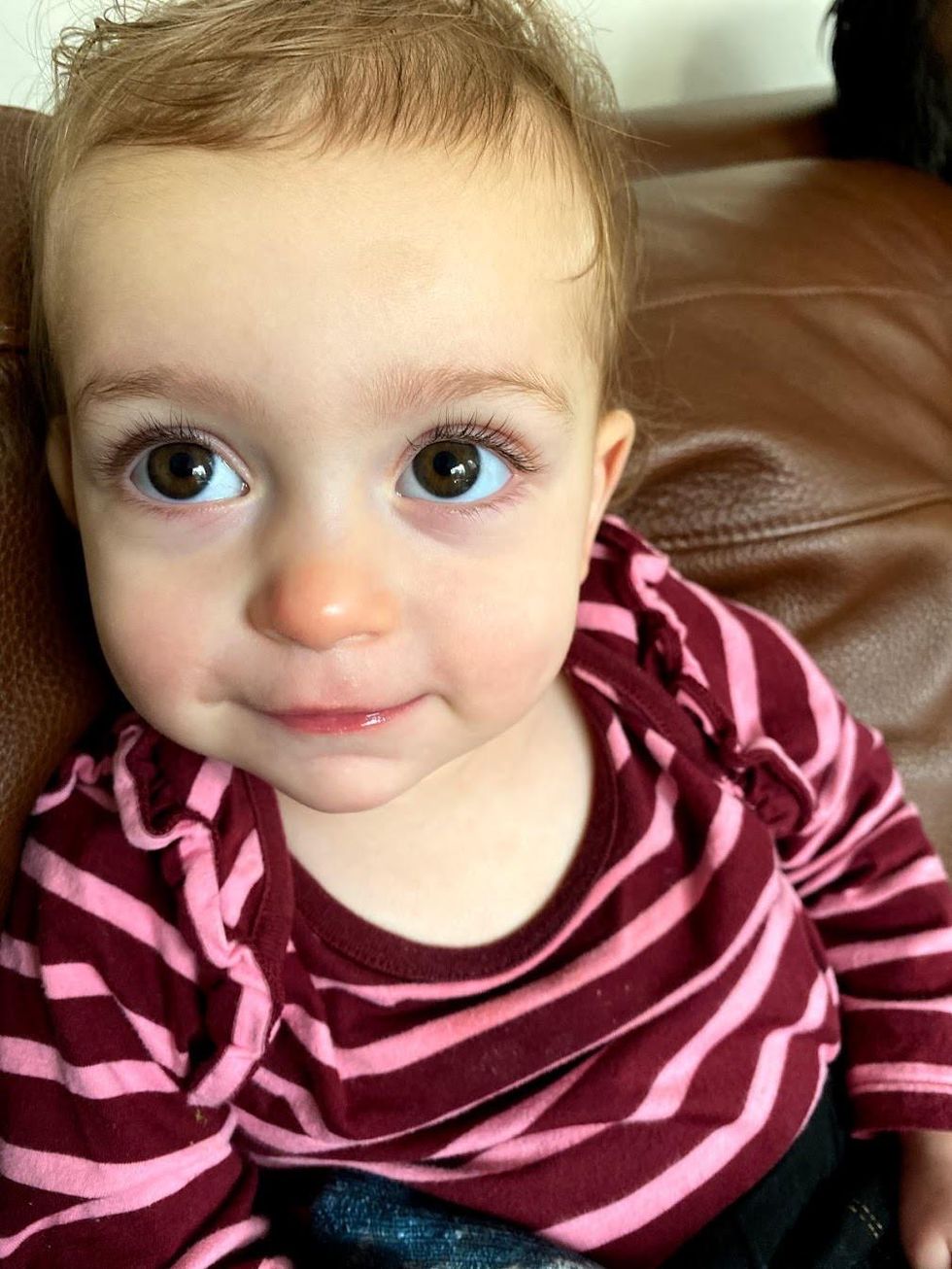 Images courtesy of AFutureSuperhero and Friends and Balance Dance Project
True
The day was scorching hot, but the weather wasn't going to stop a Star Wars Stormtrooper from handing out school supplies to a long line of eager children. "You guys don't have anything illegal back there - any droids or anything?" the Stormtrooper asks, making sure he was safe from enemies before handing over a colorful backpack to a smiling boy.
The man inside the costume is Yuri Williams, founder of AFutureSuperhero And Friends, a Los Angeles nonprofit that uplifts and inspires marginalized people with small acts of kindness.
Yuri's organization is one of four inaugural grant winners from the Upworthy Kindness Fund, a joint initiative between Upworthy and GoFundMe that celebrates kindness and everyday actions inspired by the best of humanity. This year, the Upworthy Kindness Fund is giving $100,000 to grassroots changemakers across the world.
To apply, campaign organizers simply tell Upworthy how their kindness project is making a difference. Between now and the end of 2021, each accepted individual or organization will receive $500 towards an existing GoFundMe and a shout-out on Upworthy.
Meet the first four winners:
1: Balance Dance Project: This studio aims to bring accessible dance to all in the Sacramento, CA area. Lead fundraiser Miranda Macias says many dancers spend hours a day at Balance practicing contemporary, lyrical, hip-hop, and ballet. Balance started a GoFundMe to raise money to cover tuition for dancers from low-income communities, buy dance team uniforms, and update its facility. The $500 contribution from the Kindness Fund nudged Balance closer to its $5,000 goal.
2: Citizens of the World Mar Vista Robotics Team: In Los Angeles, middle school teacher James Pike is introducing his students to the field of robotics via a Lego-building team dedicated to solving real-world problems.
James started a GoFundMe to crowdfund supplies for his students' team ahead of the First Lego League, a school-against-school matchup that includes robotics competitions. The team, James explained, needed help to cover half the cost of the pricey $4,000 robotics kit. Thanks to help from the Upworthy Kindness Fund and the generosity of the Citizens of the World Middle School community, the team exceeded its initial fundraising goal.
Citizens of the World Mar Vista Robotics Team video update youtu.be
3: Black Fluidity Tattoo Club: Kiara Mills and Tann Parker want to fix a big problem in the tattoo industry: there are too few Black tattoo artists. To tackle the issue, the duo founded the Black Fluidity Tattoo Club to inspire and support Black tattooers. While the Brooklyn organization is open to any Black person, Kiara and Tann specifically want to encourage dark-skinned artists to train in an affirming space among people with similar identities.
To make room for newcomers, the club recently moved into a larger studio with a third station for apprentices or guest artists. Unlike a traditional fundraiser that supports the organization exclusively, Black Fluidity Tattoo Club will distribute proceeds from GoFundMe directly to emerging Black tattoo artists who are starting their own businesses. The small grants, supported in part with a $500 contribution from the Upworthy Kindness Fund, will go towards artists' equipment, supplies, furnishings, and other start-up costs.
4: AFutureSuperhero And Friends' "Hope For The Holidays": Founder Yuri Williams is fundraising for a holiday trip to spread cheer to people in need across all fifty states.
Along with collaborator Rodney Smith Jr., Yuri will be handing out gifts to children, adults, and animals dressed as a Star Wars' Stormtrooper, Spiderman, Deadpool, and other movie or comic book characters. Starting this month, the crew will be visiting children with disabilities or serious illnesses, bringing leashes and toys to animal shelters for people taking home a new pet, and spreading blessings to unhoused people—all while in superhero costume. This will be the third time Yuri and his nonprofit have taken this journey.
AFutureSuperhero started a GoFundMe in July to cover the cost of gifts as well as travel expenses like hotels and rental cars. To help the nonprofit reach its $15,000 goal, the Upworthy Kindness Fund contributed $500 towards this good cause.
Think you qualify for the fund? Tell us how you're bringing kindness to your community. Grants will be awarded on a rolling basis from now through the end of 2021. For questions and more information, please check out our FAQ's and the Kindness Toolkit for resources on how to start your own kindness fundraiser.
More
From the skies to the ground, these airplanes continue to serve a purpose.
This article originally appeared on 09.18.15


What happens to airplanes after they're no longer fit to roam the skies?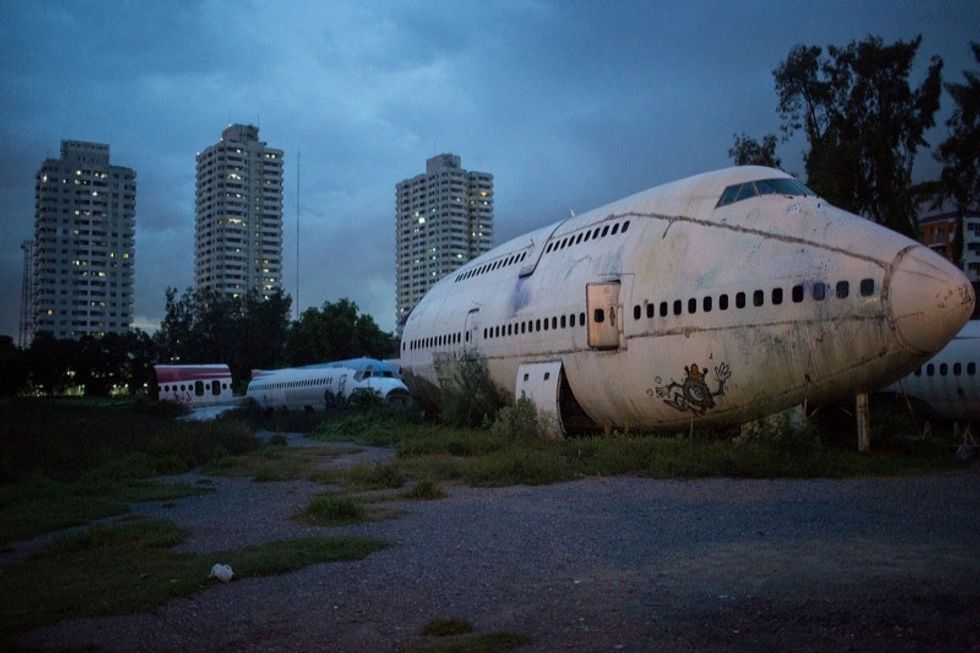 An abandoned 747 rests in a Bangkok lot. Photo by Taylor Weidman/Getty Images.
Decommissioned planes are often stripped and sold for parts, with the remains finding a new home in what is sometimes referred to as an "airplane boneyard" or "graveyard." Around the world, these graveyards exist; they're made up of large, empty lots and tons of scrap metal.
Photojournalist Taylor Weidman recently stopped by a graveyard in Bangkok, Thailand.
In the city's Ramkhamhaeng neighborhood sits a lot peppered with parts from jets and commercial liners. What's most interesting, however, aren't the planes, but rather the people who live among the wreckage.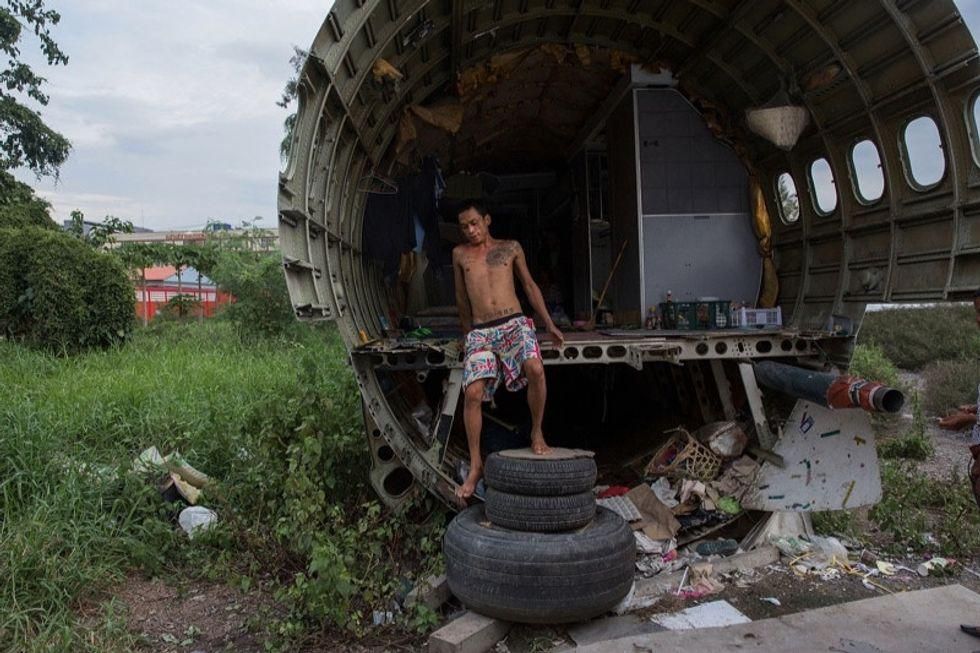 This man exits through the back of one of the plane shells.
Photo by Taylor Weidman/Getty Images.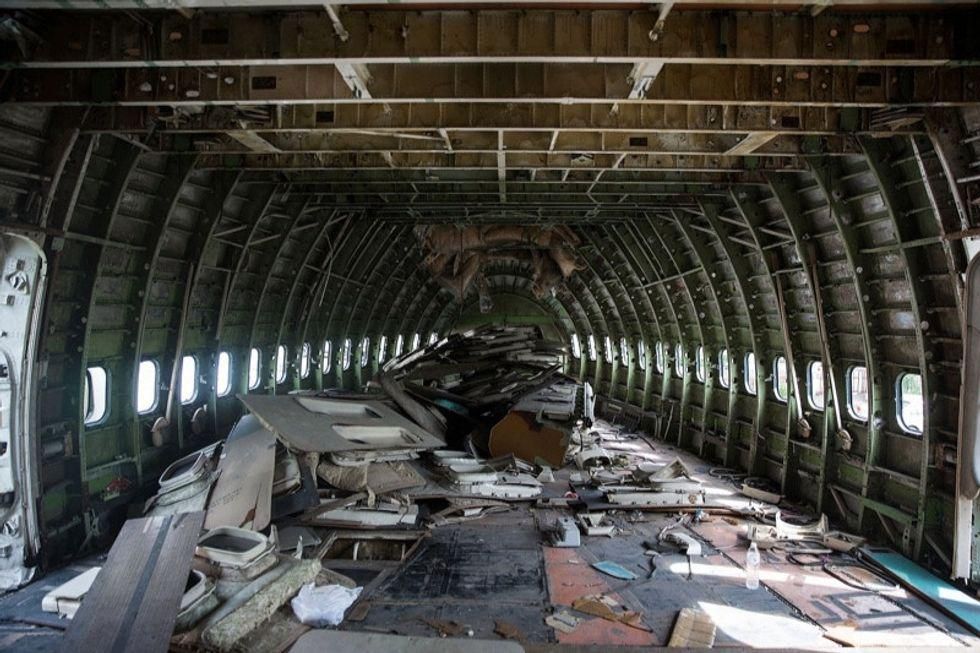 This is the interior of what was a Boeing 747.
Photo by Taylor Weidman/Getty Images.
Life in the graveyard is about as bare-bones as it gets.
The three families living in the lot seem to get by with little more than the shelter created by the hull of a 747, mats, and makeshift curtains. For money, several collect recycling, and as the International Business Times reports, "they occasionally supplement their income by charging tourists and photographers 100 Baht (about £1.80 or $2.77) to look around their homes."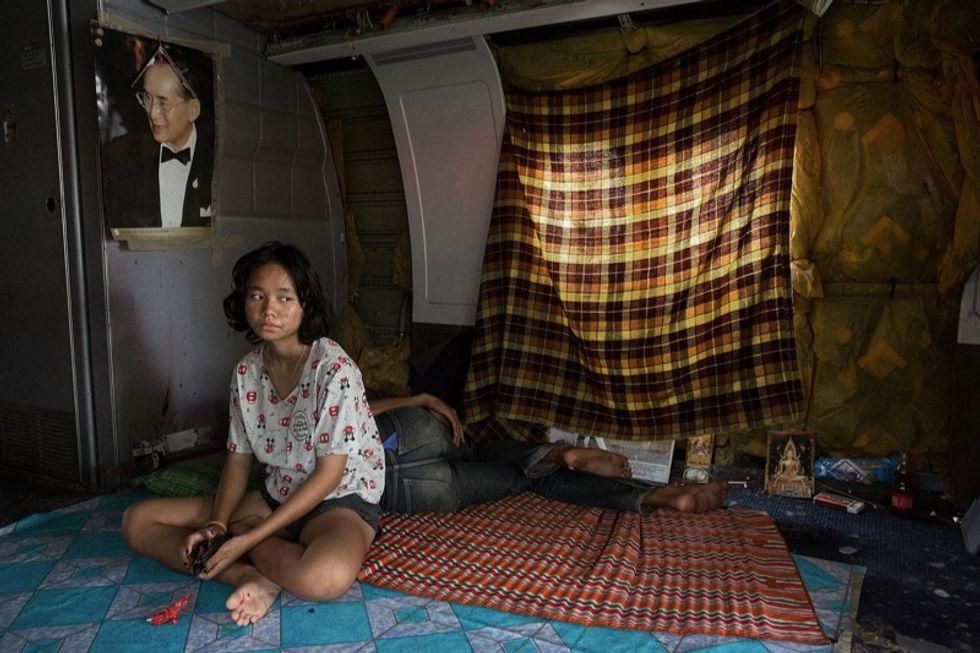 This woman sits underneath a photo of Thailand's king.
Photo by Taylor Weidman/Getty Images.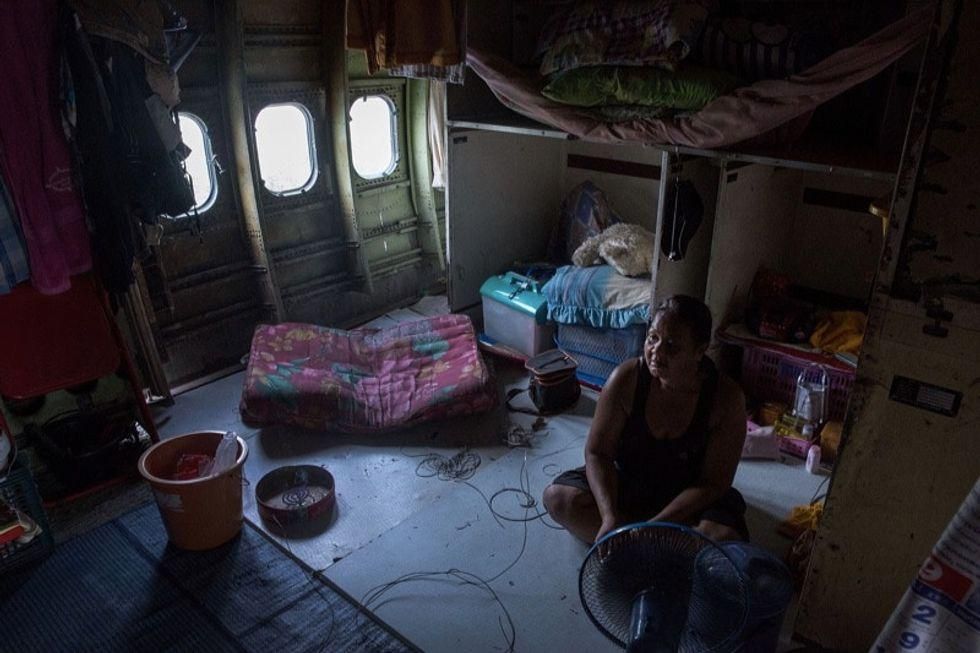 Living on just a few dollars a day, the planes contain comfort that wouldn't be found elsewhere.
Photo by Taylor Weidman/Getty Images.
Weidman's photos shine a light on the luxuries we so often take for granted in life; namely, the ability to travel.
Seeing vehicles once used to jet people around the world for business, pleasure, and everything in between used in a much more fundamental way — as the basic shelters needed for survival — is its own form of forced perspective. It also highlights the creativity of those living in the lot; being able to transform airplanes into places to call home is no small feat.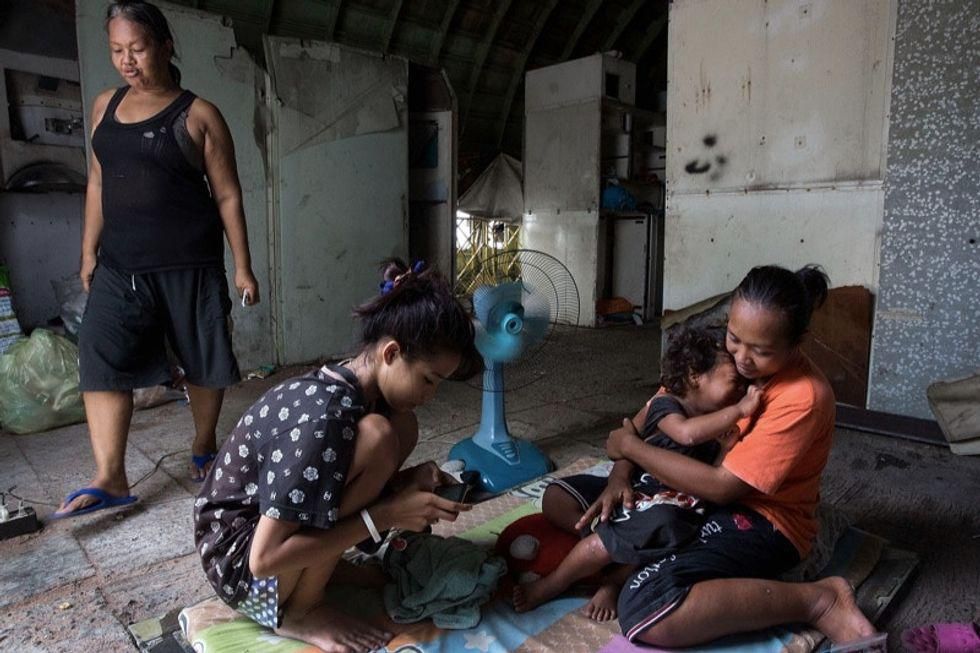 The three families have some small comforts, like sheets, clothes, and the occasional small appliance.
Photo by Taylor Weidman/Getty Images.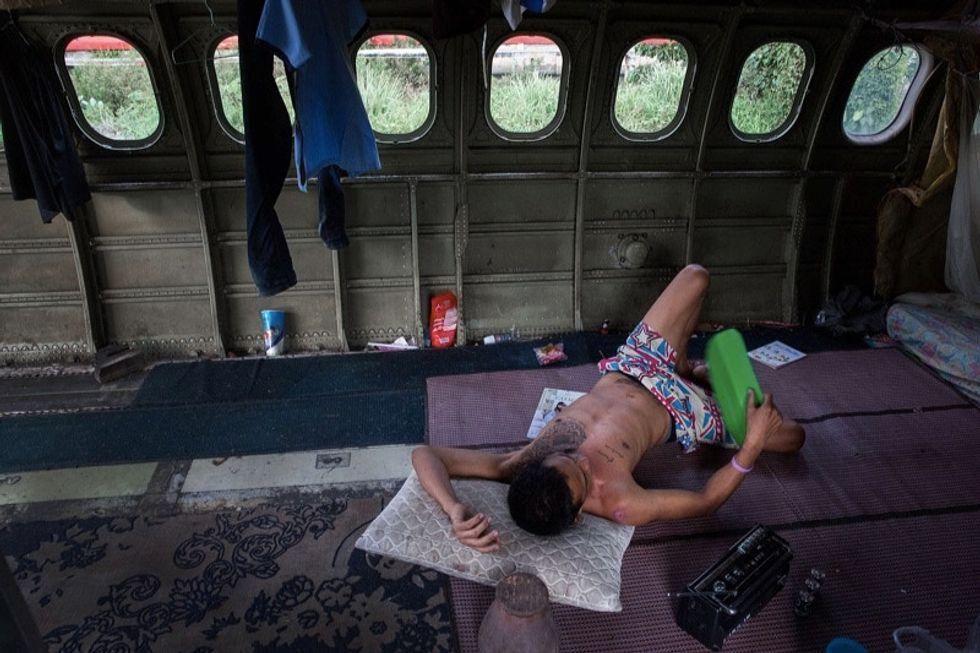 This man rests in one of the partitioned rooms, listening to the radio.
Photo by Taylor Weidman/Getty Images.
Most of all, Weidman's photos tell a story about the importance of empathy.
The families in the Ramkhamhaeng lot are human, just like you and me. Like all of us, they're doing their best to survive.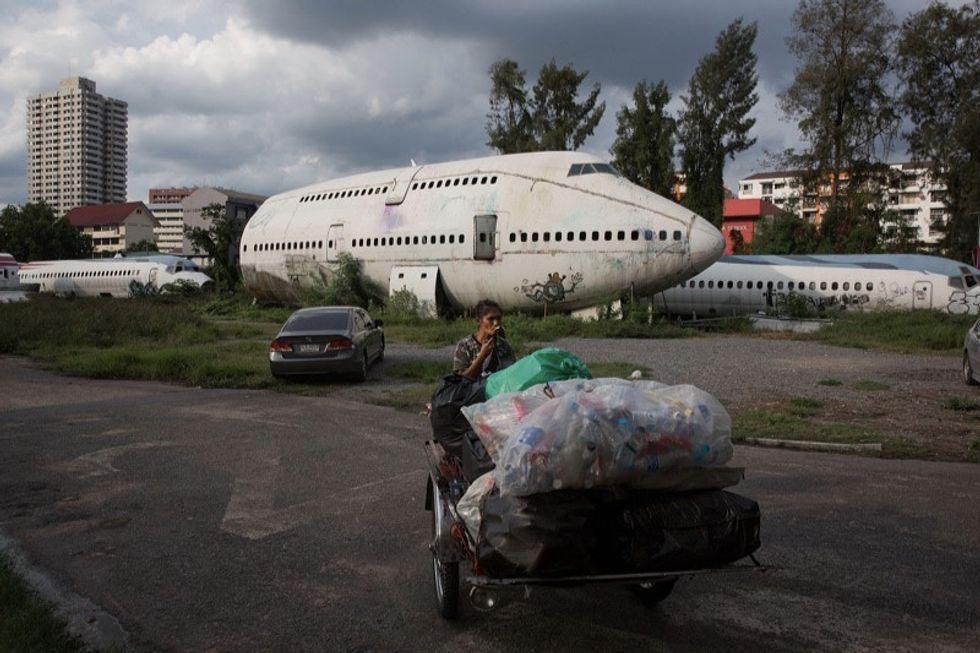 A lot resident collects recycling outside one of the residences.
Photo by Taylor Weidman/Getty Images.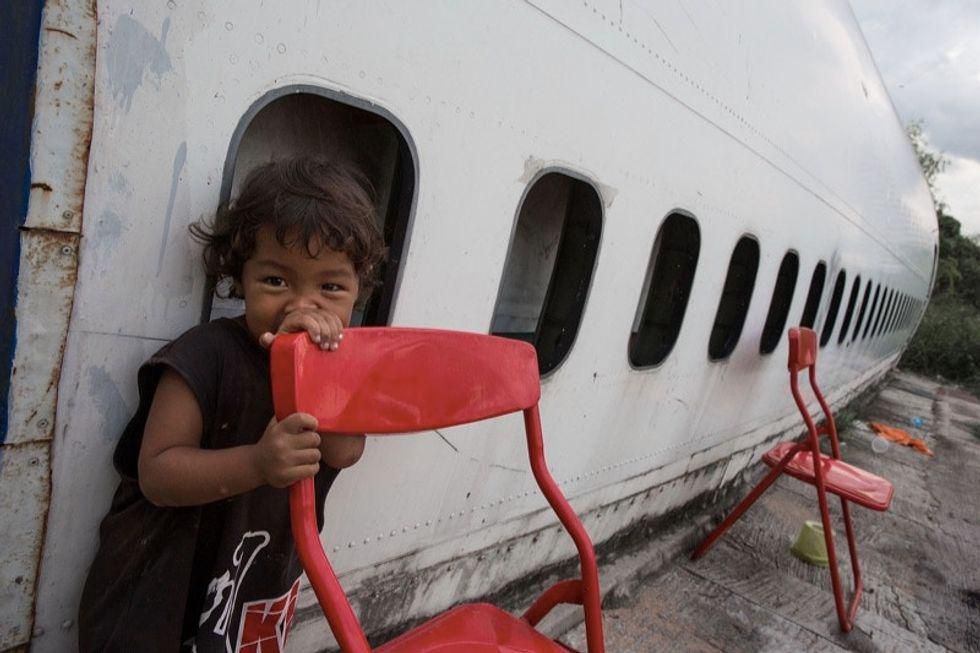 This young boy plays outside one of the planes, hiding from his grandmother.
Photo by Taylor Weidman/Getty Images.
This stunning collection of photos brings just a brief glimpse of what it's like to step into their shoes; something we should all strive to do more often.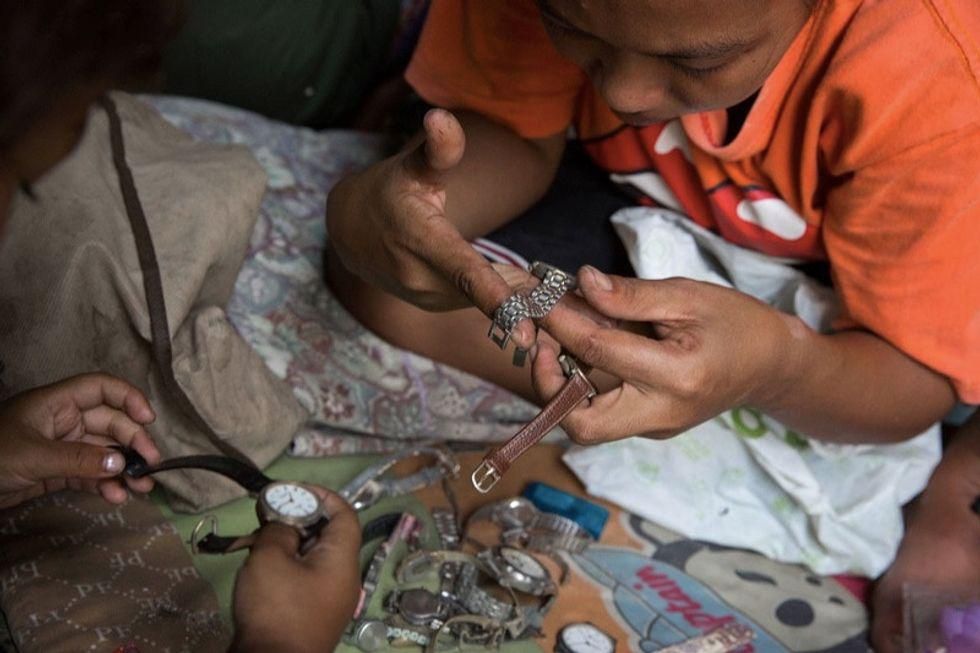 Women inspect watches for possible resale value.
Photo by Taylor Weidman/Getty Images.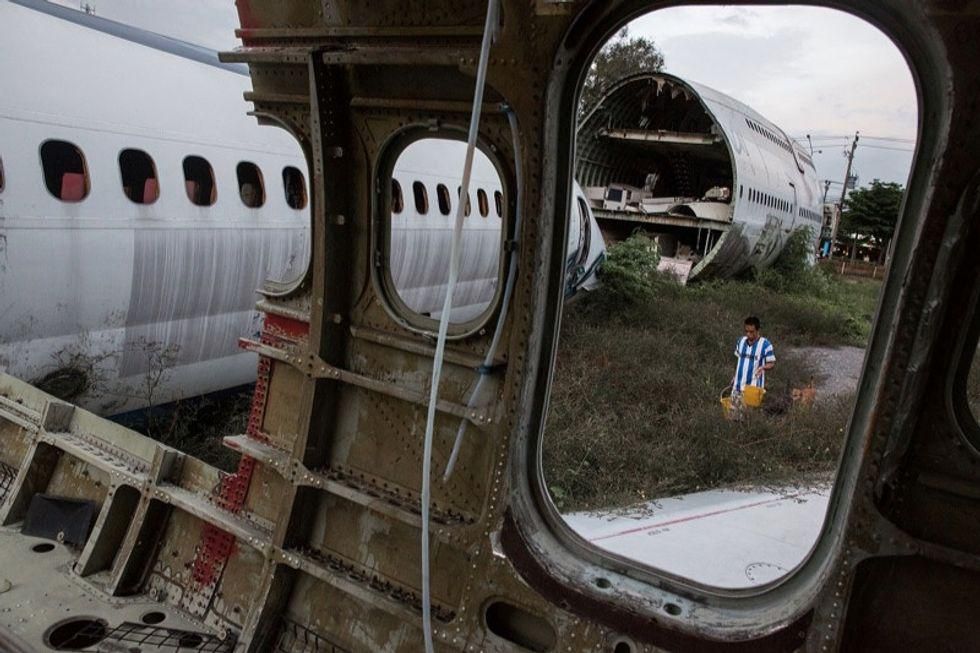 This man is bringing buckets of water back to his family on a hot day.
Photo by Taylor Weidman/Getty Images.




Get stories worth sharing delivered to your inbox
Get stories worth sharing delivered to your inbox