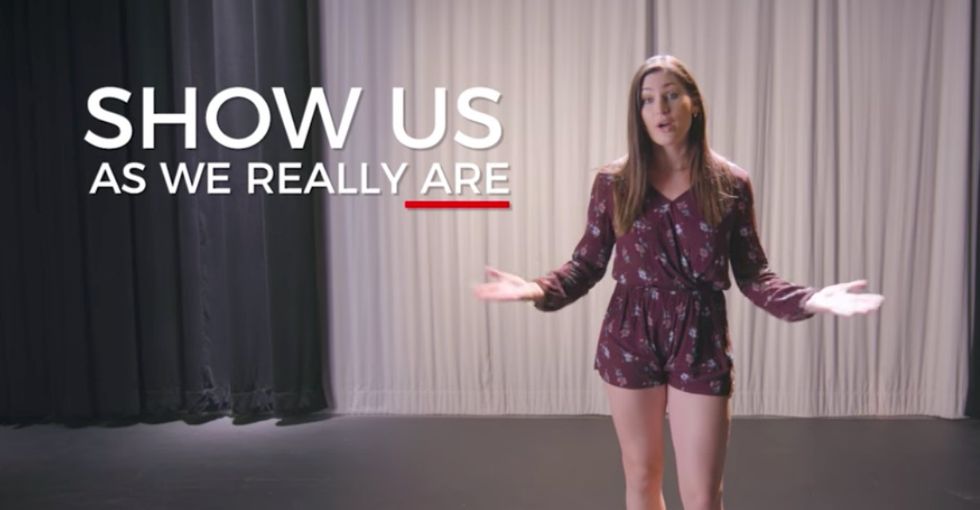 Hollywood has a problem on its hands.
In the video above, produced by ScreenCrush in partnership with GLAAD, several transgender actors dive into how the entertainment industry is failing to fairly represent an already marginalized group.
---
Those flaws, as ScreenCrush senior editor Erin Oliver Whitney says, end up hurting trans people offscreen too.
"I didn't grow up watching many positive or accurate depictions of trans or gender nonconforming people on screen," says Whitney, who is nonbinary and transgender, and helped produce the video. "And the roles I did see certainly weren't played by trans folks."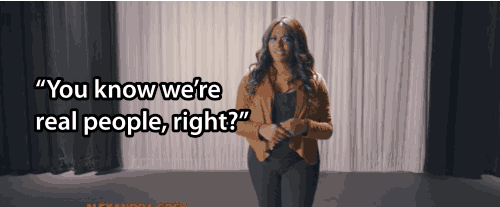 Actor Alexandra Grey ("Drunk History," "Transparent"). GIF via ScreenCrush.
That, in a nutshell, is the big problem.
Here are three vital takeaways from the video, "Why Hollywood Needs Trans Actors," which is part of ScreenCrush's Our Hollywood series:
1. There are very few transgender characters in TV and film — and even fewer that depict trans folks as real people.
As the video points out, citing a GLAAD report, there was just one major Hollywood film that featured a transgender character in 2015 — and that character was the butt of a joke. That wouldn't be such an alarming statistic if most Americans knew several trans people in their own lives and, as a result, understood that transgender people are as complex and relatable as anyone else.
But that's not the case.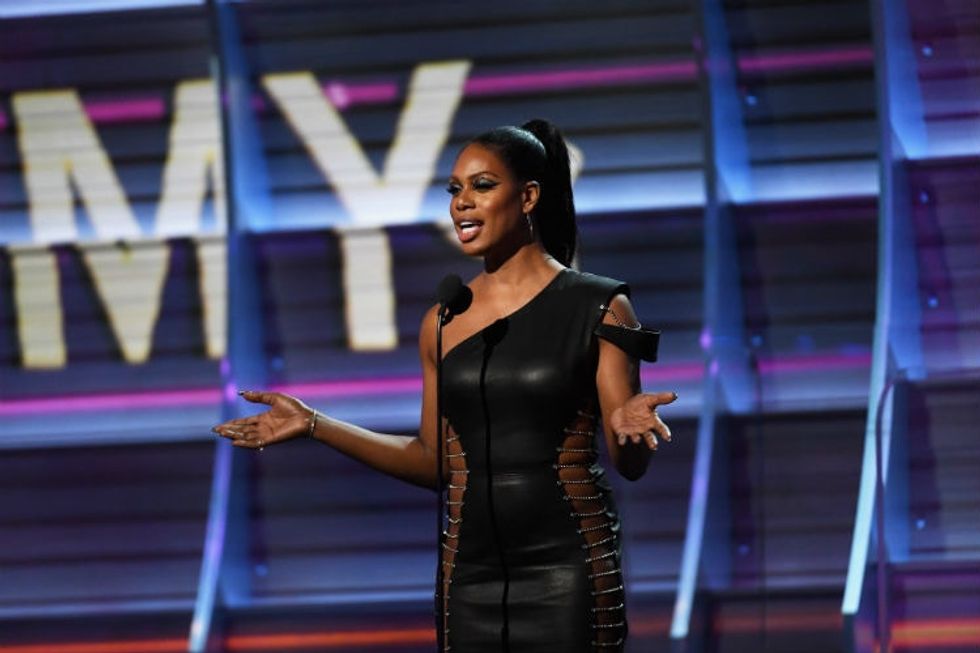 Laverne Cox, who stars in CBS' "Doubt" and Netflix's "Orange Is the New Black," is one of the very few prominent Hollywood actors who are trans. Photo by Kevork Djansezian/Getty Images.
Just 16% of Americans report knowing someone who is transgender personally, which means the vast majority have perceptions of transgender people largely based off what they see in the media.
When the very few trans characters on TV and in films consistently fall into harmful stereotypes — like, that trans people are all mentally unstable — what picture does that paint to audiences? And, even more consequential, what kind of message does that send to young, closeted trans people, anxious to come out in a world that's reluctant to accept them for who they are?
"We're mocked, our bodies are shamed, we're made into villains, reduced to plot twists and punchlines," the actors in the video said. "Imagine if this is all you saw of yourself?"  
2.  It truly is harmful when cisgender (not transgender) actors play transgender characters on screen — even if it doesn't seem like that big of a deal.
This point may seem counterintuitive; it's called "acting" for a reason, right? Why shouldn't a cisgender man be able to play a trans woman on screen if it's all just make believe?  
It sounds simple enough. But that perspective misses a critical point about a casting's ramifications in the real world.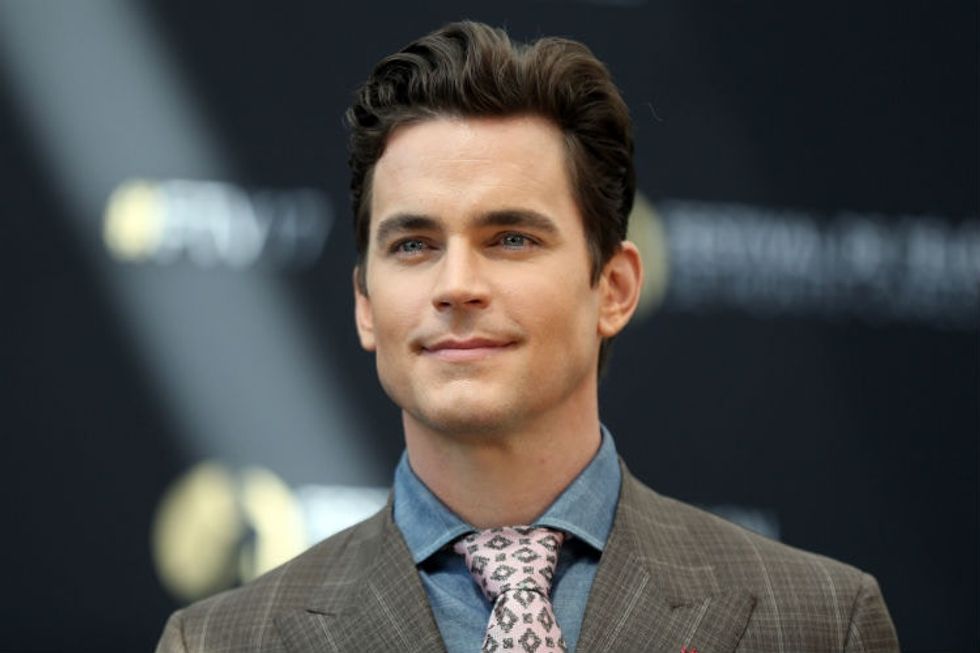 Actor Matt Bomer, who is not transgender, has been criticized for playing a woman who is trans in the film "Anything." Photo by Valery Hache/AFP/Getty Images.
When cisgender men are cast in roles for trans women, it reiterates a pervasive, damaging idea, GLAAD's Nick Adams wrote for The Hollywood Reporter, that being trans is "an act," and — beneath it all — transgender women are really just men.
Deep-rooted transphobia — mixed with the effects of toxic masculinity — make this issue a literal life or death one for trans people.
As Adams wrote (emphasis added):
"That message is toxic and dangerous. It's what prompts lawmakers in states like North Carolina to legislate that a transgender woman must use the men's restroom, humiliating her and putting her in harm's way. It's what motivated James Dixon to murder Islan Nettles as she walked down the street, minding her own business. At his trial, Dixon said that he attacked the 21-year-old black trans woman after he flirted with her, then his friends teased him saying, 'That's a man.' Not wanting to be 'fooled' and feeling like his 'manhood' was threatened, Dixon killed her."
"Right now, in this culture, there are consequences," the actors in the video explain of casting cis actors for trans roles. "Bad ones."
3. Casting more trans actors in better roles is important. But Hollywood should go further than that.
Trans artists should be behind the camera as well — working as directors, producers, writers, assistants, and more. They need allies in positions of privilege to help provide those opportunities, though; the more involved transgender people become in the creative process, the more prevalent and accurate trans representation will become on the big and small screens.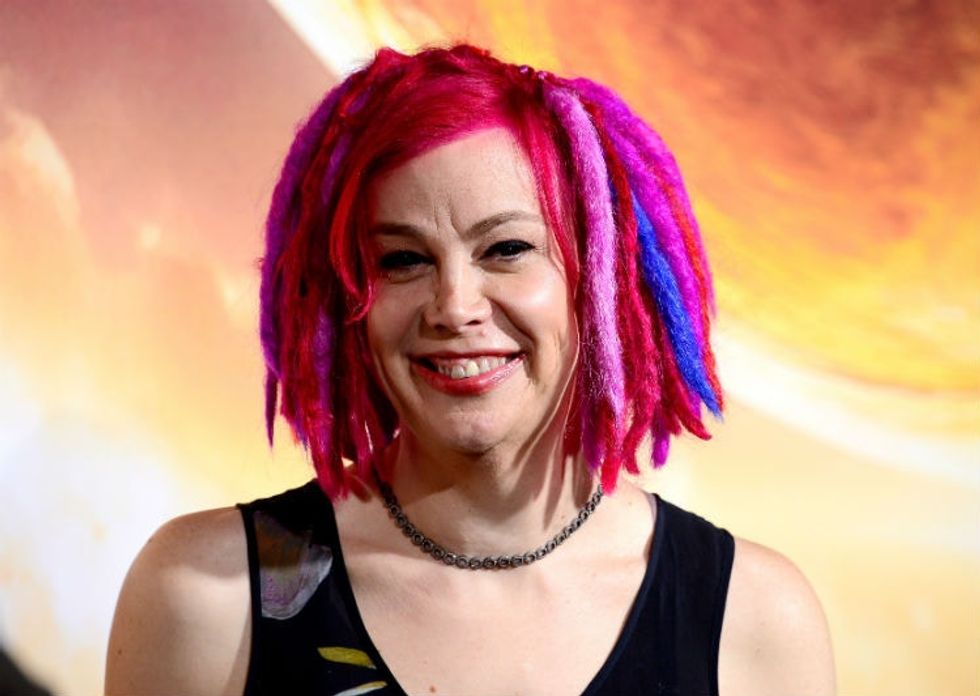 Director Lana Wachowski ("Cloud Atlas," "The Matrix"). Wachowski is one of the few prominent transgender directors in Hollywood. Photo by Frazer Harrison/Getty Images.
"We need you to show us as we really are," the actors said in ScreenCrush's video. "Tell our stories with the creativity, dignity, humor, and depth that make us real people."
The stories told by Hollywood aren't inconsequential; they help shape the world around us in significant ways.
As Whitney notes, "Movies and TV may just be fictional entertainment, but they have the power to reflect parts of ourselves, show us possibilities for who we can be, and most significantly, educate."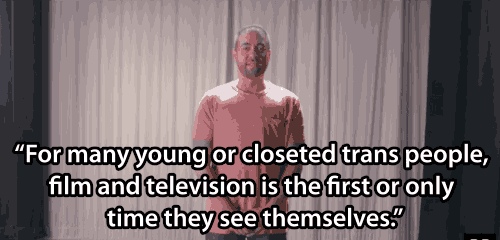 Actor Ian Harvie ("Transparent," "Mistresses"). GIF via ScreenCrush.
We have the power to do better.
Learn more about improving transgender representation at GLAAD.com.