True
Davina Agudelo was born in Miami, Florida, but she grew up in Medellín, Colombia.

"I am so grateful for my upbringing in Colombia, surrounded by mountains and mango trees, and for my Colombian family," Agudelo says. "Colombia is the place where I learned what's truly essential in life." It's also where she found her passion for the arts.
While she was growing up, Colombia was going through a violent drug war, and Agudelo turned to literature, theater, singing, and creative writing as a refuge. "Journaling became a sacred practice, where I could leave on the page my dreams & longings as well as my joy and sadness," she says. "During those years, poetry came to me naturally. My grandfather was a poet and though I never met him, maybe there is a little bit of his love for poetry within me."
In 1998, when she left her home and everyone she loved and moved to California, the arts continued to be her solace and comfort. She got her bachelor's degree in theater arts before getting certified in journalism at UCLA. It was there she realized the need to create a media platform that highlighted the positive contributions of LatinX in the US.
"I know the power that storytelling and writing our own stories have and how creative writing can aid us in our own transformation."
In 2012, she started Alegría Magazine and it was a great success. Later, she refurbished a van into a mobile bookstore to celebrate Latin American and LatinX indie authors and poets, while also encouraging children's reading and writing in low-income communities across Southern California.

When the pandemic hit in 2020, she decided it was time to do even more to serve people during these difficult times.
"It became clearer to me that the lack of representation in the book publishing industry for BIPOC/LatinX writers & poets had to change," she says. "I want to be an agent of change in the publishing industry and contribute to its transformation."
She created Alegría Publishing to nurture and produce works by indie LatinX storytellers and expanded the mobile bookstore to celebrate BIPOC/LatinX writers and poets, as well as the books published by Alegría publishing. And one day she hopes that she can take the bookstore across the United States and discover even more emerging writers.
Today, Agudelo also mentors indie authors two nights a week through the Alegría Writing Collective for LatinX writers. "They rock my world every class," she says.
"The amount of talent in our community pushes me to keep growing our company so the world can read their work and remember their names."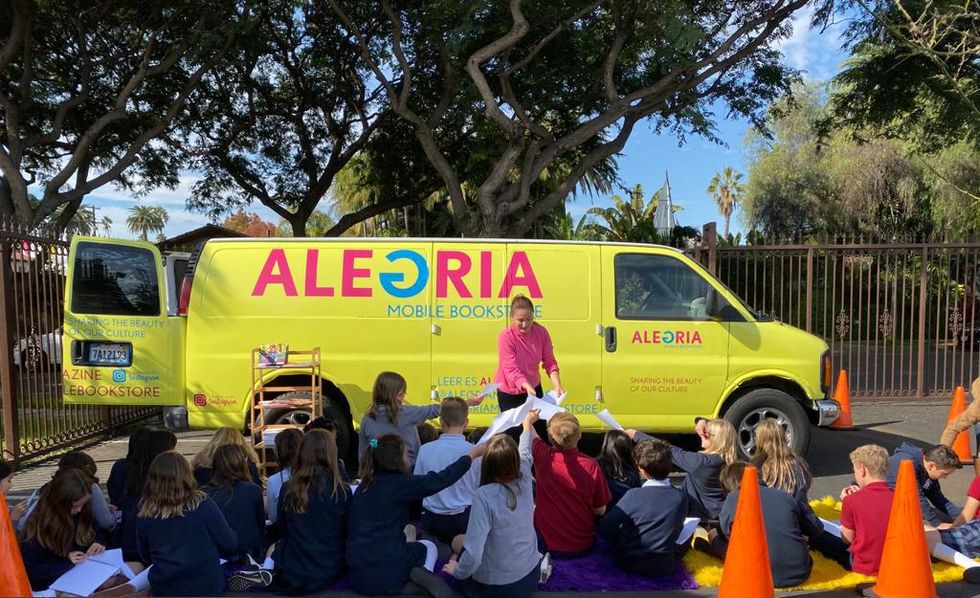 Agudelo has made it her mission to empower women and her community. "My career has been such a blessing filled with magical milestones and I never take these moments for granted," she says. "There is nothing like being able to make a woman's dream of publishing their first book and bring it to life. Watching their reaction, when they look at their book for the first time is priceless."

"As women, we are naturally powerful, we just have to keep reminding each other of our power."
Agudelo is one of Tory Burch's Empowered Women this year. The donation she receives as a nominee is being awarded to The Sims Library of Poetry, which is the first black-owned poetry library in California.
"Hiram Sims, its founder, started lending books to his university students out of this suitcase after mandating that they read one book of poetry a week. As demand grew, his suitcase library was forced to seek a larger home," says Agudelo. "Their mission is to serve, educate, and foster a love for poetry, especially for marginalized people of color in the community of South Los Angeles."
To learn more about Tory Burch and Upworthy's Empowered Women program visit toryburch.com/empoweredwomen. Nominate an inspiring woman in your community today.
Family
Do any of these speak to you?
This story was originally published on The Mighty and originally appeared here on 07.21.17

Most people imagine depression equals "really sad," and unless you've experienced depression yourself, you might not know it goes so much deeper than that. Depression expresses itself in many different ways, some more obvious than others. While some people have a hard time getting out of bed, others might get to work just fine — it's different for everyone.
To find out how depression shows itself in ways other people can't see, we asked The Mighty mental health community to share one thing people don't realize they're doing because they have depression.
Here's what they had to say:
1. "In social situations, some people don't realize I withdraw or don't speak much because of depression. Instead, they think I'm being rude or purposefully antisocial." — Laura B.
2. "I struggle to get out of bed, sometimes for hours. Then just the thought of taking a shower is exhausting. If I manage to do that, I am ready for a nap. People don't understand, but anxiety and depression is exhausting, much like an actual physical fight with a professional boxer." — Juli J.
3. "Agreeing to social plans but canceling last minute. Using an excuse but really you just chickened out. It makes you think your friends don't actually want to see you, they just feel bad. Obligation." — Brynne L.
4. "Hiding in my phone. Yes, I am addicted to it, but not like other people. I don't socialize, I play games or browse online stores to distract myself from my negative thoughts. It's my safe bubble." — Eveline L.
5. "Going to bed at 9 p.m. and sleeping throughout the night until 10 or 11 a.m." — Karissa D.
6. "Isolating myself, not living up to my potential at work due to lack of interest in anything, making self-deprecating jokes. I've said many times before, 'I laugh, so that I don't cry.' Unfortunately, it's all too true." — Kelly K.
7. "When I reach out when I'm depressed it's 'cause I am wanting to have someone to tell me I'm not alone. Not because I want attention." — Tina B.
8. "I don't like talking on the phone. I prefer to text. Less pressure there. Also being anti-social. Not because I don't like being around people, but because I'm pretty sure everyone can't stand me." — Meghan B.
9. "I overcompensate in my work environment… and I work front line at a Fitness Centre, so I feel the need to portray an 'extra happy, bubbly personality.' As soon as I walk out the doors at the end of the day, I feel myself 'fall.' It's exhausting… I am a professional at hiding it." — Lynda H.
10. "The excessive drinking. Most people assume I'm trying to be the 'life of the party' or just like drinking in general. I often get praised for it. But my issues are much deeper than that." — Teresa A.
11. "Hiding out in my room for hours at a time watching Netflix or Hulu to distract my mind or taking frequent trips to the bathroom or into another room at social gatherings because social situations sometimes get to me." — Kelci F.
12. "Saying I'm tired or don't feel good… they don't realize how much depression can affect you physically as well as emotionally." — Lauren G.
13. "Answering slowly. It makes my brain run slower, and I can't think of the answers to the questions as quickly. Especially when someone is asking what I want to do — I don't really want anything. I isolate myself so I don't have to be forced into a situation where I have to respond because it's exhausting." — Erin W.
14. "Sometimes I'll forget to eat all day. I can feel my stomach growling but don't have the willpower to get up and make something to eat." — Kenzi I.
15. "I don't talk much in large groups of people, especially when I first meet them. I withdraw because of my anxiety and depression. People think I'm 'stuck up.' I'm actually scared out of my mind worrying they don't like me, or that they think I'm 'crazy' by just looking at me…" — Hanni W.
16. "Not keeping in touch with anyone, bad personal hygiene and extremely bad reactions to seemingly trivial things." — Jenny B.
17. "Being angry, mean or rude to people I love without realizing it in the moment. I realize my actions and words later and feel awful I had taken out my anger on people who don't deserve it." — Christie C.
18. "Purposely working on the holidays so I can avoid spending time with family. It's overwhelming to be around them and to talk about the future and life so I avoid it." — Aislinn G.
19. "My house is a huge mess." — Cynthia H.
20. "I volunteer for everything, from going to PTO meetings to babysitting to cleaning someone else's house for them. I surround myself with situations and obligations that force me to get out of bed and get out of the house because if I'm not needed, I won't be wanted." — Carleigh W.
21. "Overthinking everything and over-planning. The need to make everything perfect and everyone happy, even if it's taking all my energy. As if validation from someone else will make it all better. Sometimes I start out on high power, then just crash and don't even enjoy what I've spent weeks/months planning. And no one will see me for months after, as I retreat into my safe bubble." — Vicki G.
22. "I smile all the time even though I don't really want to, but I do it because I don't feel like I'm allowed to be sad when I'm with other people. I also do whatever it takes to make someone else happy because since I don't feel happy most of the time, it just makes me feel a little better seeing someone else happy. I also isolate myself even though sometimes I really just want someone around." — Wendy E.
23. "People don't realize I say sorry before I even think about expressing any opinions because that's how worthless I feel. I'm apologizing for feeling anything about anything because that's how little I feel I matter. They don't just know I feel like apologizing for even breathing in their general direction. I even say I'm sorry before asking to use the bathroom no matter how long I've held it. I feel like a burden for biological needs I have no control over." — Amy Y.
24. "Neglecting to do basic things like laundry, not wanting to cook a meal or eat. They think I'm being lazy." — Rebecca R.
25. "Sometimes I'll go days without speaking to anybody. People tend to believe I'm ignoring them on purpose when really I am just lost within myself. I don't mean to seem like I'm pushing people away. Some days it's hard when my thoughts consume me and when I can't find the motivation to do simple things that others do on a daily basis." — Alyssa A.
26. "People don't realize I can't say no without feeling guilty. I have to have a good enough reason for everything I do. I guess it's customary to try and convince someone to change their answer, but people have no idea how much it takes for me to say no in the first place. I feel worthless so much that I feel guilty for even thinking of putting my needs or wants first. Then I just feel like a doormat when I cave into the pressure. It's a never-ending cycle." — Amy Y.
27. "I push away/cut off everyone who I care about because I can't bear to be hurt by them! Everyone just thinks I'm mean and anti-social." — Tina R.
28. "Going for late night walks by myself. My depression keeps me awake at night and my thoughts can get so overwhelming I feel physically crowded inside. Late night walks help me quiet the screaming in my head." — Lynnie L.
29. "I have often been accused of having 'no sense of humor.' So wrong. Before depression took over my life, I smiled and laughed as much as the next person. Now, having lived with depression for over 15 years, the humor I find in a joke or situation is rarely visible on my face or heard in my laugh. I feel humor, but it's just too much effort to express it. I don't have the energy." — Martha W.
30. "Keeping the house dark is a comfort thing for me. People always point it out, like, 'No wonder you're so depressed. You need to let some light in.' Darkness in my living space makes me feel comfortable, almost like I'm not alone. Good days, I'm all about the sunshine!" — Michelle T.
Get stories worth sharing delivered to your inbox