Pop Culture
Vanna White celebrates 40 years on 'Wheel of Fortune' with an iconic throwback photo
White's glamorous letter turning made her a staple of the game show.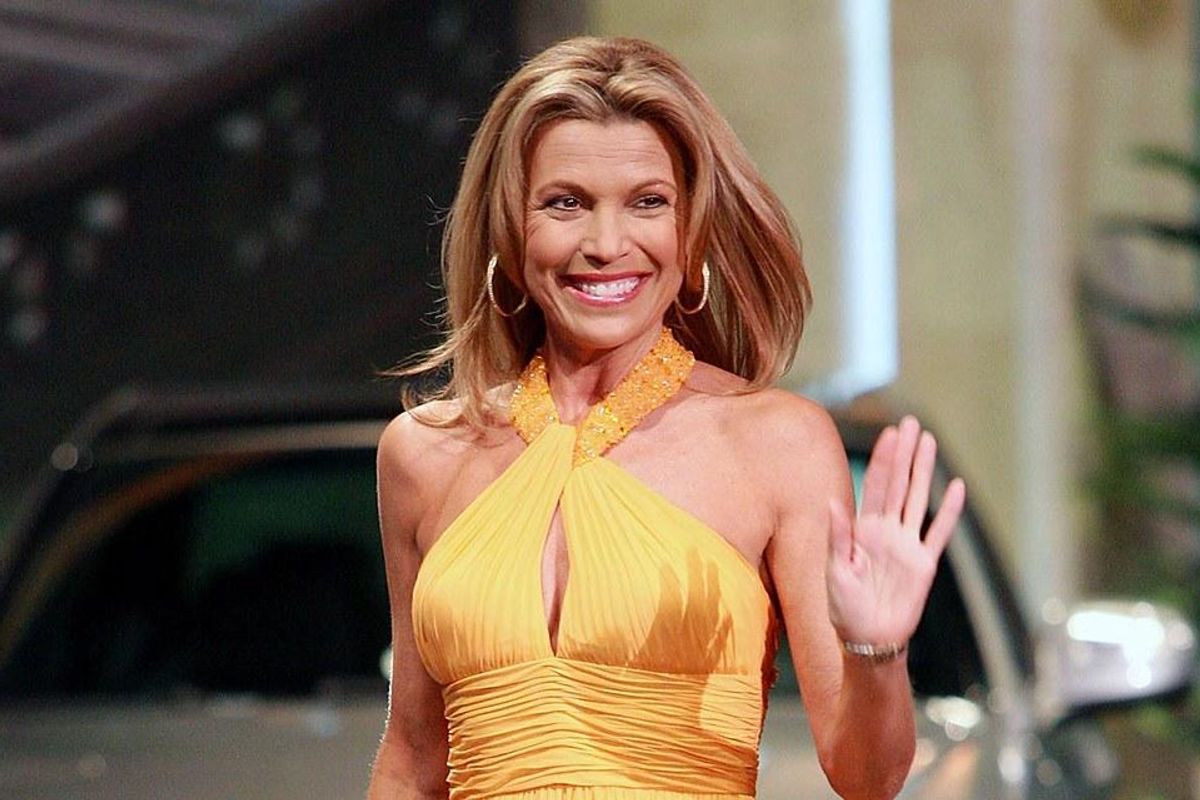 Vanna White has officially made letter-turning into an art form for four decades.
The model and performer famously bombed as a contestant on "The Price Is Right," in the early '80s, but it wouldn't be long before her talents found a perfect home on another gameshow. And now, literally thousands of dresses later, White's name is synonymous with "Wheel of Fortune."
To celebrate the milestone, White posted a throwback picture to her Instagram, showing her next to host Pat Sajak during their early days on "Wheel of Fortune."
She also included a recent picture of herself at 65 (as classically glamorous as always) alongside her longtime collaborator, doing her iconic gesture toward an elaborate "Wheel of Fortune" themed cake, complete with multiple Vanna White dolls.
---
"I can't believe I'm saying this, but 40 years ago today I taped my first episode of @wheeloffortune. It's been a wonderful 40 years, too!" she wrote in her caption.
"I'm so grateful to those of you who watch and everyone behind the scenes who make us look good. We wouldn't still be here without all of you! (And the cake was delicious!)."
The show also posted a behind-the-scenes video of White's 40th anniversary celebration.
In the clip, Sajak sweetly says, "Folks, it was 40 years ago on this very date that this young lady walked into the studio, trembling, and did her first 'Wheel of Fortune.' And here she is. Happy 40th, my dear."
Sajak and White have an undeniable chemistry. In an exclusive interview with People, White noted that it was their instant "brother-sister type relationship" that caught the eye of media mogul Merv Griffin. "He saw that we would be able to get along, and we do. We are like a brother and sister team." Griffin was obviously spot-on in his assessment, because very few dynamic duos have as enduring a legacy.
The pair have become so close that as Sajak approaches retirement, White admits she laments thinking about replacing him. "I don't even want to think about that. I mean, we're a team," she told People. Everybody relates 'Wheel of Fortune' to Pat and Vanna. We're like Ken and Barbie, you know?" she explains. "We've been in everybody's homes for 40 years, so it would be weird having somebody else turn my letters."
Of course, Sajak will be missed, but White already held her own as the show's
temporary host
back in 2019, pretty much saving the day after Sajak had an emergency surgery.
Tonight's my first night of hosting Wheel! I'm excited and nervous! Stay tuned! pic.twitter.com/4Jsz3UePFp

— Vanna White (@TheVannaWhite) December 9, 2019
It shouldn't come as a surprise that she nailed it after only half an hour of rehearsal, considering no one besides Sajak would know the show better than her. Yes, her talent goes far beyond letter turning. Though still, nobody does it quite like her.
Congrats, Vanna. You've graced our television screens for decades, bringing joy with a simple turn of the wrist. How many people can say that?