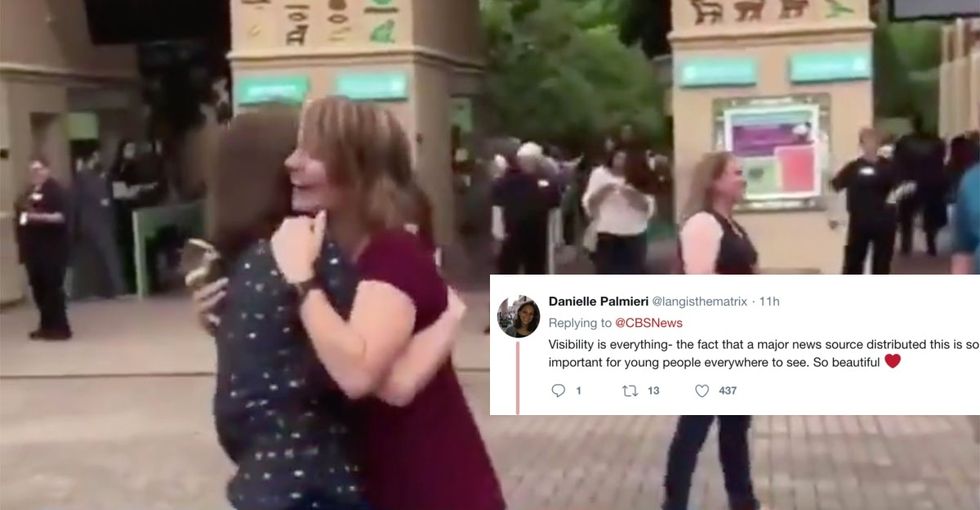 When Becky McCabe proposed to her girlfriend, Jessa Gillaspie, she had no idea that her response would be ... pretty darn remarkable.
It all went down at the Memphis Zoo, the location of the couple's first date. Bringing friends along to capture the moment, McCabe had arranged for one of her friends to capture the proposal on video. But, as she knelt down to propose, the response from her girlfriend wasn't what she expected.
---
When she dropped to one knee to propose, her girlfriend didn't say yes -- she did something better.… https://t.co/r6wLTsTkGo

— CBS News (@CBS News)1527616826.0
Gillaspie laughed and turned to pull out her own engagement ring for McCabe. She'd planned to propose to the love of her life that day, too.
There were tears of joy. Lots of them.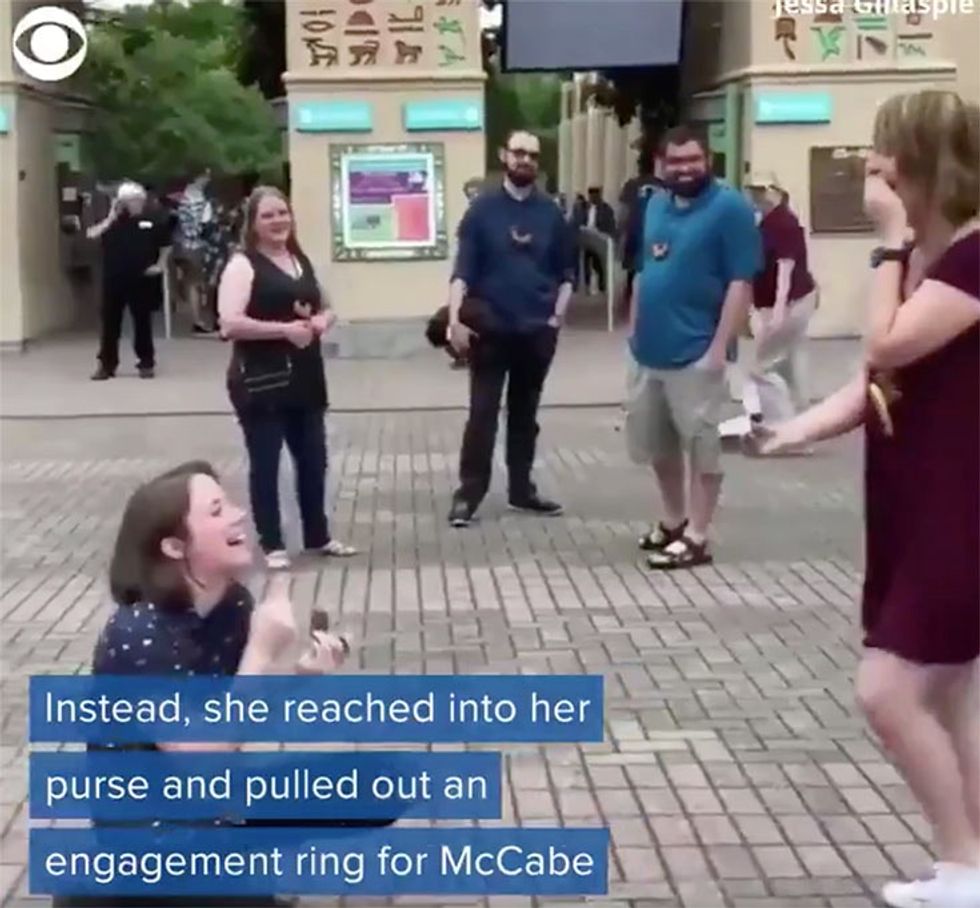 Image via CBS News/Twitter.
Is that not the most heartwarming response to "Will you marry me?" ever?!
The world is in awe at the beautiful, adorable, downright loving proposal.  
oh my gooooooooooood!!!!! 😭 https://t.co/B7xD9WXMbN

— tyler oakley (@tyler oakley)1527661312.0
This is the second double proposal I've seen and I'm convinced that lesbians couples are the ultimate couples. https://t.co/I98uWME7cS

— kaylin (@kaylin)1527643545.0
This is the love we need right now!!! #doubleproposal https://t.co/GpNndjZmcm

— Spooky FOMO 🦙Jen (@Spooky FOMO 🦙Jen)1527630527.0
The responses to the video show just how important representation is and that lifelong love for queer couple is possible.
The number of same-sex marriages has continued to rise throughout the U.S. since it was legalized in 2015, as have the positive responses to queer couples.
Still, that representation sometimes doesn't make its way into mainstream culture. The Trump administration continues to try and roll back LBGTQ rights, including protection for LGBTQ workers, and removing LGBTQ-friendly language from government documents. Wedding companies still cater to straight couples, queer individuals struggles to navigate their way through dating spaces, and same-sex couples often find few examples of themselves in television and in pop culture.
But, that's slowly changing, and it's extremely important that queer young people know that love is possible.
@CBSNews Visibility is everything- the fact that a major news source distributed this is so important for young peo… https://t.co/zMl4fnLcds

— Danielle Palmieri (@Danielle Palmieri)1527649781.0
Love is often the thing that moves us forward. If these lovebirds are any indication, our world is doing just that.