More
You may have seen her photo ops with Obama and Trump. Here's her story.
True
Aspen Institute
When 7-year-old Mari Copeny was crowned Miss Flint in the spring of 2015, she and her mom already knew something was wrong with the water in their Michigan home.
The water — which they would later learn was contaminated with lead from corroding pipes — was giving the family rashes. "We knew something was up, but [at that point] we had no idea it would become such a widespread crisis," explains Mari's mother LuLu.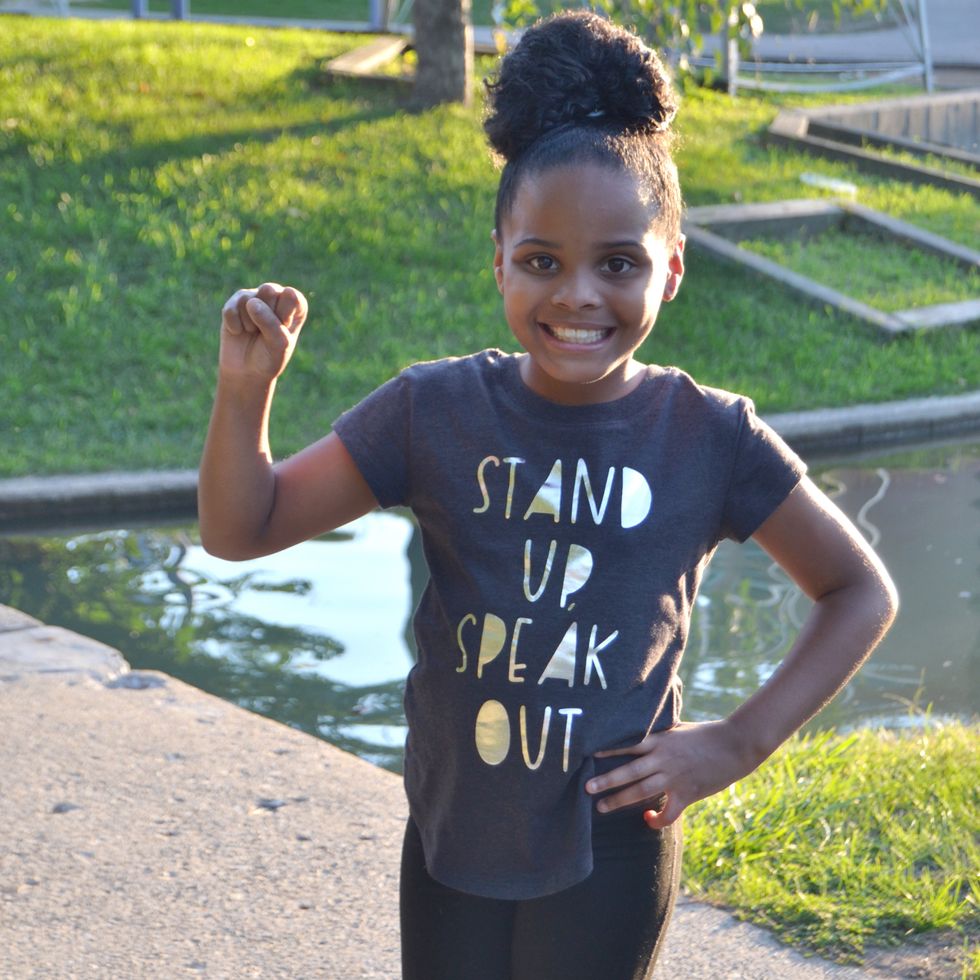 Mari Copeny. Image via LuLu Brezzell, used with permission.
<p>Months later, officials confirmed the suspicions of residents in Flint, Michigan. The water had been switched to a new supply source in April 2014, and was corroding the city's pipes. The result? Severe, widespread lead contamination — an incredibly dangerous issue, especially for children.</p><h2>After news of the unsafe water broke, Mari was ready to do everything she could for her community.</h2><p>Mari (who's now 9) has been doing community service since she was 3, often focusing on helping bring positive light to local law enforcement. But when she learned that the water in her town was dangerously contaminated, "She became concerned about the kids, especially her brother and sister," says her mom. "She asked to go out and protest and help to pass out water."</p><p class="shortcode-media shortcode-media-rebelmouse-image"><img type="lazy-image" data-runner-src="https://assets.rebelmouse.io/eyJhbGciOiJIUzI1NiIsInR5cCI6IkpXVCJ9.eyJpbWFnZSI6Imh0dHBzOi8vYXNzZXRzLnJibC5tcy8xOTQ3NTY5MC9vcmlnaW4uanBnIiwiZXhwaXJlc19hdCI6MTYzOTc1NzQ1Mn0.5d5KuOr7Xq752UybY8XmkH4pQ3SU7FhN2M3n-f2BXyM/img.jpg?width=980" id="f8e1c" class="rm-shortcode" data-rm-shortcode-id="e617e0226587f3af69b96afb087be331" data-rm-shortcode-name="rebelmouse-image"><small class="image-media media-caption" placeholder="add caption...">Mari with a friend at a water donation drive in Ohio. Image via LuLu Brezzell, used with permission.</small></p><h2>Since then, Mari — now known as "Little Miss Flint" — has helped with bottle drives, marched in parades, talked on the news, and become a voice for change.</h2><p>She may be best known for <a href="https://www.upworthy.com/the-true-story-behind-that-viral-photo-of-trump-and-little-miss-flint">a letter she wrote to President Obama</a> in spring 2016, which helped spur his decision to visit Flint in person. "Even just a meeting from you or your wife would really lift people's spirits," Mari wrote.</p><p>President Obama responded to Mari's letter with a promise to visit the following week and added, "Like you, I'll use my voice to call for change and help lift up your community."</p><p class="shortcode-media shortcode-media-rebelmouse-image"><img type="lazy-image" data-runner-src="https://assets.rebelmouse.io/eyJhbGciOiJIUzI1NiIsInR5cCI6IkpXVCJ9.eyJpbWFnZSI6Imh0dHBzOi8vYXNzZXRzLnJibC5tcy8xOTQ3NTY5Mi9vcmlnaW4uanBnIiwiZXhwaXJlc19hdCI6MTYxMDQyMzA1OX0.QVGSvzzyoPZXw5Hnid0gCj7sLIRi1J-Fd6n9sOSJXy0/img.jpg?width=980" id="07381" class="rm-shortcode" data-rm-shortcode-id="1ea940a5a3ee41f047e90f4d16ca128b" data-rm-shortcode-name="rebelmouse-image"><small class="image-media media-caption" placeholder="add caption...">Mari meeting President Obama in May 2016. Image via LuLu Brezzell, used with permission.</small></p><p class="shortcode-media shortcode-media-rebelmouse-image"><img type="lazy-image" data-runner-src="https://assets.rebelmouse.io/eyJhbGciOiJIUzI1NiIsInR5cCI6IkpXVCJ9.eyJpbWFnZSI6Imh0dHBzOi8vYXNzZXRzLnJibC5tcy8xOTQ3NTY5My9vcmlnaW4uanBnIiwiZXhwaXJlc19hdCI6MTYyNzAyNzMyNH0.JTbPT1dzjKa78VRjvP-RrASDbryhNm0KyTdC7HW8luk/img.jpg?width=980" id="0b530" class="rm-shortcode" data-rm-shortcode-id="c511ac96776c1b03fbcdfd6adf587746" data-rm-shortcode-name="rebelmouse-image"><small class="image-media media-caption" placeholder="add caption...">Mari poses in front a mural in Flint of herself and President Obama. Image via LuLu Brezzell, used with permission.</small></p><h2>The water in Flint is still not safe.</h2><p>In the past few months, Flint has begun to fade from the public eye. The water in Flint has now been contaminated for two and a half years. Federal aid funding to fix the issue has been <a href="http://www.huffingtonpost.com/entry/senate-water-projects-flint_us_57dab5c6e4b08cb1409417f2" target="_blank">approved by the United States Senate</a>, but the progress toward clean water is slow going. Because the lead contamination in the water was coming from the pipes themselves, <em>all the affected pipes</em> in the city need to be changed before the water can be declared safe. </p><p>In Mari's house, the family is still using bottled water to cook, drink, and brush their teeth.</p><div id="2c1e7" class="rm-shortcode" data-rm-shortcode-id="E0R2PM1559691525"><blockquote class="twitter-tweet twitter-custom-tweet" data-twitter-tweet-id="776551895980580865" data-partner="rebelmouse"><div style="margin:1em 0">Hey world in case you didn't realize #Flint is still in crisis #LittleMissFlint https://t.co/dJAityto9s</div> — Mari Copeny (@Mari Copeny)<a href="https://twitter.com/LittleMissFlint/statuses/776551895980580865">1473979374.0</a></blockquote></div><h2>"Sometimes kids can be the ones that end up making a change," Mari insists. "Just because we are kids doesn't mean that we can't change the world."</h2><p>In many ways, Mari is just a normal 9-year-old kid: She likes to draw cartoons, read, and ride her bike. But until the water in Flint is 100% safe, she intends to continue fighting for justice in Flint. She explains, "My favorite thing about being Little Miss Flint is being able to be a voice for the kids here in Flint and getting to meet and make new friends."</p><p><strong>What's the one thing Mari wants to tell the whole country? "That the Flint water crisis is far from over, so please don't forget about Flint. And to the kids, remember that one kid can change the world!"</strong></p><p class="shortcode-media shortcode-media-rebelmouse-image"><img type="lazy-image" data-runner-src="https://assets.rebelmouse.io/eyJhbGciOiJIUzI1NiIsInR5cCI6IkpXVCJ9.eyJpbWFnZSI6Imh0dHBzOi8vYXNzZXRzLnJibC5tcy8xOTQ3NTY5NC9vcmlnaW4uanBnIiwiZXhwaXJlc19hdCI6MTYyNjg3MTUzOX0.ajYWfL5Kj9dpP26ce5eyFKazyqSx6uVkVOGaVRU1TeY/img.jpg?width=980" id="df661" class="rm-shortcode" data-rm-shortcode-id="27d62c2a9c28d87135a5908cb11c6fec" data-rm-shortcode-name="rebelmouse-image"><small class="image-media media-caption" placeholder="add caption...">Mari poses in her "future president" shirt. Image via LuLu Brezzell, used with permission.</small></p><div><div data-card="html" data-reactroot=""><p><span class="pgs-dpg-btn" data-pgs-descriptor="Make a difference and Take Action" data-pgs-partner-id="upworthy" data-pgs-target-id="98308794-eecf-42df-a4b9-07fc473992f9" data-pgs-target-type="campaign"></span></p></div></div>