More
Sarah Palin went political with her son's PTSD.
Early in 2016, the Palin family rocketed back into headlines for a couple reasons.
On Jan. 19, 2016, Sarah Palin formally endorsed Donald Trump for president. Seeing as Trump's the current GOP front-runner and Palin was once gunning for the vice presidency, the endorsement naturally made waves.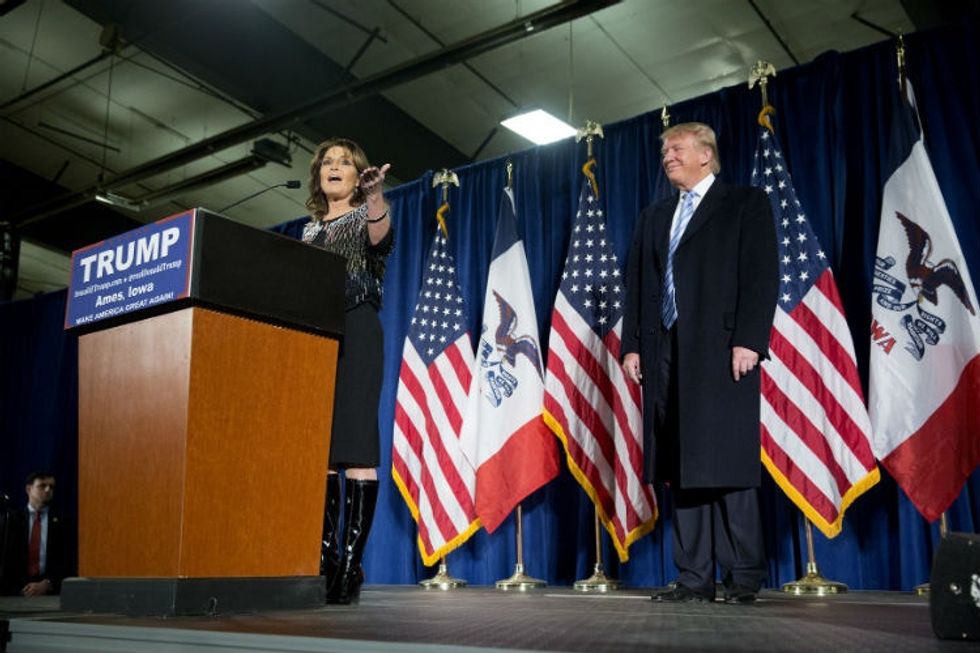 <p class="image-caption">Photo by Aaron P. Bernstein/Getty Images.</p><p>That same day, however, a different story cropped up regarding the Alaskan family. Track Palin, the former politician's 26-year-old son who served in Iraq, was <strong>arraigned on charges of domestic assault</strong> and possession of a firearm while intoxicated, <a href="http://www.usatoday.com/story/news/2016/01/20/sarah-palin-son-track-palin-charged-with-domestic-violence/79059664/" target="_blank">USA Today</a> reported. According to his mom, <strong>Track is living with PTSD</strong> (post-traumatic stress disorder), which played a role in her son's actions.</p><p>The two stories seemingly have nothing to do with one another. But Palin used the spotlight from her Trump endorsement to not-so-subtly <a href="http://www.usatoday.com/story/news/2016/01/20/sarah-palin-son-track-palin-charged-with-domestic-violence/79059664/" target="_blank">blame her son's PTSD</a> on Obama's failure to provide adequate resources to returning men and women in uniform. She stated that veterans "have to question if they're respected anymore" and they need a commander-in-chief "<a href="http://www.nydailynews.com/news/politics/sarah-palin-blames-obama-son-track-legal-problems-article-1.2503589" target="_blank">who will respect them and honor them</a>."</p><h2>If you're bothered by Palin's assertion that the president is somehow personally responsible for her son's wrongdoing, you're not alone.</h2><p>On Jan. 20, Paul Rieckhoff, founder and CEO of Iraq and Afghanistan Veterans of America (IAVA)<span class="redactor-invisible-space">, spoke out against Palin's dangerous message to voters, loud and clear.</span></p><p><span class="redactor-invisible-space"><strong>"It's not President Obama's fault that Sarah Palin's son has PTSD,"</strong> Rieckhoff, who <a href="http://iava.org/people/paul-rieckhoff/" target="_blank">served as an Army first lieutenant</a> and infantry rifle platoon leader in Iraq<span class="redactor-invisible-space">,</span> told <a href="http://www.nbcnews.com/news/veterans/vets-don-t-blame-obama-track-palin-s-behavior-n500716" target="_blank">NBC News</a>. "PTSD is a very serious problem, a complicated mental health injury, and I would be extremely reluctant to blame any one person in particular."<span class="redactor-invisible-space"><strong></strong><br></span></span></p><p><img type="lazy-image" data-runner-src="https://assets.rebelmouse.io/eyJhbGciOiJIUzI1NiIsInR5cCI6IkpXVCJ9.eyJpbWFnZSI6Imh0dHBzOi8vYXNzZXRzLnJibC5tcy8xOTUxMzMzMC9vcmlnaW4uanBnIiwiZXhwaXJlc19hdCI6MTY0MzEwNDY1OH0.yOdKIOsAWeAt0KyjojcLcRU_5x2zR5xJHTJHXEnokXw/img.jpg?width=980" id="cbf88" class="rm-shortcode" data-rm-shortcode-id="368cf8238dcbd32e4d70113dec201675" data-rm-shortcode-name="rebelmouse-image"></p><p class="image-caption">Paul Rieckhoff speaks at an event in New York City. Photo by Jemal Countess/Getty Images.<br></p><p><span class="redactor-invisible-space"><span class="redactor-invisible-space"><span class="redactor-invisible-space">Let's set aside the fact Obama <em>has</em> fought for veterans in <a href="https://www.whitehouse.gov/sites/default/files/docs/veterans_and_wounded_warriors_record_0.pdf" target="_blank">a number of ways</a></span></span></span> — like expanding their access to education, passing tax incentives encouraging businesses to hire them, and, yes, improving health care for those living with PTSD — it shouldn't even matter. <strong>Blaming a president for any one individual's battle with PTSD defies reason. </strong></p><p><span class="redactor-invisible-space"><span class="redactor-invisible-space"><span class="redactor-invisible-space">Rieckhoff<span class="redactor-invisible-space"> — whose organization is bipartisan — called on Palin to "resist the urge to politicize"<span class="redactor-invisible-space"> PTSD, and he encouraged Trump to provide specific plans on how he'd help vets living with the condition.</span></span></span></span></span></p><h2>PTSD amongst vets is a serious issue that <em>should</em> be discussed by our leaders, but not in such a blatantly politicizing (and misleading) way.</h2><p>PTSD surfaces when an individual's "fight-or-flight" response — a healthy, instinctive reaction every human has in times of distress to protect us from danger — is damaged or changed, according to the <a href="https://www.nimh.nih.gov/health/topics/post-traumatic-stress-disorder-ptsd/index.shtml" target="_blank">National Institute of Mental Health</a>. <strong>The condition can arise after someone experiences something particularly terrifying</strong> — like abuse, rape, natural disaster, or war — and some <a href="https://newrepublic.com/article/120144/trauma-genetic-scientists-say-parents-are-passing-ptsd-kids" target="_blank">research</a> suggests it can even be inherited.</p><p>PTSD may cause a person to <a href="http://www.ptsd.va.gov/public/PTSD-overview/basics/index.asp" target="_blank">relive upsetting memories</a>, experience jumpiness, and have trouble sleeping, among other symptoms.</p><p><img type="lazy-image" data-runner-src="https://assets.rebelmouse.io/eyJhbGciOiJIUzI1NiIsInR5cCI6IkpXVCJ9.eyJpbWFnZSI6Imh0dHBzOi8vYXNzZXRzLnJibC5tcy8xOTUxMzMzMS9vcmlnaW4uanBnIiwiZXhwaXJlc19hdCI6MTYwMjY3NTQ1M30.Sdq4mWSYjoUOtX0g9lzYtzFK0jHkZoaj_XLRm8UPos0/img.jpg?width=980" id="4aa16" class="rm-shortcode" data-rm-shortcode-id="04df6c93c9cb47d7342b8e8670e87374" data-rm-shortcode-name="rebelmouse-image"></p><p class="image-caption">A person living with PTSD may try to cope with their condition by abusing drugs and alcohol, according to <a href="http://www.ptsd.va.gov/public/problems/ptsd_substance_abuse_veterans.asp" target="_blank">the VA</a>. Photo by Chris Hondros/Getty Images.<br></p><p><strong>Because they are more likely to see violence abroad, war veterans are especially affected by PTSD. </strong>While about 7-8% of the general population will have the condition at some point in their lives, up to 20% of Iraq and Afghanistan war veterans will experience PTSD in a given year, according to <a href="http://www.ptsd.va.gov/public/PTSD-overview/basics/how-common-is-ptsd.asp" target="_blank">the U.S. Department of Veterans Affairs</a>. </p><p>"You may have been on missions that exposed you to horrible and life-threatening experiences," the VA's <a href="http://www.ptsd.va.gov/public/PTSD-overview/basics/how-common-is-ptsd.asp" target="_blank">website</a> says. <strong>"You may have been shot at, seen a buddy get shot, or seen death. These types of events can lead to PTSD."</strong><br></p><p><span class="redactor-invisible-space"><img type="lazy-image" data-runner-src="https://assets.rebelmouse.io/eyJhbGciOiJIUzI1NiIsInR5cCI6IkpXVCJ9.eyJpbWFnZSI6Imh0dHBzOi8vYXNzZXRzLnJibC5tcy8xOTUxMzMzMi9vcmlnaW4uanBnIiwiZXhwaXJlc19hdCI6MTYwNzA5MjIzN30.7B5X27u-ygQ1-E6XRkVVk2V7asLxpUPS-qiTGp_LAV0/img.jpg?width=980" id="c07cf" class="rm-shortcode" data-rm-shortcode-id="c6693a810056339aed535154b6bb7692" data-rm-shortcode-name="rebelmouse-image"><br></span></p><p class="image-caption"><span class="redactor-invisible-space">Photo by Armend Nimani/AFP/Getty Images.</span></p><p><strong>But it's not just related to combat trauma</strong> — female veterans are more likely to experience PTSD <a href="http://www.ptsd.va.gov/public/PTSD-overview/basics/how-common-is-ptsd.asp" target="_blank">due to sexual violence</a> experienced while serving too.</p><p><span class="redactor-invisible-space">As Rieckhoff<span class="redactor-invisible-space"> pointed out, the causes and ramifications of PTSD are complicated as they pertain to any one person. <strong>Palin's attempt to connect her son's mental health <em>directly</em> to a political foe is ignorant at best and malicious at worst. </strong></span></span></p><h2>Taking care of our vets should be a high priority for whoever lives in the White House in 2017 — Democrat or Republican.</h2><p>One good thing that came from Palin's PTSD comments is that we're talking about the issue. Hopefully a candidate's platform in helping our returning vets will be a priority to voters this November.</p><p><strong>Click <a href="http://iava.org/" target="_blank">here</a> to support Iraq and Afghanistan Veterans of America</strong><strong>.</strong></p>