More
The couple's donation is 'a great expression of humanity,' according to one charity leader.
250,000 refugee children are about to get a potentially life-saving vaccination thanks to — Borat?
Sort of! Actor and comedian Sacha Baron Cohen — best known for his roles as Borat and Ali G — and actress Isla Fisher are seeing to it that a quarter million refugee children get vaccinated for measles. The husband and wife duo are doing their part to end 2015 on a high note.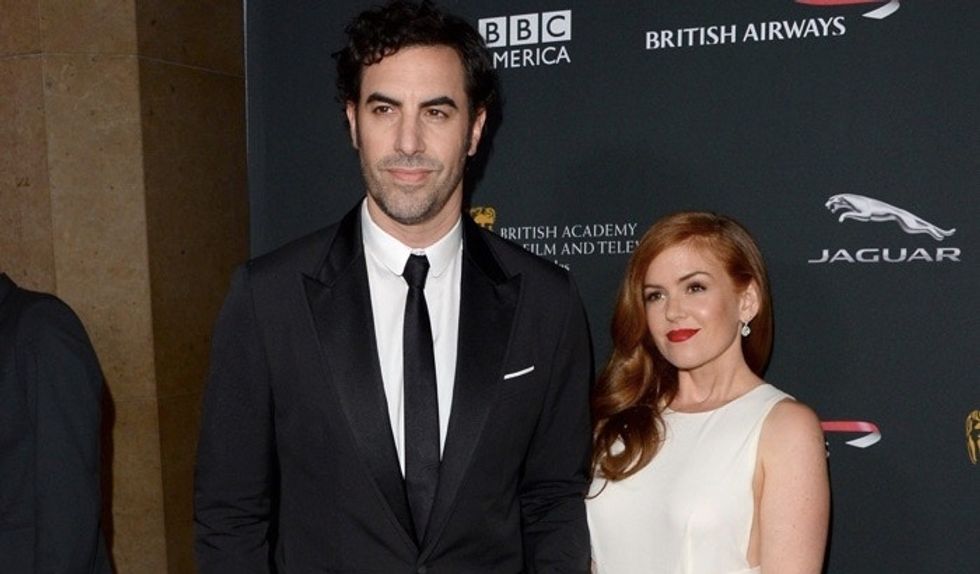 <p class="image-caption">Sacha Baron Cohen and Isla Fisher attend the 2013 BAFTA LA Jaguar Britannia Awards. Photo by Jason Merritt/Getty Images.</p><h2>Refugees have many needs: food, water, and shelter lead the list. But what about vaccines?</h2><p>Given that refugees, especially those living in camps, find themselves in close quarters and squalid conditions, disease can spread quickly. That's why it's so important to take preventative measures — like vaccinations. The problem? Vaccinations cost money that these refugees often don't have.</p><p><img type="lazy-image" data-runner-src="https://assets.rebelmouse.io/eyJhbGciOiJIUzI1NiIsInR5cCI6IkpXVCJ9.eyJpbWFnZSI6Imh0dHBzOi8vYXNzZXRzLnJibC5tcy8xOTQ5MTgxMi9vcmlnaW4uanBnIiwiZXhwaXJlc19hdCI6MTYxMTY1ODAzOH0.T0iRga2unDjoIpA8FJB9eHuJUjpavo9XArB1sifXp0s/img.jpg?width=980" id="baa1d" class="rm-shortcode" data-rm-shortcode-id="6e52d041f1a3f7ad1c927113a3307cb9" data-rm-shortcode-name="rebelmouse-image"></p><p class="image-caption">A family of Syrian refugees huddle in a Turkey refugee camp. Photo by Bulent Kilic/AFP/Getty Images.</p><h2>Baron Cohen and Fisher's donation — totaling more than $1 million — will be split between two groups.</h2><p>Half of it will be going to <a href="http://www.savethechildren.org.uk/about-us/emergencies/syria-appeal" target="_blank">Save the Children</a> to pay for the 250,000 vaccinations, while the other half is being donated to the International Rescue Committee (IRC) to help pay for refugee health care, shelter, sanitation, and other basics.</p><p><span></span></p><p><img type="lazy-image" data-runner-src="https://assets.rebelmouse.io/eyJhbGciOiJIUzI1NiIsInR5cCI6IkpXVCJ9.eyJpbWFnZSI6Imh0dHBzOi8vYXNzZXRzLnJibC5tcy8xOTQ5MTgxMy9vcmlnaW4uanBnIiwiZXhwaXJlc19hdCI6MTYzNTQ0NTMzN30.LYILwSdmXLpXnzgT60vY9BU6gZIUYsA5MilDLXOjhtE/img.jpg?width=980" id="bda47" class="rm-shortcode" data-rm-shortcode-id="4d02c8d2f7d2e8a1e848c17fb151a38e" data-rm-shortcode-name="rebelmouse-image"></p><p class="image-caption">Photo by Kevin Winter/Getty Images.</p><p><strong>"The Syrian conflict is now approaching its fifth year and children are the first victims," <a href="http://www.savethechildren.org.uk/2015-12/sacha-baron-cohen-and-isla-fisher-donate-help-syrian-children" target="_blank">says Save the Children CEO Justin Forsyth</a>.</strong></p><p>"Syria's health system has collapsed and deadly childhood diseases — like measles — which had previously been all but eradicated have now returned, threatening the lives of hundreds of thousands of children," he continues. "By allowing us to make their generous donation to Syrian children public, Sacha and Isla are helping highlight the tragedy of the issue today. These are desperate times for Syrian families facing bombs, bullets and torture in Syria. The couple's donation will save many thousands of lives and protect some of the most vulnerable children."<br></p><p><strong>"Now is the time for all of us to double down on commitments to civilians caught up in the Syria conflict," <a href="http://www.savethechildren.org.uk/2015-12/sacha-baron-cohen-and-isla-fisher-donate-help-syrian-children" target="_blank">adds IRC president and CEO David Miliband</a>.</strong></p><p>"These people are the victims of terror. As hope for the end of conflict recedes, it is all the more important to meet the most basic human needs. Sacha and Isla's donation is a great expression of humanity, and a challenge to do more for the most vulnerable. I hope it is an example to many others seeking practical ways of making a difference during the Christmas and New Year season."<br></p><p><img type="lazy-image" data-runner-src="https://assets.rebelmouse.io/eyJhbGciOiJIUzI1NiIsInR5cCI6IkpXVCJ9.eyJpbWFnZSI6Imh0dHBzOi8vYXNzZXRzLnJibC5tcy8xOTQ5MTgxNS9vcmlnaW4uanBnIiwiZXhwaXJlc19hdCI6MTY1NjMxNTU3N30.TLOgKT0ZEAUSQDZN5AbV9Y69MDxm9n1lTD88hkckcMA/img.jpg?width=980" id="e0edd" class="rm-shortcode" data-rm-shortcode-id="2c8dc2997703dfcbcef379f649cc4e30" data-rm-shortcode-name="rebelmouse-image"><br></p><p class="image-caption">Photo by Adrian Sanchez-Gonzalez/AFP/Getty Images.</p><h2>Many people have asked themselves how they can help refugees. Here's one great example.</h2><p>It's something that around the holidays seems to be more on the minds of people than ever. Both <a href="http://www.charitynavigator.org/index.cfm?bay=search.summary&amp;orgid=4438#.VoCDoZMrJE4" target="_blank">Save the Children</a> and the <a href="http://www.charitynavigator.org/index.cfm?bay=search.summary&amp;orgid=3898#.VoCDypMrJE4" target="_blank">International Rescue Committee</a> are well-known, respected charities making a difference in the lives of those living in and around war-torn parts of the world. While most of us don't have $1 million to donate like Baron Cohen and Fisher, even a few dollars can help make a big difference.<span></span></p><p>You can donate to <a href="http://www.savethechildren.org.uk/about-us/emergencies/syria-appeal" target="_blank">Save the Children by clicking here</a>.</p><p>You can donate to <a href="https://donate.rescue-uk.org/" target="_blank">International Rescue Committee by clicking here</a>.</p>