Holy cow, there's water on Mars!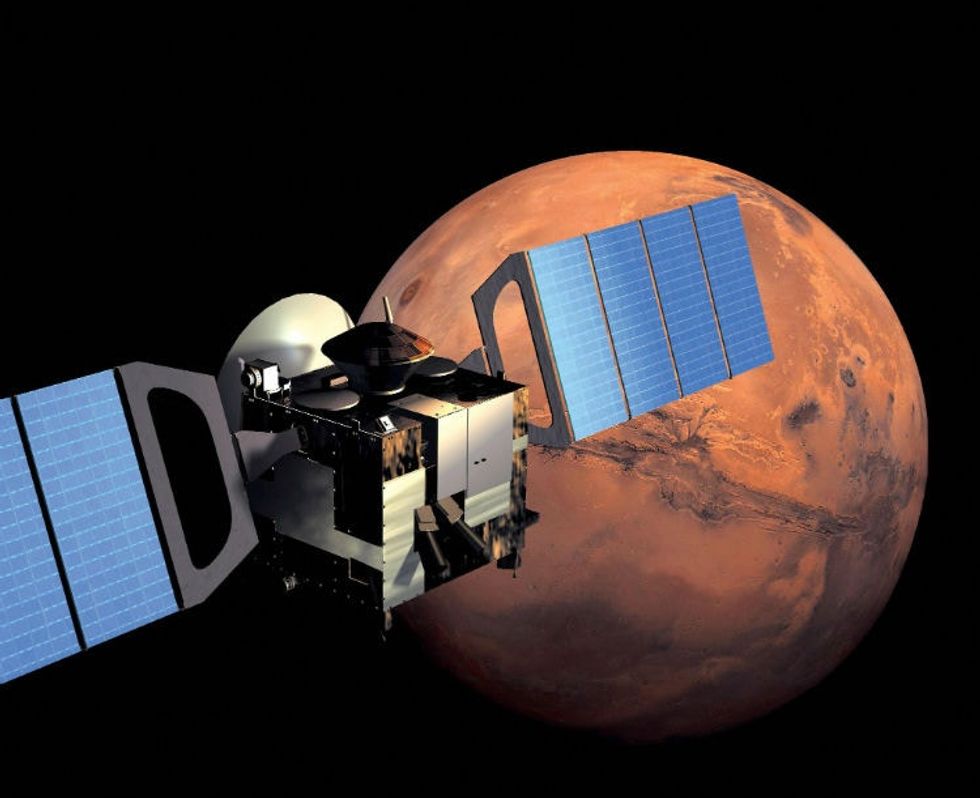 An artist's rendition of the European Space Agency's Mars Express orbiting the Red Planet. Photo by AFP/Getty Images.
This is not a drill, Earthlings. It looks like our celestial neighbor has a big 'ol lake on it.
Er, maybe I should say, a big 'ol lake in it.
<p>Italian scientists claim they've detected a large body of liquid — spanning <a href="https://www.cnn.com/2018/07/25/world/mars-subsurface-water-lake-evidence/index.html" target="_blank">about 12.5 miles across</a> — submerged roughly a mile beneath a layer of rock and ice on the planet's south pole.</p><p><em>"Whoa"</em> is right. </p><p class="shortcode-media shortcode-media-rebelmouse-image"><img type="lazy-image" data-runner-src="https://assets.rebelmouse.io/eyJhbGciOiJIUzI1NiIsInR5cCI6IkpXVCJ9.eyJpbWFnZSI6Imh0dHBzOi8vYXNzZXRzLnJibC5tcy8xOTQ3ODQwNy9vcmlnaW4uanBnIiwiZXhwaXJlc19hdCI6MTY0ODg3OTE3OH0.mH-Ggr6dJSgrGpH7P7zb1MI0_gSrZ3fwrT7Lnza4H9w/img.jpg?width=980" id="c2dad" class="rm-shortcode" data-rm-shortcode-id="4d1255bdaacaa1a01f3dd41f93cd85f7" data-rm-shortcode-name="rebelmouse-image"><small class="image-media media-caption" placeholder="add caption...">This isn't the lake! But this pic, taken by the European Space Agency's Mars Express, does show a Martian river valley where water likely once flowed — a long, long time ago. Photo by ESA/AFP/Getty Images.</small></p><p>These brainy folks spent <a href="https://www.usatoday.com/story/news/2018/07/25/water-discovered-underground-lake-mars/833070002/" target="_blank">the last two years</a> sorting through data collected from the European Space Agency's Mars Express spacecraft. Liquid H2O is the only feasible answer to what their radar's seeing. </p><p>As Roberto Orosei from the Italian National Institute for Astrophysics put it, "I really <a href="https://www.usatoday.com/story/news/2018/07/25/water-discovered-underground-lake-mars/833070002/" target="_blank">have no other explanation</a>." </p><p>It must be water.</p><iframe width="100%" height="150" scrolling="no" id="twitter-embed-1022182217165021184" src="/res/community/twitter_embed/?iframe_id=twitter-embed-1022182217165021184&amp;created_ts=1532542206.0&amp;screen_name=Newsweek&amp;text=Scientists+just+found+a+huge+reservoir+of+water+under+the+surface+of+Mars+https%3A%2F%2Ft.co%2FUC6NVUrc5b+https%3A%2F%2Ft.co%2Fpo3YZm13Ru&amp;id=1022182217165021184&amp;name=Newsweek" frameborder="0" class="rm-shortcode" data-rm-shortcode-id="V34TXW1559347244"></iframe><p>They're not exactly sure how deep the lake is. </p><p>But from what they can gather, the water isn't "<a href="https://www.bbc.co.uk/news/science-environment-44952710" target="_blank">some kind of meltwater</a> filling some space between rock and ice, as happens in certain glaciers on Earth," according to Orosei, lead author of <a href="http://science.sciencemag.org/content/early/2018/07/24/science.aar7268" target="_blank">the study</a> that produced the findings. It's a legit body of water.</p><p>Even though scientists know the lake is frigid cold — certainly well below freezing — its super salty consistency has likely <a href="https://www.cnn.com/2018/07/25/world/mars-subsurface-water-lake-evidence/index.html" target="_blank">lowered the melting point</a> so that the water stays in liquid form.</p><h2>Scientists have long suspected Mars was once a whole lot wetter than it is today.</h2><p>Given that the planet's rocky, freeze-dried surface is scarred from what <a href="https://www.space.com/17048-water-on-mars.html" target="_blank">appears to be waterways</a> from billions of years ago, scientists have gathered the Red Planet was once a lot more blue. </p><p class="shortcode-media shortcode-media-rebelmouse-image"><img type="lazy-image" data-runner-src="https://assets.rebelmouse.io/eyJhbGciOiJIUzI1NiIsInR5cCI6IkpXVCJ9.eyJpbWFnZSI6Imh0dHBzOi8vYXNzZXRzLnJibC5tcy8xOTQ3ODQwOC9vcmlnaW4uanBnIiwiZXhwaXJlc19hdCI6MTYyMzc4MjQ1OX0.thGXzxvryFfgEVVO0DxDAeddWNaFgc9YEDfy7Uh8qEQ/img.jpg?width=980" id="7de92" class="rm-shortcode" data-rm-shortcode-id="6e0c92225fcca43765070ff72a1d6bd4" data-rm-shortcode-name="rebelmouse-image"><small class="image-media media-caption" placeholder="add caption...">Mars' surface is one dry place these days. Photo by ESA via Getty Images.</small></p><p>But liquid water is the key to life as we know it. So if it's <em>still</em> on Mars ... well, you can put two and two together.</p><h2>But let's not get ahead of ourselves!</h2><p>These findings certainly don't prove Martians are paddle-boarding around their planet's south pole. </p><p>"We are not closer to actually detecting life," Dr. Manish Patel of the Open University told <a href="https://www.bbc.co.uk/news/science-environment-44952710" target="_blank">BBC News</a>. "But what this finding does is give us the location of where to look [for potential life] on Mars." </p><p>"It is like a treasure map," Patel concluded. "Except in this case, there will be lots of 'X's marking the spots."</p><p>Let's get to searching, Earthlings.</p>