More
16 years ago, the U.S. government came to a deal with Smith & Wesson. It's up to us to make that happen again.
Once upon a time, a major gun manufacturer stood on the side of gun control.
In March 2000, the Clinton White House announced a historic agreement with manufacturer Smith & Wesson. The agreement hinged on some safety improvements — namely, that new guns would be required to include a locked safety, that a portion of revenue would go toward researching new safety technology, and an agreement that new guns would not be able to accept high-capacity magazines. It was a huge deal, coming less than a year after the Columbine massacre.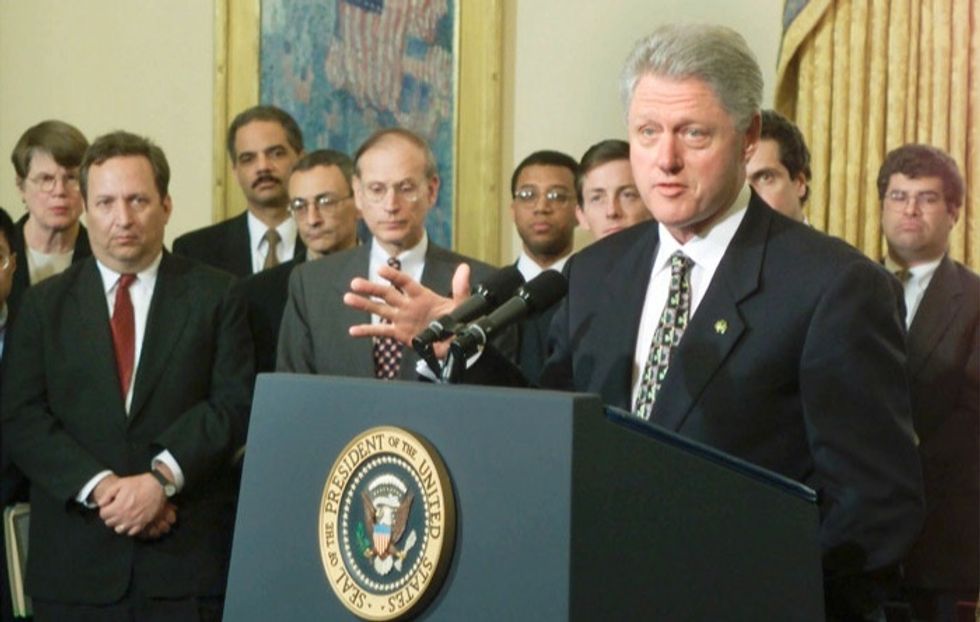 <p class="image-caption">President Bill Clinton announces a landmark gun safety agreement with Smith &amp; Wesson, March 17, 2000. Photo by Mark Wilson/Getty Images.<br></p><p><strong>But it didn't last long.</strong> To the surprise of Smith &amp; Wesson, the company became an industry pariah, <a href="https://www.nraila.org/articles/20000320/the-smith-wesson-sellout" target="_blank">facing a National Rifle Association boycott</a>. Within months, the company pulled out of its agreement with the government and its CEO was forced to resign.</p><p>In the years since, the relationship between manufacturers and the government has been rocky, at best. Fearing another NRA-led boycott, manufacturers have kept their distance.</p><h2>Maybe we, regular people, hold the key to stopping gun violence — not the government.<br></h2><p>Of course it would be <em>great </em>if the federal government did something about gun violence — but Congress won't take any meaningful action, and President Obama can only do so much through executive action. It's hard not to feel hopeless, and with every new mass shooting, we ask ourselves whether <em>this</em> will be the one to spark action — knowing deep down that it won't.</p><p><strong>There's one bit of leverage we may have: our retirement funds.</strong></p><p><img type="lazy-image" data-runner-src="https://assets.rebelmouse.io/eyJhbGciOiJIUzI1NiIsInR5cCI6IkpXVCJ9.eyJpbWFnZSI6Imh0dHBzOi8vYXNzZXRzLnJibC5tcy8xOTQ5MTk0Ni9vcmlnaW4uanBnIiwiZXhwaXJlc19hdCI6MTYxOTY2ODc4MH0.HobKX5aVeng1RZCO7zKCHPsAa2JZHmzx7ElS3YJOGPE/img.jpg?width=980" id="9544e" class="rm-shortcode" data-rm-shortcode-id="ef9f011753bc25265d304290daf820bb" data-rm-shortcode-name="rebelmouse-image"></p><p class="image-caption">President Obama with CNN's Anderson Cooper on Jan. 7, 2015, discussing his most recent executive actions to try to curb gun violence. Photo by Aude Guerrucci-Pool/Getty Images.</p><h2>Many people don't realize that they likely invest in gun companies through their retirement funds.</h2><p>Since the Sandy Hook shooting in December 2012, while the Dow Jones has risen by roughly 30% — which is pretty impressive in itself —<strong> </strong><strong>gun manufacturer Smith &amp; Wesson has seen its stock reach a near unbelievable boost of around 160%</strong>. Every time there's a widely-publicized mass shooting, we hear the same thing in the aftermath: gun sales skyrocket. Which makes gun stocks a pretty solid investment.</p><p>It makes sense that retirement funds would put their money into these companies, and they do — <a href="http://unloadyour401k.com/" target="_blank">nearly $2 billion</a> in three of the leading gun companies alone.</p><p><img type="lazy-image" data-runner-src="https://assets.rebelmouse.io/eyJhbGciOiJIUzI1NiIsInR5cCI6IkpXVCJ9.eyJpbWFnZSI6Imh0dHBzOi8vYXNzZXRzLnJibC5tcy8xOTQ5MTk0Ny9vcmlnaW4uZ2lmIiwiZXhwaXJlc19hdCI6MTYwMjY5MDQ2Mn0.6Lo74w7q4vthkFO0BswXFlJMlF3jHqxZ_kriLrHKGeo/img.gif?width=980" id="4eeb6" class="rm-shortcode" data-rm-shortcode-id="921d059e06a5c42ef901a3261e0afbd2" data-rm-shortcode-name="rebelmouse-image"></p><p class="image-caption">Dr. Sheldon Teperman, trauma surgeon. GIF from <a href="https://www.youtube.com/watch?v=SX341skd8jk" target="_blank">Unload Your 401(k)/YouTube</a>.</p><h2>Anti-gun violence advocates are asking people to "Unload" gun stocks from their 401(k)s.</h2><p>Groups such as <a href="http://www.ceasefireusa.org/" target="_blank">States United to Prevent Gun Violence (SUPGV)</a>, a coalition of 27 state organizations committed to gun violence prevention, were instrumental in kicking off the <a href="http://unloadyour401k.com/" target="_blank">Unload Your 401(k)</a> campaign, which they see as a form of direct action. </p><p>"It's a concrete step you can take to make sure you're not supporting Smith &amp; Wesson and all the assault rifles they're manufacturing these days," SUPGV communications director Cathie Whittenburg told Upworthy.</p><blockquote class="pull">"The goal at the manufacturing level is not necessarily to hurt them, but to get them to change their policies." — Cathie Whittenburg</blockquote><p><span class="redactor-invisible-space"></span></p><p><span class="redactor-invisible-space"></span></p><p>The Unload Your 401(k) campaign was put together back in 2014, and it was meant to put the power in the hands of individuals who wanted to take immediate and direct action to stop funding gun companies. On their website, you can type in the name of the retirement funds you invest in (Vanguard, Fidelity, etc.), and it will let you know whether or not it's likely that fund invests in gun stocks — in which case, you can either try to lobby your employer to choose a new mutual fund or pull out of any employer-set 401(k) and take your investing private.</p><p><img type="lazy-image" data-runner-src="https://assets.rebelmouse.io/eyJhbGciOiJIUzI1NiIsInR5cCI6IkpXVCJ9.eyJpbWFnZSI6Imh0dHBzOi8vYXNzZXRzLnJibC5tcy8xOTQ5MTk0OC9vcmlnaW4uZ2lmIiwiZXhwaXJlc19hdCI6MTYzNzE2Mzc1OX0.JOeTfnryL_Kh96Mf8mmX0LHHZjez78aSnO98RNUZ9Qs/img.gif?width=980" id="72a2c" class="rm-shortcode" data-rm-shortcode-id="decb197927c22a1a7173ba1f5161a6f9" data-rm-shortcode-name="rebelmouse-image"></p><p class="image-caption">Eric Milgram, father of two Sandy Hook survivors. GIF from <a href="https://www.youtube.com/watch?v=SX341skd8jk" target="_blank">Unload Your 401(k)/YouTube</a>.</p><h2>Is the Unload Your 401(k) campaign working? That all depends on how you measure success.</h2><p>"Our biggest success so far has been getting the University of California system to fully divest all funds from gun companies," New Yorkers Against Violence Executive Director Leah Gunn Barrett told Upworthy.</p><p>She added that other universities and cities are considering similar action, pointing to the 1980s <a href="http://www.investopedia.com/articles/economics/08/protest-divestment-south-africa.asp" target="_blank">anti-apartheid movement</a> (in which students pressured their universities to divest stocks from companies doing business in South Africa) as proof that divestment can be an effective strategy.</p><p><img type="lazy-image" data-runner-src="https://assets.rebelmouse.io/eyJhbGciOiJIUzI1NiIsInR5cCI6IkpXVCJ9.eyJpbWFnZSI6Imh0dHBzOi8vYXNzZXRzLnJibC5tcy8xOTQ5MTk0OS9vcmlnaW4uanBnIiwiZXhwaXJlc19hdCI6MTYzMTAxOTg2OX0.wTP4QXInBs8YkD8F3TWsvnY1puoEAhKKSg5SWVmtPn4/img.jpg?width=980" id="7ebb4" class="rm-shortcode" data-rm-shortcode-id="bca46c626f8a86ba59eed01d15f24cb6" data-rm-shortcode-name="rebelmouse-image"></p><p class="image-caption">Guns found at the site of the San Bernardino shooting. Photo by San Bernardino County Sheriff's Department via Getty Images.</p><h2>It's less about damaging these companies so much as trying to compel them to do the right thing.</h2><p>"The goal at the manufacturing level is not necessarily to hurt them, but to get them to change their policies," Whittenburg says, referencing Smith &amp; Wesson's agreement with the Clinton administration. "They did it once. They can do it again if they want to."</p>