Heroes
Tree-hugging never looked so good.
Warning: You might see a delightful influx of tree-huggers on your news feeds in the coming days.
The pics are pretty darn cute.
But they're also pretty darn impactful.
And we have actor Ryan Reynolds, in part, to thank.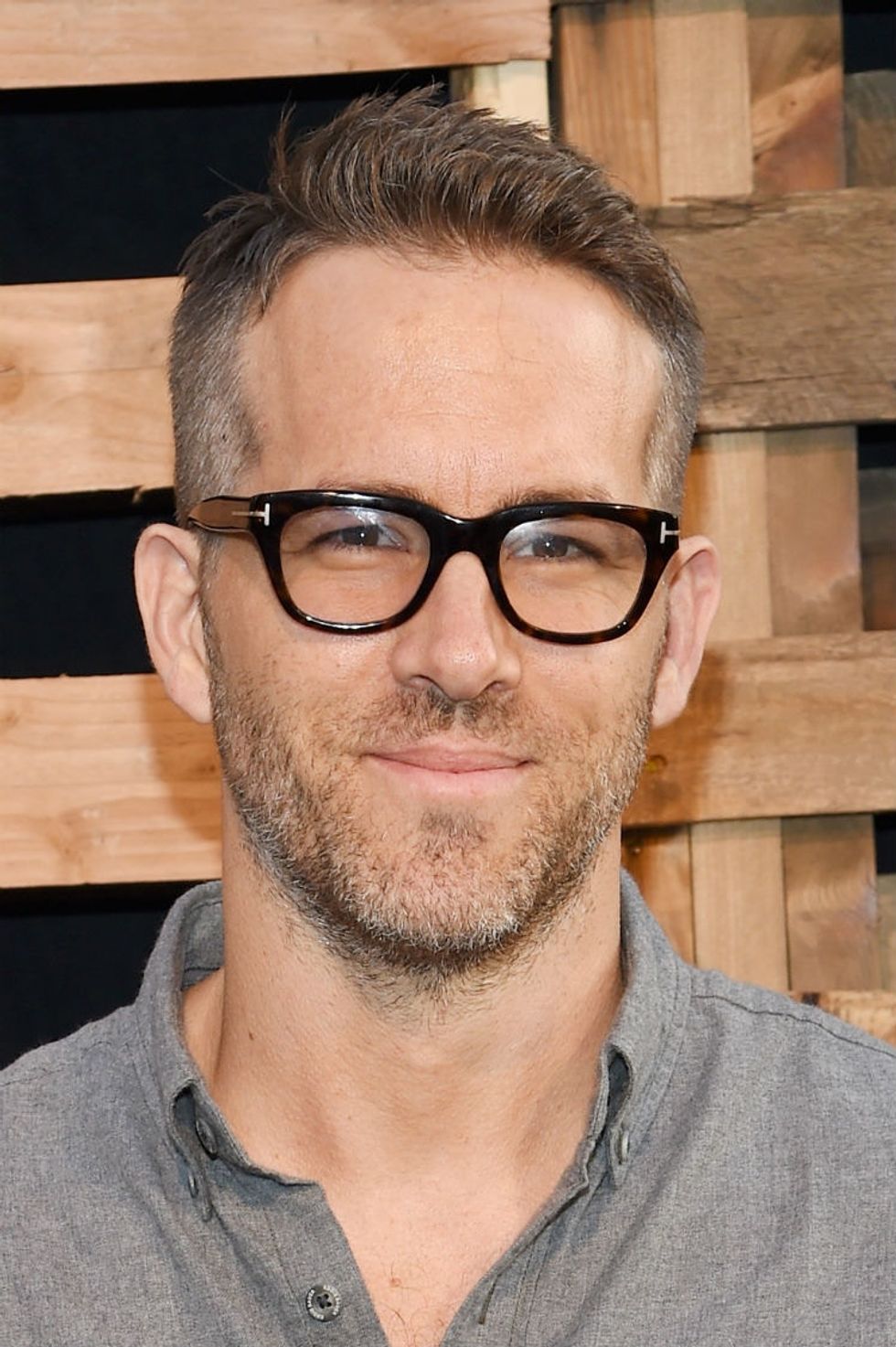 Reynolds is using his platform to get the word out on the One Tree Initiative, a campaign in support of American Forests.
The nonprofit runs a number of programs focused on everything from planting trees and protecting urban forests to awareness campaigns and advocating for public conservation policies.
<p>"American Forests is an amazing organization <a href="http://www.huffingtonpost.com/entry/ryan-reynolds-is-a-hugger-especially-when-it-comes-to-trees_us_57c72d8de4b0a22de093beaa?section=&amp;" target="_blank">that speaks right to my heart</a>," Reynolds told The Huffington Post at an event for the initiative in New York City on Sept. 1, 2016. </p><div><div class="push-wrapper--mobile" data-card="image" data-reactroot=""><img type="lazy-image" data-runner-src="https://assets.rebelmouse.io/eyJhbGciOiJIUzI1NiIsInR5cCI6IkpXVCJ9.eyJpbWFnZSI6Imh0dHBzOi8vYXNzZXRzLnJibC5tcy8xOTQ5OTE3My9vcmlnaW4uanBnIiwiZXhwaXJlc19hdCI6MTU5NjQ2MTYzNX0.yIK2HKXuBQJ53I-NqfLeKY9kxXpWKu103pudP0x_ErI/img.jpg?width=980" id="036a4" class="rm-shortcode" data-rm-shortcode-id="ed553baf2f5c3373efac578d6052777a" data-rm-shortcode-name="rebelmouse-image"><div class="image-caption"><p>Photo by Dimitrios Kambouris/Getty Images for Eddie Bauer.</p></div></div></div><p>"I wanted to be an actor and I wanted to be an environmentalist, those were the two things that I wanted to do," he said. "And this partnership has just kind of been a match made in heaven." </p><h2>The One Tree Initiative is encouraging supporters to share photos of themselves hugging trees on social media.</h2><p>For every pic shared using the hashtags <strong>#hug2give</strong> and <strong>#onetree </strong>— as well as tagging <strong>@eddiebauer</strong> and <strong>@americanforests</strong> — Eddie Bauer will donate $50 to American Forests, with each dollar going toward the planting of one tree (up to 25,000 trees).</p><div><div class="push-wrapper--mobile" data-card="image" data-reactroot=""><img type="lazy-image" data-runner-src="https://assets.rebelmouse.io/eyJhbGciOiJIUzI1NiIsInR5cCI6IkpXVCJ9.eyJpbWFnZSI6Imh0dHBzOi8vYXNzZXRzLnJibC5tcy8xOTQ5OTE3NC9vcmlnaW4uanBnIiwiZXhwaXJlc19hdCI6MTYyMTQ2ODEwOH0.eyxSKwHqEMJVlKHID1q8Odldz2-0Te8f3aZXHxrUxuQ/img.jpg?width=980" id="1aff3" class="rm-shortcode" data-rm-shortcode-id="dc663ca517d19d165d943076395ac64c" data-rm-shortcode-name="rebelmouse-image"><div class="image-caption"><p>Photo by Dimitrios Kambouris/Getty Images for Eddie Bauer.</p></div></div></div><p>The campaign runs through Sept. 15, 2016.</p><h2>So, yes — snapping a pic of you hugging a tree and sharing it online can result in <em>50 new trees</em> being planted.</h2><p>For a limited time, a photograph is worth a thousand words <em>and</em> 50 trees.</p><iframe width="100%" height="150" scrolling="no" class="rm-shortcode twitter-embed-770977551472656385" id="twitter-embed-770977551472656385" type="lazy-iframe" data-runner-src="/res/community/twitter_embed/?iframe_id=twitter-embed-770977551472656385&amp;created_ts=1472650346.0&amp;screen_name=MurphyWestwood&amp;text=Help+%40AmericanForests+plant+trees+with+a+tree+hugging+pic%21+%23hug2give+%23onetree+%40eddiebauer+https%3A%2F%2Ft.co%2FxGmRB9cLcO&amp;id=770977551472656385&amp;name=Murphy+Westwood" frameborder="0" data-rm-shortcode-id="MOACJV1559348593"></iframe><h2>Reynolds has been a big fan of American Forests for a while now.</h2><p>In November 2015, he helped the organization <a href="https://extratv.com/videos/0-0hgjvhn4/" target="_blank">plant its 50 millionth tree</a> — yes, 50 <em>millionth — </em>in San Bernardino, California. </p><div><div class="push-wrapper--mobile" data-card="image" data-reactroot=""><img type="lazy-image" data-runner-src="https://assets.rebelmouse.io/eyJhbGciOiJIUzI1NiIsInR5cCI6IkpXVCJ9.eyJpbWFnZSI6Imh0dHBzOi8vYXNzZXRzLnJibC5tcy8xOTQ5OTE3NS9vcmlnaW4uanBnIiwiZXhwaXJlc19hdCI6MTYzMjQ1MjUxNX0.iBUMsLLfH68qvHPuuxe0qkH9wZMIS_YZXr5qnfp7SSY/img.jpg?width=980" id="79de7" class="rm-shortcode" data-rm-shortcode-id="3135ec72b45bd5044d638b7a020b145f" data-rm-shortcode-name="rebelmouse-image"><div class="image-caption"><p>Photo by Charley Gallay/Getty Images for Eddie Bauer.</p></div></div></div><p>"It's something that I really feel passionate about in making sure my kids have [a clean earth] when they grow up as well," Reynolds explained at the planting ceremony.</p><p>Also, he named the 50 millionth tree <a href="https://extratv.com/videos/0-0hgjvhn4/" target="_blank">Gordon</a>, which feels like an important detail.</p><h2>Planting trees isn't just a frivolous way to make our landscapes prettier. Trees make a huge difference.</h2><p>Trees help clean our air, keep our weather patterns consistent, enhance our urban spaces to boost quality of life, and <a href="https://www.americanforests.org/why-it-matters/" target="_blank">a number other great services</a> we probably don't even think about but benefit from greatly.</p><p><strong>So go snap a tree-hugging selfie, post it online using the hashtags, and make Ryan Reynolds' day. Mother Earth, and future generations, will thank you for it.</strong></p><div><div class="push-wrapper--mobile" data-card="image" data-reactroot=""><img type="lazy-image" data-runner-src="https://assets.rebelmouse.io/eyJhbGciOiJIUzI1NiIsInR5cCI6IkpXVCJ9.eyJpbWFnZSI6Imh0dHBzOi8vYXNzZXRzLnJibC5tcy8xOTQ5OTE3Ni9vcmlnaW4uanBnIiwiZXhwaXJlc19hdCI6MTYzODM5MzQyN30.B2NauzCoQYFdIDo0Ds0sYJbwD-u7-vwfTYNlHt6mt6A/img.jpg?width=980" id="24497" class="rm-shortcode" data-rm-shortcode-id="9a13b7eaf1e64061e2b51aa9072ef2ca" data-rm-shortcode-name="rebelmouse-image"><div class="image-caption"><p>Photo by Charley Gallay/Getty Images for Eddie Bauer.</p></div></div></div>