"I've been spending the first half of my career focusing on comedy, but my goal, in all honesty, is to write and direct horror movies," Jordan Peele said in 2014.
At the time, it seemed like such a bizarre move for the star of Comedy Central's hit Emmy-nominated (and later Emmy-winning) show "Key & Peele." The statement made a lot of people scratch their heads wondering just how serious he was about his new project "Get Out."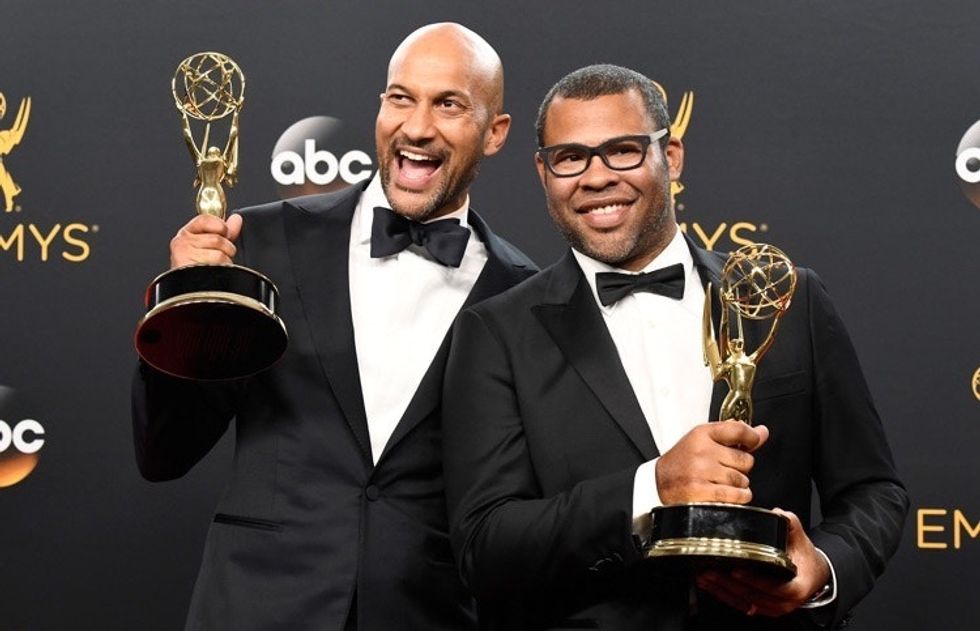 Keegan-Michael Key (left) and Jordan Peele took home the Best Variety Sketch Series award at the 2016 Emmys. Photo by Frazer Harrison/Getty Images.
<p>A little less than a year later, Peele and his comedic partner, Keegan-Michael Key <a href="https://www.usatoday.com/story/life/tv/2015/07/26/key-and-peele-ending-comedy-central/30697395/" target="_blank">announced the show would end after its fifth and final season</a>. "Wait till you see what we do next tho," Peele teased on Twitter.</p><div id="0412c" class="rm-shortcode" data-rm-shortcode-id="S4ROKX1559350179"><blockquote class="twitter-tweet twitter-custom-tweet" data-twitter-tweet-id="625146497265352708" data-partner="rebelmouse"><div style="margin:1em 0">Wait till you see what we do next tho.</div> — Jordan Peele (@Jordan Peele)<a href="https://twitter.com/JordanPeele/statuses/625146497265352708">1437881514.0</a></blockquote></div><h2>Skeptics be damned: "Get Out" just got nominated for four Oscars, making a bit of history in the process.</h2><p>The film came out in February 2017 and was an immediate hit with critics and audiences alike. Peele became the first black artist to be nominated for directing, writing, and Best Picture honors all in the same year. The film's star, Daniel Kaluuya, also received a nomination for Best Actor.</p><p class="shortcode-media shortcode-media-rebelmouse-image"><img type="lazy-image" data-runner-src="https://assets.rebelmouse.io/eyJhbGciOiJIUzI1NiIsInR5cCI6IkpXVCJ9.eyJpbWFnZSI6Imh0dHBzOi8vYXNzZXRzLnJibC5tcy8xOTUzMDcwMC9vcmlnaW4uanBnIiwiZXhwaXJlc19hdCI6MTYyMzY3MTM4OX0.ztF9vuaVltnXzRjoJITgGpYXZMWKPZSwQLVDl8ViL6c/img.jpg?width=980" id="26c7c" class="rm-shortcode" data-rm-shortcode-id="fe7fa8c01e636de33747ae7a6e302c4a" data-rm-shortcode-name="rebelmouse-image"><small class="image-media media-caption" placeholder="add caption...">Peele and Kaluuya attend Variety's Creative Impact Awards in January 2018. Photo by Rich Fury/Getty Images for Palm Springs International Film Festival.</small></p><h2>#OscarsSoHistoricallyWhite — a win for Peele would be pretty huge.</h2><p>In 2016, <a href="https://twitter.com/ReignOfApril" target="_blank">April Reign</a> launched the hashtag <a href="https://twitter.com/hashtag/OscarsSoWhite?src=hash" target="_blank">#OscarsSoWhite</a> to draw attention to the overwhelming and disproportionate whiteness of the show and its winners. While a lot of the focus has been on the acting awards, a look at the off-camera awards is even more shocking, where black nominees can be counted on one hand.</p><p>Peele joins John Singleton ("Boyz n the Hood"), Lee Daniels ("Precious"), Steve McQueen ("12 Years a Slave"), and Barry Jenkins ("Moonlight") as the only black individuals to be nominated for Best Director. While "12 Years a Slave" and "Moonlight" went on to win Best Picture, no black directors have ever won the individual award. Peele has a chance to change that.</p><p class="shortcode-media shortcode-media-rebelmouse-image"><img type="lazy-image" data-runner-src="https://assets.rebelmouse.io/eyJhbGciOiJIUzI1NiIsInR5cCI6IkpXVCJ9.eyJpbWFnZSI6Imh0dHBzOi8vYXNzZXRzLnJibC5tcy8xOTUzMDcwMS9vcmlnaW4uanBnIiwiZXhwaXJlc19hdCI6MTYyMzk0OTg3NH0.FT4IRm6LcusPbn5_UjXZ9N1knrE_BjDWjIBh-u0EDtA/img.jpg?width=980" id="539fe" class="rm-shortcode" data-rm-shortcode-id="5d127a9cc118d878a03ebe1cff86ae45" data-rm-shortcode-name="rebelmouse-image"><small class="image-media media-caption" placeholder="add caption...">Peele attends the Screen Actors Guild Awards in January 2018. Photo by Emma McIntyre/Getty Images for Turner Image.</small></p><p>What's even more is Peele's Best Writing (Original Screenplay) nomination is just the fourth ever for black writers and the first since Singleton's 1991 "Boyz n the Hood." Other nominees have included Spike Lee ("Do the Right Thing") and co-writers Suzanne de Passe, Chris Clark, and Terence McCloy ("Lady Sings the Blues"). Like the directing category, Peele has a chance to make another Oscar first with a win here.</p><h2>This has, without a doubt, been Jordan Peele's year.</h2><p>"Get Out" has picked up <a href="http://www.imdb.com/title/tt5052448/awards?ref_=tt_awd" target="_blank">a slew of award nominations</a> — Oscars, Golden Globes, BAFTA, Screen Actors Guild, Directors Guild of America, Independent Spirit, Image, and Writers Guild of America among them — as well as a few wins. </p><div id="316c0" class="rm-shortcode" data-rm-shortcode-id="GWZOVV1559350179"><blockquote class="twitter-tweet twitter-custom-tweet" data-twitter-tweet-id="955809063412969473" data-partner="rebelmouse"><div style="margin:1em 0">I just spoke to Daniel. You know when you're on the phone trying to disguise the sound of an ugly cry? I failed at that.</div> — Jordan Peele (@Jordan Peele)<a href="https://twitter.com/JordanPeele/statuses/955809063412969473">1516717613.0</a></blockquote></div><div id="d3e0f" class="rm-shortcode" data-rm-shortcode-id="D8YOWF1559350179"><blockquote class="twitter-tweet twitter-custom-tweet" data-twitter-tweet-id="955811212666716160" data-partner="rebelmouse"><div style="margin:1em 0">Right now I'm just thinking about everyone who bought a ticket and told someone else to. You did this. Thank you. ✊🏾</div> — Jordan Peele (@Jordan Peele)<a href="https://twitter.com/JordanPeele/statuses/955811212666716160">1516718125.0</a></blockquote></div><p>All of this aside, it's worth mentioning that he's also a new dad. Last year, Peele and his wife, comedian and "Brooklyn 99" star Chelsea Peretti, welcomed a son, <a href="http://www.eonline.com/news/864098/jordan-peele-and-chelsea-peretti-welcome-their-first-child" target="_blank">Beaumont Gino Peele</a>, on July 1. An Oscar win now would be icing on the cake for Peele.</p><p class="shortcode-media shortcode-media-rebelmouse-image"><img type="lazy-image" data-runner-src="https://assets.rebelmouse.io/eyJhbGciOiJIUzI1NiIsInR5cCI6IkpXVCJ9.eyJpbWFnZSI6Imh0dHBzOi8vYXNzZXRzLnJibC5tcy8xOTUzMDcwMi9vcmlnaW4uanBnIiwiZXhwaXJlc19hdCI6MTY0NDU3ODc1NH0.Ta0CTVKq4q_MdnmXtp3kWSePpUJ9GlU5NHc83JIUgCY/img.jpg?width=980" id="6511d" class="rm-shortcode" data-rm-shortcode-id="711028f0700d92b1af1d34f7d5933420" data-rm-shortcode-name="rebelmouse-image"><small class="image-media media-caption" placeholder="add caption...">Peretti and Peele at the Screen Actors Guild Awards in January. Photo by Frazer Harrison/Getty Images.</small></p>