More
Love him or hate him, he's a great example of good citizenry.
In its annual "Men of the Year" issue, GQ Magazine named former NFL quarterback Colin Kaepernick its "Citizen of the Year," and boyyyyy, do people have feelings about that.
As with all things related to Kaepernick, who rose to fame by leading the 49ers to a Super Bowl appearance and later gained notoriety for his on-field protests of police brutality and racism, the reaction to the news was predictably polarizing.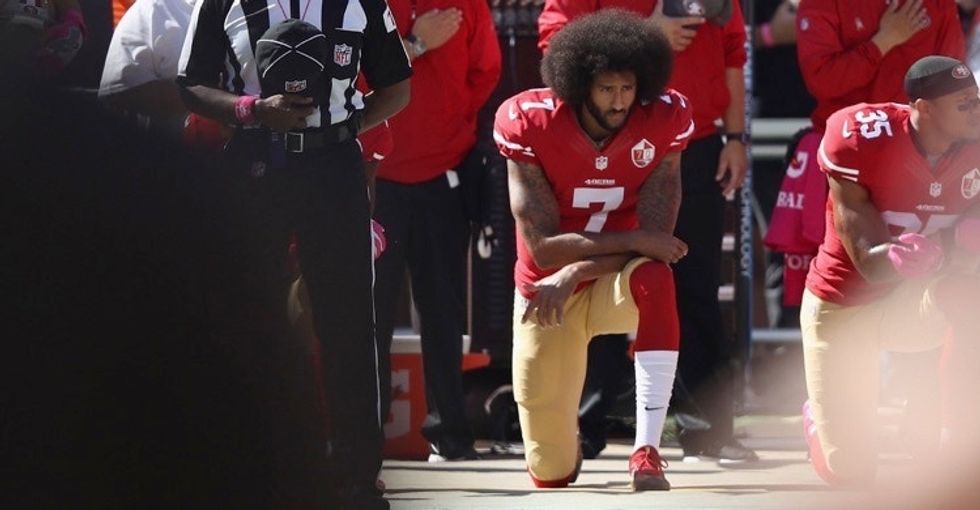 Photo by Ezra Shaw/Getty Images.
<h2>The reaction to GQ's announcement has been positive, for the most part. </h2><p>Mat Elfring praised Kaepernick for donating "time and money to worthy causes" and for getting "people talking about police treatment of citizens." </p><p>"You may not agree with his actions during the National Anthem, but he got people talking. That's important," Elfring tweeted.</p><iframe width="100%" height="150" scrolling="no" class="rm-shortcode twitter-embed-930100589693988864" id="twitter-embed-930100589693988864" type="lazy-iframe" data-runner-src="/res/community/twitter_embed/?iframe_id=twitter-embed-930100589693988864&amp;created_ts=1510588235.0&amp;screen_name=ImMatElfring&amp;text=I%27m+glad+Kaep+was+named+Citizen+of+the+Year+by+GQ.+The+guy+donated+time+and+money+to+worthy+causes+and+got+people+t%E2%80%A6+https%3A%2F%2Ft.co%2FjEGukggXrw&amp;id=930100589693988864&amp;name=Mat+Elfring" frameborder="0" data-rm-shortcode-id="55147f7d398a954545862ed10b188559"></iframe><p>"Let's continue to shine a spotlight on how law enforcement has been infiltrated by white supremacists (according to the FBI)," tweeted Tariq Nasheed, referring to <a href="https://theintercept.com/2017/01/31/the-fbi-has-quietly-investigated-white-supremacist-infiltration-of-law-enforcement/" target="_blank">the agency's April 2015 counterterrorism policy guide</a>.</p><iframe width="100%" height="150" scrolling="no" class="rm-shortcode twitter-embed-930097744424792064" id="twitter-embed-930097744424792064" type="lazy-iframe" data-runner-src="/res/community/twitter_embed/?iframe_id=twitter-embed-930097744424792064&amp;created_ts=1510587557.0&amp;screen_name=tariqnasheed&amp;text=GQ+mag+did+the+right+thing+by+making+Colin+Kaepernick+%22Citizen+of+the+Year%22.+Let%27s+continue+to+shine+a+spotlight+on%E2%80%A6+https%3A%2F%2Ft.co%2FvqEZ9YWp8X&amp;id=930097744424792064&amp;name=Tariq+Nasheed+%F0%9F%87%BA%F0%9F%87%B8" frameborder="0" data-rm-shortcode-id="ec5d7117b6bc700e170160065464d017"></iframe><p>"[Kaepernick's] movement is not just about football. It's about racial justice and equity for all of us," tweeted Simran Jeet Singh.</p><iframe width="100%" height="150" scrolling="no" class="rm-shortcode twitter-embed-930076972834803713" id="twitter-embed-930076972834803713" type="lazy-iframe" data-runner-src="/res/community/twitter_embed/?iframe_id=twitter-embed-930076972834803713&amp;created_ts=1510582604.0&amp;screen_name=SikhProf&amp;text=That+GQ+named+Colin+Kaepernick+its+Citizen+of+the+Year+reminds+us+that+his+movement+is+not+just+about+football.+It%27%E2%80%A6+https%3A%2F%2Ft.co%2F4tEJawkB5q&amp;id=930076972834803713&amp;name=Simran+Jeet+Singh" frameborder="0" data-rm-shortcode-id="36ca4606e04b8f5e28ea2a37b1d0b9cd"></iframe><p>"Good job GQ," praised Luna Malbroux.</p><iframe width="100%" height="150" scrolling="no" class="rm-shortcode twitter-embed-930103994869075974" id="twitter-embed-930103994869075974" type="lazy-iframe" data-runner-src="/res/community/twitter_embed/?iframe_id=twitter-embed-930103994869075974&amp;created_ts=1510589047.0&amp;screen_name=LunaisAmerica&amp;text=Took+a+stand+by+taking+a+knee%2C+raised+awareness%2C+donated+his+fortune%2C+and+his+name+STAY+in+the+mouth+of+the+haters.%E2%80%A6+https%3A%2F%2Ft.co%2FcwEXsZTzbQ&amp;id=930103994869075974&amp;name=Luna+Malbroux" frameborder="0" data-rm-shortcode-id="9d7a7da4dcf20dac6ad0c1cb1e75acdc"></iframe><h2>As with all things Kaepernick, however, the announcement was also met with some predictable right-wing backlash.</h2><p>Conservative author and frequent Fox News guest <a href="https://twitter.com/dbongino/status/930077309238988800" target="_blank">Dan Bongino responded</a> by calling Kaepernick an "imbecile." Right-wing activist <a href="https://twitter.com/ScottPresler/status/930078531291373568" target="_blank">Scott Presler said</a> he is "proudly and unabashedly NOT a GQ citizen." <a href="https://twitter.com/atrupar/status/930070917371310082" target="_blank">Ainsley Earhardt of "Fox and Friends" asked</a> why GQ would pick Kaepernick and not, say, "the veterans that have lost their legs, their limbs, their lives fighting for our country."</p><h2>Beyond the magazine cover, GQ laid out just why Kaepernick is so deserving of the "Citizen of the Year" title — with a little help from his friends.</h2><p>The article, "Colin Kaepernick Will Not Be Silenced," is a masterful display of photojournalism paired with comments delivered in the style of an oral history. Kaepernick, interestingly enough, is not among the quoted, and for a very good reason. The story's authors write that "as his public identity has begun to shift from football star to embattled activist, he has grown wise to the power of his silence."</p><p>Filmmaker Ava DuVernay, Women's March co-chair Tamika D. Mallory, former Kaepernick teammate Eric Reid, artist and activist Harry Belafonte, rapper J. Cole, and more tell the story of Colin Kaepernick and his impact on the world as you've never heard it before.</p><p>DuVernay calls Kaepernick's activism a form of "art," saying that she believes "art is seeing the world that doesn't exist."</p><blockquote>"A lot of people excel at creativity — making TV, movies, painting, writing books — but you can be an artist in your own life. Civil rights activists are artists. Athletes are artists. People who imagine something that is not there. I think some folks see his protests, his resistance, as not his work. Not intentional. Not strategic. Not as progressive action. As if this was just a moment that he got caught up in. This was <em>work.</em> This is work that he's doing."</blockquote><h2>Kaepernick's detractors cling to a very one-dimensional caricature of him as a snobby, ungrateful, multi-millionaire malcontent, but it's simply not accurate.</h2><p>Kaepernick's jersey sales skyrocketed around the start of his protest during the 2016 season. He quickly announced plans to donate all royalties he received on those sales to charitable organizations working in oppressed communities.</p><iframe width="100%" height="150" scrolling="no" class="rm-shortcode twitter-embed-929556803096064000" id="twitter-embed-929556803096064000" type="lazy-iframe" data-runner-src="/res/community/twitter_embed/?iframe_id=twitter-embed-929556803096064000&amp;created_ts=1510458586.0&amp;screen_name=Kaepernick7&amp;text=In+Feb+I+donated+to+Black+Vets+for+Social+Justice-today+I%E2%80%99m+thinking+of+vets+that+fought+only+to+come+home+to+keep%E2%80%A6+https%3A%2F%2Ft.co%2FLhV3U8rCH9&amp;id=929556803096064000&amp;name=Colin+Kaepernick" frameborder="0" data-rm-shortcode-id="6809f8e913ad19932ae824002c729558"></iframe><p>Additionally, he pledged to donate $100,000 to various charitable groups each month for 10 months — $1 million in total. <a href="http://kaepernick7.com/million-dollar-pledge/" target="_blank">Kaepernick set up a website where people could hold him accountable</a>, detailing which groups received money, how much they got, and what they planned to use it on. </p><p>Money went to organizations such as immigration advocacy organization <a href="https://unitedwedream.org/" target="_blank">United We Dream</a>; Phoenix's anti-prison privatization group, <a href="https://www.afsc.org/" target="_blank">American Friends Service Committee</a>; and <a href="https://www.lifeafterhate.org/" target="_blank">Life After Hate</a>, an organization dedicated to helping former members of white supremacist groups reintegrate into society. He also started the <a href="http://knowyourrightscamp.com/" target="_blank">Know Your Rights Camp</a> to help empower and educate people, especially when interacting with law enforcement.</p><iframe width="100%" height="150" scrolling="no" class="rm-shortcode twitter-embed-929895840855891968" id="twitter-embed-929895840855891968" type="lazy-iframe" data-runner-src="/res/community/twitter_embed/?iframe_id=twitter-embed-929895840855891968&amp;created_ts=1510539419.0&amp;screen_name=yourrightscamp&amp;text=%23Repost+dante_speak+-+This+video+was+made+to+protest+racial+injustice%2C+police+brutality%2C+and+institutionalized+raci%E2%80%A6+https%3A%2F%2Ft.co%2FrmGLs1hDid&amp;id=929895840855891968&amp;name=Know+Your+Rights+Camp" frameborder="0" data-rm-shortcode-id="cfdf99d81ebca55d706a7348232ddecc"></iframe><h2>Whether you love him, hate him, or feel ambivalent about Colin Kaepernick as a quarterback or activist, you can't deny that he's having a big impact on the world.</h2><p>He took a knee — not in protest of the flag, the anthem, the military, or law enforcement, but to shine a light on the very real racism that exists in this country and the very real injustices faced by so many without an NFL-sized platform to speak from. </p><p>He is doing what he can to make the world a better, fairer place through both his actions and words. Patriotism isn't pretending that the country's problems don't exist, it's acknowledging and addressing the ones that do.</p><p>For that, Colin Kaepernick is a model citizen in his own right.</p>