More
Things Lena Waithe did? That.
It's a bird! It's a plane! It's Lena Waithe, Queen of All Things Queer at the 2018 Met Gala.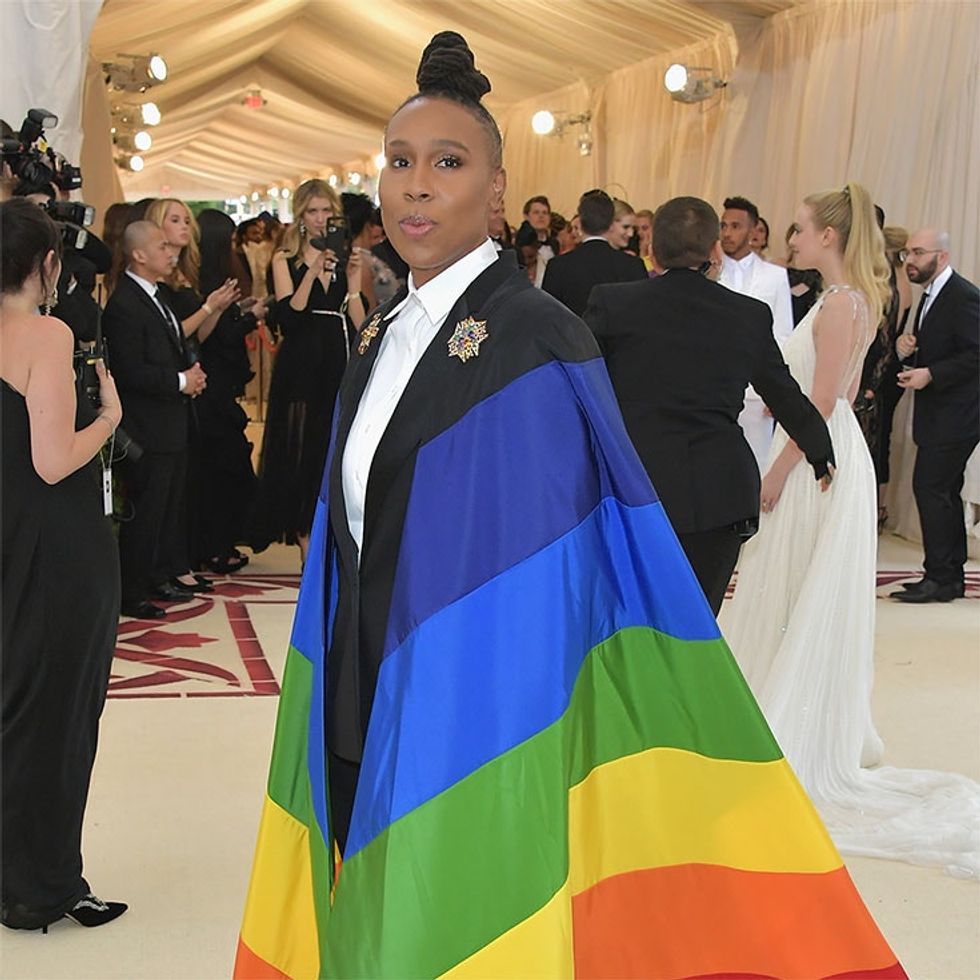 Photo by Neilson Barnard/Getty Images.
The Met Gala has become known for its jaw-dropping, awe-inducing displays of revolutionary fashion. So naturally, actress and screenwriter Lena Waithe used it as an opportunity to bring the whole house down.  
<p><strong>In an incredible, show-stopping outfit, Waithe donned a pride flag cape, reminding the 2018 Met Gala attendees not only that she's queer, but that she's darn proud of it.  </strong></p><p><strong>"This is my skin. I'm proud to be in it," </strong>Waithe <a href="https://www.nytimes.com/slideshow/2018/05/07/fashion/red-carpet-pictures-met-gala.html?smid=tw-nytimes&amp;smtyp=cur" target="_blank">said at the event</a>.<strong> </strong></p><p>And people were <em>loving </em>it.  </p><iframe width="100%" height="150" scrolling="no" id="twitter-embed-993636310043815936" src="/res/community/twitter_embed/?iframe_id=twitter-embed-993636310043815936&amp;created_ts=1525736331.0&amp;screen_name=MsPackyetti&amp;text=.%40LenaWaithe+WENT+AWF.+%0A%0AGo+head%2C+sis.+%0A%0A%23MetGala+https%3A%2F%2Ft.co%2FuXbQ1rqoWv&amp;id=993636310043815936&amp;name=Brittany+Packnett" frameborder="0" class="rm-shortcode" data-rm-shortcode-id="APTFRS1559350451"></iframe><p>The gala was filled with <a href="https://www.cnn.com/style/article/met-gala-red-carpet-2018/index.html" target="_blank">incredible looks</a> from the likes of Rihanna, Amal Clooney, and Chadwick Boseman. </p><p>But when Waithe swooped into the building in a rainbow cape sewn to her well-fitted suit, she immediately became the queer superhero we all need.<strong> </strong>Her unique style and personality shone through at every step across the red carpet.</p><p class="shortcode-media shortcode-media-rebelmouse-image"><img type="lazy-image" data-runner-src="https://assets.rebelmouse.io/eyJhbGciOiJIUzI1NiIsInR5cCI6IkpXVCJ9.eyJpbWFnZSI6Imh0dHBzOi8vYXNzZXRzLnJibC5tcy8xOTM0NTk2NS9vcmlnaW4uanBnIiwiZXhwaXJlc19hdCI6MTYwODEwNjQ3MH0.V4r5_OzDAF7IzWayLVEcTxY72mc9GMuBQgnJjceHW7A/img.jpg?width=980" id="7a563" class="rm-shortcode" data-rm-shortcode-id="b01e92aa659b0a9e036d9615d159c891" data-rm-shortcode-name="rebelmouse-image"><small class="image-media media-caption" placeholder="add caption...">Photo by Neilson Barnard/Getty Images.</small></p><p>Given the event's theme, <a href="https://www.harpersbazaar.com/fashion/designers/a11653331/met-gala-2018-theme/" target="_blank">"Heavenly Bodies: Fashion and the Catholic Imagination,"</a> Waithe's outfit is particularly important. The Catholic Church's <a href="https://www.ncronline.org/blogs/ncr-today/pulse-anniversary-church-plays-wounding-role-lgbt-people" target="_blank">fraught history</a> with the LGBTQ community is well known. From denouncing gay priests to condemning gay congregations to overwhelmingly opposing marriage equality, the church hasn't historically been accepting. </p><p>The rainbow cape provides a huge counternarrative to this. She is proud of who she is.</p><h2>Waithe's outfit is a powerful example of what's at the heart of the arts — being yourself.</h2><div><div data-card="instagram" data-reactroot=""><div><blockquote class="instagram-media" data-instgrm-captioned="" data-instgrm-permalink="https://www.instagram.com/p/BigM8ynhLrj/" data-instgrm-version="8" style=" background:#FFF; border:0; border-radius:3px; box-shadow:0 0 1px 0 rgba(0,0,0,0.5),0 1px 10px 0 rgba(0,0,0,0.15); margin: 1px; max-width:658px; padding:0; width:99.375%; width:-webkit-calc(100% - 2px); width:calc(100% - 2px);"><div style="padding:8px;"> <div style=" background:#F8F8F8; line-height:0; margin-top:40px; padding:50.0% 0; text-align:center; width:100%;"> </div> <p style=" margin:8px 0 0 0; padding:0 4px;"> <a href="https://www.instagram.com/p/BigM8ynhLrj/" style=" color:#000; font-family:Arial,sans-serif; font-size:14px; font-style:normal; font-weight:normal; line-height:17px; text-decoration:none; word-wrap:break-word;" target="_blank">Grateful to my whole crew for making this moment so unforgettable. #metgala</a></p> <p style=" color:#c9c8cd; font-family:Arial,sans-serif; font-size:14px; line-height:17px; margin-bottom:0; margin-top:8px; overflow:hidden; padding:8px 0 7px; text-align:center; text-overflow:ellipsis; white-space:nowrap;">A post shared by <a href="https://www.instagram.com/lenawaithe/" style=" color:#c9c8cd; font-family:Arial,sans-serif; font-size:14px; font-style:normal; font-weight:normal; line-height:17px;" target="_blank"> Lena Waithe</a> (@lenawaithe) on <time datetime="2018-05-08T04:32:30+00:00" style=" font-family:Arial,sans-serif; font-size:14px; line-height:17px;">May 7, 2018 at 9:32pm PDT</time></p></div></blockquote></div></div></div><p><strong>The actress and screenwriter is no stranger to being unapologetic about her queer identity.</strong> Her hit <a href="http://www.upworthy.com/this-episode-of-aziz-ansaris-tv-show-holds-5-beautiful-truths-about-thanksgiving">"Master of None" episode "Thanksgiving"</a> launched her to mainstream stardom thanks to the honest, raw depiction of coming out in a black household. </p><p>Since that episode, Waithe <a href="https://www.vanityfair.com/hollywood/2018/03/lena-waithe-cover-story" target="_blank">has gone on</a> to create her own television show — <a href="http://www.sho.com/the-chi" target="_blank">"The Chi"</a> — work with top filmmakers <a href="http://www.slashfilm.com/lena-waithe-ready-player-one-details/" target="_blank">like Steven Spielberg</a>, and guest-star in popular shows. She's <a href="https://www.thecut.com/2018/03/lena-waithe-wedding-plans-alana-mayo.html" target="_blank">now engaged</a> to the love of her life, film industry executive Alana Mayo.    </p><p class="shortcode-media shortcode-media-rebelmouse-image"><img type="lazy-image" data-runner-src="https://assets.rebelmouse.io/eyJhbGciOiJIUzI1NiIsInR5cCI6IkpXVCJ9.eyJpbWFnZSI6Imh0dHBzOi8vYXNzZXRzLnJibC5tcy8xOTM0NTk2Ni9vcmlnaW4uanBnIiwiZXhwaXJlc19hdCI6MTYwMTU0NDQ3MH0.dqez7XgUlm2ISZC4aykhFkzBiGqSrzDknD9qSCGr8FQ/img.jpg?width=980" id="64556" class="rm-shortcode" data-rm-shortcode-id="f2f07192553d768818923350f4a5efb9" data-rm-shortcode-name="rebelmouse-image"><small class="image-media media-caption" placeholder="add caption...">Alana Mayo and Lena Waithe. Photo by Sean Zanni/Getty Images.</small></p><p>All the while, Waithe has put her black queerness first, emphasizing the importance of public representation for other queer kids and people around the country. <strong>She's spoken openly about the importance of living your truth and not letting others tell your story for you.</strong></p><p>"I am tired of white folks telling my stories," Waithe said in <a href="https://www.vanityfair.com/hollywood/2018/03/lena-waithe-cover-story" target="_blank">her Vanity Fair interview</a>. "We gotta tell our shit. Can't no one tell a black story, particularly a queer story, the way I can, because I see the God in us." </p><p class="shortcode-media shortcode-media-rebelmouse-image"><img type="lazy-image" data-runner-src="https://assets.rebelmouse.io/eyJhbGciOiJIUzI1NiIsInR5cCI6IkpXVCJ9.eyJpbWFnZSI6Imh0dHBzOi8vYXNzZXRzLnJibC5tcy8xOTM0NTk2Ny9vcmlnaW4uanBnIiwiZXhwaXJlc19hdCI6MTY0MTU4MjcxM30.CbOvmaJrB1LLCMAZvfo8B7Dhdn6ec3ftwBPRLxJwcnQ/img.jpg?width=980" id="5dd00" class="rm-shortcode" data-rm-shortcode-id="e27b0dbfd38f83c042add86a9f23a21a" data-rm-shortcode-name="rebelmouse-image"><small class="image-media media-caption" placeholder="add caption...">Photo by Tibrina Hobson/Getty Images.</small></p><p>Waithe's incredible outfit is part of the message she wants to keep clear: <strong>She's here, she's queer, and she's not going anywhere.   </strong></p>