The shooting at a GOP congressional baseball practice on June 14 was allegedly carried out by a man with a history of violence.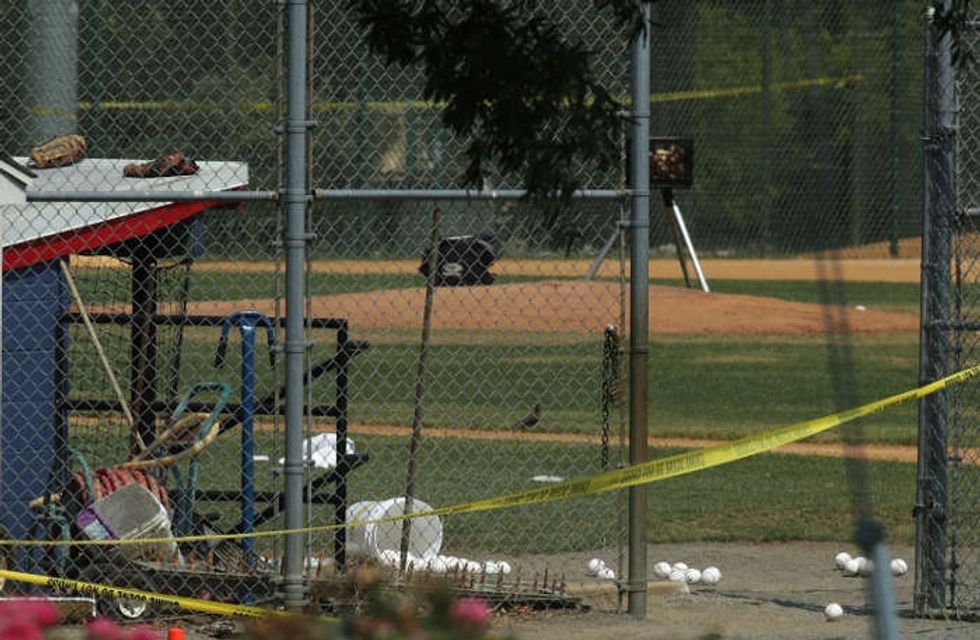 Photo by Alex Wong/Getty Images.
Specifically, violence against women.
Alleged shooter James T. Hodgkinson reportedly dragged his daughter out of a neighbor's house by her hair in 2006, according to The Washington Post. When she attempted to flee in a car, Hodgkinson broke in and attempted to cut her out of her seatbelt with a pocket knife.
<h2>This isn't extraordinary. In fact, it's tragically ordinary. </h2><p>A 2015 New York Times report found that <a href="https://www.nytimes.com/2015/12/03/us/how-often-do-mass-shootings-occur-on-average-every-day-records-show.html" target="_blank">in 57% of mass shootings</a>, current or former intimate partners or family members of the shooter were among the victims. </p><p>In incidents that don't involve partners or family — like in the recent attack on the Republican congressmen — the killer still frequently has a history of assault against a female partner or family member.</p><p>The kind of mass violence that devastates whole communities and rips apart the lives of strangers often begins at home. For the perpetrators of 12 of the most high-profile mass attacks between 2012 and 2017 around the globe, women were their first victims.</p><h2>1. Esteban Santiago, who killed five at the Fort Lauderdale airport, was arrested the previous year for hitting and strangling his girlfriend.</h2><p class="shortcode-media shortcode-media-rebelmouse-image"><img type="lazy-image" data-runner-src="https://assets.rebelmouse.io/eyJhbGciOiJIUzI1NiIsInR5cCI6IkpXVCJ9.eyJpbWFnZSI6Imh0dHBzOi8vYXNzZXRzLnJibC5tcy8xOTUzMDMwNy9vcmlnaW4uanBnIiwiZXhwaXJlc19hdCI6MTU5NTY0NzY4OX0.n02bwaJlKfpZPsJ0hPvNE1IfijFMlLS8W6-Iop4TgNw/img.jpg?width=980" id="3a90a" class="rm-shortcode" data-rm-shortcode-id="02ba3e70373b8e50fe25b42d2874b37c" data-rm-shortcode-name="rebelmouse-image"><small class="image-media media-caption" placeholder="add caption...">Photo by Joe Raedle/Getty Images.</small></p><p>"Santiago verbally assaulted his then girlfriend, a 40-year old mother of one child from a previous marriage whom The Daily Beast is not naming, through a locked bathroom door, telling her to 'Get the fuck out, bitch.' After he forced his way in by breaking down the door, he smacked her in the head and strangled her." — <a href="http://www.thedailybeast.com/ft-lauderdale-gunman-esteban-santiago-was-being-prosecuted-for-strangling-his-girlfriend" target="_blank">The Daily Beast, Jan. 7, 2017</a></p><h2>2. Omar Mateen, the Pulse nightclub shooter, allegedly attacked his wife numerous times, which prompted her to flee and file for divorce. </h2><p class="shortcode-media shortcode-media-rebelmouse-image"><img type="lazy-image" data-runner-src="https://assets.rebelmouse.io/eyJhbGciOiJIUzI1NiIsInR5cCI6IkpXVCJ9.eyJpbWFnZSI6Imh0dHBzOi8vYXNzZXRzLnJibC5tcy8xOTUzMDMwOC9vcmlnaW4uanBnIiwiZXhwaXJlc19hdCI6MTYxNzIzMjgyNH0.lB6jsttedLsF2TgW2FUZ5ThXF-lHwcc8t3wmk_kaYBM/img.jpg?width=980" id="9c8da" class="rm-shortcode" data-rm-shortcode-id="d6749a027867ce0ac191c8a283609731" data-rm-shortcode-name="rebelmouse-image"><small class="image-media media-caption" placeholder="add caption...">Photo by Gerardo Mora/Getty Images.</small></p><p>In Sitora Yusufiy's own words: "Once, he woke up to find me on the phone with my cousin and started kicking me. He threatened to kill me if I left him. Another time, I was asleep in front of the TV when he pulled me up by the hair and started slapping me, and then choking me until I gasped for air. He claimed it was because I hadn't done the laundry." <em>— </em><a href="http://www.marieclaire.com/culture/news/a22733/the-orlando-shooter-was-my-ex/" target="_blank">Marie Claire, Sept. 26, 2016</a> </p><h2>3. Mohamed Lahouaiej-Bouhlel, who murdered 86 people with a truck at a Bastille Day celebration in Nice, France, had been accused of spousal abuse. </h2><p class="shortcode-media shortcode-media-rebelmouse-image"><img type="lazy-image" data-runner-src="https://assets.rebelmouse.io/eyJhbGciOiJIUzI1NiIsInR5cCI6IkpXVCJ9.eyJpbWFnZSI6Imh0dHBzOi8vYXNzZXRzLnJibC5tcy8xOTUzMDMwOS9vcmlnaW4uanBnIiwiZXhwaXJlc19hdCI6MTYyMjM3MjMxMX0.eIJLr_Z8flok6vbXhj4z6LvfeASE3yUasXO0pQbBpbA/img.jpg?width=980" id="60f79" class="rm-shortcode" data-rm-shortcode-id="05505e5ccbf0a53def1d371c6f0cc256" data-rm-shortcode-name="rebelmouse-image"><small class="image-media media-caption" placeholder="add caption...">Photo by Valery Hache/Getty Images.</small></p><p>"A woman who knows the family told the BBC Lahouaiej-Bouhlel had been thrown out of their home in the Le Ray area of Nice more than a year ago after allegedly beating his wife." — <a href="http://www.bbc.com/news/world-europe-36801763" target="_blank">BBC, Aug. 19, 2016</a></p><h2>4. Dallas cop-killer Micah Johnson was, allegedly, a serial harasser of fellow soldiers while in the military.</h2><p class="shortcode-media shortcode-media-rebelmouse-image"><img type="lazy-image" data-runner-src="https://assets.rebelmouse.io/eyJhbGciOiJIUzI1NiIsInR5cCI6IkpXVCJ9.eyJpbWFnZSI6Imh0dHBzOi8vYXNzZXRzLnJibC5tcy8xOTUzMDMxMC9vcmlnaW4uanBnIiwiZXhwaXJlc19hdCI6MTYyMDM3NjAwM30.Q0HkpSK1jwoCqxDyX_BdJPnPnWwM38T5XwHtIjEF-bU/img.jpg?width=980" id="2ca34" class="rm-shortcode" data-rm-shortcode-id="7f59b44fc434713c938a545d0c8d4ba7" data-rm-shortcode-name="rebelmouse-image"><small class="image-media media-caption" placeholder="add caption...">Photo by Spencer Platt/Getty Images.</small></p><p>"Superiors of Johnson accused the deceased murderer of 'egregious sexual harassment,' while he was serving deployment in Afghanistan. They recommended he receive a dishonorable discharge, but for reasons unknown to them, he left the military with an honorable discharge." — <a href="http://www.salon.com/2016/07/16/military_violence_and_scandal_we_need_a_public_discussion_of_the_sexual_assault_epidemic_in_our_armed_forces/" target="_blank">Salon, July 16, 2016</a></p><h2>5. Cedric Ford, who killed three of his co-workers at a Kansas lawnmower factory in 2016, had recently been served a domestic violence order. </h2><p>"The order, posted by the Wichita Eagle on its website, was sought by an unidentified woman who had been living with Ford and said he had been physically abusive. She wrote in the order that he was alcoholic, violent, depressed and in need of medical and psychological help." — <a href="http://www.reuters.com/article/us-kansas-shooting-idUSKCN0VZ15K" target="_blank">Reuters, Feb. 27, 2016</a> </p><h2>6. Robert Lewis Dear, who murdered three outside a Colorado Planned Parenthood clinic in 2015, was accused of abuse by two of his ex-wives and had been arrested and accused of rape.</h2><p class="shortcode-media shortcode-media-rebelmouse-image"><img type="lazy-image" data-runner-src="https://assets.rebelmouse.io/eyJhbGciOiJIUzI1NiIsInR5cCI6IkpXVCJ9.eyJpbWFnZSI6Imh0dHBzOi8vYXNzZXRzLnJibC5tcy8xOTUzMDMxMS9vcmlnaW4uanBnIiwiZXhwaXJlc19hdCI6MTYxODgwODIzNn0.DFS5SPNu43n0d0lPf99RaoguR-rQAom7KtZ-dsINh20/img.jpg?width=980" id="baf7d" class="rm-shortcode" data-rm-shortcode-id="627fa5cc1ca0d095573f2b95e5e483d3" data-rm-shortcode-name="rebelmouse-image"><small class="image-media media-caption" placeholder="add caption...">Image by Handout/Getty Images.</small></p><p>"In the divorce papers, Micheau said Dear threw her around a room by her hair on one occasion and beat her head against the ground. In the affidavit, she said Dear 'erupts into fury in a matter of seconds,' and that she 'lived in fear and dread of his emotional and physical abuse.'" <em>— </em><a href="https://www.washingtonpost.com/national/before-colorado-shooting-a-long-history-of-violence-against-women/2015/12/01/7f494c86-987b-11e5-8917-653b65c809eb_story.html?utm_term=.a87c025fb2fd" target="_blank">The Washington Post, Dec. 1, 2015</a></p><h2>7. John Houser, who killed two women at a screening of "Trainwreck" in 2015, was accused of "acts of family violence" by his wife, daughter, and others.</h2><p class="shortcode-media shortcode-media-rebelmouse-image"><img type="lazy-image" data-runner-src="https://assets.rebelmouse.io/eyJhbGciOiJIUzI1NiIsInR5cCI6IkpXVCJ9.eyJpbWFnZSI6Imh0dHBzOi8vYXNzZXRzLnJibC5tcy8xOTUzMDMxMi9vcmlnaW4uanBnIiwiZXhwaXJlc19hdCI6MTY0Nzg0MTM3Mn0.p0j1eMXO-7s2NGo5C25_ioj8ILLotkVUhv2nXGVFVPA/img.jpg?width=980" id="75018" class="rm-shortcode" data-rm-shortcode-id="e4ecb6d317c6b8b788910d34ed28dcc8" data-rm-shortcode-name="rebelmouse-image"><small class="image-media media-caption" placeholder="add caption...">Photo by Yuri Gripas/Getty Images.</small></p><p>"Among those listed as wanting protection from Houser were his daughter's fiancé and future in-laws, as well as his wife's aunt. At the time, Houser's wife, Kellie, told police she was so concerned about his propensity for violence that she removed all the guns and weapons from their home." — <a href="http://www.cbsnews.com/news/louisiana-shooter-john-houser-had-history-of-domestic-violence/" target="_blank">CBS News, July 24, 2015</a><em> </em></p><h2>8. Ismaaiyl Brinsley first shot his ex-girlfriend before shooting and killing two New York police officers in 2014. </h2><p class="shortcode-media shortcode-media-rebelmouse-image"><img type="lazy-image" data-runner-src="https://assets.rebelmouse.io/eyJhbGciOiJIUzI1NiIsInR5cCI6IkpXVCJ9.eyJpbWFnZSI6Imh0dHBzOi8vYXNzZXRzLnJibC5tcy8xOTUzMDMxMy9vcmlnaW4uanBnIiwiZXhwaXJlc19hdCI6MTYwMTM2MzI1MX0.XgdoigOUk-ABXNGEVREy7uBayIT_WMK_jb5Tl4EOhNs/img.jpg?width=980" id="ba94c" class="rm-shortcode" data-rm-shortcode-id="eed0f25a73e9b3a9b01b32712d9607d4" data-rm-shortcode-name="rebelmouse-image"><small class="image-media media-caption" placeholder="add caption...">Photo by Jewel Samad/Getty Images.</small></p><p>"Baltimore County Police responded to a call at Brinsley's ex-girlfriend's home in the Baltimore suburb of Owings Mills, Maryland around 5:48 a.m. on Saturday. Brinsley had shot the 29-year-old woman in the stomach and fled, cops said." — <a href="http://www.cbsnews.com/news/ismaaiyl-brinsley-nypd-cop-killer-shot-girlfriend-in-baltimore-first/" target="_blank">CBS News, Dec. 21, 2014</a><em> </em></p><h2>9. Man Haron Monis, who took hostages in a deadly 2014 standoff in Sydney, Australia, had been charged with sexual assault <a href="http://www.smh.com.au/nsw/sydney-siege-gunman-man-haron-monis-was-on-bail-for-40-sexual-assault-charges-and-accessory-to-murder-20141215-127u1e.html" target="_blank">dozens of times</a>.</h2><p class="shortcode-media shortcode-media-rebelmouse-image"><img type="lazy-image" data-runner-src="https://assets.rebelmouse.io/eyJhbGciOiJIUzI1NiIsInR5cCI6IkpXVCJ9.eyJpbWFnZSI6Imh0dHBzOi8vYXNzZXRzLnJibC5tcy8xOTUzMDMxNC9vcmlnaW4uanBnIiwiZXhwaXJlc19hdCI6MTYwMzQ1MzExNn0.q_S1EROgeNuuOT3BOYKhvdPaO4SSe21G-aqKQJnDMEQ/img.jpg?width=980" id="5d454" class="rm-shortcode" data-rm-shortcode-id="ec8c6c5d62a818f069071eb7acc09ef9" data-rm-shortcode-name="rebelmouse-image"><small class="image-media media-caption" placeholder="add caption...">Photo by Daniel Munoz/Getty Images.</small></p><p>"A 27-year-old woman complained to police that she had been sexually assaulted by Monis, after attending 'spiritual healing sessions' in response to an advertisement placed in newspapers aimed at the Fijian-Indian, Macedonian, Spanish and Chinese communities." — <a href="http://www.smh.com.au/nsw/sydney-siege-gunman-man-haron-monis-was-on-bail-for-40-sexual-assault-charges-and-accessory-to-murder-20141215-127u1e.html" target="_blank">Sydney Morning Herald, Dec. 16, 2014</a></p><h2>10. Isla Vista killer Elliot Rodger wrote in his diary about splashing hot coffee on women who didn't pay enough attention to him.</h2><p class="shortcode-media shortcode-media-rebelmouse-image"><img type="lazy-image" data-runner-src="https://assets.rebelmouse.io/eyJhbGciOiJIUzI1NiIsInR5cCI6IkpXVCJ9.eyJpbWFnZSI6Imh0dHBzOi8vYXNzZXRzLnJibC5tcy8xOTUzMDMxNS9vcmlnaW4uanBnIiwiZXhwaXJlc19hdCI6MTYzNTk2ODIxMX0.58k21M9BhHlKx5pQkaso6221XTRpYnrGREHX9M_yUUI/img.jpg?width=980" id="c95e9" class="rm-shortcode" data-rm-shortcode-id="0cadb5e2bc7f09104efc9ade388a9c3c" data-rm-shortcode-name="rebelmouse-image"><small class="image-media media-caption" placeholder="add caption...">Photo by Robyn Beck/Getty Images.</small></p><p>"Rodger wrote that he splashed two 'hot blonde girls' with his Starbucks latte at an Isla Vista bus stop after they 'didn't even deign to smile back' after he smiled at them." — <a href="http://www.cnn.com/2014/05/26/justice/california-elliot-rodger-timeline/" target="_blank">CNN, May 27, 2014</a></p><h2>12. Boston Marathon bomber Tamerlan Tsarnaev <a href="http://abcnews.go.com/Blotter/accused-boston-bomber-faced-2009-arrest-domestic-violence/story?id=19017079" target="_blank">was arrested for domestic violence four years before the attack</a>.</h2><p class="shortcode-media shortcode-media-rebelmouse-image"><img type="lazy-image" data-runner-src="https://assets.rebelmouse.io/eyJhbGciOiJIUzI1NiIsInR5cCI6IkpXVCJ9.eyJpbWFnZSI6Imh0dHBzOi8vYXNzZXRzLnJibC5tcy8xOTUzMDMxNi9vcmlnaW4uanBnIiwiZXhwaXJlc19hdCI6MTYzMDY2OTYwM30.4aX1hV1ubg8njwA0ZatxJMOqpoz00iEu1DFdnBFiO70/img.jpg?width=980" id="59095" class="rm-shortcode" data-rm-shortcode-id="40aec1a38bbd1c02907f98ec443da479" data-rm-shortcode-name="rebelmouse-image"><small class="image-media media-caption" placeholder="add caption...">Photo by Stan Honda/Getty Images.</small></p><p>"Police responding to the distress call said they arrived to find the couple in a car in front of the house. The officers say they approached Tsarnaev, who stepped out of the vehicle and told them the woman had been 'yelling at him because of another girl.' 'I asked the suspect if he had hit the victim, and he said "Yes, I slapped her,"' the Cambridge officer wrote in the report." —<em> </em><a href="http://abcnews.go.com/Blotter/accused-boston-bomber-faced-2009-arrest-domestic-violence/story?id=19017079" target="_blank">ABC News, April 22, 2013</a></p><h2>12. Before killing three of his wife's co-workers in Wisconsin in 2012, Radcliffe Franklin Haughton had been exhibiting violent and controlling behavior toward his wife.</h2><p>"A man suspected of opening fire at a Wisconsin salon where his wife worked, killing three women and wounding four others, had a history of domestic abuse and had been arrested for slashing his wife's tires a few weeks earlier, police said." — <a href="http://www.sandiegouniontribune.com/sdut-suspect-in-wis-salon-attack-had-history-of-abuse-2012oct22-story.html" target="_blank">San Diego Union-Tribune, Oct. 22, 2012</a></p><h2>It's time to take domestic violence seriously — both as a public and social health crisis. </h2><p class="shortcode-media shortcode-media-rebelmouse-image"><img type="lazy-image" data-runner-src="https://assets.rebelmouse.io/eyJhbGciOiJIUzI1NiIsInR5cCI6IkpXVCJ9.eyJpbWFnZSI6Imh0dHBzOi8vYXNzZXRzLnJibC5tcy8xOTUzMDMxNy9vcmlnaW4uanBnIiwiZXhwaXJlc19hdCI6MTYxODI2NjE4OH0.iGaY-UAdWlh4uQHC1xo3QVjBDK_2rdBrp3cgMBFupBU/img.jpg?width=980" id="857d2" class="rm-shortcode" data-rm-shortcode-id="d9dbab14d37d5fa78b3a16d126f4abf3" data-rm-shortcode-name="rebelmouse-image"><small class="image-media media-caption" placeholder="add caption...">Photo by Joe Raedle/Getty Images.</small></p><p>Attacks on intimate partners and family members have a nasty habit of leading to much, much worse. </p><p>In an age where mass shootings and terror attacks are proliferating, <a href="http://www.house.gov/representatives/" target="_blank">encourage</a> your lawmakers and local law enforcement to <a href="http://www.pbs.org/newshour/rundown/court-upholds-federal-gun-ban-against-domestic-violence-offenders/" target="_blank">enforce prohibitions against those convicted of domestic violence owning deadly firearms</a>.</p><p>If someone you know is being abused, it may not benefit them to go to the police right away. Instead, experts recommend, ask the victim what they need, keep a journal of events, and when the time is right, <a href="http://www.thehotline.org/2015/06/someone-i-know-is-being-abused-should-i-call-the-police/" target="_blank">help them create a safety plan where you can communicate discreetly</a>. </p><p>You can also <a href="http://www.thehotline.org/" target="_blank">reach out to the National Domestic Violence Hotline</a> for help.</p><p>It might just save more than one life. </p><p><em><strong>Correction</strong> 6/16/2017: The original share image for this post included a photograph of Dzhokhar Tsarnaev, not Tamerlan Tsarnaev. The image has been updated to include a picture of Esteban Santiago in its place.</em></p>