Actress Amy Adams has been mistakenly painted as keeping mum on gender pay inequality — when, in fact, she was trying to do the opposite.
After being criticized for not being more vocal about the gender pay gap when it was revealed that she and co-star Jennifer Lawrence were making significantly less than their male counterparts in "American Hustle," Adams set the record straight.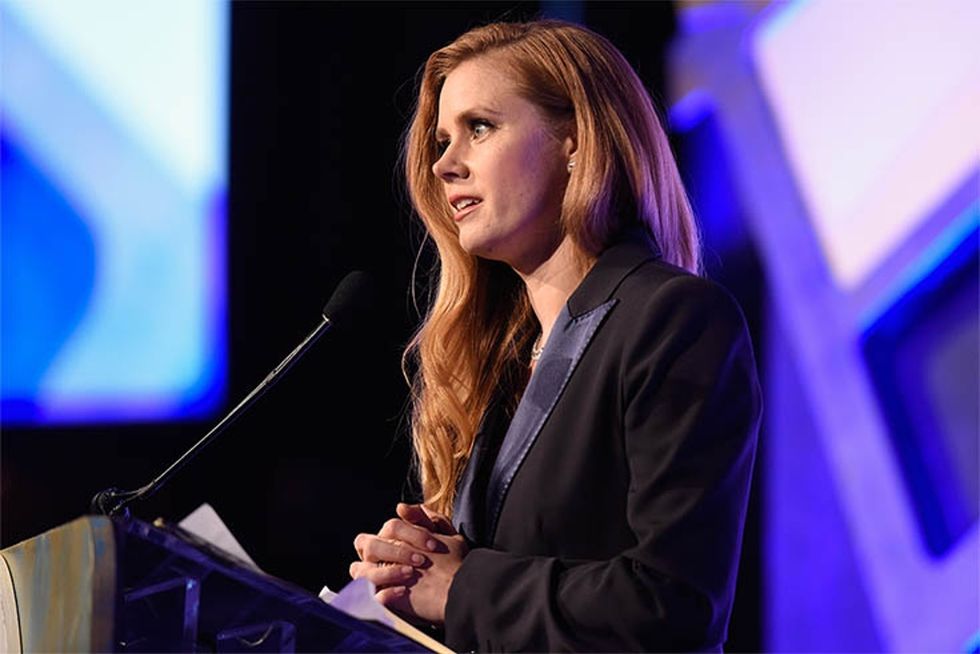 Photo by Matthew Eisman/Getty Images for IFP.
<h2><strong>In a <a href="https://www.telegraph.co.uk/women/life/amy-adams-equal-pay-family-life-grittiest-role-date/" target="_blank">telling interview</a>, Adams revealed that to her, there are more important gender wage gap issues to talk about.</strong></h2><p>"Everyone wanted me to talk about how I felt about it, but I want to fight for people outside our industry, so to come out and look ungrateful about what I'm paid as an actress just didn't feel right," Adams <a href="https://www.telegraph.co.uk/women/life/amy-adams-equal-pay-family-life-grittiest-role-date/" target="_blank">told The Telegraph</a>.</p><p>Having <a href="https://www.forbes.com/pictures/598b86c731358e60d775bca6/10-amy-adams/#30c7ab829a31" target="_blank">taken home $11.5 million</a> in 2017, Adams makes substantially more than teachers and domestic workers, not to mention doctors and lawyers.</p><p><strong>"I do believe in equal pay, but let's start with our teachers," </strong>Adams added. "Let's get waiters paid the minimum wage. That's what's great about what's happening with <a href="http://www.upworthy.com/after-me-too-these-hollywood-women-say-time-s-up-for-workplace-harassment">Time's Up</a> — we're starting to have bigger conversations than just about what's happening in Hollywood."</p><p>Adams' point rings painfully true: <strong>White women across industries make, on average, <a href="https://www.aauw.org/research/the-simple-truth-about-the-gender-pay-gap/" target="_blank">80 cents to the white male dollar</a> — and those numbers are much worse for <a href="http://www.upworthy.com/black-women-are-now-americas-most-educated-group">black</a> and <a href="https://www.aauw.org/2015/10/08/pay-gap-for-latinas/" target="_blank">Latinx</a> women.</strong></p><p>According to the Institute for Women's Policy Research, Latinx women <a href="https://iwpr.org/latinas-will-wait-216-years-equal-pay-current-rate/" target="_blank">make 54 cents</a> for every dollar that a white man makes, and black women are not expected to see equal pay until 2124.</p><p><strong>Yes, that's more than <em>a hundred years</em> from now.</strong></p><p class="shortcode-media shortcode-media-rebelmouse-image"><img type="lazy-image" data-runner-src="https://assets.rebelmouse.io/eyJhbGciOiJIUzI1NiIsInR5cCI6IkpXVCJ9.eyJpbWFnZSI6Imh0dHBzOi8vYXNzZXRzLnJibC5tcy8xOTM0NjIxNy9vcmlnaW4uanBnIiwiZXhwaXJlc19hdCI6MTU5NzcwNzE4OX0.dlPlb7T5jTZ_UWThYqpH8TndAMJ7-aZvKrOCGArjZXE/img.jpg?width=980" id="9fbef" class="rm-shortcode" data-rm-shortcode-id="58bafe5b8f5e782d8f7209291d7c1cf5" data-rm-shortcode-name="rebelmouse-image"><small class="image-media media-caption" placeholder="add caption...">Photo by Frazer Harrison/Getty Images.</small></p><p>The dialogue around wage issues and pay inequity across race and industry is growing.</p><p>As teachers across the U.S. march for <a href="http://www.upworthy.com/oklahoma-s-governor-compared-teachers-to-bratty-teens-we-should-stand-with-them">higher pay and school funding</a>, immigrant restaurant workers <a href="http://fortune.com/2017/02/16/restaurant-owners-day-without-immigrants/" target="_blank">strike for livable wages</a>, and activists across the country demand that the minimum wage be raised to <a href="https://www.reuters.com/article/us-usa-wages-protest/hundreds-protest-over-minimum-wage-at-mcdonalds-stockholder-meeting-idUSKBN18K2EB" target="_blank">meet an unreal inflation rate</a>, Adams' point about centering these voices is important.</p><p class="shortcode-media shortcode-media-rebelmouse-image"><img type="lazy-image" data-runner-src="https://assets.rebelmouse.io/eyJhbGciOiJIUzI1NiIsInR5cCI6IkpXVCJ9.eyJpbWFnZSI6Imh0dHBzOi8vYXNzZXRzLnJibC5tcy8xOTM0NjIxOC9vcmlnaW4uanBnIiwiZXhwaXJlc19hdCI6MTYzNDIyMDc0MH0.Bd-BAq8S42Y26lQ5bwqZROjKWWNf8VAiImQMthrfSoE/img.jpg?width=980" id="ebb6d" class="rm-shortcode" data-rm-shortcode-id="7a26557f06b8084102a22c3835dc86f0" data-rm-shortcode-name="rebelmouse-image"><small class="image-media media-caption" placeholder="add caption...">Photo by J Pat Carter/Getty Images.</small></p><h2>That doesn't mean that women in Hollywood can't or shouldn't fight for equal pay too. </h2><p>Just because one makes a sizable income doesn't mean they're not allowed to decry patriarchal pay standards. Well-known women like <a href="https://www.elle.com/uk/life-and-culture/culture/news/a38418/oprah-strike-equal-pay-female-producers/" target="_blank">Oprah Winfrey</a>, <a href="http://time.com/4536533/ava-duvernay-hilary-swank-chelsea/" target="_blank">Ava DuVernay</a>, <a href="https://www.bostonmagazine.com/arts-entertainment/2016/05/25/mindy-kaling-gender-pay-gap/" target="_blank">Mindy Kaling</a>, and <a href="https://www.huffingtonpost.com/entry/tracee-ellis-ross-on-black-ish-pay-disparity-i-want-compensation-that-matches-my-contribution_us_5a660841e4b002283004f870" target="_blank">Tracee Ellis Ross</a> are on the frontlines of the pay gap in Hollywood, and they've spoken out for women in their and other industries as well.</p><p>"I went to my boss at the time and I said everybody needs a raise," Winfrey <a href="https://www.elle.com/uk/life-and-culture/culture/news/a38418/oprah-strike-equal-pay-female-producers/" target="_blank">once told Time magazine</a>. "And he said, 'Why?' He actually said to me, 'They're only girls. They're a bunch of girls — what do they need more money for?' I go, 'Well, either they're going to get raises, or I'm going to sit down.' I will not work unless they get paid.'"</p><p><strong>Whether Adams will become more vocal about the gender pay gap in Hollywood specifically remains to be seen, but she certainly deserves applause for offering some much-needed truth-telling on the importance of centering society's most vulnerable in the discussion of pay inequity. </strong></p><p>Let's continue raising our voices in our own ways to make sure change happens for everyone.</p>