Every year, Pride serves as an opportunity to celebrate inclusivity, tolerance, and acceptance in the LGBTQ community.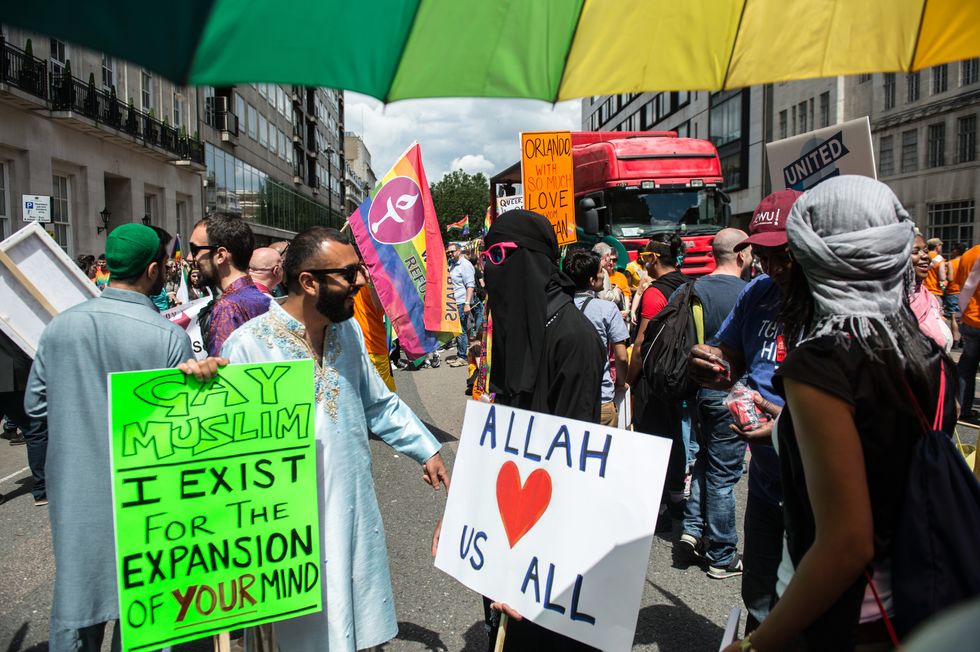 Photo by Chris J Ratcliffe/Getty Images.
For queer Muslims, Pride month is all the more special.
Since traditionalist views of Islam consider homosexuality a sin, it's a common myth that you can't be both queer and Muslim. But every year, tons of practicing Muslims who identify as queer come out and engage in self-affirmation of their complex, intersecting identities.
<div id="8525e" class="rm-shortcode" data-rm-shortcode-id="MCAJHK1559350514"><blockquote class="twitter-tweet twitter-custom-tweet" data-twitter-tweet-id="1010966374913540097" data-partner="rebelmouse"><div style="margin:1em 0">This is Luska with Muslims for Progressive Values in New York sharing what #Pride means to her. #nycpride https://t.co/YBST5wugyX</div> — NBC Out (@NBC Out)<a href="https://twitter.com/NBCOUT/statuses/1010966374913540097">1529868141.0</a></blockquote></div><div id="5d4a1" class="rm-shortcode" data-rm-shortcode-id="AR6NMV1559350515"><blockquote class="twitter-tweet twitter-custom-tweet" data-twitter-tweet-id="1012008221500993536" data-partner="rebelmouse"><div style="margin:1em 0">🌈🕌DON'T WE LOOK CUTE?🤗Marching at #Pride is so important to Imaan. We get to send a message out to all LGBTQI… https://t.co/H4vZPzla8t</div> — Imaan LGBTQI (@Imaan LGBTQI)<a href="https://twitter.com/ImaanLGBTQ/statuses/1012008221500993536">1530116536.0</a></blockquote></div><div id="3da75" class="rm-shortcode" data-rm-shortcode-id="30G5T31559350515"><blockquote class="twitter-tweet twitter-custom-tweet" data-twitter-tweet-id="1010960783201665024" data-partner="rebelmouse"><div style="margin:1em 0">Happy pride y'all 🌈 Only in America! Welcome to New York #LGBTQ #Pride parade 2018. Happy pride Mubarak from Musli… https://t.co/53tK56vZbh</div> — Parthiban Shanmugam (@Parthiban Shanmugam)<a href="https://twitter.com/hollywoodcurry/statuses/1010960783201665024">1529866808.0</a></blockquote></div><h2>If there's one thing that Pride month's proved so far, it's that being LGBTQ and Muslim are not mutually exclusive.</h2><div id="72347" class="rm-shortcode" data-rm-shortcode-id="53CJIU1559350515"><blockquote class="twitter-tweet twitter-custom-tweet" data-twitter-tweet-id="1005428617667600394" data-partner="rebelmouse"><div style="margin:1em 0">🌈🕌*FREE* LGBTQI MUSLIM IFTAR TONIGHT: Join us for our final #Iftar of #Ramadan 2018 in London 8pm Saturday 9th June… https://t.co/xQY6kgyMTa</div> — Imaan LGBTQI (@Imaan LGBTQI)<a href="https://twitter.com/ImaanLGBTQ/statuses/1005428617667600394">1528547837.0</a></blockquote></div><h2>Now more than ever, Muslim-American citizens are rallying together to support the LGBTQ people within their community.</h2><p><strong>A recent study revealed that 51% of Muslim-Americans support marriage equality, according to the May 2018 <a href="http://www.newsweek.com/muslim-white-evangelical-gay-marriage-907627" target="_blank">Public Religion Research Institute study</a>. </strong>This is a huge leap from four years ago, when that same percentage were <em>opposed</em>. To put numbers into comparison, according to the study's findings, marriage equality is opposed by 58% of white evangelical Christians and 53% of Mormons.</p><p>Queer Islamic scholars and <a href="https://www.merriam-webster.com/dictionary/imam" target="_blank">imams</a> have also risen to prominence. Daaiyee Abdullah, based in Washington, D.C., is one of the <a href="http://www.chicagotribune.com/news/opinion/page/ct-orlando-muslims-gay-daayiee-abdullah-page-perspec-0619-md-20160617-story.html" target="_blank">eight openly gay imams</a> in the world. He is known to offer religious services to Muslim LGBTQ members who have been turned away or cast out from the community. </p><div id="3c0e2" class="rm-shortcode" data-rm-shortcode-id="9AF6JW1559350515"><blockquote class="twitter-tweet twitter-custom-tweet" data-twitter-tweet-id="1010993316073230336" data-partner="rebelmouse"><div style="margin:1em 0">🌈🎉WE ❤️PRIDE SEASON! And queer Muslims around the world ❤️our slogans! PICS 1&amp;2 Imaan at #London 🇬🇧Pride Pics 3&amp;4… https://t.co/CdEvDXWymw</div> — Imaan LGBTQI (@Imaan LGBTQI)<a href="https://twitter.com/ImaanLGBTQ/statuses/1010993316073230336">1529874564.0</a></blockquote></div><div id="97032" class="rm-shortcode" data-rm-shortcode-id="G0742G1559350515"><blockquote class="twitter-tweet twitter-custom-tweet" data-twitter-tweet-id="992500637307932678" data-partner="rebelmouse"><div style="margin:1em 0">I feel very meaningfully included in the LGBTQ community. Though I am often the only Muslim in queer spaces, I am n… https://t.co/zsJKABRmfi</div> — Blair Imani (@Blair Imani)<a href="https://twitter.com/BlairImani/statuses/992500637307932678">1525465566.0</a></blockquote></div><p>LGBTQ Muslim representation in entertainment is on the rise, with Tan France's <a href="http://www.upworthy.com/queer-eye-s-tan-france-i-took-the-job-to-be-blunt-to-and-befriend-republicans">prominent role</a> in "Queer Eye," "The Bold Type's" lesbian character <a href="https://www.out.com/out-exclusives/2018/6/12/nikohl-boosheri-plays-queer-muslim-woman-tv-and-ready-more-representation" target="_blank">Adena El Amin</a> (played by Nikohl Boosheri), and Mahershala Ali's <a href="https://www.washingtonpost.com/news/morning-mix/wp/2017/02/27/i-just-feel-blessed-mahershala-ali-becomes-first-muslim-actor-to-win-an-oscar/" target="_blank">starring role</a> in "Moonlight." </p><p>Plus, several prominent non-queer Muslims that have come forward in support for LGBTQ rights. Reza Aslan, an Iranian-American public intellectual, and comedian Hasan Minhaj <a href="https://www.huffingtonpost.com/2015/07/09/reza-aslan-hasan-minhaj-gay-marriage_n_7757400.html" target="_blank">penned an open letter</a> urging Muslim-Americans to stand against anti-gay bigotry and support marriage equality. Meanwhile, Minnesota Rep. Ilhan Omar, our country's first Somali-American legislator, marched in <a href="https://twitter.com/paulachesley/status/1010940372833497090" target="_blank">her local Pride parade</a>.</p><div id="7a76d" class="rm-shortcode" data-rm-shortcode-id="UU7RIY1559350515"><blockquote class="twitter-tweet twitter-custom-tweet" data-twitter-tweet-id="1010940372833497090" data-partner="rebelmouse"><div style="margin:1em 0">It's Ilhan Omar this woman is so inspirational #TCPride https://t.co/EimNKqeCNN</div> — paula chesley (@paula chesley)<a href="https://twitter.com/paulachesley/statuses/1010940372833497090">1529861941.0</a></blockquote></div><h2>Despite this outpouring of visibility, queer Muslims face discrimination at every turn.</h2><p>Laws in many Muslim-majority countries are influenced by these religiously driven homophobic beliefs. Same-gender marriage is often not only illegal, but being queer can warrant prison time or even death. These threats keep many Muslims in the closet. </p><div id="91e03" class="rm-shortcode" data-rm-shortcode-id="CI9AMR1559350515"><blockquote class="twitter-tweet twitter-custom-tweet" data-twitter-tweet-id="970522702204297216" data-partner="rebelmouse"><div style="margin:1em 0">This makes me really sad, a clip from @SalihsWorld's recent video :( How many queer people are we going to push o… https://t.co/G25B16DGFF</div> — Ruqaiya (@Ruqaiya)<a href="https://twitter.com/ruqaiya_h/statuses/970522702204297216">1520225618.0</a></blockquote></div><p>In the U.S., with the sweeping tide of Islamophobia, the <a href="http://www.upworthy.com/the-supreme-court-won-t-admit-the-travel-ban-is-really-a-muslim-ban">"not-a-Muslim-ban" Muslim ban</a>, and an administration adamant on rolling back LGBTQ rights, queer Muslims' safety is constantly at risk.</p><div id="89154" class="rm-shortcode" data-rm-shortcode-id="77925O1559350515"><blockquote class="twitter-tweet twitter-custom-tweet" data-twitter-tweet-id="1011662948748677121" data-partner="rebelmouse"><div style="margin:1em 0">As a trans, queer Muslim I am feeling extra specially unloved and unwanted in this country right about now. And I'm… https://t.co/kHubvnj1Sk</div> — Unkillable Queer Lobster (@Unkillable Queer Lobster)<a href="https://twitter.com/queerlobster/statuses/1011662948748677121">1530034217.0</a></blockquote></div><p><strong>These realities are daunting. But the swell of support during Pride of religious tolerance and LGBTQ acceptance proves that progress is being made.</strong></p><p>If <em>all</em> people can set aside differences and see each other as fully human, the future will be bright.</p><div id="76f46" class="rm-shortcode" data-rm-shortcode-id="JHRYG51559350516"><blockquote class="twitter-tweet twitter-custom-tweet" data-twitter-tweet-id="1010984467882799104" data-partner="rebelmouse"><div style="margin:1em 0">happy pride friends! my heart goes out to all the queer muslims out there who are struggling to reconcile their fai… https://t.co/zCzv9JJvj1</div> — Ruby Hye (@Ruby Hye)<a href="https://twitter.com/ruby_hye/statuses/1010984467882799104">1529872454.0</a></blockquote></div>