True
New Orleans Tourism
After spending 12 years pursuing acting in Los Angeles, Anthony Bean never thought he'd end up right back in his hometown of New Orleans.
However, after his teenage daughter suddenly passed away there, he felt like it was time for him to return.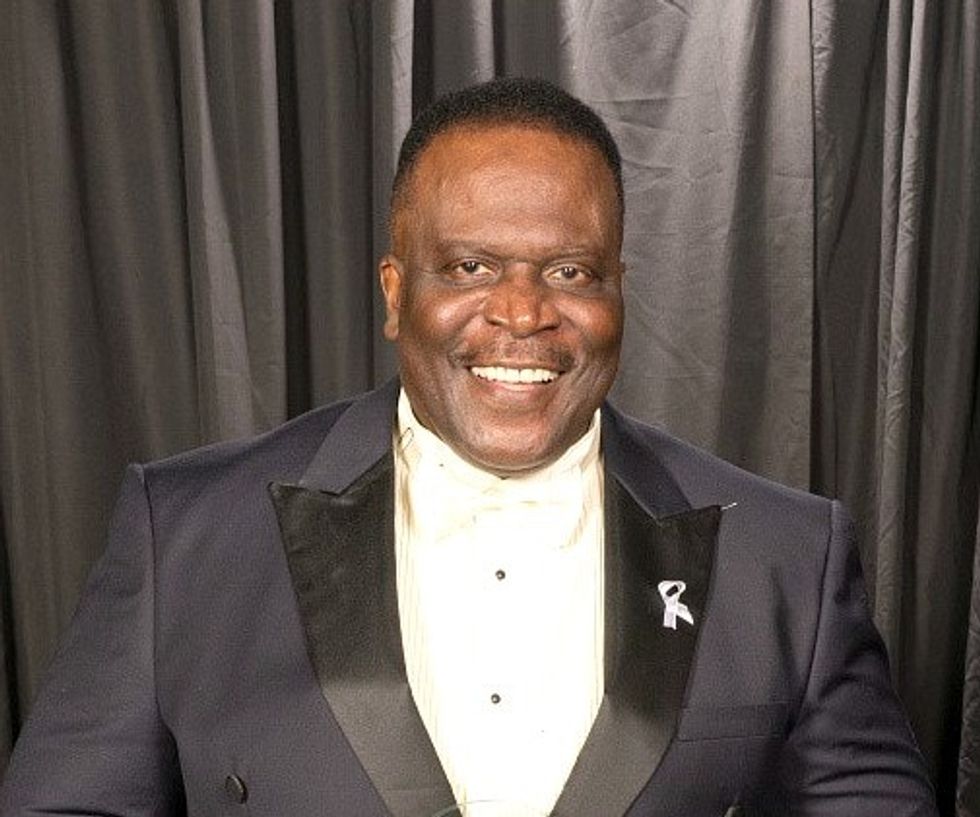 Anthony Bean. Photo via Anthony Bean, used with permission.
<p>They had maintained a close relationship by visiting each other regularly, but when she abruptly became ill and died, he realized that NOLA — his birthplace and hers — was meant to be his permanent home. </p><p>Even though his daughter was young, she had been eager to take over a small theater company Bean had started back in 1973 called the Ethiopian Theater. It was one of the few black-focused theaters in New Orleans. </p><h2>So, in the wake of his devastating loss, Bean decided to turn his daughter's dream into a brighter reality.</h2><p>"I wanted more of a commercial theater and an acting school," Bean says. "A church and school opened up on Carrollton Avenue. In 2000, it became Anthony Bean Community Theater and Acting School."</p><p class="shortcode-media shortcode-media-rebelmouse-image"><img type="lazy-image" data-runner-src="https://assets.rebelmouse.io/eyJhbGciOiJIUzI1NiIsInR5cCI6IkpXVCJ9.eyJpbWFnZSI6Imh0dHBzOi8vYXNzZXRzLnJibC5tcy8xOTUzMjM2OS9vcmlnaW4uanBnIiwiZXhwaXJlc19hdCI6MTYxNjMxOTM4N30.5w6_30HdxgdTaZUp6b7buQvtxwOlqAlbLthWzh_USGE/img.jpg?width=980" id="e909f" class="rm-shortcode" data-rm-shortcode-id="3b7b8f09bd08eff1268dc9d026ae3413" data-rm-shortcode-name="rebelmouse-image"><small class="image-media media-caption" placeholder="add caption...">Bean with some of his students. Photo via Anthony Bean, used with permission.</small></p><p>The <a href="http://anthonybeantheater.com/index.cfm" target="_blank">theater</a> was designed to be a "quality, culturally diverse performing arts venue," and the acting school offers an eclectic group of classes to both children and adults seeking to learn more about performing, set design, and theater management.</p><p>The youth program, however, became ABCT's shining star. </p><h2>"There's such a vast need for this type of work, particularly when you're catering to inner-city kids," Bean says.</h2><p>While the craft of acting is obviously of importance, Bean says much of the work they do is based around social drama, with kids acting out what's going on in their own lives.</p><p class="shortcode-media shortcode-media-rebelmouse-image"><img type="lazy-image" data-runner-src="https://assets.rebelmouse.io/eyJhbGciOiJIUzI1NiIsInR5cCI6IkpXVCJ9.eyJpbWFnZSI6Imh0dHBzOi8vYXNzZXRzLnJibC5tcy8xOTUzMjM3MC9vcmlnaW4uanBnIiwiZXhwaXJlc19hdCI6MTYxODY2MzgyM30.njvNcmyF3oNGGZ5OkUsMOAJZxXDpDc9pWZk8_NH8vKQ/img.jpg?width=980" id="e7e0e" class="rm-shortcode" data-rm-shortcode-id="44a8cf0d4e9569f3f33121a046724a06" data-rm-shortcode-name="rebelmouse-image"><small class="image-media media-caption" placeholder="add caption...">Students during a performance at ABCT. Photo via Anthony Bean, used with permission.</small></p><p><strong>That's why the school focuses on teaching the <a href="https://www.thoughtco.com/stanislavsky-system-acting-method-2712987" target="_blank">Stanislavsky method of acting</a>, which deals with character emotionality first and foremost.</strong> Bean says it seems to be the best way in for kids who have less of an academic background. </p><p>However, that way of working often delivers astounding results. </p><p><strong>"I find when dealing with inner-city kids, emotion is who they are," Bean explains. "And when you incorporate that into the arts, you've got fireworks."</strong></p><h2>Since the beginning, the youth programs have been popular with kids and parents. That's why Bean maintains them, even while they don't have an official space. </h2><p class="shortcode-media shortcode-media-rebelmouse-image"><img type="lazy-image" data-runner-src="https://assets.rebelmouse.io/eyJhbGciOiJIUzI1NiIsInR5cCI6IkpXVCJ9.eyJpbWFnZSI6Imh0dHBzOi8vYXNzZXRzLnJibC5tcy8xOTUzMjM3MS9vcmlnaW4uanBnIiwiZXhwaXJlc19hdCI6MTYyOTE1Mzc2MH0.u0x-uHakar5-Rw48cpyfVkgwkvJcivjFRmzUD2BukD4/img.jpg?width=980" id="7ba4c" class="rm-shortcode" data-rm-shortcode-id="b46d37c8931f9388963a5abf9d683f4c" data-rm-shortcode-name="rebelmouse-image"><small class="image-media media-caption" placeholder="add caption...">Kids in the ABCT youth program. Photo via ABCT, used with permission.</small></p><p>Unfortunately their original space was turned into a charter school, so ABCT had to vacate, and is currently awaiting sufficient funds to get a new space. While fundraising in the community has been going well enough, it's been a struggle, especially since the government cut the <a href="https://www.nola.gov/mayor/wisner-grant-donation/" target="_blank">Wisner Grant</a>, which had supported the theater and school. </p><p>That said, <strong>he remains optimistic, especially considering the success of the most recent summer program. </strong></p><div><div data-card="facebook" data-reactroot=""><div class="fb-post" data-href="https://www.facebook.com/anthonybeantheater/photos/a.10150647286030680.413432.52318565679/10155037499470680/?type=3" data-width="552"><blockquote cite="https://www.facebook.com/anthonybeantheater/photos/a.10150647286030680.413432.52318565679/10155037499470680/?type=3" class="fb-xfbml-parse-ignore"><p>ABCT Summer Program is more than a Camp...It's Culture!9 Week Summer Theater ProgramCulminates with the soulful, hit...</p>Posted by <a href="https://www.facebook.com/anthonybeantheater/">Anthony Bean Community Theater &amp; Acting School</a> on <a href="https://www.facebook.com/anthonybeantheater/photos/a.10150647286030680.413432.52318565679/10155037499470680/?type=3">Friday, February 3, 2017</a></blockquote></div></div></div><p>This past summer, they put on two musical productions: "Soulville" and "Old Skool." If you're in NOLA during the summer months, the ABCT kids' shows are more than worth the price of admission. You won't just be supporting good theater, you'll be helping sustain a life-changing school. </p><p>The kids are learning to channel their emotionality into something constructive, and the best part is, they get to be part of a beautiful, collaborative product that earns rousing applause at the end. What could be more validating? </p><h2>Not only is the program giving inner-city kids a creative outlet, it's breeding real talent. </h2><p class="shortcode-media shortcode-media-rebelmouse-image"><img type="lazy-image" data-runner-src="https://assets.rebelmouse.io/eyJhbGciOiJIUzI1NiIsInR5cCI6IkpXVCJ9.eyJpbWFnZSI6Imh0dHBzOi8vYXNzZXRzLnJibC5tcy8xOTUzMjM3Mi9vcmlnaW4uanBnIiwiZXhwaXJlc19hdCI6MTU5NDg4NjQxNn0.5H0tDMaNP_qcXHQIaNffX1cUpD_cWC_8gSrH3rfgNP8/img.jpg?width=980" id="0f977" class="rm-shortcode" data-rm-shortcode-id="fd47a8f3cd61d7e7d74d8e4e72a34851" data-rm-shortcode-name="rebelmouse-image"><small class="image-media media-caption" placeholder="add caption...">A student in an ABCT production of "The Color Purple." Photo via ABCT, used with permission.</small></p><p>Many ABCT students matriculate into the <a href="http://www.nocca.com/" target="_blank">New Orleans Center for Creative Arts</a> (NOCCA), one of the most prestigious art programs in the country. Some former students have even gone on to do rather well professionally in the entertainment business. <strong>Wendell Pierce — star of shows like "The Wire" and "Treme," for example — is a former ABCT student</strong>. </p><h2>Bean is working tirelessly to keep ABCT afloat, and hopes the new administration will start lending a hand.</h2><p class="shortcode-media shortcode-media-rebelmouse-image"><img type="lazy-image" data-runner-src="https://assets.rebelmouse.io/eyJhbGciOiJIUzI1NiIsInR5cCI6IkpXVCJ9.eyJpbWFnZSI6Imh0dHBzOi8vYXNzZXRzLnJibC5tcy8xOTUzMjM3My9vcmlnaW4uanBnIiwiZXhwaXJlc19hdCI6MTU5OTM1NzMxMX0.FbM8NciS8ZwsopdpyK7_W7Cc_wklwRQ-mSBU0IfsqDM/img.jpg?width=980" id="f2238" class="rm-shortcode" data-rm-shortcode-id="3239858918f98baddaaf1aefebe1799e" data-rm-shortcode-name="rebelmouse-image"><small class="image-media media-caption" placeholder="add caption...">Kids in the ABCT program. Photos via ABCT, used with permission.</small></p><p>Programs that specifically cater to marginalized and inner-city kids are few and far between. Considering schools nationwide are cutting arts programs right and left, <strong>theaters like ABCT are becoming rare gems that need to be saved.</strong></p><p>Not only are these programs fun for kids, having a place in which they feel they belong instills confidence in them they might not have found anywhere else.</p><p><strong>"There are many kids out there who can't play football, who don't like sports," Bean says. "I'm providing an outlet for these kids."</strong></p>