More
Several companies got a little bit gayer in 2015.
2015 was a big (gay) year in the LGBT rights movement.
The Supreme Court decided that, yep, same-sex couples should be able to get married, and the number of Americans who agreed reached record highs. More and more LGBT characters appeared on our TV screens. (If you haven't binge-watched "Orange Is the New Black," "Transparent," and "How to Get Away With Murder," cancel your weekend plans. Now.) And, thanks to advocates like Laverne Cox and Caitlyn Jenner, transgender visibility is finally going mainstream.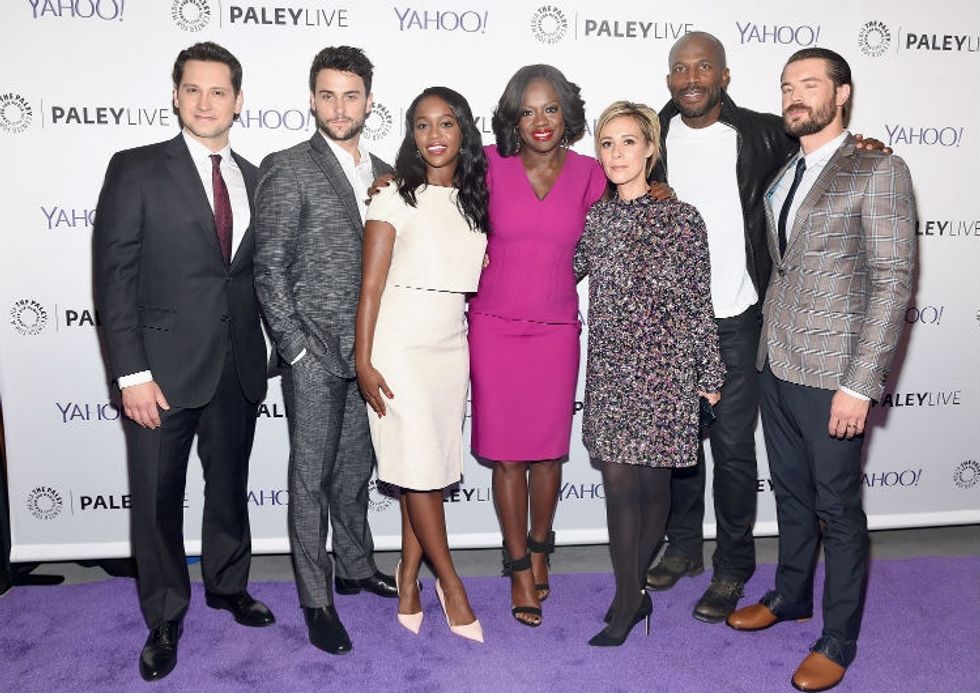 <p class="image-caption">The cast of "How to Get Away With Murder." Photo by Jamie McCarthy/Getty Images.</p><h2>But progress was also apparent in the private sector, where companies learned <em>going gay</em> isn't just the right thing to do — it's great for business.</h2><p>According to the Human Rights Campaign's <a href="http://hrc-assets.s3-website-us-east-1.amazonaws.com//files/assets/resources/CEI-2016-FullReport.pdf" target="_blank">Corporate Equality Index</a> released earlier this year, more businesses than <em>ever before </em>earned top ratings on internal policies, like implementing sexual orientation nondiscrimination protections and providing transgender-inclusive benefits to workers.</p><p>And, as a study released last week found, plenty of those businesses incorporated those inclusive attitudes into the consumer-facing side of their brands as well.</p><p><strong>Logo TV partnered with Witeck Communications to produce its <a href="http://www.logotv.com/shows/top-25-trailblazing-companies/widget/full-company-list" target="_blank">25 Trailblazing Companies</a> report. You'll probably recognize many of the brands that topped the list.</strong></p><p>The study began by analyzing businesses that have already prioritized LGBT equality in the workplace — <a href="http://www.logotv.com/shows/top-25-trailblazing-companies/widget/methodology" target="_blank">examining roughly 200 businesses</a> that earned 100% scores on the the HRC Corporate Equality Index — and allotted points dependent on how each demonstrated their commitment to equality in public ways (think diverse advertising, support for inclusive public policy, what causes they chose to donate to, etc.).</p><p><strong>Here are the top 10 companies that made the list: </strong></p><h2>10. General Motors (tied)</h2><p><img type="lazy-image" data-runner-src="https://assets.rebelmouse.io/eyJhbGciOiJIUzI1NiIsInR5cCI6IkpXVCJ9.eyJpbWFnZSI6Imh0dHBzOi8vYXNzZXRzLnJibC5tcy8xOTUxNDE0Mi9vcmlnaW4uanBnIiwiZXhwaXJlc19hdCI6MTY1OTY0MTMxNH0.MabmFTnr0RKBbcilGu74yG5GMSB88cultraXM74jAd0/img.jpg?width=980" id="16da4" class="rm-shortcode" data-rm-shortcode-id="51dcf0d69734e06b070480718de1b65b" data-rm-shortcode-name="rebelmouse-image"></p><p class="image-caption">Photo by Bill Pugliano/Getty Images.</p><p>Hey, gay folks like cars too. So it only seems right that General Motors has included LGBT people and themes in its advertising for years, like <a href="https://www.youtube.com/watch?v=U_WQNgLHo2w" target="_blank">this ad</a> for Chevy shown during the Olympics opening ceremony.</p><p><em>Read more about why GM made the cut <a href="http://www.newnownext.com/logo-names-the-top-25-trailblazing-companies/12/2015/" target="_blank">here</a>.</em><em></em><br></p><h2>10. Unilever (tied)</h2><p><img type="lazy-image" data-runner-src="https://assets.rebelmouse.io/eyJhbGciOiJIUzI1NiIsInR5cCI6IkpXVCJ9.eyJpbWFnZSI6Imh0dHBzOi8vYXNzZXRzLnJibC5tcy8xOTUxNDE0My9vcmlnaW4uanBnIiwiZXhwaXJlc19hdCI6MTY1MTAwMDQ2MX0.KYUuZeIcbBaIrfbguH8xLgr3XvFljZXBJ2fwQ7xqVNE/img.jpg?width=980" id="8902c" class="rm-shortcode" data-rm-shortcode-id="e13147b6488266fc75a37f4aa384d132" data-rm-shortcode-name="rebelmouse-image"></p><p class="image-caption">Photo by John Thys/AFP/Getty Images.</p><p>According to the report, Unilever has been "an early and active supporter of LGBT rights," and one of their brands in particular, ice cream duo <a href="http://www.benjerry.com/values/issues-we-care-about/marriage-equality" target="_blank">Ben &amp; Jerry's</a>, was the first major employer in Vermont that actually did the right thing by offering health insurance to spouses of LGBT employees.</p><p><em>Read more about why Unilever made the cut <a href="http://www.newnownext.com/logo-names-the-top-25-trailblazing-companies/12/2015/" target="_blank">here</a>.</em></p><h2>9. Coca-Cola</h2><p><img type="lazy-image" data-runner-src="https://assets.rebelmouse.io/eyJhbGciOiJIUzI1NiIsInR5cCI6IkpXVCJ9.eyJpbWFnZSI6Imh0dHBzOi8vYXNzZXRzLnJibC5tcy8xOTUxNDE0NC9vcmlnaW4uanBnIiwiZXhwaXJlc19hdCI6MTY0MDczNDQ2Nn0.b0eQJADpJP80hkOTuh0zv6HriWtEUHoe7Fq8EnmDGbE/img.jpg?width=980" id="19cda" class="rm-shortcode" data-rm-shortcode-id="88d8493bca047405a926ba76e52231a1" data-rm-shortcode-name="rebelmouse-image"></p><p class="image-caption">Photo by Cindy Ord/Getty Images for iHeartMedia.</p><p>Coke may be as classically American as apple pie, but the soda company has "kept pace with the times," according to the LOGO study, prioritizing <a href="https://www.hollywoodreporter.com/news/super-bowl-2014-commercial-coca-676549" target="_blank">diversity in its campaigns</a> for years.</p><p><em>Read more about why Coca-Cola made the cut <a href="http://www.newnownext.com/logo-names-the-top-25-trailblazing-companies/12/2015/" target="_blank">here</a>.</em></p><h2>7. Hilton Worldwide (tied)</h2><p><img type="lazy-image" data-runner-src="https://assets.rebelmouse.io/eyJhbGciOiJIUzI1NiIsInR5cCI6IkpXVCJ9.eyJpbWFnZSI6Imh0dHBzOi8vYXNzZXRzLnJibC5tcy8xOTUxNDE0NS9vcmlnaW4uanBnIiwiZXhwaXJlc19hdCI6MTY2MzQxMjA3N30.F12f_NeGcCnoaJxWNmE8Qg08MCl0jFNAGpFOzNRhYYQ/img.jpg?width=980" id="0da44" class="rm-shortcode" data-rm-shortcode-id="bcc7aa8a61e811cf31d1c98554f78c3f" data-rm-shortcode-name="rebelmouse-image"></p><p class="image-caption">Photo by Spencer Platt/Getty Images.<br></p><p>Hilton doesn't just reach out to queer communities through its marketing efforts, it "goes a step further by creating original travel-related content for an LGBT audience." That's why it landed on the list at #7.</p><p><em>Read more about why Hilton Worldwide made the cut <a href="http://www.newnownext.com/logo-names-the-top-25-trailblazing-companies/12/2015/" target="_blank">here</a>.</em></p><h2>7. Anheuser-Busch (tied)</h2><p><img type="lazy-image" data-runner-src="https://assets.rebelmouse.io/eyJhbGciOiJIUzI1NiIsInR5cCI6IkpXVCJ9.eyJpbWFnZSI6Imh0dHBzOi8vYXNzZXRzLnJibC5tcy8xOTUxNDE0Ni9vcmlnaW4uanBnIiwiZXhwaXJlc19hdCI6MTY3MjUxODA0NX0.MbdOaXEj5wiG-5mYGu4uQ-Cn36zVMElQdAssTsFQxY8/img.jpg?width=980" id="bdb99" class="rm-shortcode" data-rm-shortcode-id="709a131ae672db75cf31193de1c3d21e" data-rm-shortcode-name="rebelmouse-image"></p><p class="image-caption">Photo illustration by Joe Raedle/Getty Images.<br></p><p>Anheuser-Busch <em>loves</em> celebrating equality. Sponsoring more than 40 different LGBT pride events across the country, it's the biggest event sponsor on Logo's list.</p><p><em>Read more about why Anheuser-Busch made the cut <a href="http://www.newnownext.com/logo-names-the-top-25-trailblazing-companies/12/2015/" target="_blank">here</a>.</em></p><h2>6. E. &amp; J. Gallo Winery</h2><p><img type="lazy-image" data-runner-src="https://assets.rebelmouse.io/eyJhbGciOiJIUzI1NiIsInR5cCI6IkpXVCJ9.eyJpbWFnZSI6Imh0dHBzOi8vYXNzZXRzLnJibC5tcy8xOTUxNDE0Ny9vcmlnaW4uanBnIiwiZXhwaXJlc19hdCI6MTYzNzg2ODI3NH0.lceRliXuV4Hmo8BKAi8_zwPpGTngpGA6DdvFSy_fWMk/img.jpg?width=980" id="fab02" class="rm-shortcode" data-rm-shortcode-id="b0dc524f8108d1b3f2e25ae96d4c854b" data-rm-shortcode-name="rebelmouse-image"></p><p class="image-caption">Photo via iStock.</p><p>And speaking of pride ... E. &amp; J. Gallo Winery does its part too, sponsoring dozens of pride celebrations across the U.S., in places like Los Angeles, Charlotte, and Fort Wayne.</p><p><em>Read more about why E. &amp; J. Gallo Winery made the cut <a href="http://www.newnownext.com/logo-names-the-top-25-trailblazing-companies/12/2015/" target="_blank">here</a>.</em></p><h2>5. Gap</h2><p><img type="lazy-image" data-runner-src="https://assets.rebelmouse.io/eyJhbGciOiJIUzI1NiIsInR5cCI6IkpXVCJ9.eyJpbWFnZSI6Imh0dHBzOi8vYXNzZXRzLnJibC5tcy8xOTUxNDE0OC9vcmlnaW4uanBnIiwiZXhwaXJlc19hdCI6MTY2MDkxMjc3MX0.rUxNzkwBnCRDb2Xeg-WIMvjSNBZkzs1bUQGlJXQxFzs/img.jpg?width=980" id="63dc8" class="rm-shortcode" data-rm-shortcode-id="10edee1950ff1cf1223ccae44f67f9ae" data-rm-shortcode-name="rebelmouse-image"></p><p class="image-caption">Photo by Kazuhiro Nogi/AFP/Getty Images.<br></p><p>Gap keeps it campaigns bright, colorful ... <a href="http://www.out.com/fashion/truman-says/2012/05/04/gap-unveils-new-ad-featuring-same-sex-couple" target="_blank">and gay</a>. And it makes sure to include LGBT personalities in <a href="http://www.slate.com/blogs/browbeat/2012/06/21/ads_with_gay_men_and_women_from_the_gap_and_j_c_penney_are_the_latest_in_a_new_wave_of_gay_friendly_advertising_.html" target="_blank">its commercials</a>, too.</p><p><em>Read more about why Gap made the cut <a href="http://www.newnownext.com/logo-names-the-top-25-trailblazing-companies/12/2015/" target="_blank">here</a>.</em></p><h2>4. Marriott International, Inc.</h2><p><img type="lazy-image" data-runner-src="https://assets.rebelmouse.io/eyJhbGciOiJIUzI1NiIsInR5cCI6IkpXVCJ9.eyJpbWFnZSI6Imh0dHBzOi8vYXNzZXRzLnJibC5tcy8xOTUxNDE0OS9vcmlnaW4uanBnIiwiZXhwaXJlc19hdCI6MTY0OTk5NzAzNn0.8G3l4Jq0QzC_oAwFQLMeLNPTdELl3iG9zlPRpw_WRa8/img.jpg?width=980" id="a1eb6" class="rm-shortcode" data-rm-shortcode-id="642c5fb5dbebdf30e17dea8e5e801f3f" data-rm-shortcode-name="rebelmouse-image"></p><p class="image-caption">Photo by Larry French/Getty Images for Marriott International.</p><p>Marriott International actually dedicates <a href="http://www.marriott.com/marriott/marriott-gay-travel.mi" target="_blank">an entire website</a> to its LGBT guests, providing useful resources and popular destinations for customers looking to maximize their traveling adventures. That's one reason why it's #4 on the list.</p><p><em>Read more about why Marriott made the cut <a href="http://www.newnownext.com/logo-names-the-top-25-trailblazing-companies/12/2015/" target="_blank">here</a>.</em></p><h2>3. Wells Fargo</h2><p><img type="lazy-image" data-runner-src="https://assets.rebelmouse.io/eyJhbGciOiJIUzI1NiIsInR5cCI6IkpXVCJ9.eyJpbWFnZSI6Imh0dHBzOi8vYXNzZXRzLnJibC5tcy8xOTUxNDE1MC9vcmlnaW4uanBnIiwiZXhwaXJlc19hdCI6MTY0OTI2MTMwNH0.18cNnFb04PQYIc5kxOJB97o8JmPCJVgqjYUfYDuy2Ig/img.jpg?width=980" id="b31fb" class="rm-shortcode" data-rm-shortcode-id="1babb0bd762e00342b89da61600a9c3c" data-rm-shortcode-name="rebelmouse-image"></p><p class="image-caption">Photo by Justin Sullivan/Getty Images.</p><p>Wells Fargo became the first American bank to feature an LGBT couple in a <a href="http://www.advocate.com/politics/marriage-equality/2015/06/15/wells-fargo-won-t-pull-ad-featuring-lesbians" target="_blank">national TV campaign</a> this year. Bravo!</p><p><em>Read more about why Wells Fargo made the cut <a href="http://www.newnownext.com/logo-names-the-top-25-trailblazing-companies/12/2015/" target="_blank">here</a>.</em></p><h2>2. Johnson &amp; Johnson</h2><p><img type="lazy-image" data-runner-src="https://assets.rebelmouse.io/eyJhbGciOiJIUzI1NiIsInR5cCI6IkpXVCJ9.eyJpbWFnZSI6Imh0dHBzOi8vYXNzZXRzLnJibC5tcy8xOTUxNDE1MS9vcmlnaW4uanBnIiwiZXhwaXJlc19hdCI6MTY2Mzk0NTM2N30.qkNGPyXBdBXm7_2zlHWn2hP-VJsH7QxhRuHNvrD7DoI/img.jpg?width=980" id="df089" class="rm-shortcode" data-rm-shortcode-id="3e6dcb416b264d1a004c127b93d536fa" data-rm-shortcode-name="rebelmouse-image"></p><p class="image-caption">Photo Illustration by Chris Hondros/Getty Images.<br></p><p>"Their heartfelt advertisements feature diverse families — including LGBT parents and children — and expand the public's understanding of what it means to be a family."</p><p><em>Read more about why Johnson &amp; Johnson made the cut <a href="http://www.newnownext.com/logo-names-the-top-25-trailblazing-companies/12/2015/" target="_blank">here</a>.</em></p><h2>1. Google</h2><p><img type="lazy-image" data-runner-src="https://assets.rebelmouse.io/eyJhbGciOiJIUzI1NiIsInR5cCI6IkpXVCJ9.eyJpbWFnZSI6Imh0dHBzOi8vYXNzZXRzLnJibC5tcy8xOTUxNDE1Mi9vcmlnaW4uanBnIiwiZXhwaXJlc19hdCI6MTYxODk3MjUxOX0.maYkPWJ4ThngQS6s9JOifGxK4-NvGYHi5rzQJAxrkvk/img.jpg?width=980" id="61a12" class="rm-shortcode" data-rm-shortcode-id="b4001b08bde3c7ebe8c0dcd8f9f43874" data-rm-shortcode-name="rebelmouse-image"></p><p class="image-caption">Photo by Sam Yeh/AFP/Getty Images.</p><p>Google is behind many of the digital platforms — like YouTube — that has pushed LGBT equality forward in recent years, helping queer communities "share their stories with the world."</p><p><em>Read more about why Google took the top spot <a href="http://www.newnownext.com/logo-names-the-top-25-trailblazing-companies/12/2015/" target="_blank">here</a>.</em></p><p><strong>Head on over to <a href="http://www.newnownext.com/logo-names-the-top-25-trailblazing-companies/12/2015/" target="_blank">Logo TV</a> to see which other companies cracked the top 25.</strong></p>