More
His $1 million salary will go to help fund education.
One of the NFL's top players won't be taking home a paycheck this season. He's doing something much better.
Now playing in his 10th season in the league, Philadelphia Eagles defensive end Chris Long decided to up his charity game. At the beginning of the season, just weeks after white supremacists marched through his hometown of Charlottesville, Virginia, Long committed to donating his first six game checks of the season to funding scholarships for local students.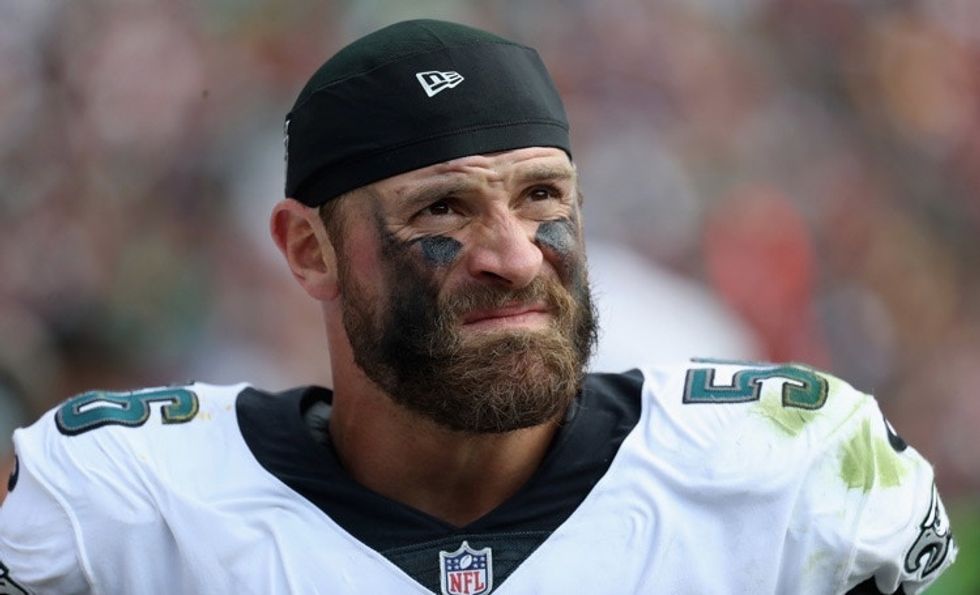 Long during the Eagles' Sept. 10, 2017, game. Photo by Rob Carr/Getty Images.
<p>"In August, we watched people fill our hometown streets with hatred and bigotry," <a href="https://twitter.com/BenVolin/status/910140676666384384" target="_blank">Long said in a press release</a>. "Megan and I decided to try to combat those actions with our own positive investment in our community." </p><p>That same day, he teased a larger undertaking, promising to share more in coming weeks. Today, he unveiled that new project, <a href="http://www.espn.com/nfl/story/_/id/21061905/philadelphia-eagles-defensive-end-chris-long-now-donating-entire-season-salary" target="_blank">committing his final 10 game checks to funding educational programs in the three communities he's played for during his career (Philadelphia, St. Louis, and New England)</a>, saying that he hopes it'll "inspire others to invest time, money or passion into our communities and into our kids." Long's base salary for the 2017 season is $1 million.</p><h2>Long's career has been marked by the good he's done off the field as much as what he's done on it.</h2><p>In 2015, Long launched <a href="https://waterboys.org/mission/" target="_blank">the Waterboys initiative</a>, an off-shoot of his charity, the Chris Long Foundation. Waterboys was created to bring clean drinking water to communities in rural East Africa. To date, the group has funded the creation of 26 wells. Long's foundation has also done some great work addressing homelessness, helping returning veterans get back on their feet, and providing support for youth programs.</p><p>He's also been a thoughtful, supportive voice during the controversy surrounding NFL players kneeling during the anthem. Asked what he thought about Colin Kaepernick's protests in 2016, <a href="http://www.espn.com/blog/new-england-patriots/post/_/id/4795724/patriots-de-chris-long-shares-perspective-on-colin-kaepernicks-protest" target="_blank">he told ESPN that while he wasn't comfortable kneeling</a>, he supported Kaepernick and other players who did.</p><p>"I play in a league that's 70 percent black and my peers, guys I come to work with, guys I respect who are very socially aware and are intellectual guys, if they identify something that they think is worth putting their reputations on the line, creating controversy, I'm going to listen to those guys," he said.</p><p>This season, he's shown solidarity with teammates Rodney McLeod and <a href="https://www.washingtonpost.com/opinions/what-protesting-nfl-players-like-me-want-to-do-next/2017/09/30/507fc4b0-a513-11e7-b14f-f41773cd5a14_story.html?utm_term=.95c79859c984" target="_blank">Malcolm Jenkins</a>, who both decided to hold a raised fist during the anthem, by putting his arm around Jenkins's shoulder. </p><p class="shortcode-media shortcode-media-rebelmouse-image"><img type="lazy-image" data-runner-src="https://assets.rebelmouse.io/eyJhbGciOiJIUzI1NiIsInR5cCI6IkpXVCJ9.eyJpbWFnZSI6Imh0dHBzOi8vYXNzZXRzLnJibC5tcy8xOTQ3NTIwNS9vcmlnaW4uanBnIiwiZXhwaXJlc19hdCI6MTY2MDQ2NDIzOX0.rM-RoKtTEevpFdX1uCJHUVuUHQLBhHhng2RGhtsXcfM/img.jpg?width=980" id="50826" class="rm-shortcode" data-rm-shortcode-id="aaee4c9f40db85782c7a7dfca0984b87" data-rm-shortcode-name="rebelmouse-image"><small class="image-media media-caption" placeholder="add caption...">Long stands beside teammates McLeod and Jenkins during the national anthem on Oct. 8, 2017. Photo by Rich Schultz/Getty Images.</small></p><h2>While Long's history of charity work and allyship is hard to match, it's not entirely out of the ordinary. </h2><p>"What good does kneeling do?" <a href="https://twitter.com/findmenapping/status/917386441952518144" target="_blank">asked some observers of the recent protests</a>. "If these spoiled millionaires REALLY wanted [to] 'improve' these communities, shouldn't they use their money [to] support and move into these communities?" <a href="https://twitter.com/GaryDGiltz/status/920639827594313729" target="_blank">asked another</a>.</p><p>The truth is that professional athletes <em>have</em> been doing all the things that people suggest could be done <em>instead</em> of kneeling — <a href="https://twitter.com/CBSNews/status/920716201382350850" target="_blank">which league officials have been trying to pressure them to abandon</a>. Even though he's not on anyone's roster this season, Kaepernick has continued to make good on his million-dollar charity pledge, <a href="http://kaepernick7.com/million-dollar-pledge/" target="_blank">outlining his actions on his website</a>. Deshaun Watson of the Houston Texans <a href="http://www.upworthy.com/watch-this-awesome-video-of-an-nfl-quarterback-paying-it-forward-to-harvey-victims">gave his first paycheck to stadium workers</a> affected by Hurricane Harvey. The list of thoughtful, charitable acts <a href="https://www.sbnation.com/2017/9/29/16375378/nfl-players-charity-donations-jj-watt-hurricane-harvey-patrick-peterson-foundation" target="_blank">goes on and on</a>.</p><p>Long's bold act of giving back to his community is more than a publicity stunt; it's a way of life that he and many of his NFL colleagues share.</p>