When your roommate eats the last Oreo in the freezer, that's an annoyance. When your roommate eats the last Oreo you'll see in months, you might have a problem.
On Sept. 17, six volunteer crew members emerged from eight months of isolation. Their quarantine, part of a NASA-backed study by the University of Hawaii, could one day help humanity plan a drama-free Mars mission.
For the last eight months, the six volunteers lived in a tiny shelter on the slopes of an active volcano, sharing their living space, meager kitchen, and solitary shower.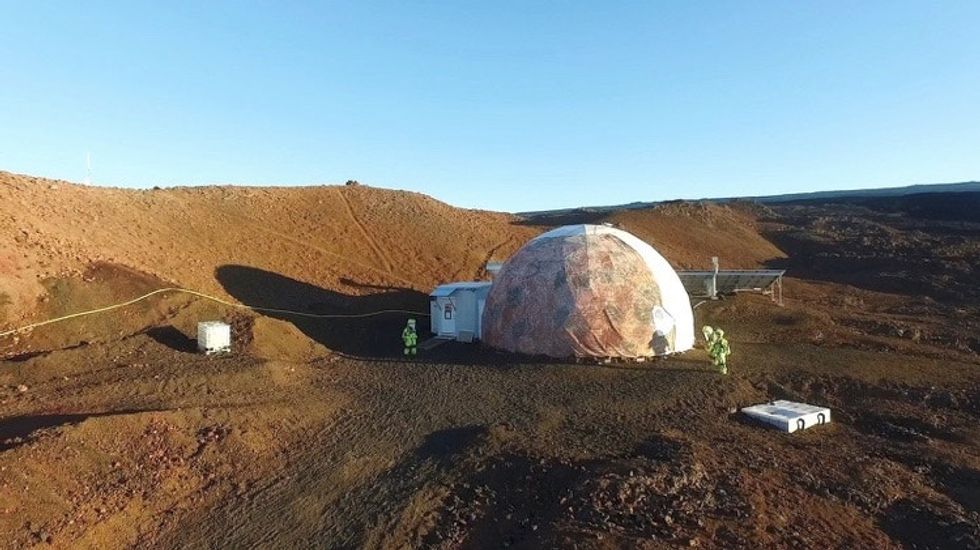 From a distance, their house-sized habitat looked like a golf ball sitting in the loneliest sand trap in the universe. Photo from HI-SEAS V Crew/University of Hawaii News/Flickr.
<p>The shelter wasn't exactly luxurious. Sleeping spaces were small, food mostly came in freeze-dried pouches or cans, and communication with the outside world was purposefully delayed 20 minutes to simulate vast interplanetary distances.</p><p>And outside? The forbidding, rocky landscape of Hawaii's Mauna Loa volcano surrounded them. If that wasn't discouraging enough, actually going outside was strictly limited: teams only and spacesuits mandatory.</p><h2>Given all that, it'd be understandable for everyone to get a little cabin fever. But that was the point.</h2><p><strong>If we want to send humans to Mars, it's going to mean asking them to spend a long time alone — <a href="https://www.nasa.gov/offices/marsplanning/faqs/" target="_blank">at least a year</a>.</strong> And with even relatively simple, robot-based Mars missions costing <a href="https://www.space.com/10762-nasa-mars-rover-overbudget.html" target="_blank">a few billion dollars</a>, we don't want personality problems derailing a mission. <strong>This study will help NASA learn how to help people get along during their long spaceflight.</strong></p><p class="shortcode-media shortcode-media-rebelmouse-image"><img type="lazy-image" data-runner-src="https://assets.rebelmouse.io/eyJhbGciOiJIUzI1NiIsInR5cCI6IkpXVCJ9.eyJpbWFnZSI6Imh0dHBzOi8vYXNzZXRzLnJibC5tcy8xOTQ3NDI3Ni9vcmlnaW4uanBnIiwiZXhwaXJlc19hdCI6MTU5ODkzNTM0M30.v4pKF6wwpqdOO_Wj_zQuzEc4bybkadRAbsTIR0c4kPk/img.jpg?width=980" id="110d1" class="rm-shortcode" data-rm-shortcode-id="d043480c71b921a92db6730e2ea8896a" data-rm-shortcode-name="rebelmouse-image"><small class="image-media media-caption" placeholder="add caption...">The HI-SEAS V crew. From left to right: Brian Ramos, Laura Lark, Ansley Barnard, Samuel Payler, Joshua Ehrlich, and James Bevington. Photo from <a href="https://www.flickr.com/photos/uhawaii/36892797230/in/album-72157686784130374/">University of Hawaii News/Flickr</a>.</small></p><p>The group used a variety of methods to track their emotional states, from journals to voice recorders. They also tested ways to de-stress, like using virtual reality to take a trip to a tropical beach.</p><h2>One big takeaway? Even the best teams have conflict sometimes. What's important is how you deal with it.</h2><p>"We've learned, for one thing, that conflict, even in the best of teams, is going to arise," principal investigator and professor Kim Binsted <a href="https://apnews.com/bafab7eaf7be45d388f11ef81e7f15d8/Mars-research-crew-emerges-after-8-months-of-isolation" target="_blank">told the AP</a>. "So what's really important is to have a crew that, both as individuals and a group, is really resilient, is able to look at that conflict and come back from it."</p><p>Binsted couldn't share any details about this year's crew but said in an email that past crews have dealt with things like miscommunications, the stress of problems back home, and — yes — what to do when a favorite food runs out. </p><p>This was the fifth of six planned missions. For their efforts, the newly-freed crew was rewarded with a buffet of food, including fresh pineapple, mango, papaya, and doughnuts. None of it appeared to have been freeze-dried.</p><p>NASA hopes to send humans to Mars as soon as the 2030s.</p>