Meghan Markle just turned the royal family upside down in all the best ways.
Markle's welcome into the royal family marked a significant cultural and historical shift. She's an American. She's biracial. She's a divorcee. None of those things are a big deal on this side of the pond, but we're talking about the British monarchy, where tradition and formality are defined. And with Markle's marriage to Prince Harry, those definitions are changing.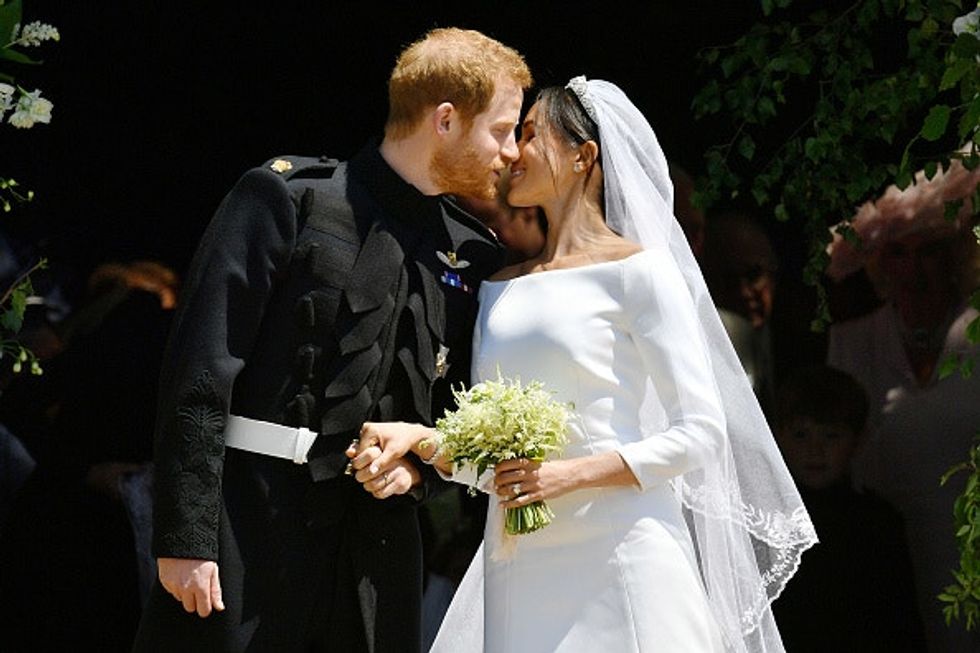 Photo via WPA Pool/Getty Images.
<p>The <a href="http://www.upworthy.com/meghan-markle-s-feminist-wedding-quietly-displayed-a-ton-of-black-girl-magic?c=apstream">wedding itself</a>, including a rousing <a href="http://time.com/5286900/bishop-michael-curry-good-morning-america/" target="_blank">sermon</a> by a black American bishop and the distinct flavor of <a href="https://www.youtube.com/watch?v=AyFlLjdNqk8" target="_blank">a full gospel choir</a>, was a testament to such change. Watching a person of color take her place in the royal family of England was historic, and the way black culture was honored and celebrated in the ceremony made a clear statement of progress. </p><p>But that's not where the story ends.  </p><h2><strong>In her official royal bio, the duchess of Sussex unapologetically pronounced her feminism.</strong></h2><p>It's one thing to be an outspoken feminist before joining the British monarchy. It's another to make it a hallmark of your royal biography.</p><p>Markle's <a href="https://www.royal.uk/duchess-sussex" target="_blank">official bio on the royal family's website</a> starts off traditionally enough, describing her marriage to Harry and where they are living. Then it dives into Markle's lifelong work for "social justice and women's empowerment," including how "she <a href="https://www.cnn.com/videos/cnnmoney/2018/05/09/meghan-markle-fought-sexist-ad-orig-vstan-bdk.cnn" target="_blank">successfully campaigned</a> for a company to alter their television advert that had used sexist language to sell washing-up liquid" when she was 11. (That's dishwashing soap, by the way.) </p><p class="shortcode-media shortcode-media-rebelmouse-image"><img type="lazy-image" data-runner-src="https://assets.rebelmouse.io/eyJhbGciOiJIUzI1NiIsInR5cCI6IkpXVCJ9.eyJpbWFnZSI6Imh0dHBzOi8vYXNzZXRzLnJibC5tcy8xOTM0NjM2Ny9vcmlnaW4uanBnIiwiZXhwaXJlc19hdCI6MTYzNDkwMjQyN30.1nbvxYnl3eI3aJXBdFVOzJ5MUavw5kc5Q_wl65AOE2Y/img.jpg?width=980" id="2ecb3" class="rm-shortcode" data-rm-shortcode-id="69ba8769cd254048480afadd0ed7f4fe" data-rm-shortcode-name="rebelmouse-image"><small class="image-media media-caption" placeholder="add caption...">Photo via WPA Pool/Getty Images.</small></p><p>The bio highlights her involvement with One World Vision, her role as the U.N. women's advocate for women's political participation and leadership, and her appointment as global ambassador for World Vision. </p><p>But right in the middle of that, this quote from Markle is called out in large, bold font: </p><p><strong>"I am proud to be a woman and a feminist."</strong></p><p>Welp. There you go. Of all the quotes that could have been included, that's the one they went with. Straight up. Bold. Simple. Proud to be a feminist. </p><h2><strong>For proof of how feminism changes the landscape, see "menstrual hygiene products" on the royal website. </strong></h2><p>Never would I have imagined the words "menstrual hygiene" on the royal family's website. And yet, here we are.</p><p>"In 2017, her royal highness undertook a second learning mission with the organisation when she visited India with World Vision to bring a greater awareness to girls' lack of access to education," it reads. "<strong>In the slum communities of Mumbai, the duchess witnessed the work of the Myna Mahila Foundation who empower women through access to menstrual hygiene products and employment opportunities. </strong>Struck by her experience, <a href="http://time.com/4694568/meghan-markle-period-stigma/" target="_blank">she wrote an op-ed for Time magazine</a> about the stigmatization of menstrual health management and its long term hindrance to girls' education."</p><p class="shortcode-media shortcode-media-rebelmouse-image"><img type="lazy-image" data-runner-src="https://assets.rebelmouse.io/eyJhbGciOiJIUzI1NiIsInR5cCI6IkpXVCJ9.eyJpbWFnZSI6Imh0dHBzOi8vYXNzZXRzLnJibC5tcy8xOTM0NjM2OC9vcmlnaW4uanBnIiwiZXhwaXJlc19hdCI6MTYwODM1NjA3NH0.9g0uQ_8QkNOi-twuLq43fwGz3HId4uDuGKC5qwPZAuw/img.jpg?width=980" id="fad7b" class="rm-shortcode" data-rm-shortcode-id="a805d3124d70fe529ef8905657f04cbf" data-rm-shortcode-name="rebelmouse-image"><small class="image-media media-caption" placeholder="add caption...">Employees at the Myna Mahila Foundation in Mumbai, which provides menstrual products to disadvantaged women and works to end the stigma surrounding menstruation. Photo via Indranil Mukherjee/Getty Images.</small></p><p>It may seem silly to make a big deal out of seeing the word "menstrual" in royal communications, but it <em>is</em> a big deal. Social <a href="https://www.femmeinternational.org/our-work/the-issue/" target="_blank">stigma surrounding menstruation is universal</a> in various ways, and that's only going to change if it's brought into the light and talked about openly. </p><p>Now, because of Markle's work on this issue — and because she and Harry asked for donations to the Myna Mahila Foundation in lieu of gifts — menstrual stigma is now forced into the global conversation in a very natural way. Boom. Feminism at its finest.</p><p>I can't wait to see what the duchess does next.</p>