As a former CIA military analyst, Cindy Otis has faced some incredibly difficult situations.
"For most of my career as a CIA military analyst and manager, I was around negative or disturbing content," Otis writes in an email. "It was my job to look at security issues — such as political instability, war, and terrorism — in foreign countries and help senior U.S. government officials think through what they could do about them. It was important in my career to find ways of coping with the deluge of information so that I could be useful to the federal government while still maintaining my humanity."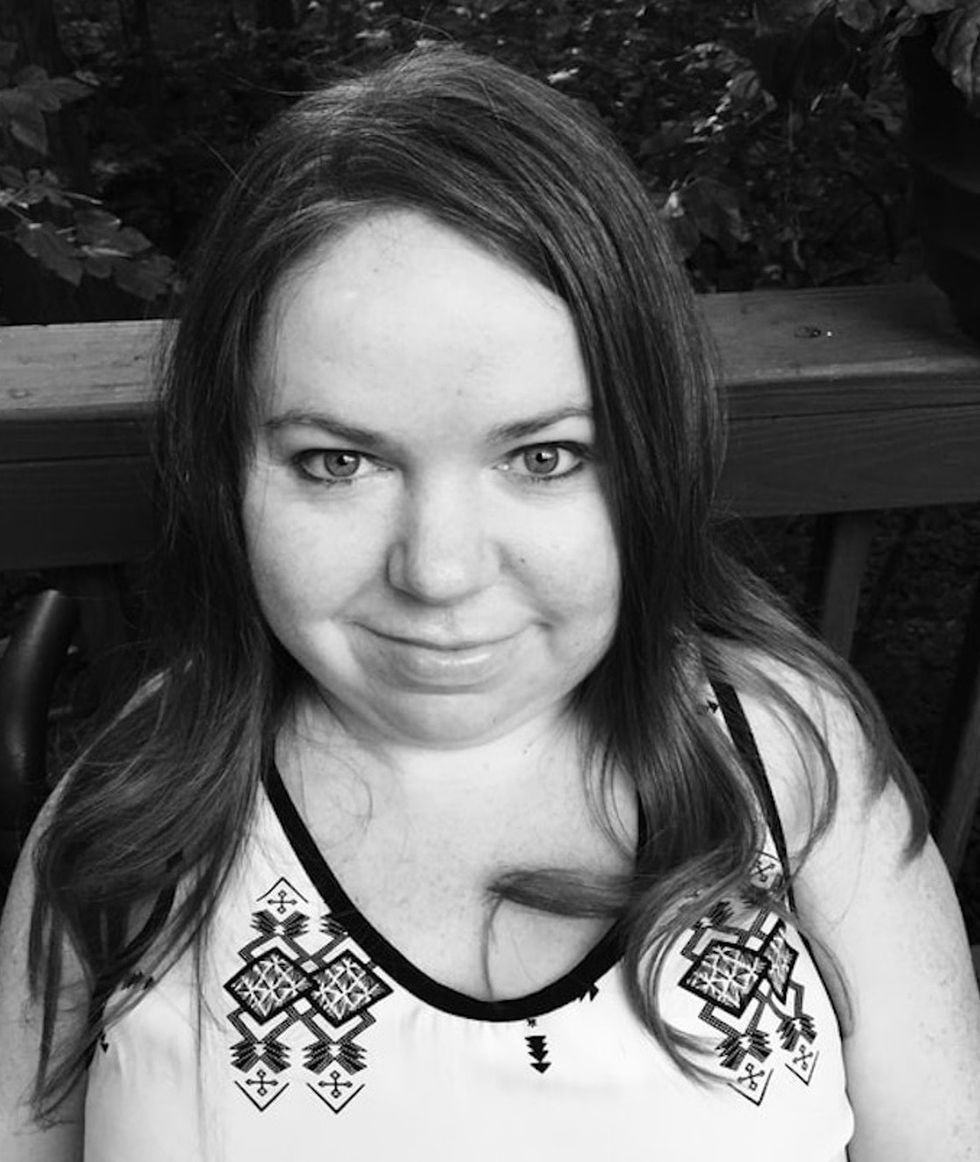 Photo courtesy of Cindy Otis.
<h2>‌<strong>For Otis, who's also a lifelong disability advocate, checking out of politics has never been an option — but she's found a balance.</strong></h2><p>She also knows that not everyone has her background or training. </p><p>With more and more of us feeling dismayed by the 24-hour-news cycle — do we talk about anything else anymore? — Otis decided to share her knowledge to help other people. </p><h2>She released a tweetstorm of how to handle depressing news and not only still be able to function, but persevere.</h2><p>It went viral. </p><div id="b6bac" class="rm-shortcode" data-rm-shortcode-id="1ecdf415bcfcbc5f6c6ab9b1190af06f"><blockquote class="twitter-tweet twitter-custom-tweet" data-twitter-tweet-id="1012488916178436096" data-partner="rebelmouse"><div style="margin:1em 0">Today seems like the right time to do a thread I've been thinking about for a while on how to handle the seemingly… https://t.co/c4qEE1etM4</div> — Cindy Otis (Pre-order TRUE OR FALSE now!) (@Cindy Otis (Pre-order TRUE OR FALSE now!))<a href="https://twitter.com/CindyOtis_/statuses/1012488916178436096">1530231143.0</a></blockquote></div><p>First, she validated the fact that being inundated with negative content is bad for our minds and our health. ‌‌</p><p class="shortcode-media shortcode-media-rebelmouse-image"><img type="lazy-image" data-runner-src="https://assets.rebelmouse.io/eyJhbGciOiJIUzI1NiIsInR5cCI6IkpXVCJ9.eyJpbWFnZSI6Imh0dHBzOi8vYXNzZXRzLnJibC5tcy8xOTM5ODAyOC9vcmlnaW4uanBnIiwiZXhwaXJlc19hdCI6MTYyMTEzMjQyN30.c6ItHN0DG41TfovHVpgz3TZoF2N01UzdESacoRFUIrY/img.jpg?width=980" id="d264e" class="rm-shortcode" data-rm-shortcode-id="7707c7aeb97ae2a691652c9f1d408682" data-rm-shortcode-name="rebelmouse-image"><small class="image-media media-caption" placeholder="add caption..."></small></p><p>Then Otis provided ideas for action. She says she wanted to help people make progress without giving in to the instinct to shut down. Finding a balance maintaining awareness and action and still caring for yourself is tricky. </p><div id="26c0b" class="rm-shortcode" data-rm-shortcode-id="588bb56d9acb9036dd17fc213ece412c"><blockquote class="twitter-tweet twitter-custom-tweet" data-twitter-tweet-id="1012497264701517827" data-partner="rebelmouse"><div style="margin:1em 0">So, what do you do? First, I strongly urge you not to ignore the news/current events. Ignorance is one reason we ha… https://t.co/WFg3iIuQ0i</div> — Cindy Otis (Pre-order TRUE OR FALSE now!) (@Cindy Otis (Pre-order TRUE OR FALSE now!))<a href="https://twitter.com/CindyOtis_/statuses/1012497264701517827">1530233133.0</a></blockquote></div><p class="shortcode-media shortcode-media-rebelmouse-image"><img type="lazy-image" data-runner-src="https://assets.rebelmouse.io/eyJhbGciOiJIUzI1NiIsInR5cCI6IkpXVCJ9.eyJpbWFnZSI6Imh0dHBzOi8vYXNzZXRzLnJibC5tcy8xOTM5ODAyOS9vcmlnaW4uanBnIiwiZXhwaXJlc19hdCI6MTYxNjEwNDY3Nn0.96xq3h14L0bV0yyq2ltNvCGs6wPyZuHygixxexYqPA4/img.jpg?width=980" id="dc8a4" class="rm-shortcode" data-rm-shortcode-id="2c861468a64b5c200a0e774881abaa24" data-rm-shortcode-name="rebelmouse-image"><small class="image-media media-caption" placeholder="add caption..."></small></p><p class="shortcode-media shortcode-media-rebelmouse-image"><img type="lazy-image" data-runner-src="https://assets.rebelmouse.io/eyJhbGciOiJIUzI1NiIsInR5cCI6IkpXVCJ9.eyJpbWFnZSI6Imh0dHBzOi8vYXNzZXRzLnJibC5tcy8xOTM5ODAzMC9vcmlnaW4uanBnIiwiZXhwaXJlc19hdCI6MTYyMDU2NDIwOH0.PSKhc3As4fXfP1iaLoVXWOStcqM7d-lRw3AR9_8HYDQ/img.jpg?width=980" id="1687f" class="rm-shortcode" data-rm-shortcode-id="9c555ed9167cd17c9671ef28d12c182c" data-rm-shortcode-name="rebelmouse-image"><small class="image-media media-caption" placeholder="add caption..."></small></p><p>"I wanted to chart a pathway forward for people to work through those feelings so they can still take action," Otis says. "Ultimately, I hope it will keep people from checking out. Ignorance and apathy are two key things that got our country to this point."</p><h2>You can't be "checked in" all the time. Getting overloaded won't help move the needle of progress.</h2><div id="0d223" class="rm-shortcode" data-rm-shortcode-id="5920a53baeb8e140fce68c2e5d7dd34b"><blockquote class="twitter-tweet twitter-custom-tweet" data-twitter-tweet-id="1012513631525883905" data-partner="rebelmouse"><div style="margin:1em 0">None of this is easy. I got burned out a lot in my career &amp; many days recently, I've felt overloaded by the barrage… https://t.co/LYmGcjkyoA</div> — Cindy Otis (Pre-order TRUE OR FALSE now!) (@Cindy Otis (Pre-order TRUE OR FALSE now!))<a href="https://twitter.com/CindyOtis_/statuses/1012513631525883905">1530237036.0</a></blockquote></div><p>Finding balance is key.</p><p>For Otis, a part of that balance is <em>not </em>following the president on Twitter. "Being outraged at each new tweet from him sucks up valuable energy," she says, "when what we need to be worried about are things like the chipping away of our government institutions, lack of action from the GOP to prevent foreign inference in our country's affairs, and shifts in government policy on everything from the environment to immigration."</p><p>But we also can't just focus on the negative, she emphasizes. There's so much progress being made and so many ways for everyone to get involved in the change we want to see. </p>